Eid al-Fitr (Festival of the Breaking of the Fast) is one of the most joyous occasions in the Muslim world. It is a three-day holiday that marks the beginning of the 10 month in the Islamic calendar, and thus the end of the month of Ramadan. These days are spent exchanging gifts, visiting family and, of course, enjoying all the amazing food! Some Eid traditions, such as going to mosque in the morning and giving zakat (alms) to the poor so that they too can celebrate Eid, are common throughout the Muslims world. However, there are different Eid traditions in different cultures,and these are just a few of them.
1. India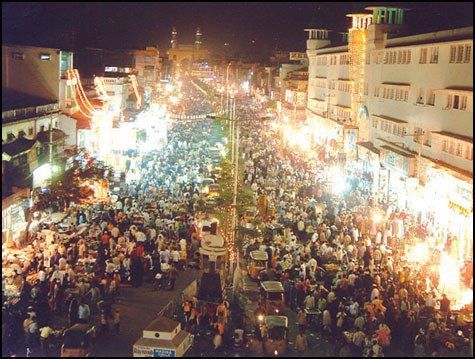 Muslims compose the largest minority in the country, and people come out in droves to celebrate it. Some of the special foods prepared are a sweet dish called Sheer Khurma and a type of rice vermicelli called servai. The night before Eid, Chaand Raat, people visit baazars and go shopping.

The women decorate their hands with henna and were traditional garments. Chaand Raat is also held in other South Asian countries, such as Sri Lanka, Bangladesh, Pakistan, and Nepal.
2. Morocco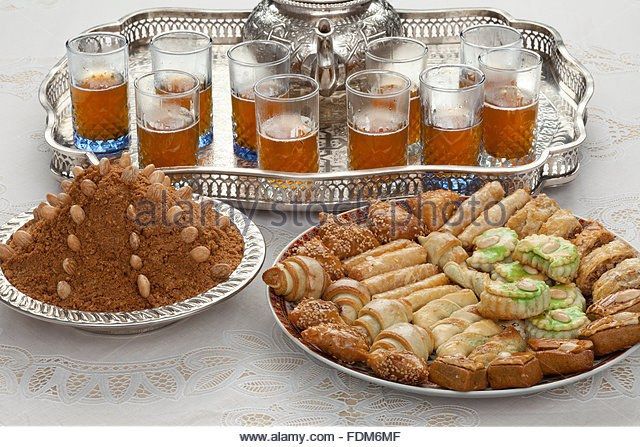 In the morning, after the men come home from mosque, everyone enjoys a lavish breakfast with traditional food such as Baghrir and Melwi (Moroccan pancakes), cookies and mint tea.

Like most of the Muslim world, gift giving in Morocco isn't commercialized and usually adults don't engage in gift giving, but instead children are the ones who receive the presents and money.
3. Turkey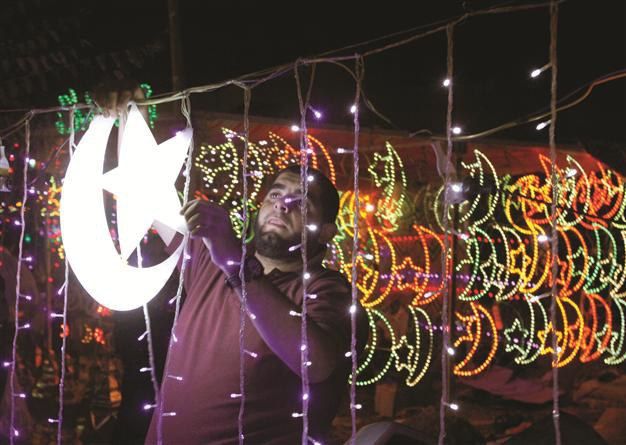 In Turkey, Eid al-Fitr is referred to as Ramadan Bayram (Bayram being an nationally celebrated festival). Many people go to cemeteries to adorn the graves of the deceased with flowers and say prayers for them. Another tradition is children going door to door in their neighborhood wishing people a "Happy Bayram" (or Mutlu Bayramlar) and receiving sweets, like Turkish delight or Baklava, or cash in return.
4. Tunisia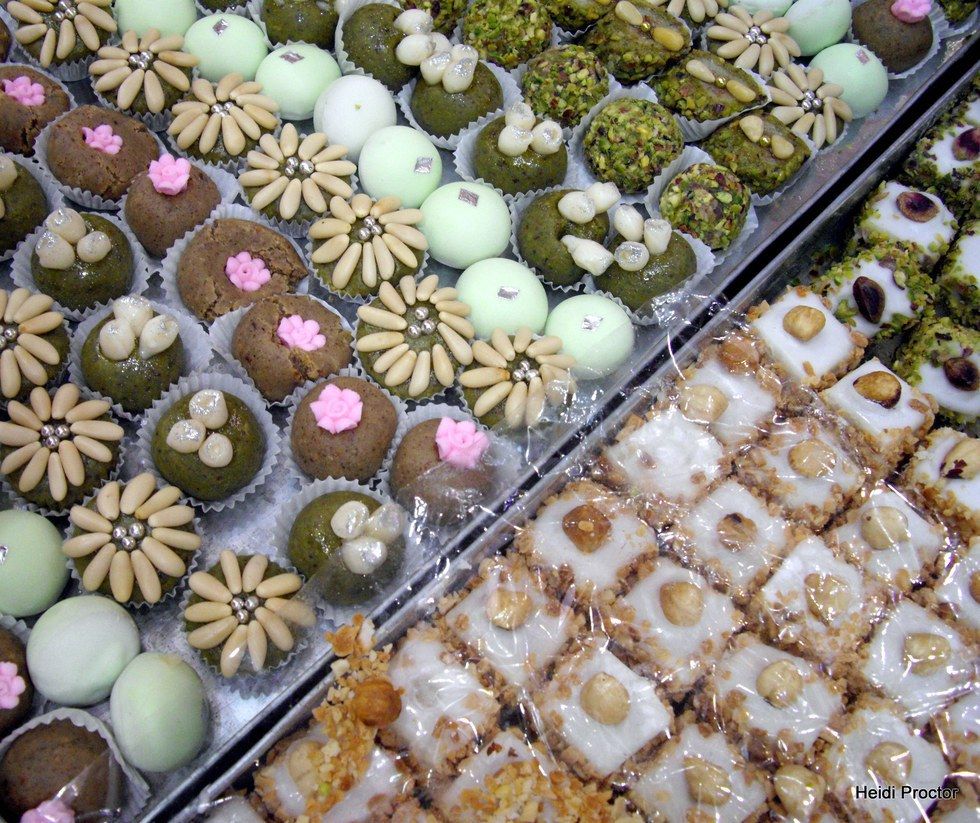 Known as Eidul-Fitrin, 98 percent of the Tunisian population spends their days dancing and playing music while eating special biscuits, like Baklawa, and cakes, such as Kaak.
Of course, children get money and toys, and at noon of the first day, people go to their parents' house for lunch to spend the day with their extended family.
5. Indonesia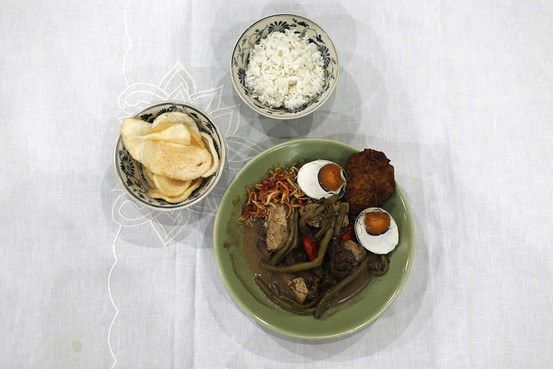 As the nation with the greatest population of Muslims and home to almost 13 percent of the world's Muslim population, one can only expect the festivities for Lebaran (Eid al-Fitr) to be especially joyful and grand. On the eve of Lebaran, people bang drums and children carry torches in a parade through the streets.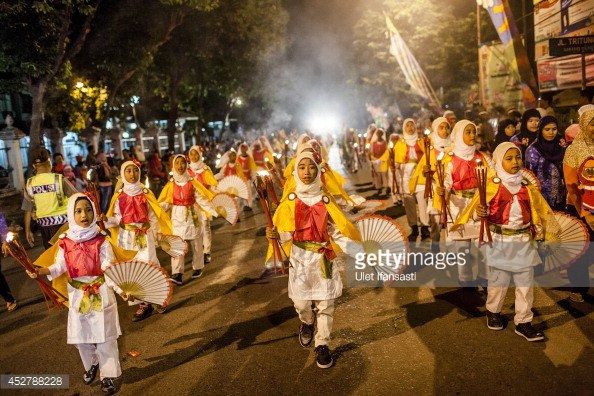 Firecrackers
light up the night sky and malls and markets are packed as people do some last-minute shopping. The streets are also crowded beca
use millions of people are going back to their hometowns to visit their families. During these visits to friends and family, people will ask for forgiveness for wrongs they have committed in the past. And, of course, everyone enjoys great food, like
Brongkos
and
rendang
.

6. United States
As you can imagine, celebrating Eid in the West is a little different than Eid celebrations in the rest of the Muslim world. Being only one percent of the population, schools and business are still open, so we often only take one day off from work or school for the first day of Eid, if it falls on the weekday. That morning, we go to the mosque for Eid prayer and then spend the rest of the day visiting family, or we go out to eat a restaurant.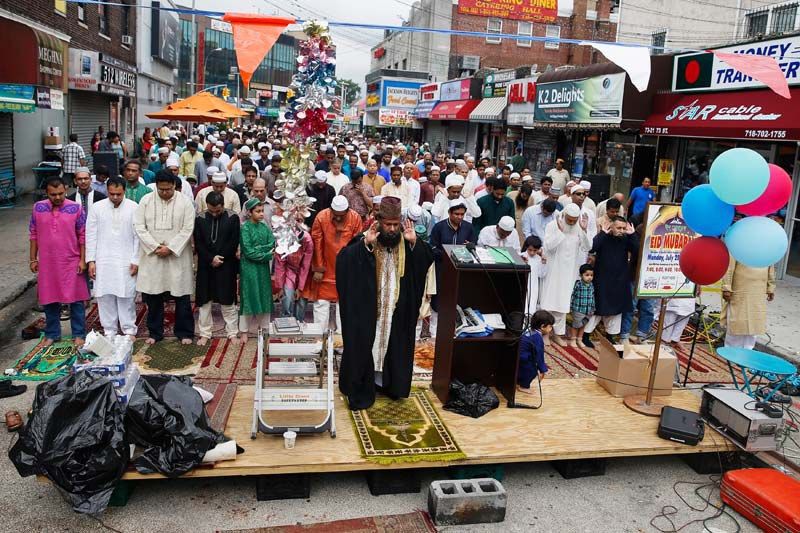 Much of the day is also spent calling relatives who live in other states to wish them a Happy Eid. Some mosques and Islamic Centers host special Eid events, such as a day at an open park or their own Chaand Raat the night before Eid. And, of course, we eat the special foods our moms make us, just for the occasion, and the children excitedly line up to receive their gifts and money.