Humans must have such a weird sounding bark to dogs—"Sit!" "Stay!" "Roll over!" It can take dogs days to weeks to learn what the heck we're trying to say, and they have to train for over a year to be a service dog. They work so hard to learn our human words, but we seldom learn how to communicate with them in their own language. "Talk" is not necessarily the right word, since dogs can't speak. But there are some very effective (and very weird looking) ways you can let your dog know what you're thinking.
1. Panting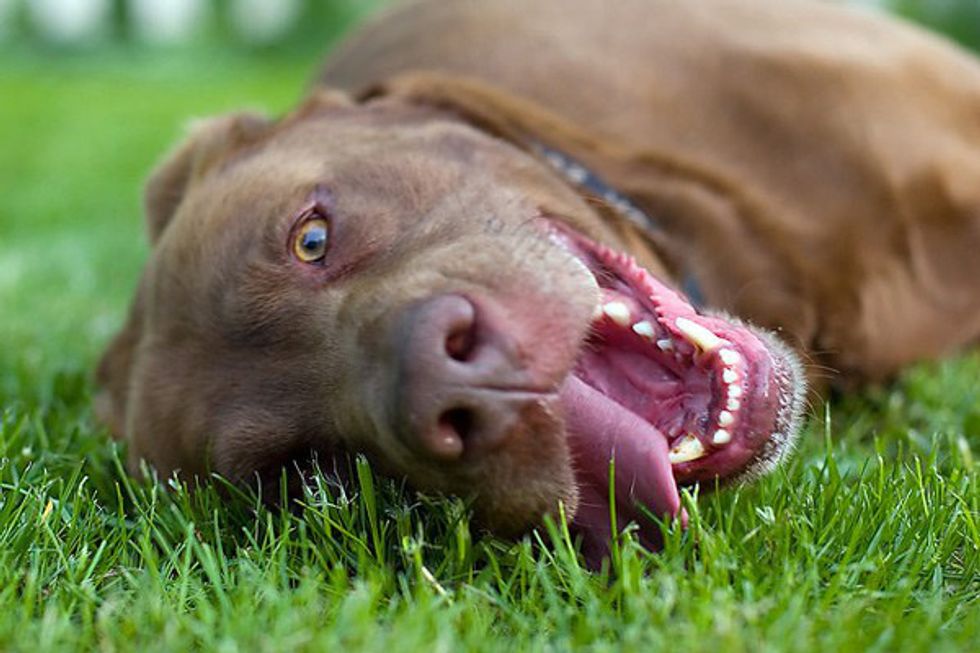 Dogs pant for a variety of reasons. As a physiological response, dogs pant to cool down, since they only have sweat glands in their noses and paws. It gets hot under all that fur! They also pant to portray emotion and communicate with one another. Such as displaying excitement or fear. Excitement is what we're focusing on, though.
Before playtime with my pups, I will often look at them with wide eyes and begin panting (tongue out and all). To most people, it would look like I was trying to imitate Gene Simmons after jogging a few laps, but to my dogs it says, "All aboard the hype train!" Their ears perk up and they run to the porch for a game of fetch—panting the whole time, of course.
2. The Play Bow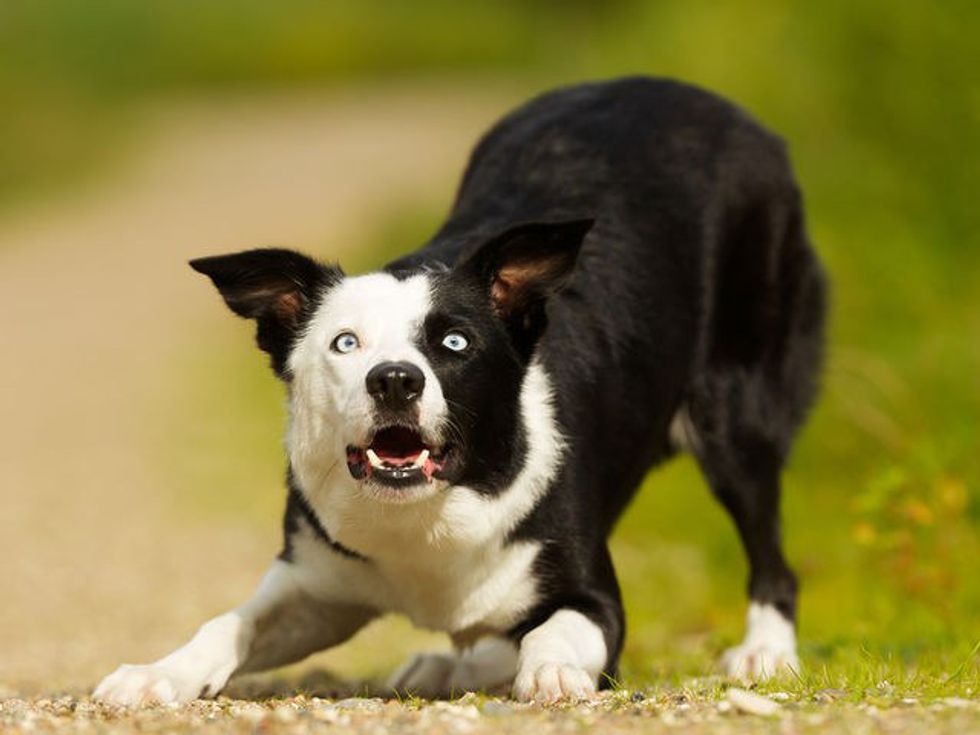 While you're playing with your dog, it doesn't hurt to go bottom's up into what's called a "play bow." It's actually a very important part of canine social interaction: Dogs dipping down on their front legs with their tail wagging in the air say, "Let's play!" It's not only an invitation, but also a signal to other dogs that they're being friendly.
There are some things, however, that should be factored in before doing a play bow. Like, are you on soft carpet or gravel? Are you alone in your house or at a family reunion? Especially, how rough your dog generally likes to play. My smallest dog uses his play bows like a way to build kinetic energy before launching like a catapult into his brother's face. If your dog has this tendency, it might be best to avoid the play bow. Regardless, it's a sure fire (and hilarious looking) way to tell your dog it's playtime.
3. Sneezing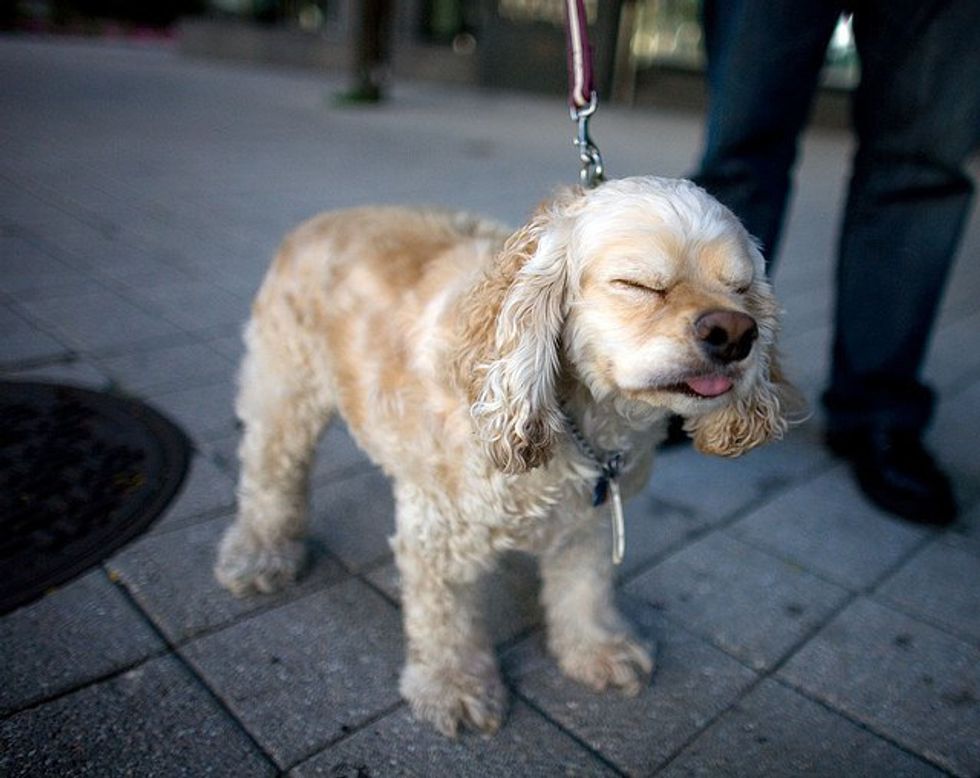 Akin to the play bow, dogs will sneeze to say "It's okay, I'm just playing." Not necessarily a "gesundheit!" sneeze, but a quick snort of air out the nose. Oftentimes if you watch dogs playing, you'll hear occasional sneezing sounds, especially if they're starting to get rough. It's not quite clear why they sneeze to say "we're cool," but why the heck do we raise our eyebrows when we're excited? Some things just can't be fully explained.
All you need to know is that just a sharp exhale through your nose can make your communication with your dog even better. And if you're in public, you can pass it off by saying "excuse me."
4. Sniffing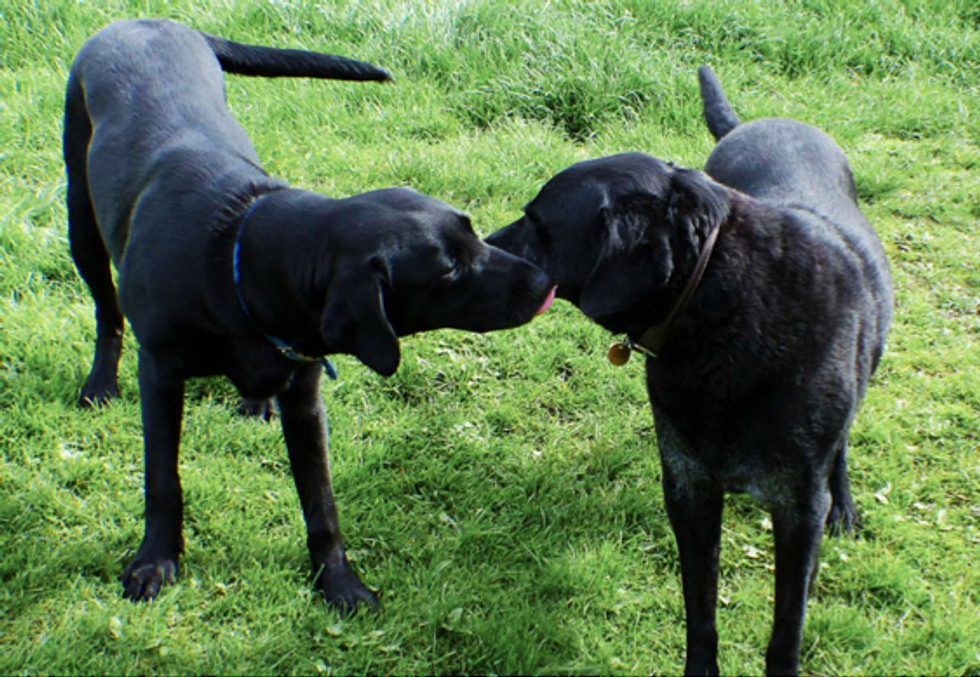 You probably shouldn't do this with a dog unless you are both 100 percent comfortable with each other, but if you are, sniffing your dog's face is an easy way to say "Hello!" Dogs already sniff and lick our faces to show us affection, but we never give that back. I don't recommend actually licking your dog's face, but a quick flurry of sniffs gets the message across.
Obviously, this shouldn't be done if you're trying to train your dog to stop licking people's faces. It's almost guaranteed that you'll get at least a few laps if you say "hi" this way. Or, in the case of my dogs, a full face wash until you push them away.
5. Yelping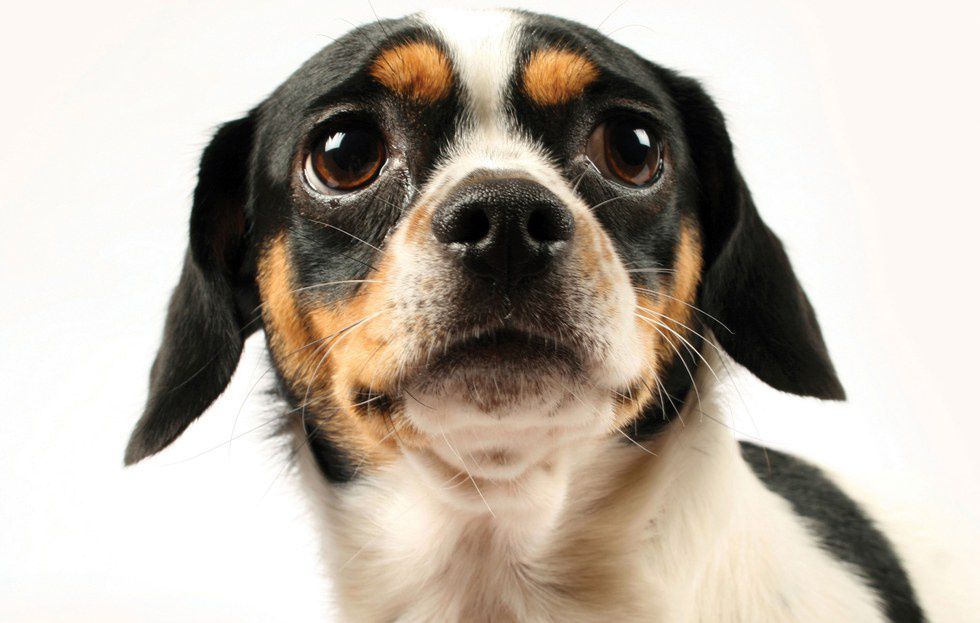 Believe it or not, an easier way to get your dog to leave you alone is to actually make a high-pitched yelp. If you were to do this in public it would garner you some strange stares, but to dogs it's a clear cut message that says "stop right now." When a dog is suddenly frightened or in pain, they might produce a squeaky shriek. Otherwise known as the aptly named "kicked-puppy sound."
Despite how weird it is, it's a better alternative to scolding your dog. Rather than responding to bad behavior—such as a puppy teething on you—with an aggressive reprimand, the yelp is something that dogs can instinctually understand. Take my puppy for example—as most puppies go, he is incredibly difficult to calm down once he's excited. When I come home, he is so pumped up to lick my face that sometimes he would paw at my mouth: a big no-no. My family gave me a weird look, but the high-pitched yelp made him back off immediately.
Even though to the average person these behaviors may make you look crazy, it means so much more to our canine companions. Give them a break in trying to decipher our weird human ways, and talk to them in their own language.