This will be the tenth Christmas without my mother, I recently put together a photograph that gave me instant chills as soon as I looked at it. It's insane seeing a difference in ten years; seeing a difference in me...in the person sitting next to me. Putting those two pictures together made me feel happy, not sad, because the gap in between those two photos is ten years worth of accomplishments and winning a war within myself. You can do it too.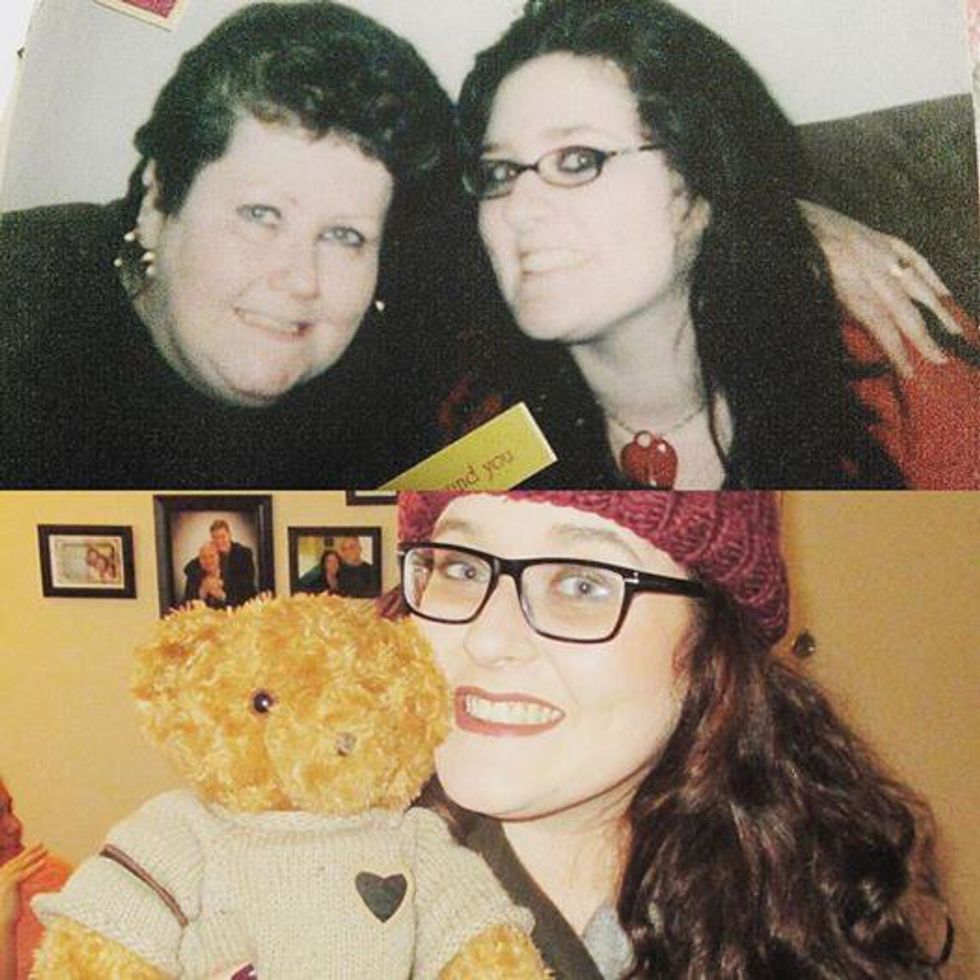 1.) Bring up your loved one like they're sitting right next to you.
I'm not saying to actually look at the blank space next to you and start talking; I'm saying to bring up stories on Christmas Day. Think of certain memories on a Christmas that you remember vividly with that loved one. Talking about that with your family will brighten up the room, and I guarantee there will be smiles and laughs,

2.) If you have a picture, a piece of jewelry (or in my case, a bear with her ashes) or an article clothing, bring that with you.
You don't even have to take it out to show everyone, keep it in your pocket or purse and if you're feeling sad, place your hand over it, it will help. I will be bringing my mom's bear with me to my Uncle's house on Christmas Day. She will having fun that day, everyone in my family is gonna to be hanging out with her in everyone part of the room. Most likely dance with her (that happened on Thanksgiving.)
3.) If you want to cry, cry.
I can't stress that enough, if you feel like you're going to start crying, just let it out. You will most likely be with someone who loves and cares about you and there is nothing wrong with that.
4.) Play their favorite Christmas songs, eat their favorite foods, do what they would do on Christmas.
My mother always wore silly Christmas hats, I'm going to try my best to start that tradition all over again this year.
5.) Last but not least, please enjoy this day the best you can.
No one is going to force you to do something that you don't want to do, no one is going to force you to act a certain way. Do the best you can. It's okay to be sad, it's okay not to be okay. You are loved and you don't have to stop feeling happy and you don't have to stop feeling sad. Enjoy the moment, savor it, like that person is there. Make this your time, realize that it's okay and you're surrounded by love and joy.
Have a Merry Christmas. Have a Wonderful New Year. Your loved one is always with you. In the trees, the grass, the air, the wind, the sky...they're all around. Embrace it and feel it. You can do this.