All my lovely college students and people who love to cook, here are five easy recipes for you to try! I am definitely planning on trying them out myself!
1. Chicken Ranch Wrap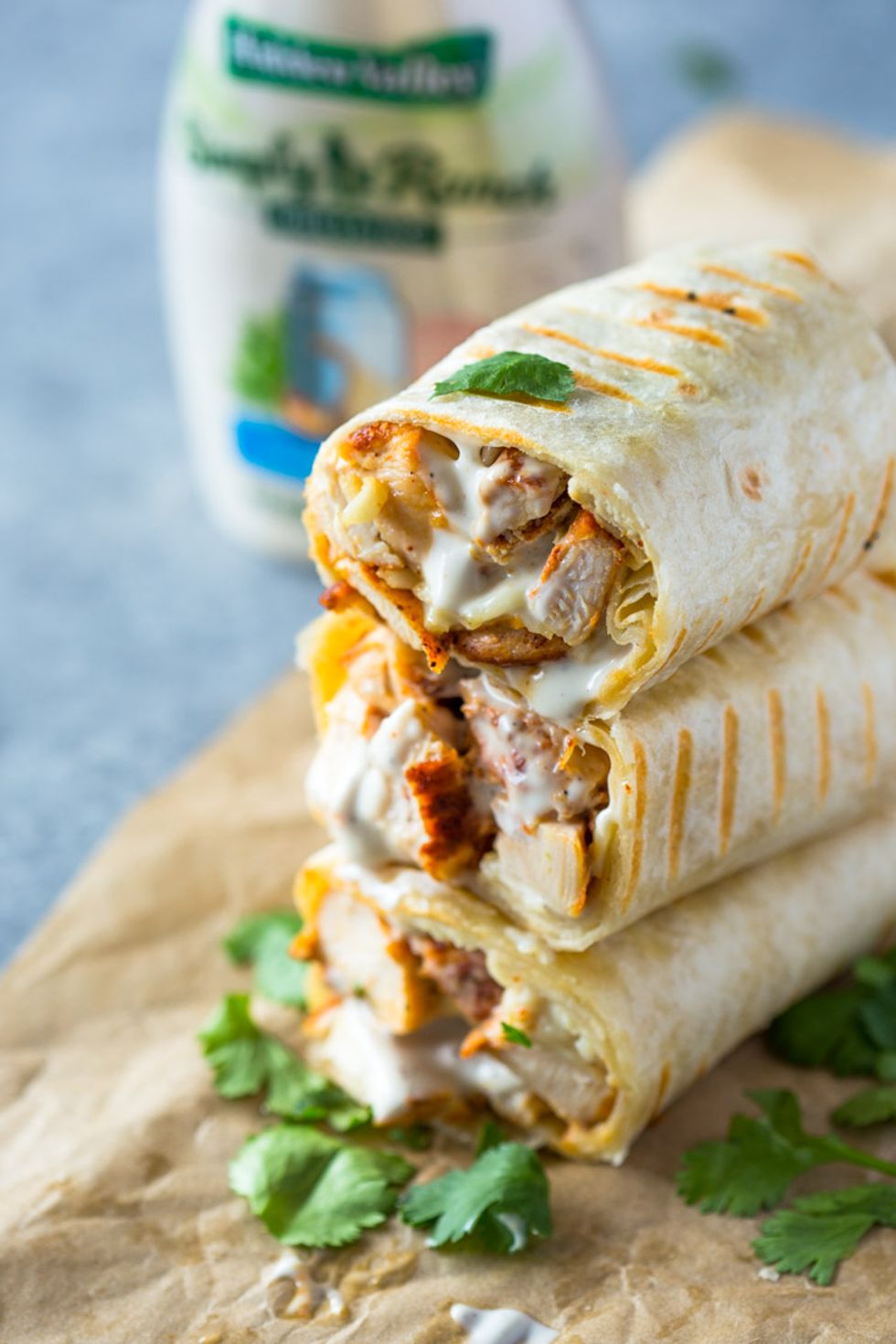 This delicious little wrap is super easy to make in ten minutes. You only need five ingredients! Two cups of cooked chicken breasts, a fourth of a cup of cilantro (optional), a fourth of a cup of Hidden Valley ranch, about four, eight inch tortillas, and half a cup of mozzarella cheese. First, cook your chicken! Then, place one half cup of chicken into each tortilla with one tablespoon of ranch, two tablespoons of cheese, and one tablespoon of cilantro. Fold the tortillas into a tight burrito then cook the wraps for one to two minutes on each side, or until crispy and golden, on a pan or grill that is coated with a light layer of oil or cooking spray. After that, they're ready to enjoy!




2. Beef Noodle Stir Fry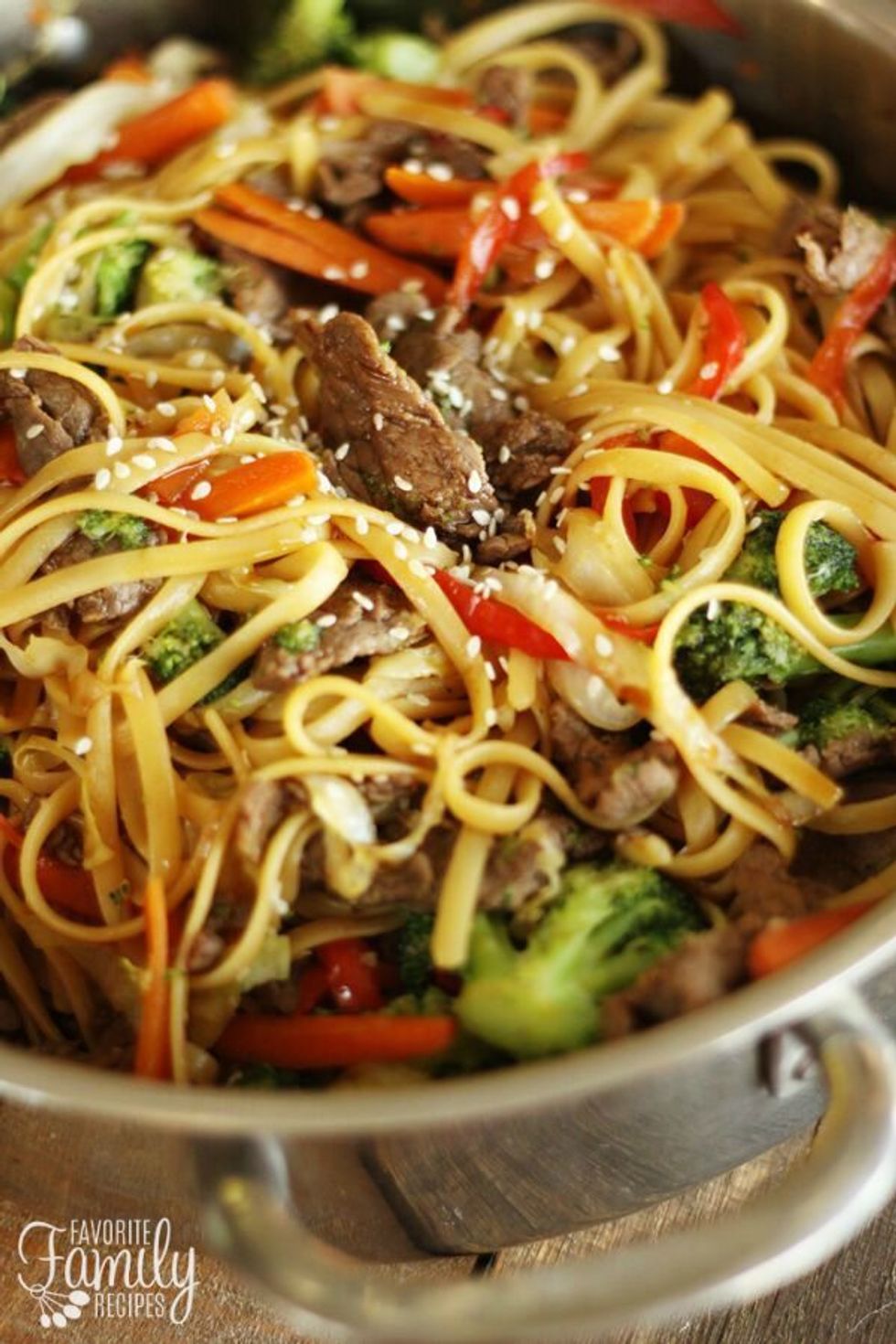 For this one, you'll need soy sauce, beef broth, brown sugar, four cloves of garlic (or use a teaspoon of garlic salt/powder), ginger, cornstarch, boneless sirloin steak, linguini noodles, canola oil (small bottle if possible), bell pepper of choice (I used orange), onion, carrots, broccoli, cabbage, and sesame seeds. First you will need to mix up the sauce mixture and have the sirloin cut into thin strips. For the sauce, mix two-thirds cup of soy sauce, two tablespoons of brown sugar, two-thirds cup of beef broth, minced cloves of garlic (4), and two teaspoons of ginger in a small mixing bowl. Put half of this mixture into a gallon-sized Ziploc bag then add the sliced beef. Press out as much air as you can, then let it refrigerate for at least two hours before you cook. With the remaining mixture, add one teaspoon of cornstarch, stir until smooth, cover and then place in the refrigerator until you use it. After a few hours, prepare the noodles according to the package, and while the noodles cook, heat two teaspoons of oil in a large skillet to cook up the steak slices. Get rid of the excess marinade. Stir-fry until brown, then remove and set aside. Use the rest of the oil in the skillet to stir-fry peppers, onion, carrots and broccoli until the onions become clear and soft. Add the cabbage and beef then cook until the cabbage is soft. When the noodles are done, drain and toss in with the beef/vegetable mix, adding the reserved sauce to the mix. Toss until those noodles are covered in the sauce, then top with sesame seeds and serve!
3. Cheeseburger Bake Casserole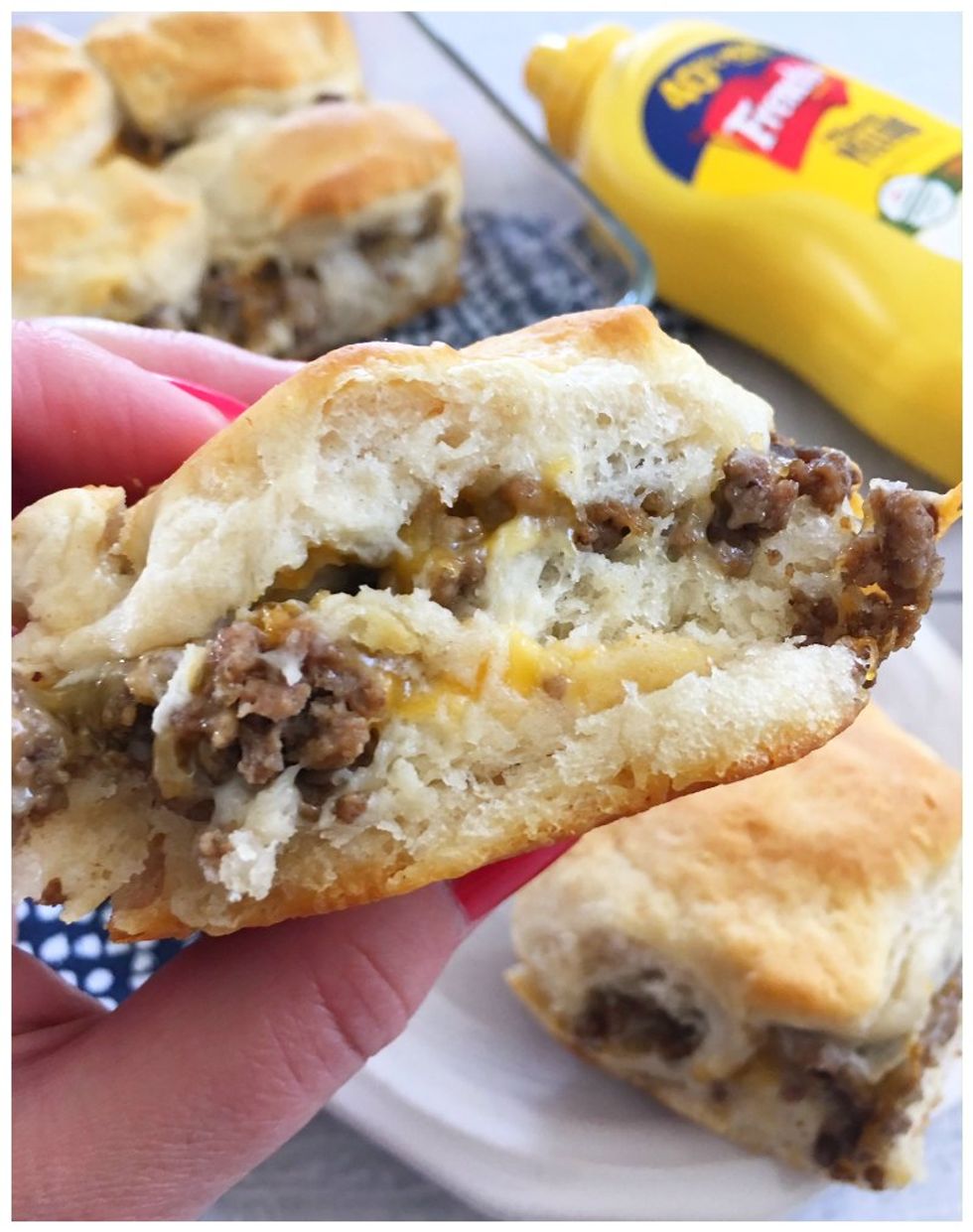 For this recipe, you will need half a pound of ground beef, an eight count of Pillsbury biscuits, and one cup of colby and monterey jack cheese. First, preheat your oven to 350º Farenheit and grease your baking dish. In the meantime, brown and season your meat to how you like it then set it to the side. Open the can of biscuits, separate each one in half, then line the pan with the bottom half of each biscuit. Spread your ground beef over the top of the biscuits, and then sprinkle the cheese evenly over the top. Place the top half of each biscuit onto the cheese and bake for about thirty to thirty-five minutes, or until the top of the biscuits are golden brown. Slice them into pieces and enjoy with a little ketchup or mustard!


4. Doritos Taco Salad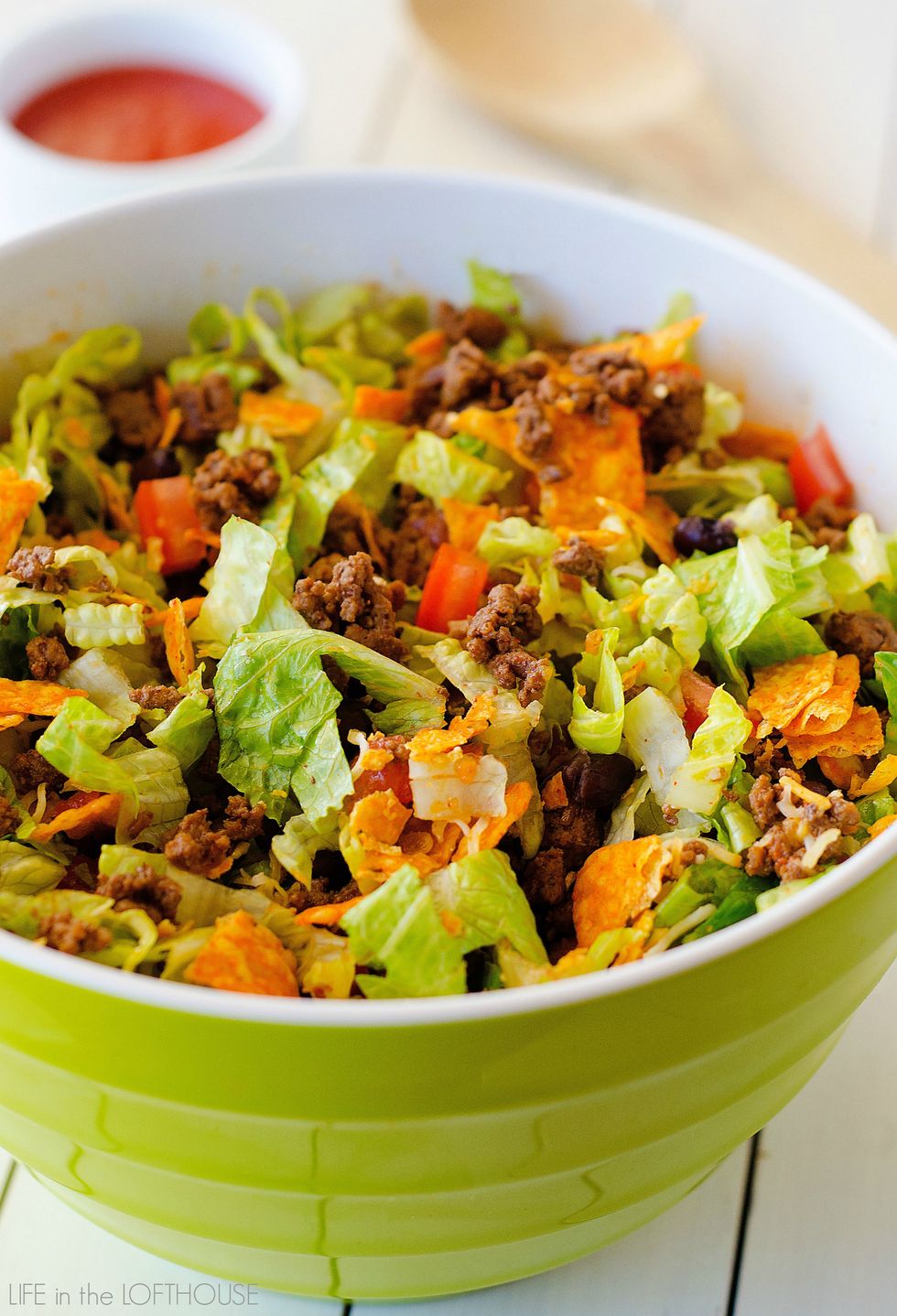 We all love Doritos chips, so why not make a salad out of them? For this yummy bowl, you'll need a pound of ground beef, a cup of black beans, two Romaine lettuce hearts, one tomato, a cup of Catalina dressing, a packet of taco seasonings, half a cup of cheddar cheese, and then, of course, the doritos. First, brown and crumble the beef in a large skillet, drain the grease when done, and add the taco seasoning. Make sure to read the packet to add whatever water is called for on it. Stir until it comes to a boil then let it simmer on low for ten minutes. Remove from the heat and let it cool a bit while you put the chopped lettuce, black beans, tomato and cheese in a large bowl. Add the slightly cooled beef and mix it up so it's combined. When you're ready to serve it up, add your Doritos and dressing to the salad, then enjoy!
5. Cheesy Pepperoni Pizza Sticks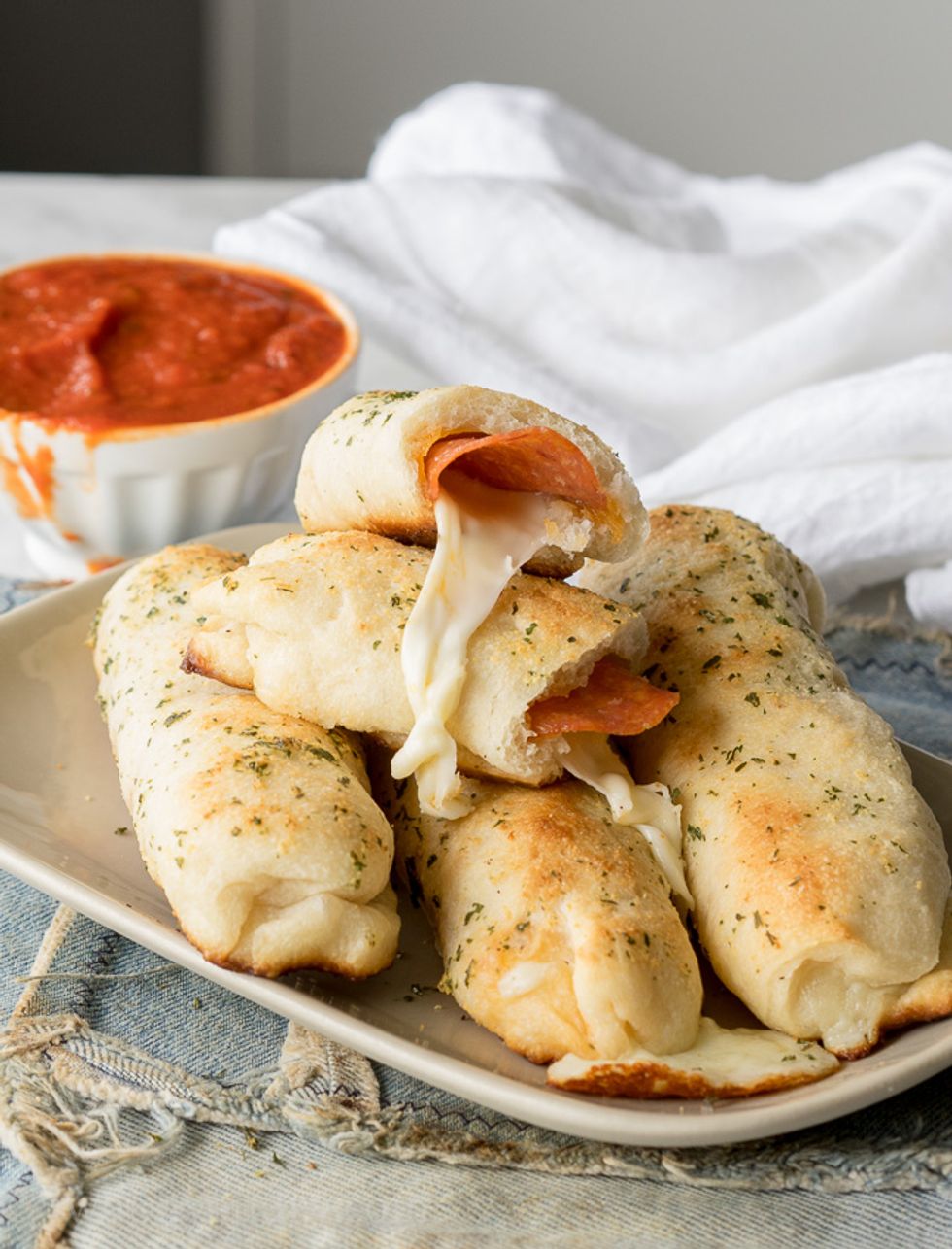 For this delicious recipe, you will need pepperoni, a half a teaspoon of garlic powder, half a teaspoon of dried parsley, a tube of Pillsbury pizza crust, two tablespoon of butter and ten mozzarella cheese sticks. Preheat your oven to 450º, spread the pizza dough out on a lightly greased baking sheet and cut it into 10 equal size rectangles. Arrange four pepperoni slices on each rectangle and top with mozzarella cheese stick. Roll the dough, enclosing the cheese and pepperoni into the dough. Melt the butter and add the garlic powder and dried parsley. Brush the pizza sticks with the mixture. Bake them for ten to twelve minutes or until golden brown, and voila! Enjoy with a side of marinara sauce! You can use other pizza toppings, such as pineapples, mushrooms, or olives!