Disney Channel Original Movies (DCOMs) charmed our millennial childhoods every day at 8/7 Central since the network began developing them in 1997. Recently, the first images of "Adventures in Babysitting," a remake of the 1987 film, were released as it is projected to come out later this year. "Adventures in Babysitting" also marks the 100th DCOM. Feeling old yet?
You probably started thinking that you were too cool for Disney Channel once you started high school. If you're like me, though, you tune in during Halloween season for "Halloweentown" and love showings of "High School Musical" for the feelings of nostalgia these flicks give. In order to help give you even more nostalgia, here is a list of 25 pre-2010 DCOMs in chronological order (not including sequels) that are sure to make you reminisce about the good old days of Disney Channel.
1. Halloweentown (1998)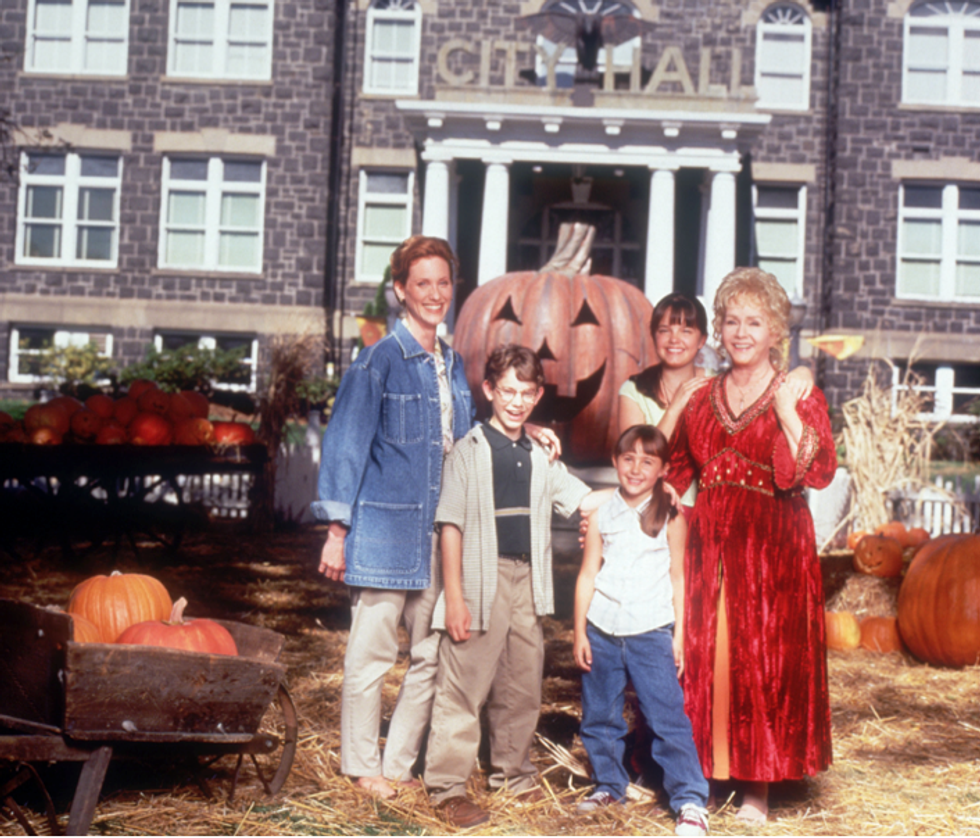 (aka the best Halloween movie of all time). "Halloweentown" taught us that being weird was cool and that "being normal is vastly overrated." After seeing how awesome Grandma Aggie and Marnie and her siblings were, we all wanted to be a Cromwell. Let's not forget the marvelous sequels: "Halloweentown II: Kalabar's Revenge," "Halloweentown High," and "Return to Halloweentown." The franchise is so beloved that there's even a festival to celebrate Halloween all month long in October in St. Helens, OR, one of the filming locations.
2. The Thirteenth Year (1999)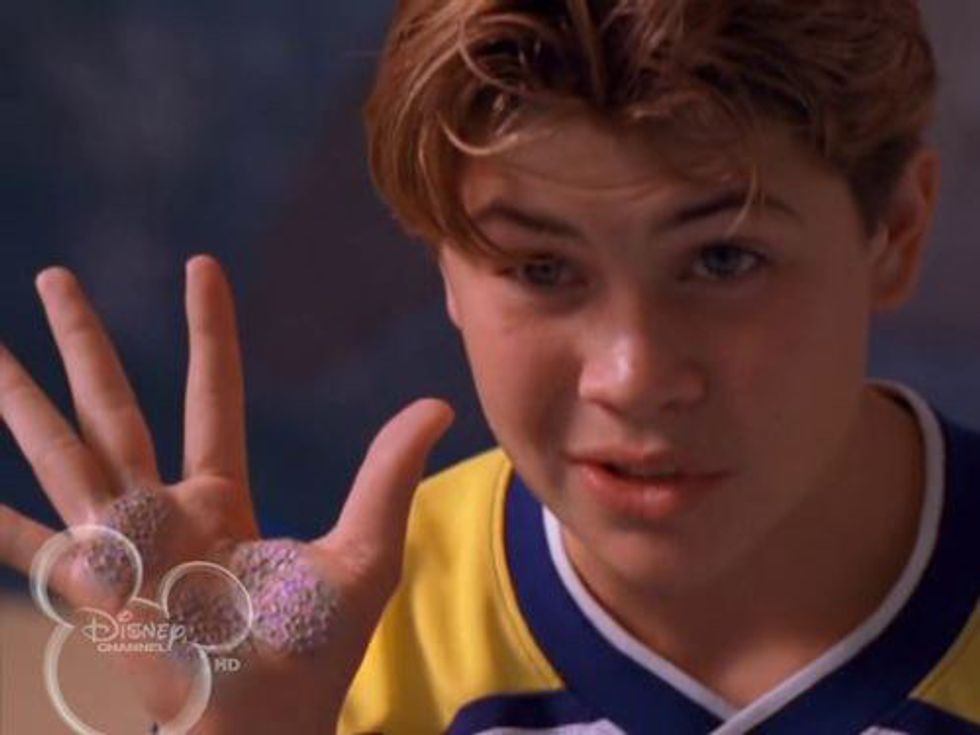 Turning into a merman on your 13th birthday and finding out your birth mother was a mermaid? As if puberty wasn't hard enough. Maybe all really talented swimmers are actually just mermaids or mermen. I'm looking at you, Michael Phelps.
3. Zenon: Girl of the 21st Century (1999)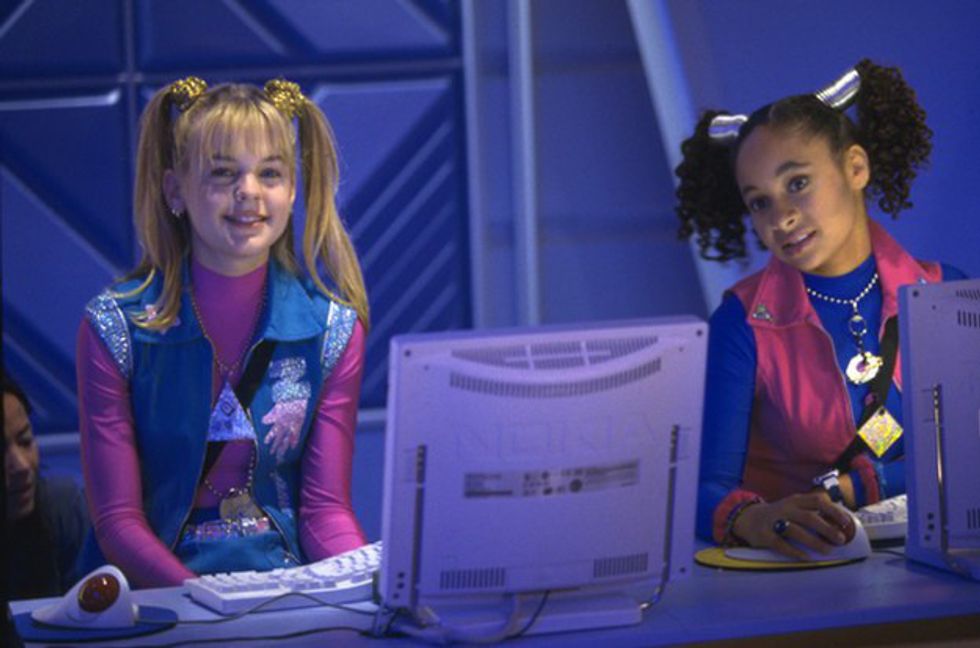 Zetus lapetus! This movie was out of this world...literally. It would have been so cool to have grown up in space like Zenon and Nebula (a young Raven-Symoné), and so getting sent down to earth would have understandably been a true punishment.
This stellar DCOM was followed by "Zenon: The Zequel" (2001) and "Zenon: Z3" (2004) "Zoom, zoom zoom. Make my heart go boom, boom, boom, my Supernova Girl." Feeling old, yet?
4. Smart House (1999)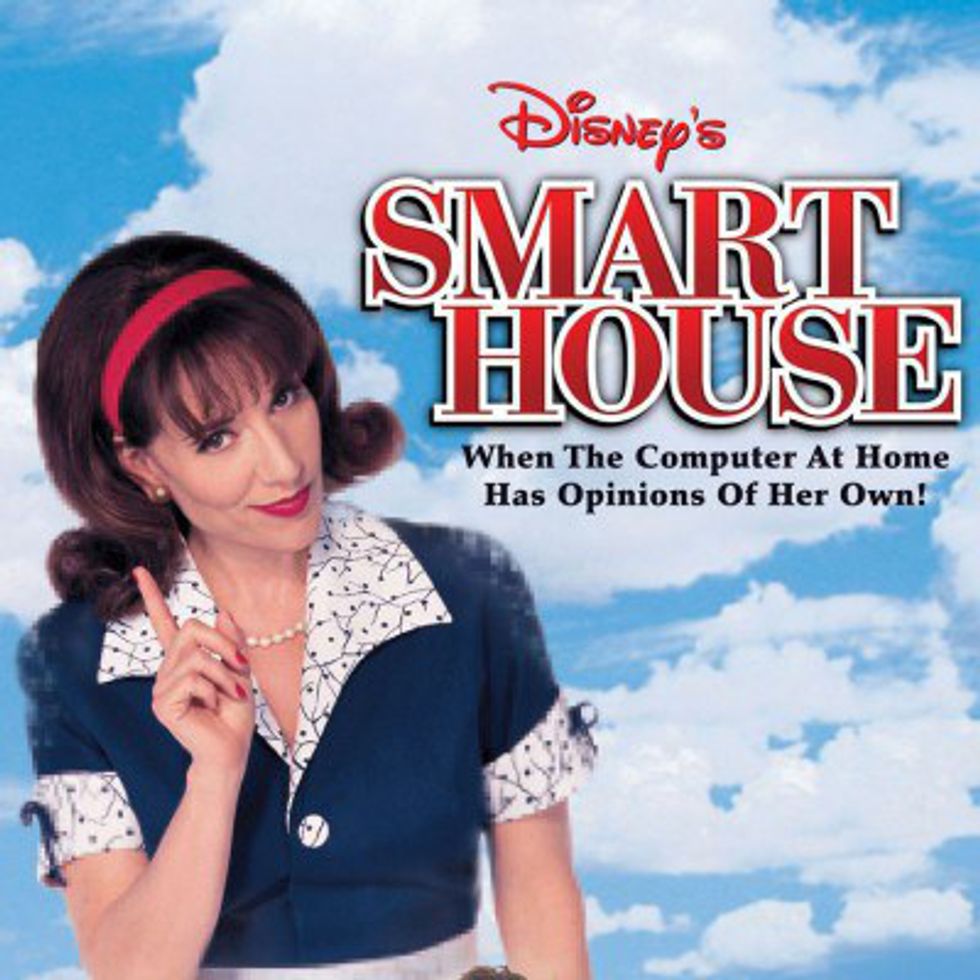 The automated house in "Smart House" seemed so cool until the system that ran it, Pat, became all maternal and malfunctioned. That party scene was really bumpin' but that final scene with Pat singing "Hush, Little Baby" is the stuff of nightmares. Did you know that the actress who played Pat is also in Pitch Perfect 2?
5. The Color of Friendship (2000)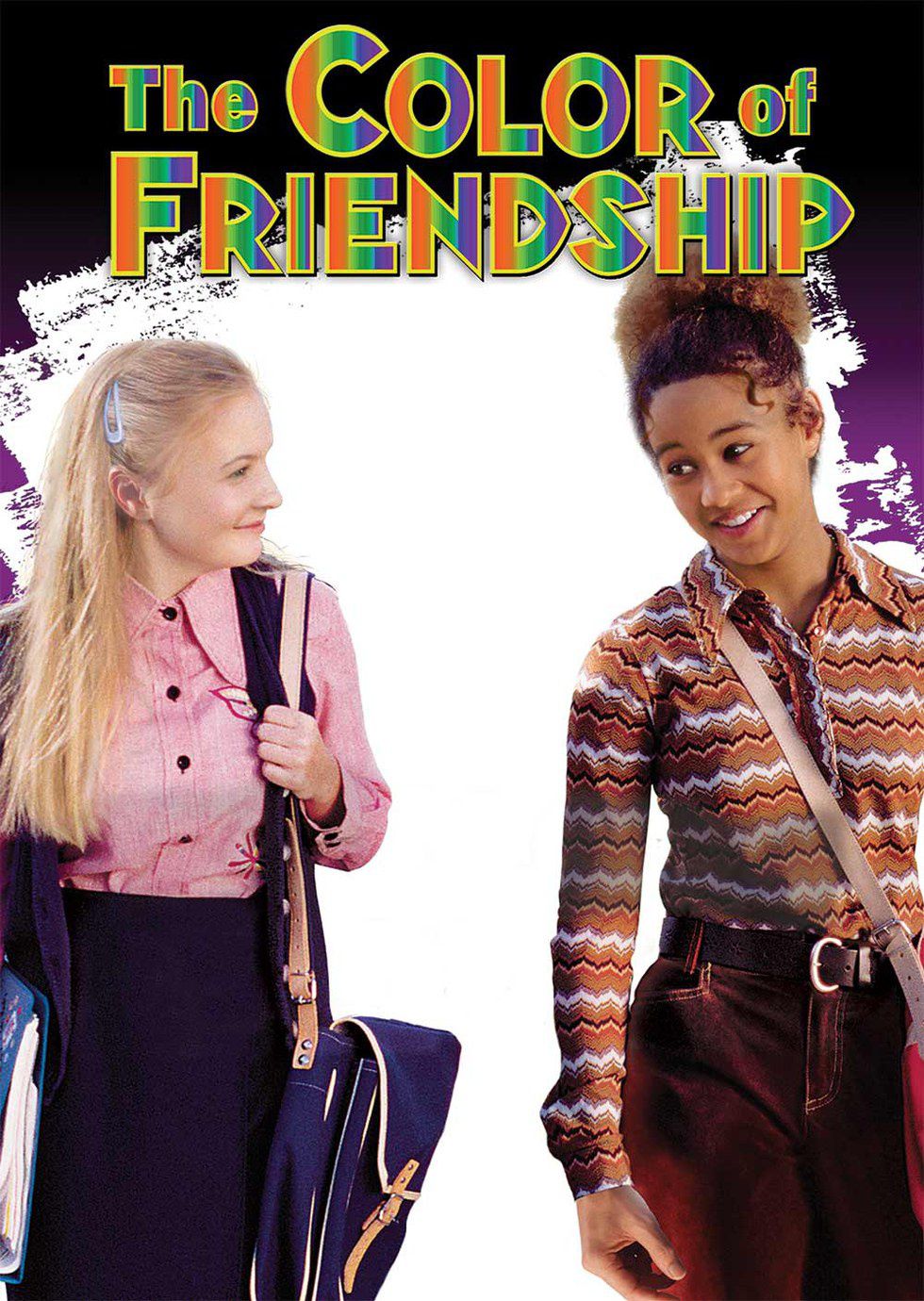 Piper begs her parents to host an African exchange student but is later shocked to find out that the exchange student is Mahree, a white girl from apartheid South Africa who comes to America believing that she'll have a white host family but is disappointed upon realizing that her American host family is actually black. Piper and Mahree eventually become friends, and Mahree finally becomes aware of the racial injustices of apartheid.
I just loved when Piper tries to brings Mahree a milk shake in the beginning and uses the opportunity to call out her blatant racism: "You do drink chocolate, right? Or maybe you only like vanilla." Iconic.
6. Mom's Got a Date with a Vampire (2000)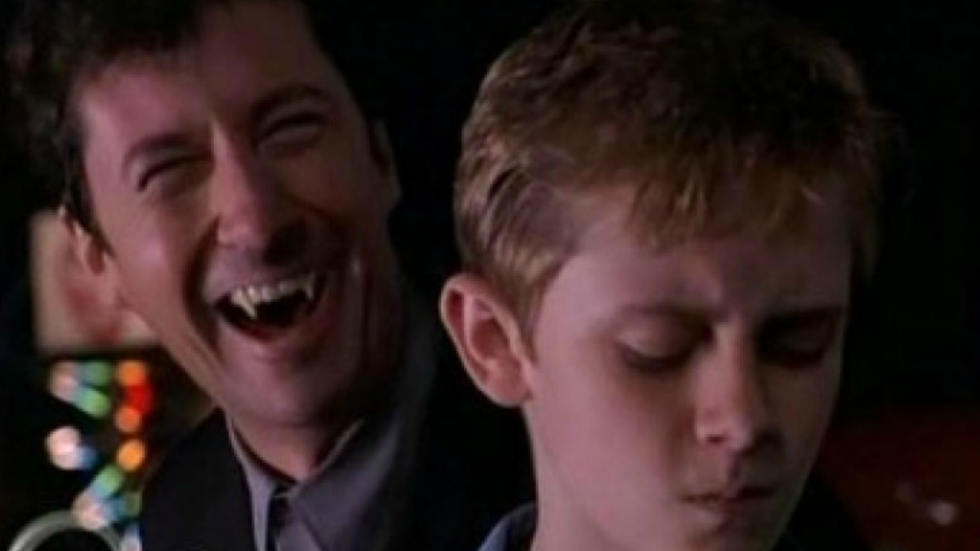 Basically, Mr. Sheffield from "The Nanny" was actually a vampire all along and really wanted to eat Sabrina the Teenage Witch's Aunt Hilda. Yeah, that pretty much sums it up.
7. The Luck of the Irish (2001)
[rebelmouse-proxy-image https://media.rbl.ms/image?u=%2Ffiles%2F2016%2F03%2F13%2F635935100644456874-2116134958_The-Luck-of-the-Irish4-1457550670.gif&ho=https%3A%2F%2Faz616578.vo.msecnd.net&s=251&h=415e54b741dd89e6e77bbcac2f352e243ce241a0508bc6f71dac4bd765cce257&size=980x&c=1741330771 crop_info="%7B%22image%22%3A%20%22https%3A//media.rbl.ms/image%3Fu%3D%252Ffiles%252F2016%252F03%252F13%252F635935100644456874-2116134958_The-Luck-of-the-Irish4-1457550670.gif%26ho%3Dhttps%253A%252F%252Faz616578.vo.msecnd.net%26s%3D251%26h%3D415e54b741dd89e6e77bbcac2f352e243ce241a0508bc6f71dac4bd765cce257%26size%3D980x%26c%3D1741330771%22%7D" expand=1]
Was Ryan Merriman just in every DCOM in the early 2000s and late 90s? First "Smart House" and now this? I don't really get it either. After discovering that he's half-leprechaun, Kyle must fight against a group of evil leprechauns in a series of traditional Irish-esque challenges and basketball in order to get his family's lucky gold charm back. This movie ended with a beautiful rendition of "This Land is Your Land" and that really got to me as a kid.
8. Double Teamed (2001)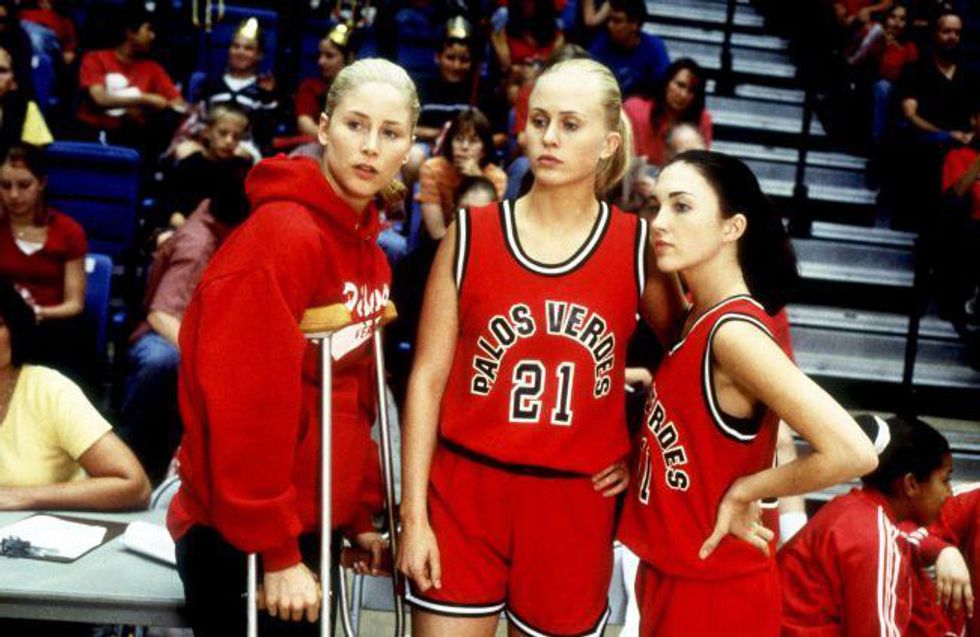 Based on a true story, this movie tells the story of really tall twins Heidi and Heather Burge who develop a passion for basketball. And then things get really dramatic when one of the twins gets all intense playing basketball and then ends up twisting her ankle. To be honest, I don't remember all that much about this movie.
9. Cadet Kelly (2002)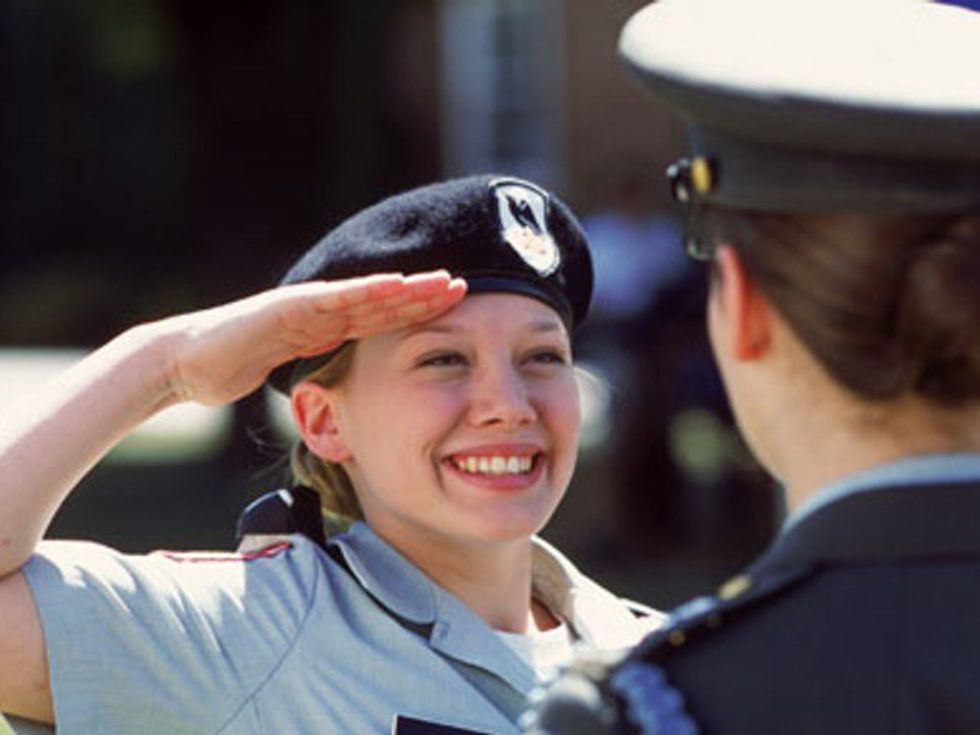 After her free-spirited mother marries a Commandant of a military school, Hilary Duff must leave behind her friends, art school, and her unique, stylish accessories for military school. She eventually adjusts, and the film ends with a very impressive drill routine.
10. Gotta Kick It up (2002)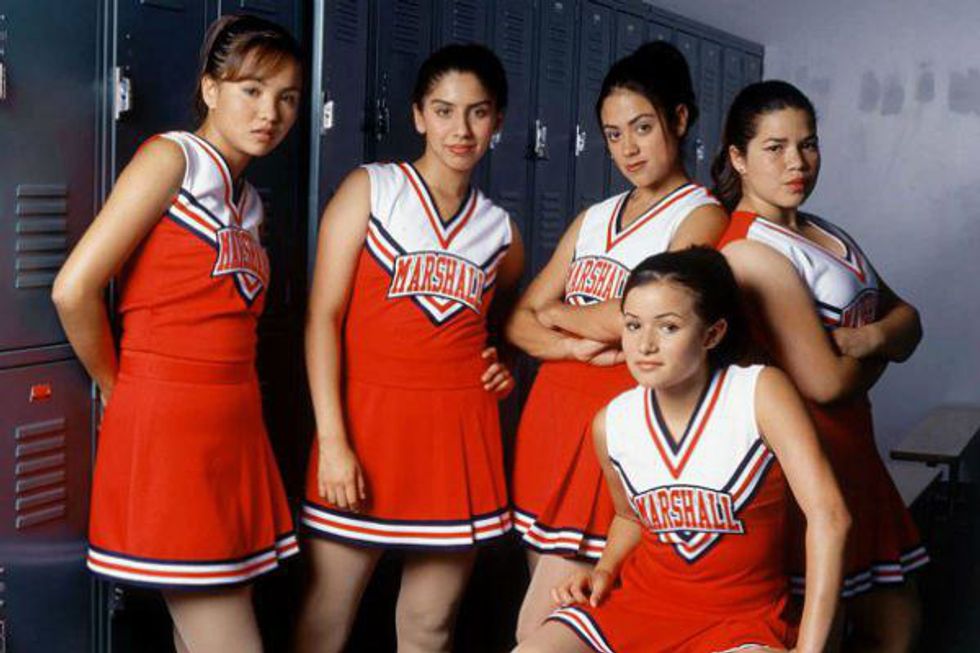 Based on a true story, a teacher decides to coach a dance team of young Latina girls, helping them overcome society's obstacles and become champions. Look at American Ferrera circa 2002, pre-"Ugly Betty" and pre-"Sisterhood of the Traveling Pants." Great movie, 10/10. "¡Sí, se puede!"

11. Get a Clue (2002)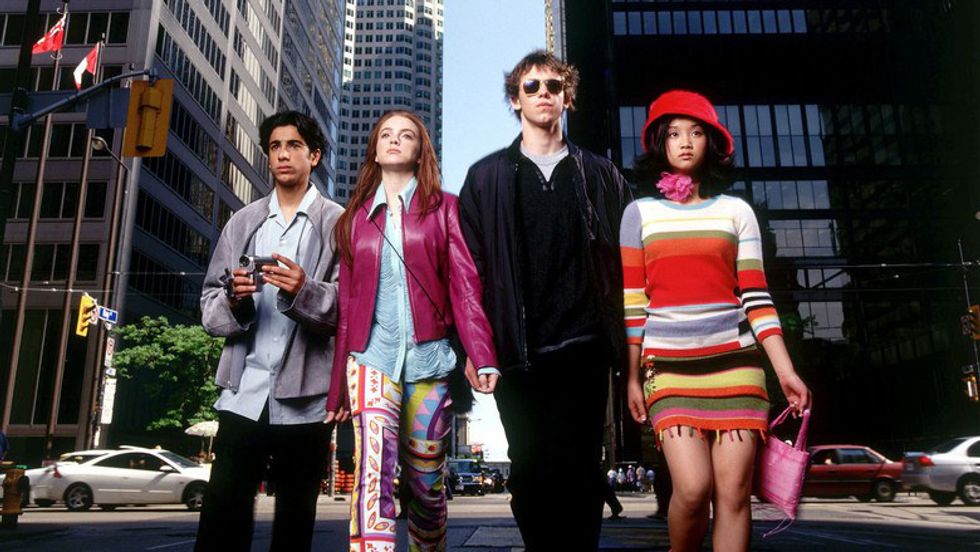 Ah yes, wealthy Manhattan students clad in designer brands work together to get the scoop and solve the mystery of their teacher's disappearance. This DCOM hit features a teenage Lindsey Lohan and Brenda Song, and this bomb song which you and your friends probably rocked out to at least once in your teen lives.
12. The Even Stevens Movie (2003)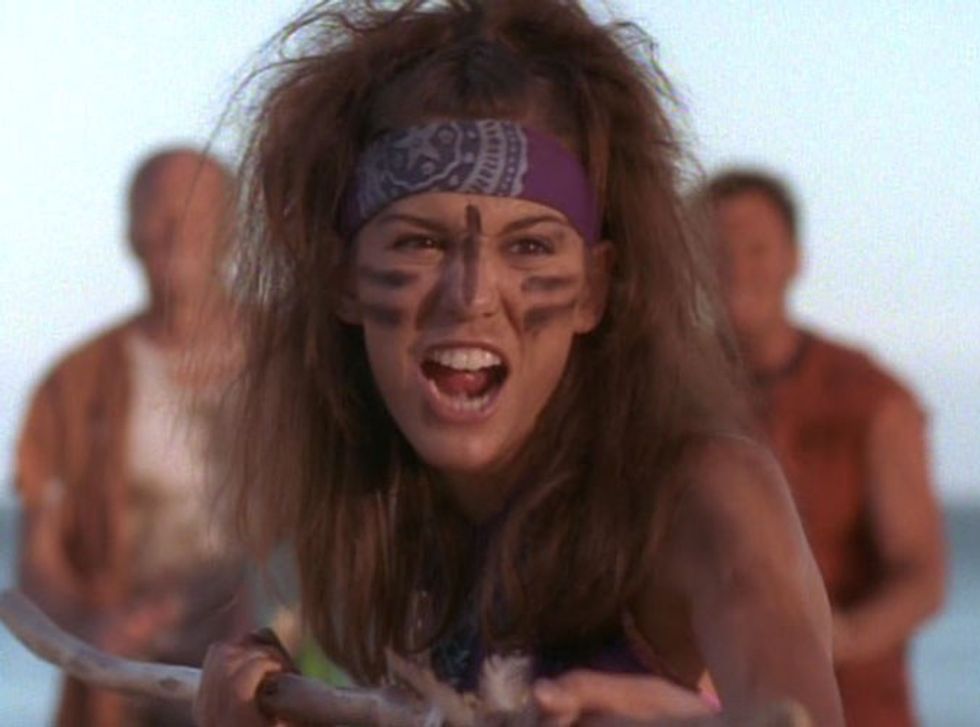 The Stevens family is back with their crazy antics, but this time on a tropical island. Little do they know, they are actually being filmed for a reality show. Remember when Ren lost all control and hunted Louis? That was pretty great.

13. Eddie's Million-Dollar Cook-Off (2003)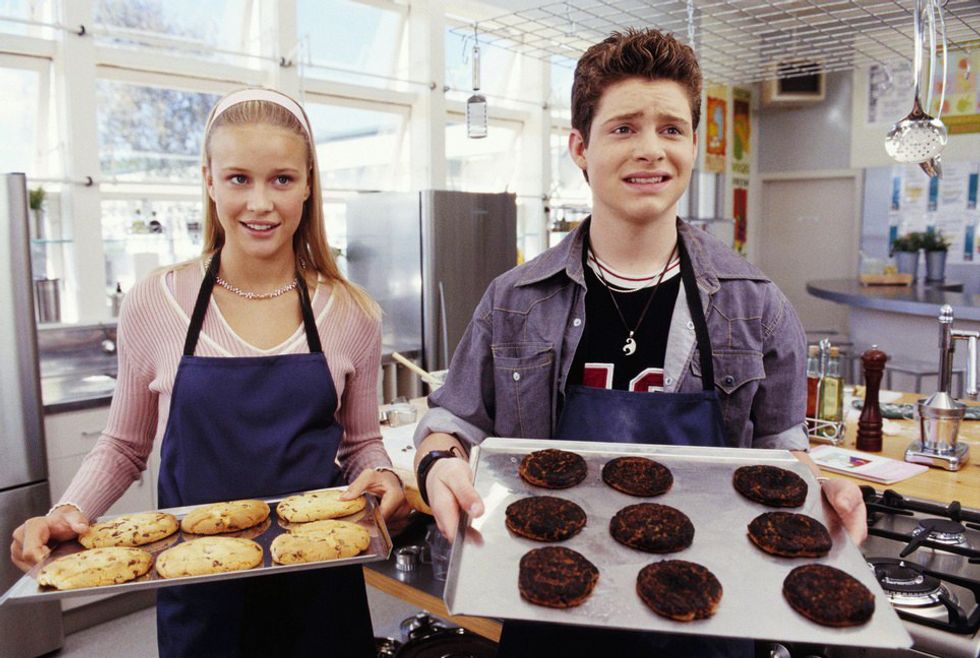 Yes, boys, you can play sports and enjoy cooking too. Eddie plays baseball but also spends his free time cooking and watching The Food Network (especially celebrity chef Bobby Flay). He ends up spending more time cooking than playing baseball, much to the dismay of his father, and it becomes a classic case of the Lifetime movie cliché: "I'm not ruining my dream. It's not my dream, dad. It's yours!"
14. The Cheetah Girls (2003)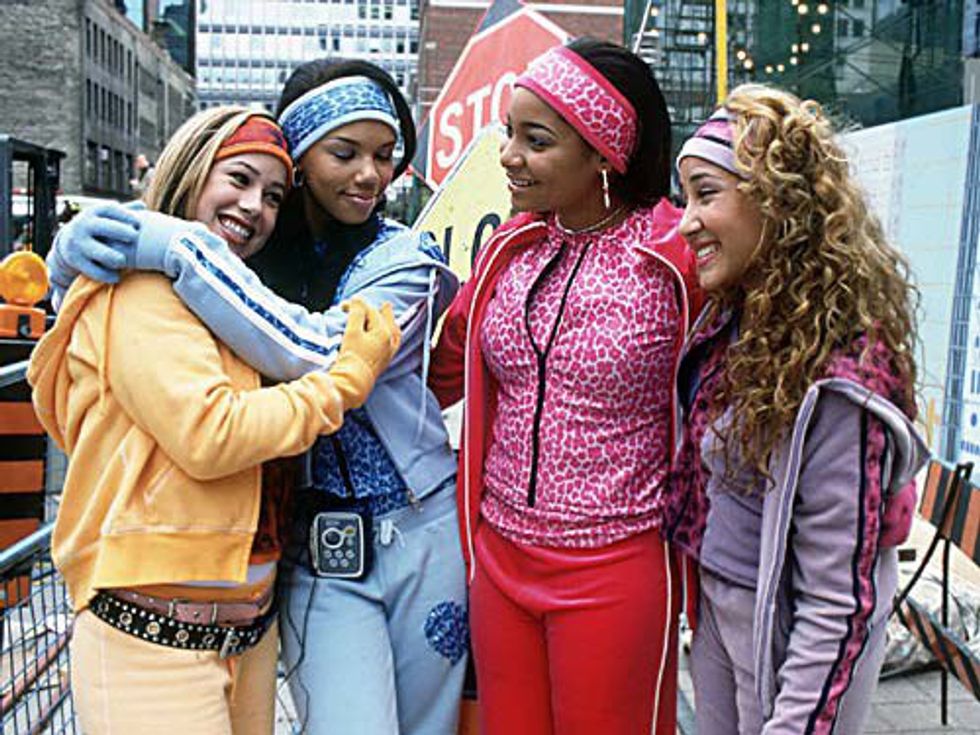 These girls were all remarkably talented and cheetah-licious, and this musical movie was super successful, resulting in two sequels: "The Cheetah Girls 2" set in Barcelona, Spain and "The Cheetah Girls: One World" set in New Delhi, India. The dance scene near the end of the film after Galleria's dog is saved, with all of the girls in their cheetah print sweatsuits was truly iconic.
15. Pixel Perfect (2004)
[rebelmouse-proxy-image https://media.rbl.ms/image?u=%2Ffiles%2F2016%2F03%2F13%2F635935098639044238-562173767_pixel%2520perfect%2520gif.gif&ho=https%3A%2F%2Faz616578.vo.msecnd.net&s=257&h=fd0d3fef4114e79e5fee9b452af9d51c86a5caf0b17fa480bca052cf64b0110e&size=980x&c=2015157316 crop_info="%7B%22image%22%3A%20%22https%3A//media.rbl.ms/image%3Fu%3D%252Ffiles%252F2016%252F03%252F13%252F635935098639044238-562173767_pixel%252520perfect%252520gif.gif%26ho%3Dhttps%253A%252F%252Faz616578.vo.msecnd.net%26s%3D257%26h%3Dfd0d3fef4114e79e5fee9b452af9d51c86a5caf0b17fa480bca052cf64b0110e%26size%3D980x%26c%3D2015157316%22%7D" expand=1]
Roscoe (Ricky Ullman) creates a holographic lead singer for his best friend Sam's (Leah Pipes) band, the Zetta Bytes. But things get complicated when it turns out that Sam has feelings for Roscoe and fears that he is in love with his "perfect" holographic creation.
16. Stuck in the Suburbs (2004)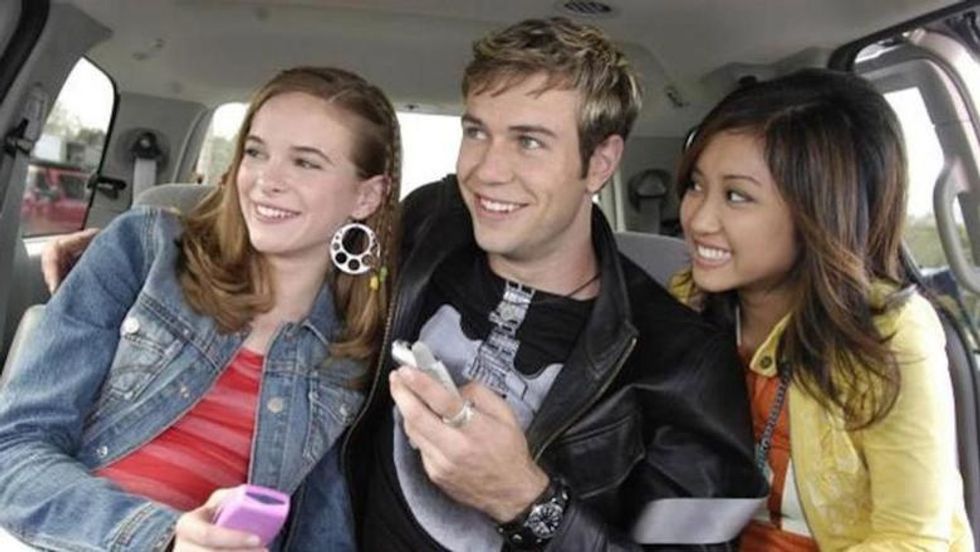 SNL's Taran Killam stars as a young pop singer trying to rediscover his own sound and run away from his record label. While filming a music video in a suburban town, he accidentally switches phones with one of his pre-teen fans played by Danielle Panabaker. Yeah, this would never happen with locked smartphones and everything today.
17. Now You See It... (2005)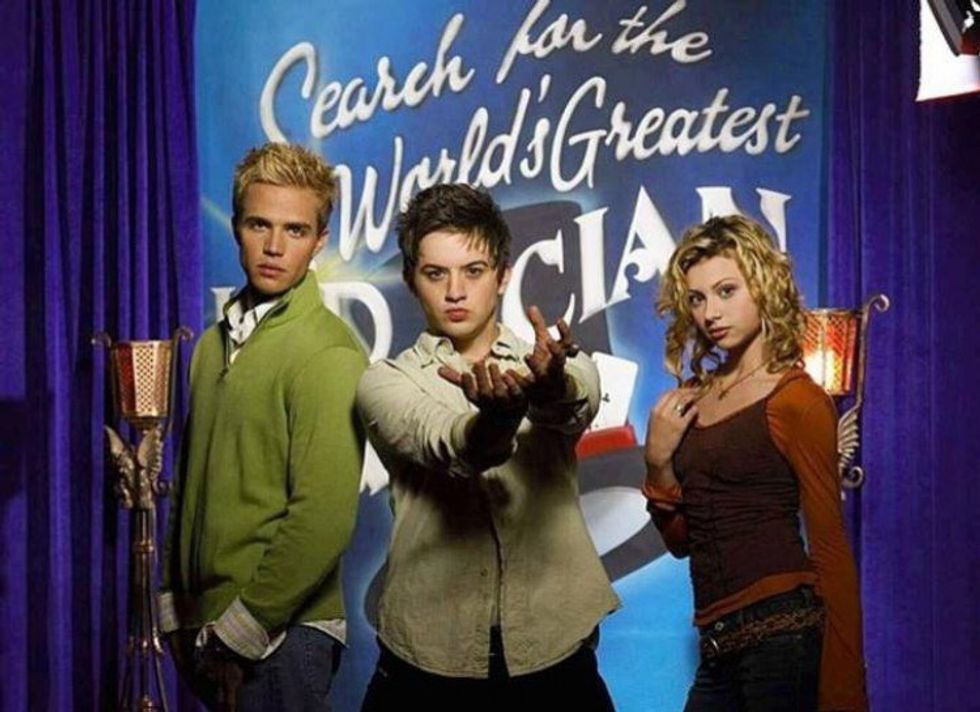 Alyson Michalka breaks the fourth wall and tells her story to the audience documentary-style. She plays an aspiring producer who signs up to help produce a reality show on the search for the world's greatest kid magician. She meets Danny, who turns out to actually have magical powers. Danny gets gets tricked by Max, the host of the show, to wear a ring to help him control his powers but will actually give his powers to Max. Tricky, tricky.
18. Twitches (2005)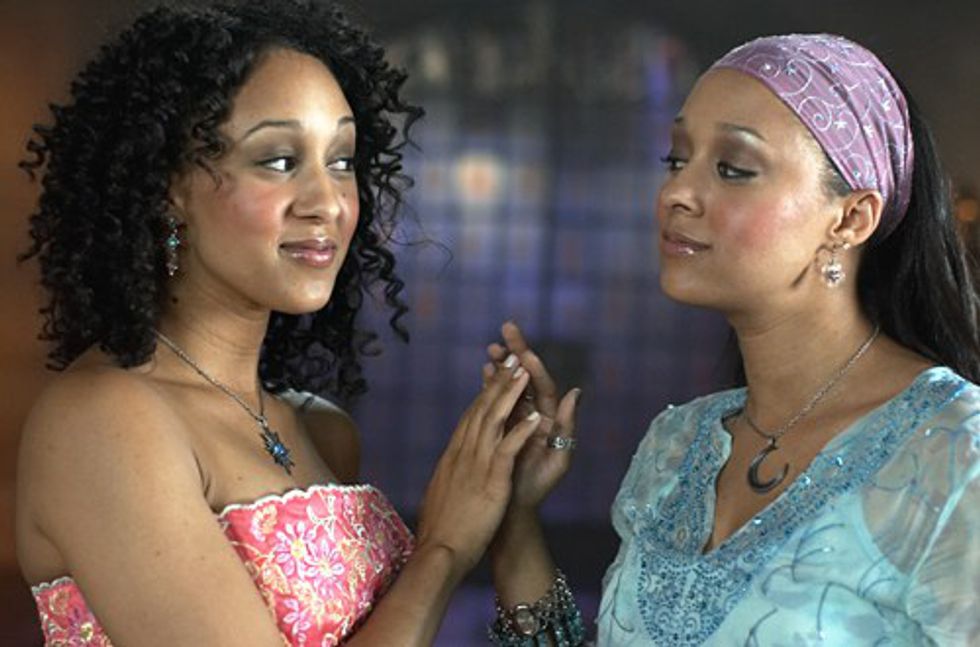 Tia and Tamera Mowry, the stars of the classic "Sister, Sister," come back in this magical DCOM as two girls from vastly different backgrounds who discover that they're actually twins...and witches. Twin witches. Twitches. Clever. And that they must go back to their homeland to save their birth mother and their kingdom.
19. High School Musical (2006)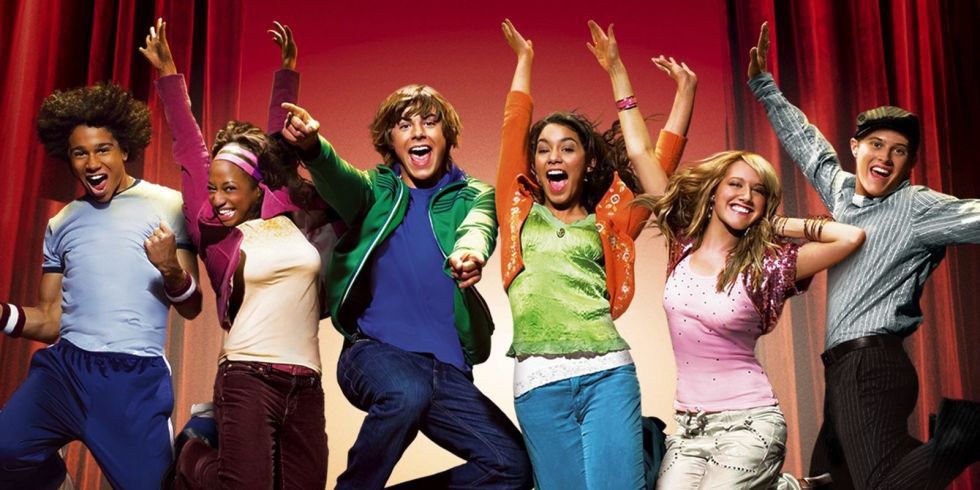 In case you've been living under a rock, Disney Channel also recently had a reunion special to celebrate the 10th anniversary and it was glorious. Do I even need to write all that much about "High School Musical"? You can play sports but also sing and dance? Groundbreaking. It's the most successful DCOM of all time and is the first and only DCOM to have a theatrical release sequel. It truly was the "Start of Something New."
20. Cow Belles (2006)

Aly and AJ Michalka pretty much owned Disney Channel, and who couldn't forget such hits as "Potential Breakup Song" and "Like Whoa"? In "Cow Belles," they play two rich, spoiled sisters whose father puts them to work at his dairy to teach them a lesson.
21. Wendy Wu: Homecoming Warrior (2006)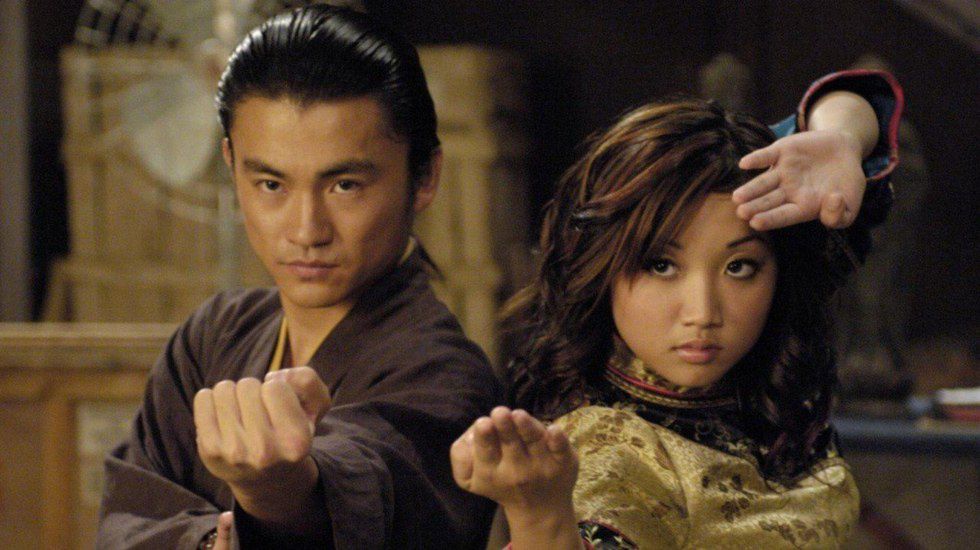 As an Asian American kid, it was super cool to see "Wendy Wu: Homecoming Warrior" on a kid's network. Brenda Song was such a bad-ass, not only for fighting evil with insane martial arts skills, but also for finding ways to reconcile her Asian culture with her American life. She becomes Homecoming Queen, but decides to fight evil instead? Now that's commitment, especially for a popular girl in high school.
This is also the third movie with Hmong actress Brenda Song on this list. She really was a Disney Channel powerhouse, and rightfully so.
22. Read It and Weep (2006)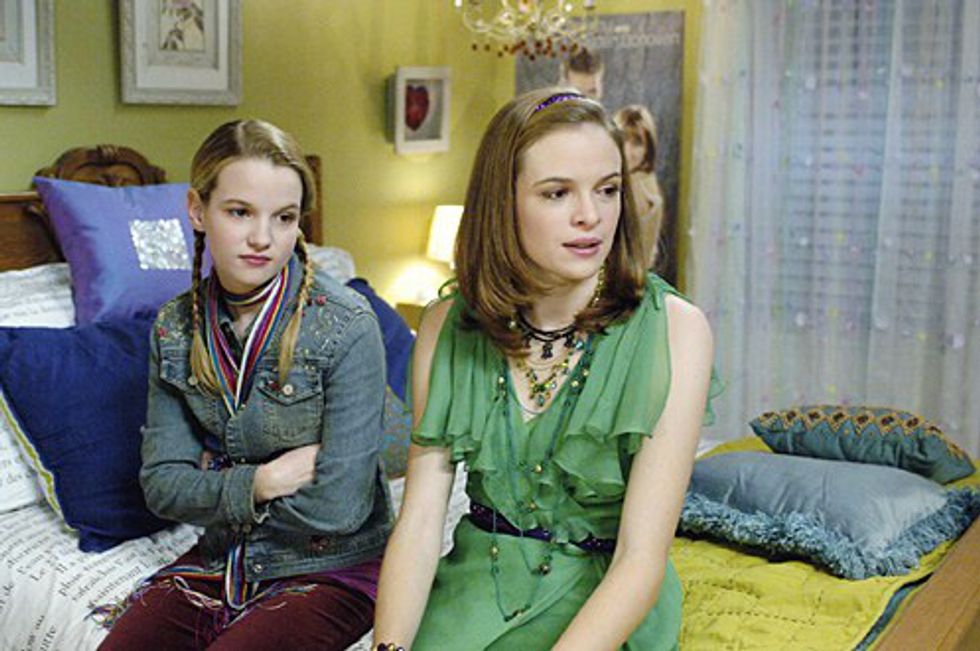 It's every girl's nightmare (or at least the ones that actually regularly write in private, personal diaries and not on Tumblr). This DCOM features another Disney Channel sister power duo: Danielle and Kay Panabaker. Jamie (Kay Panabaker) keeps a private journal on her tablet, writing about her experiences at school and the adventures of a fictional character with superpowers loosely based on herself, Is (Danielle Panabaker). Jamie accidentally emails her teacher her journal instead of her English assignment, and it wins a writing contest and suddenly becomes a national bestseller. High school drama on a whole other level ensues.
23. Jump In! (2007)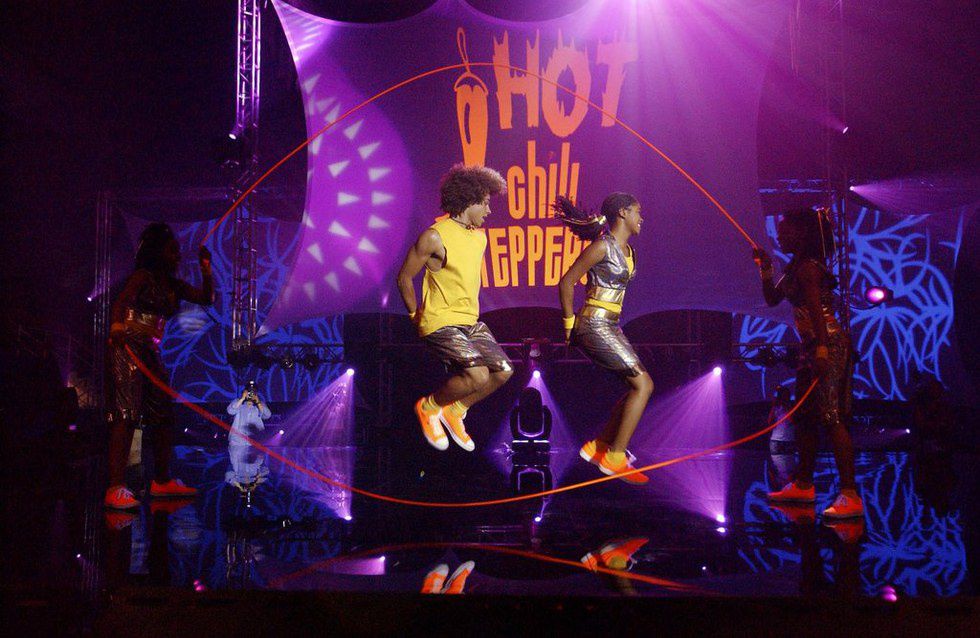 Corbin Bleu and Keke Palmer slaying in double dutch routines? What's not to love? Disney Channel now says that you can love boxing AND double dutch too. I'm beginning to notice a pattern here. "Jump In!" is also the movie that brought us the catchy Corbin Bleu hit for ages 13 and under, "Push It to the Limit."
24. Camp Rock (2008)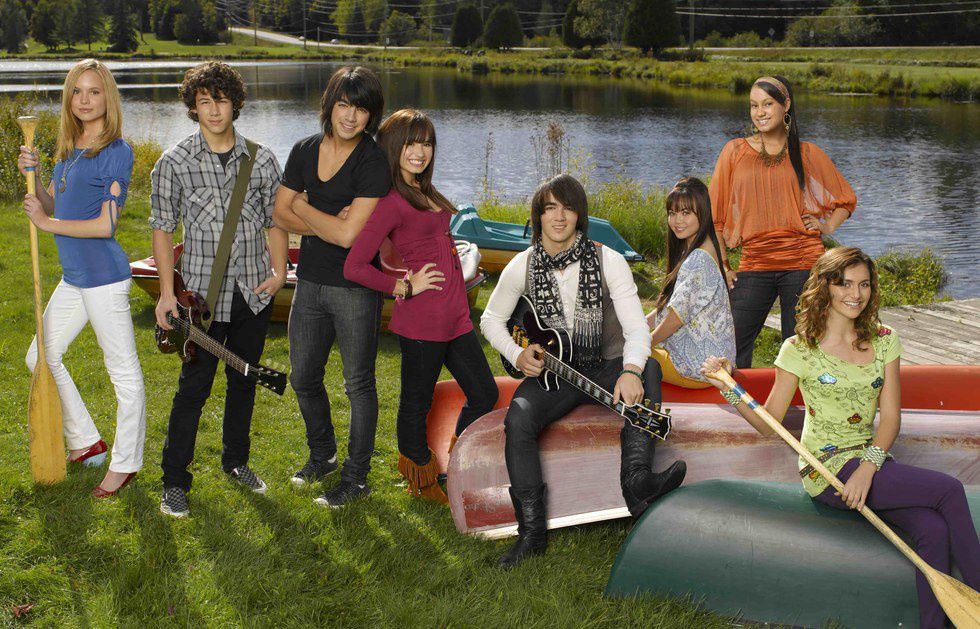 This was just a terrible time for hairstyles for the Jonas Brothers. Look at those straightened manes on Kevin and Joe's heads and the untamed mess on Nick's head. Following the success of "The Cheetah Girls" and High "School Musical," Disney Channel just had to make another musical (kind of) DCOM, and "Camp Rock" did not disappoint. It featured a killer soundtrack, according to my 11-year-old self.
25. Wizards of Waverly Place: The Movie (2009)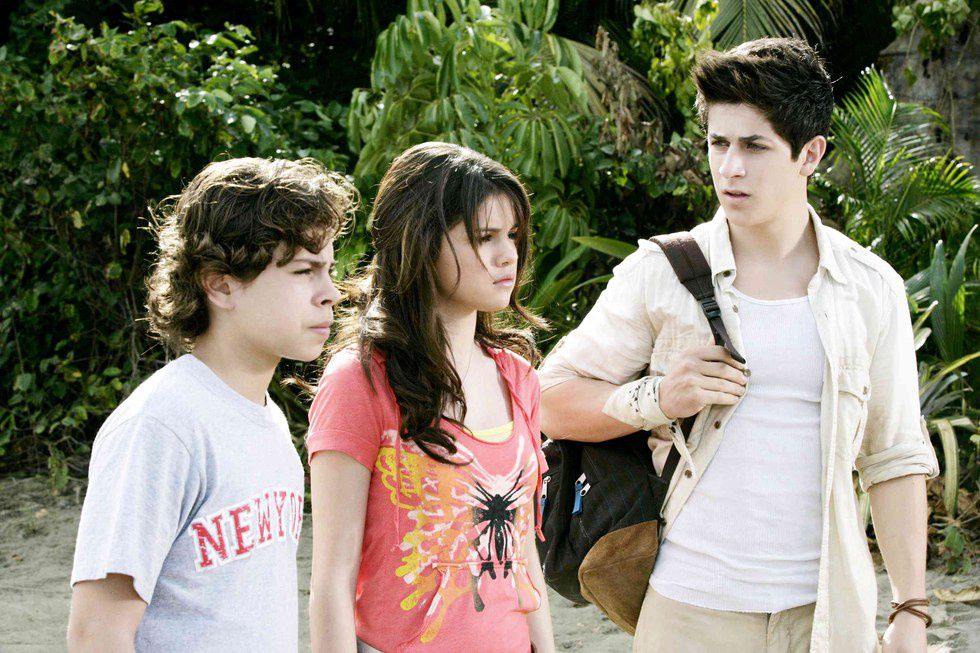 A classic example of teenage angst gone wrong. Who remembers hearing Alex saying "I wish you and Dad never even met!" over and over because the trailer seemed to be on repeat right before this DCOM's release? I do. Apparently, magic ruins lives, but makes for some good childhood television. Also, were they foreshadowing Alex's win in the family wizard competition with this movie or...?
The following technically aren't DCOMs, as they did not originally premiere on Disney Channel. However, since they are shown on Disney Channel quite often, they definitely deserve an honorable mention: "Hocus Pocus," "Tower of Terror," "Life-Size," "Model Behavior," "Toothless," "Seventeen Again" (as in the one with the Mowry siblings, not the Zac Efron one), "My Date With the President's Daughter," "Freaky Friday," and "The Lizzie McGuire Movie."