THE DAY BEFORE
---
1. Walking into the pre-race expo and seeing all the glorious running goodies.
Here I am. I am ready to conquer the racks on racks of Nike shorts and Gu packs. OH! And the beer tent. I will definitely be making a stop there.
2. When your friends question why you are voluntarily running 26.2 miles.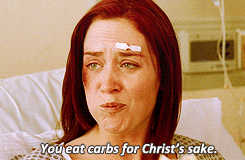 An excuse to eat grotesque amounts of pasta only to burn it all off the next day? Bring it on.
3. Leaving the expo with a few (completely necessary) purchases.
Oh, yes, I absolutely needed that fuel belt. And the socks. And the matching sparkly headbands.
RACE DAY
---
4. Before leaving at the crack of dawn to get to the start line.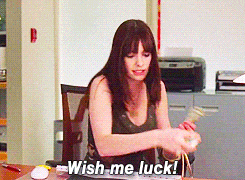 Good vibes needed right about... for the next few hours or so.
5. Even though you arrive on time, when you find yourself waiting in an endless line for the port-a-John 10 minutes prior to Start.
Should not have had that coffee.
6. Finally, when the gun's about to go off.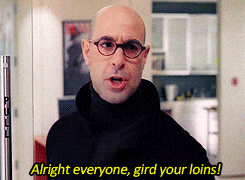 Praying my way. Dear mom, I hope you know I love you a lot...
7. When there's that one guy who thinks it's a good idea to sprint the first 5k.
Godspeed to you, sir.
8. When you find your groove but then, you are disrupted by some jerk honking at and cat-calling you.
I'm already going to be under immense bodily discomfort for the next few hours-- I do not appreciate this right now.
9. Figuring out how to space out when to eat a gummy or energy packet.
Usually a good route to go is every 5-6 miles, FYI.
10. Finding ways to pep talk yourself and reassert your confidence.
Note to self: I will not be passed by this grandma in the running skirt. Big time props to you, G, but I refuse.
11. Finally making it to the first half and realizing it was only Round 1.
Aaaand...I've gotta do this again.
12. How you start to feel about your choice to race when The Wall hits you at mile 18.
26.2 miles?! What the hell was I thinking?!
13. When your legs are starting to feel a little like concrete.
Ain't nobody got time for incompetence right now, legs. Work, dammit!
14. How your last pack of gummies taste by mile 20.
Where's the next water station again?
15. When you realize you really gotta go but still have 10k left.
That sign that said "1 in 88 will get the Runs...are you next?" is now coming back to haunt me.
AFTER THE FINISH
---
16. Crossing the finish line and realizing how hungry you are.
I just ran and all I want is food. Decadent, beautiful food.
17. When your support squad wants to take photos of you in your post-race glory.
Dat squirrel tail doe.
18. When the exhaustion and soreness hit you like a wave.
Would love to chat but...26.2 miles. Me. Tired.
19. Not to mention, the chafing.
No matter where it is, it sucks for everyone.
20. When all you want is to be able to walk normally.
Because Murphy's Law will come to play and you will, of course, have to walk the most distance and climb the most stairs the day you are the sorest.
21. How you feel when you're finally rested and refueled.
Can't wait to do another!