Comedian Aziz Ansari took to Netflix to create his very own show called Master of None. The first season consists of ten episodes that are each around thirty minutes long. Master of None is about a struggling actor named Dev and his take on life. Not only is this show hilarious, but each episode touches upon modern issues from gender inequality and racism to the horrors of dating. If Rotten Tomato's rating of 100 percent doesn't convince you to watch Master of None, maybe amusing gifs from the show will.
1) When Dev accurately describes your frustrations with frozen yogurt...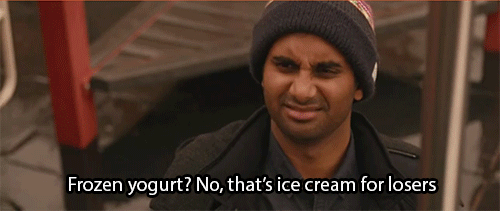 2) When this man depicts how you feel when you're surrounded by couples...
3) When Rachel and Dev were you and your friends dancing drunkenly at a club...

4) When Dev understands your love for all things pasta...

5) When Dev explains the confusion of understanding text messages...

6) When Dev and Denise do something you've secretly always wanted to do...


7) When Dev knows the importance of a good candle when he sees it...
8) When Rachel asks what all short people are curious about...
9) And Arnold does the same...


10) When Dev is exposed to the unfiltered minds of young children...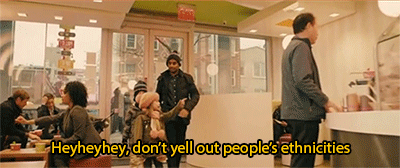 11) When Dev's mom is you when someone asks you if you went out after a long, hard day...

12) When Dev successfully brings attention to racism in Hollywood...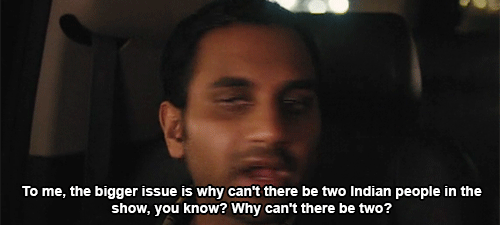 13) When Arnold says what everyone is thinking when someone names their child an uncommon name...

14) When Dev's agent was you when someone you don't like starts talking to you...

15) When Dev and Brian realize how unappreciative they were to their parents who immigrated here...
16) When Arnold was you in the presence of a bouncy house...

17) When Dev shares his true thoughts on this little kid's drawing...

18) When Dev refuses to do an Indian accent...

19) When Arnold and Denise share your love for Benedict Cumberbatch...

20) When you are Brian after you start watching Master of None...