Halloween is just around the corner and as much as I love to go trick-or-treating, it has been pointed out to me that I am too old for such. If I can't dress up and go trick-or-treating, what else is there to do on such a day? Well, as with most holidays, Halloween has its very own collection of movies that play every year. So, lets trade out our trick-or-treat bag for a bowl of popcorn, get our comfy pajamas on, and have a Halloween movie marathon. Here are 15 movies that should be on your must-see marathon list:
1. "Hocus Pocus"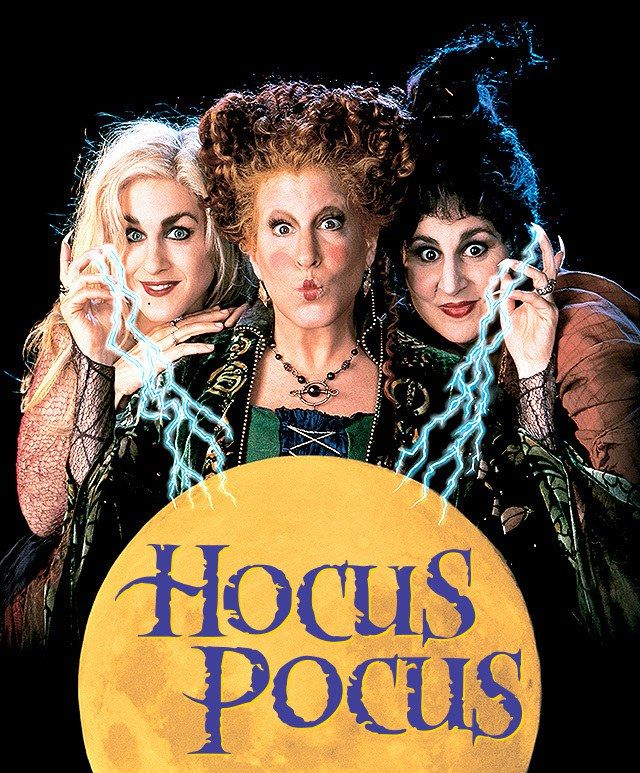 This one is a classic. I, myself make it a point to watch this one every year. It's my little family tradition. This story follows the Sanderson sisters on their quest to suck the youth out of all the children in Salem. It's a good family flick that has some humor and some heart felt moments.
2. "The Nightmare Before Christmas"

If you have not seen this movie you have not had a childhood. Tim Burton was a madman, but a genius when he wrote this. It is such a unique idea that incorporates two of the biggest holidays celebrated by most. Follow Jack Skellington, Sally, Zero, and the rest of the town as they create their own version of Christmas. I literally watch this movie every Halloween and Christmas and was even Sally for Halloween one year.

3. "Halloween Town" Saga

This collection of movies follows Marnie Piper and her siblings as they learn they come from a family of witches and try to use their powers for good and stop the evil do-ers like warlock Kalibar and his son. This is a cute Disney Halloween saga that is suitable for the whole family and makes for a good watch.

4. "The Addams Family" (1991)

What to say about the Addams Family? Well, they are a peculiar family full of dark humor and family values. The love between Morticia and Gomez is true like the sass from Wednesday. It's a cute family movie that I think everyone would enjoy. Personally, speaking I think we could all have a little bit of Wednesday Addams in us at times.
5. "The Haunted Mansion"

Eddie Murphey, the man full of jokes. This flick follows a workaholic father who drags his family along on a job and ends up in the middle of, well, a haunted mansion. Not a single soul in the place is alive beside his family. This movie is full of humor and is good for the whole family. Watch to see if they make it out in one piece.
6. "The Corpse Bride"

Another Tim Burton creation. I don't know where this man gets his ideas, but they are something else. This tells the story of an accidental marriage to a corpse. Crazy, I know. With sad stories and many obstacles, this is a cute movie and I quite enjoy it. Fair warning though, you may end up siding more with the corpse bride than the live one.
7. "IT" (1990)

I really don't want to talk about this movie. I know a lot of people like this movie for the thrill, but I just remember being traumatized at 7 years old by it. However, that is what makes this such a great Halloween movie. Basically, there's a shapeshifter that uses people's greatest fears against them and well, I'm not a fan of clowns and that was one of the phobias. Of course, I'm talking about the original, but hey the new one is out this year and if you liked the original maybe consider checking out the reboot. I would not let the small children watch this one but continue at your own discretion.
8. "Halloween" (1978)

Here's a classic horror/thriller film that, let's just say, viewer discretion is advised. This is the classic case of a serial killer on the lose, the only difference, it's also Halloween. You would not want to be trapped in the woods with Michael Myers on your tail. You would surely be a goner.
9. "Beetlejuice"

Another cute family movie. It follows a couple as the die and don't realize and have to adjust to their new "dead" lives. They encounter Beetlejuice who would do anything to escape the world he's in. This has humor and some sweet family moments as the couple becomes friends with their homes' new inhabitants.
10. "Casper"

Who doesn't love Casper the friendly ghost? Poor Casper is basically enslaved by his uncles, the "Ghostly Trio," and does everything in his ability to keep the new inhabitants of the house safe from his uncles' shenanigans. This is definitely one to watch with the kids. It is cute in every way and may leave you wanting a Casper of your very own.
11. "Nightmare on Elm Street" (1984)

Another classic horror/thriller film. What's Halloween without horror? This film is definitely not recommended for children, but if you want the thrill, this is for you. Can you imagine being targeted by a killer in your own dreams? That's the nightmare here. Freddy Kruger goes after you in your dreams and if he succeeds you never wake up.
12. "Sleepy Hollow" (1999)

Now, I haven't personally seen this but I figured I'd add it to the list but it is pretty much a classic. The story of the headless horseman is one many people know about. Follow Ichabod Crane in his hunt to track down the headless horseman and end the slayings in his town once and for all.
13. "Ghostbusters" (1984)

I'm talking the original here, not that I don't love the reboot, but we are sticking to the classics. If you're looking for something to keep you laughing you have found your destination. This movie is so full of humor and jokes, it's hard to even point out the plot line, but that is the point of the movie. Sit back and have a jolly old' time laughing your butt off with the whole family.
14. "It's the Great Pumpkin, Charlie Brown"

We can't forget Charlie Brown. I threw this on here because every holiday I watch the Charlie Brown specials and I feel like it's a nice tradition to have. I mean poor Charlie Brown just wanted a visit from the Great Pumpkin but instead got mocked for it. It's an adorable flick for the whole family.
15. "The Amityville Horror" (2005)

The final movie on my list. Now, this movie has a few different versions, but I've only seen the reboot. This horror film follows the life of a family looking for a new start only to discover that the house is turning the man of the house evil. Got to say Ryan Reynolds did a great job in this serious role for someone who usually does comedy. This has the creep factor that might be just what you're looking for.
All in all, I know a lot of these were more family friendly than horror, but that's because I made the list and I'm not a big fan of horror movies. I mean they don't scare me or anything, okay maybe a little, but that's beside the point, I just enjoy the more humorous films myself.