My friends Hannah and Brynn and I decided to run the Buffalo Half Marathon together last May because, for some crazy reason, we thought it would be a good idea! In the months preceding the race, we trained as often as we could. For example, one freezing day in February we completed an eight and a half mile hilly run. As I prepared for the big day, I constantly wondered if I was even going to be able to finish the race. I had never run that far in my life. The morning of the race, I, again, wondered why in the world I signed up. Once I started running, however, I felt great, and by the time it was over, we were already making plans for our next half marathon.
Most runners' mentalities, including my own, fluctuate throughout the race. That said, I give you: 13.1 thoughts you have while running a half marathon.
1."This is going to be so much fun! I can totally do this!"
2."This isn't so bad. I've got this. Two miles down, 11 to go."
3."I love running. I could do this all day no problem."
4."I should totally sign up for a full marathon. Yeah, I am so going to do that."
5."I knew I should have just waited in line for the port-a-potties before this."
6."OK, this is not funny anymore. Can I be done now?"
7."Well, a mom just passed me while pushing a stroller with two kids in it. Excellent."
8."Yes! Finally, a water station! Look at all these happy volunteers. They're only smiling because they are not the ones running."
9."I should just fake an injury now. Sprained ankle? Appendicitis attack?"
10. "Everything hurts. I can't believe 10 miles ago I was convinced I was registering for a full marathon after this. I crack myself up."
11. "Two more miles to go and I can eat. I can do this."
12. "I cannot believe that I paid $80.00 to torture myself like this."
[rebelmouse-proxy-image https://media.rbl.ms/image?u=%2Ffiles%2F2016%2F04%2F15%2F635963523077305752-756921347_thank-you-god-part-11.gif&ho=https%3A%2F%2Faz616578.vo.msecnd.net&s=314&h=c4131558a5f084195741a4edb871d4670b75fbb0aa80810d0f257af2b0236157&size=980x&c=3378286232 crop_info="%7B%22image%22%3A%20%22https%3A//media.rbl.ms/image%3Fu%3D%252Ffiles%252F2016%252F04%252F15%252F635963523077305752-756921347_thank-you-god-part-11.gif%26ho%3Dhttps%253A%252F%252Faz616578.vo.msecnd.net%26s%3D314%26h%3Dc4131558a5f084195741a4edb871d4670b75fbb0aa80810d0f257af2b0236157%26size%3D980x%26c%3D3378286232%22%7D" expand=1]
13. "Oh look: the finish line! The end is near, my friends."
13.1."I did it! Where's the free food?"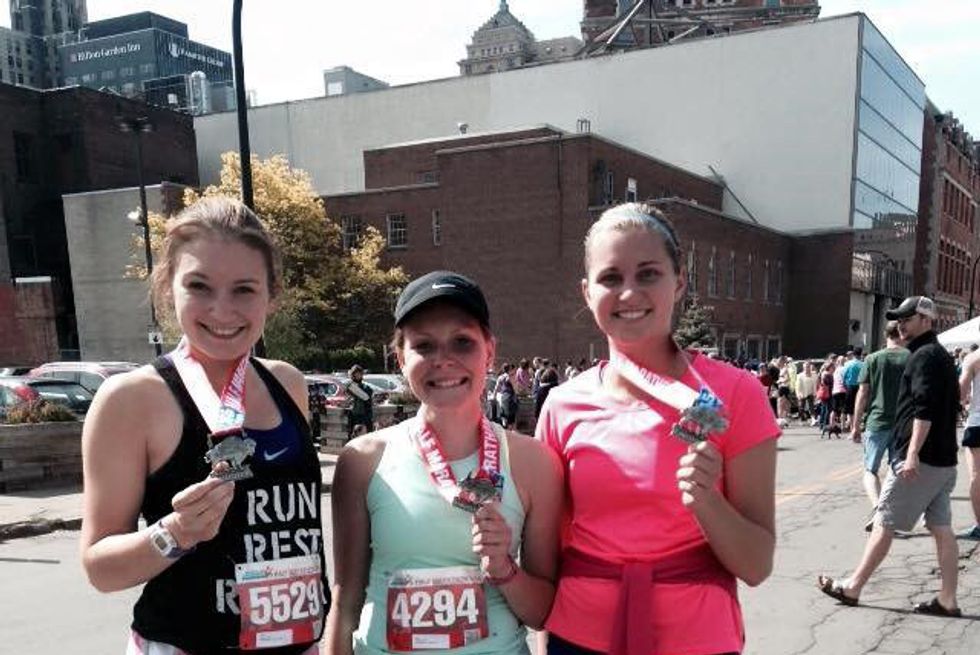 For those of you thinking about registering for a half marathon, I encourage you to do so! Finishing 13.1 miles is a powerful and thrilling feeling that you should definitely experience. You will feel so accomplished (though sore) after!