Since joining a sorority this past spring semester, I've seen my wardrobe change drastically to make room for the new clothing items that I've collected from events or personal wants or needed for different sorority events. Before joining your own, here's some of my (and a few sorority friends) top recommendations for what you'll need (or what you'll be picking up a lot of).
1. Sorority T-Shirts
Chances are, you'll start ordering them in XL to give yourself lots of comfy room, and you'll also be surprised how many shirts you'll accumulate. Within one semester, I've already amassed 15-20 shirts (and more every day, somehow).
2. Black Dresses
Whether it's for recruitment, formal, or other sorority-specific events, you'll need a nice black dress. I've currently been on the hunt for one that I can wear for the preference round of our fall recruitment cycle.
3. White Dresses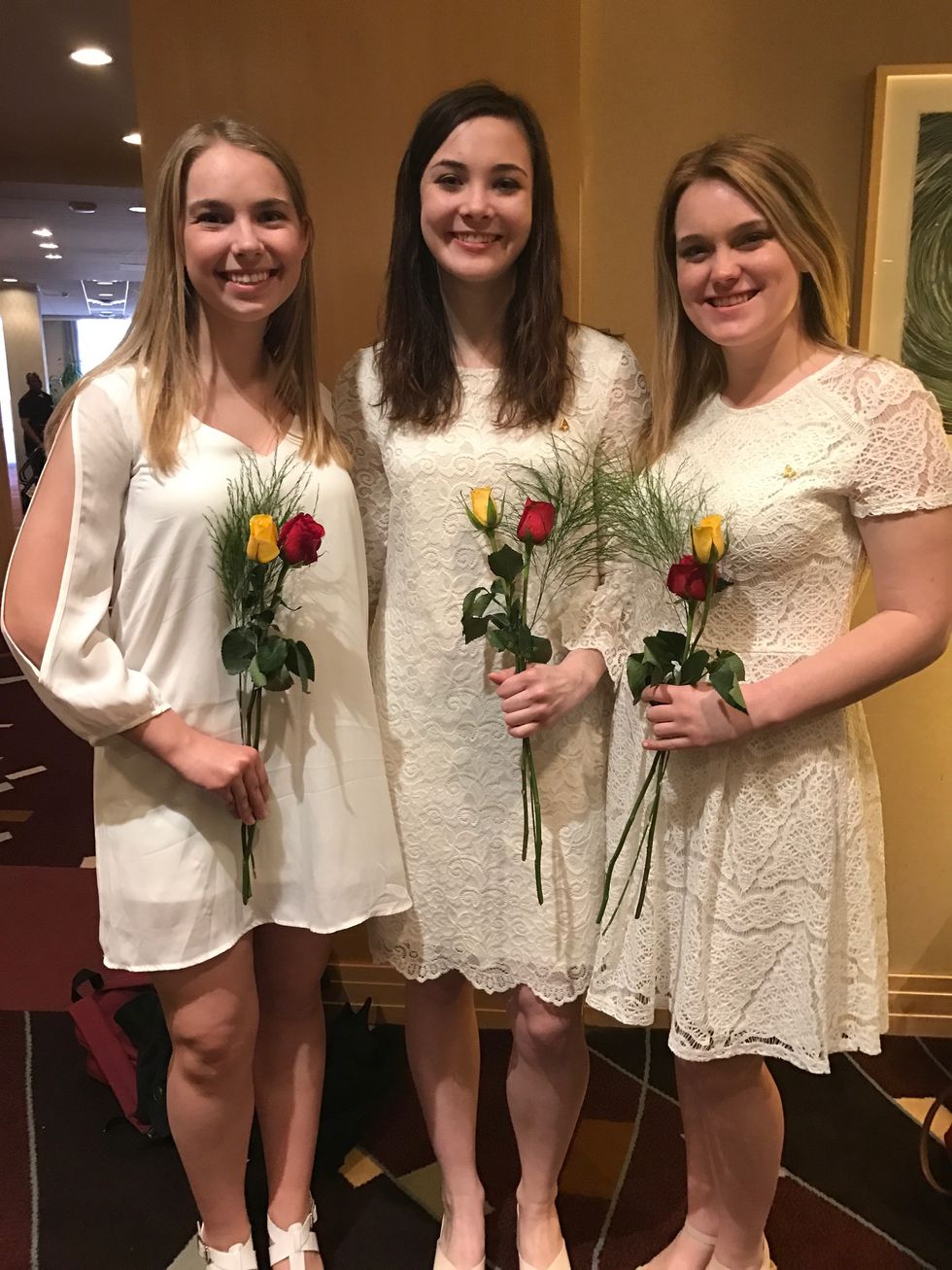 Just like black dresses, you'll need a few nice white ones as well. I need one for Initiation, but most likely your sorority will require one for a recruitment event or a certain party theme. It wouldn't be a bad idea to have one stashed in your closet just in case!
4. Frat Shirts
Besides having a plethora of shirts to rep your own letters, you'll probably pick up a few shirts from some of the fraternities at your school. Whether you're hosting an event with one or supporting them in a fundraiser, they'll start filling up your drawers.
5. Baseball Hats
Baseball hats are not just for showing off your school pride, repping your letters, or displaying your monogram; they're also great for dealing with a bad hair day or when you're trying to put off washing your hair for another day.
6. Nude Heels
These are definitely a staple for any formal look. They may be recommended for a recruitment or event look, or you'll probably want to wear them for a date night. Definitely get yourself a pair if you don't have one already!
7. Black Leggings
Regular leggings, crop leggings, workout leggings--you'll have and need them all. My main back-to-school clothing items are a few pairs of black leggings, and as a sorority girl, you will definitely rep them.
8. Letters
Whether you buy yourself a few pairs, get some from your big, or collect them some other way, you'll end up with more pairs of letters than you can wear. Between regular sorority t-shirts and lettered shirts, 95 percent of your wardrobe will be sorority-related.
9. Nike Shorts
Also referred to as "Norts" (a new word to me), these are commonly paired with oversized t-shirts (see #1) and are staple wardrobe items for sorority girls across the country. These are not just a clothing item for heading to the gym, but it can make you look like you did!
10. "Ugly" Sandals
While I don't personally wear them, these were highly recommended from a fellow sorority friend of mine. Whether they're Birkenstocks or Chacos, you'll see lots of sorority girls rocking these with jeans, leggings, or pretty much any other clothing item.
11. White Jeans
Another staple is the "recruitment and event" department. I'm currently on the hunt for a pair for our fall recruitment cycle, and I'm scared to death about getting them dirty (because that's highly likely).
12. Kendra Scott
Another sorority favorite (though not mine personally, another recommendation from my Midwestern school friend) that has beautiful jewelry sorority girls love to accessorize with. Depending on what school you attend, you may fill your jewelry box with Kendra Scott.
13. Comfort Colors
To be even more specific about item #1, Comfort Colors is a T-shirt brand that you might not have heard of until you joined a sorority, but you'll soon know a ton about them. Almost all of your newly acquired t-shirts will be repping a Comfort Colors logo on their tag.
Now that you've got this list, you'll be fully prepared for your life as a sorority girl. Special thanks to my friends Nikki (Stockton University, Delta Zeta) and Carly (Wichita State University, Delta Delta Delta) for helping me with some of the items especially important for other sororities or schools!