Every sorority woman's favorite time of year is almost here. The countdown to recruitment has begun and sororities across the country are eagerly awaiting the arrival of new members. Recruitment requires you to know a lot of information: what to wear, when your parties start, the names of sororities. Thankfully, you have your Pi Chis/Rho Chis and Panhellenics many internet resources to help you along the way, but they can't cover it all.
In the rush to get you moved in and ready for recruitment there are a few key things about rush that people forget to tell you. It's not because they are purposely hiding these things, but rather that in the hustle and bustle of making sure you have the perfect dresses, a portable fan and sensible shoes, this information gets lost. It's also due to the fact that once you get immersed in the Greek world, you forget just how stressful this week truly can be for a potential member.
While recruitment can be an amazing week full of making new friends and meeting amazing women, it can also be one of the scariest weeks of your life — and that's OK. So here are the 12 things that I wish someone had remembered to tell me about recruitment:
1. You're going to be overwhelmed.
While this seems like such an obvious statement, it really would've helped if someone had looked at me and said, "What you're feeling is normal." Depending on the size of your school, you're going to be meeting a large number of sororities and it's going to get difficult trying to keep them all straight. So be prepared for it now, know that at some point you're going to feel like you're drowning and you'll be much quicker to remember that you know how to swim.
2. You're going to have awkward parties.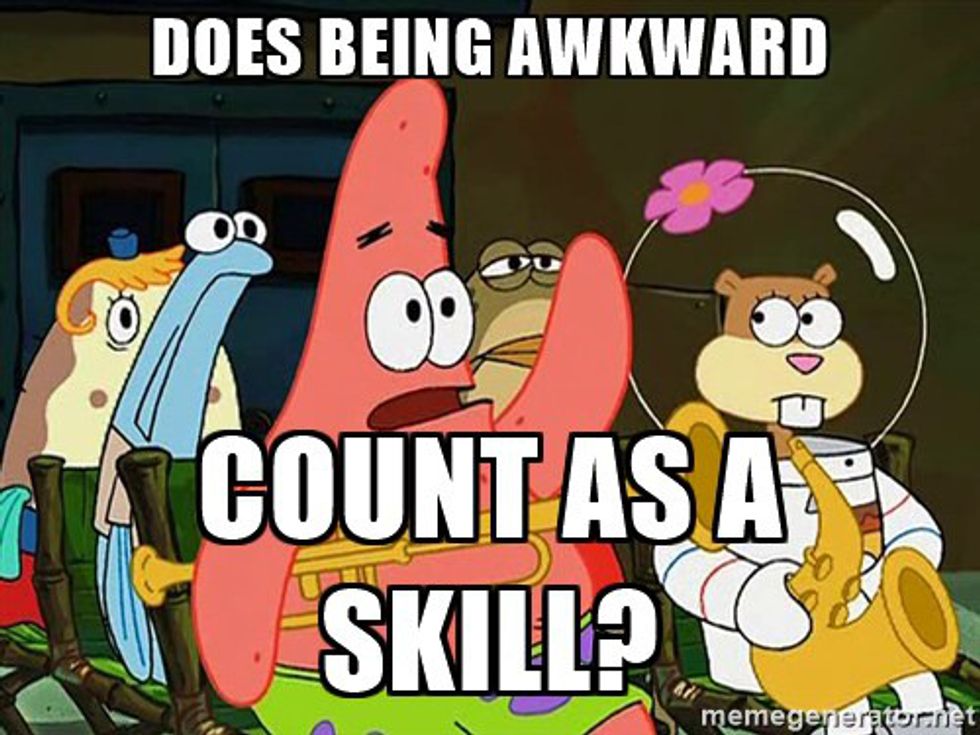 You're not going to "click" with everyone. There are going to be parties where getting a conversation going seems impossible. Whether it's because the girl your with is your total opposite or because she was banking on you to fuel the conversation and you're exhausted. Don't let it drag you down or make you feel differently about the entire week. Just sip your water and relax.
3. You're going to get dropped from a chapter.
It's going to happen, and anyone that you know who swears a sorority they were partial to never dropped them is lying because they haven't come to terms with it yet. You are going to get your schedule for the next day and not see names you saw the day before, and it's going to hurt a little. Even if you didn't particularly like the sorority that dropped you, the idea of someone not wanting you can be a tough one to swallow. Just know that it's because that wasn't meant for you and that at the end of the week you will end up where you're meant to. Don't let one sorority ruin the experience and the attitude you have towards the other great ones at your school.
4. You're going to be emotional.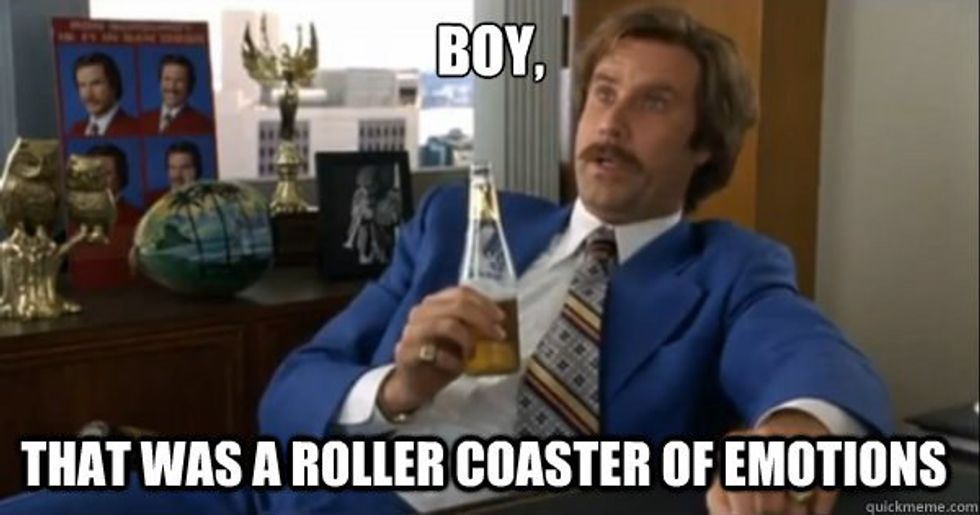 You're going to cry over something small. You're going to cry when you hear your mom's voice. You may laugh at things that are nonsensical and you may find yourself angry for no reason. This week is exhausting and with exhaustion comes mood swings. Just take it for what it is and ride — you can sleep the entire day after bid day.
5. Your feet are going to hurt.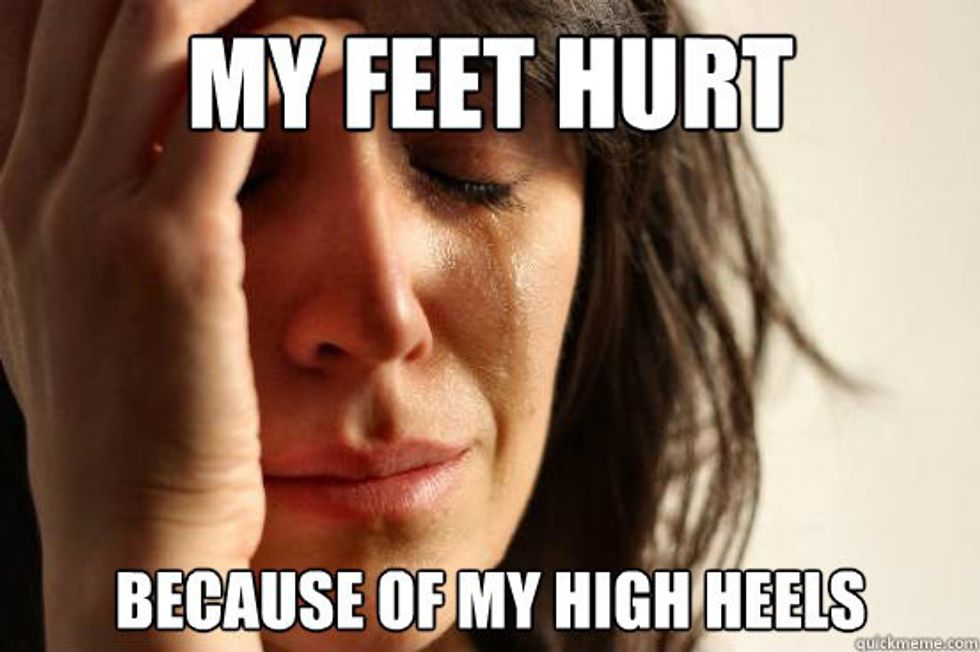 Like seriously, hurt. Hurt in a way you may have never experienced before and no amount of band-aids or blister proof shoes can fix it. You're standing, you're walking around, you're wearing heels. It's a disaster.

6. You're going to contemplate if this is for you or not.
At some point you may find yourself doubting whether or not Greek Life is something that you really care about. Odds are, it's just that emotional part of you that we talked about earlier acting up. My advice for this is to push through and finish the week. If you don't like it in a couple of months then drop, but don't quit now because you're feeling down and tired.
7. There are going to be PNMs that take the dress up thing too seriously.
Do not let what other girls are wearing make you self conscious of your outfit. We're really trying to get to know your personality, not your fashion taste.
8. There is no such thing as "dressing comfortably so that you can sit down and stand back up."
[rebelmouse-proxy-image https://media.rbl.ms/image?u=%2Ffiles%2F2016%2F07%2F24%2F636049788737741569682778101_giraffe.gif&ho=https%3A%2F%2Faz616578.vo.msecnd.net&s=324&h=2359673ad5096c7c00eee5bfe391a66c5a66ecb74fd82a31d1664c48a8d330db&size=980x&c=3964622047 crop_info="%7B%22image%22%3A%20%22https%3A//media.rbl.ms/image%3Fu%3D%252Ffiles%252F2016%252F07%252F24%252F636049788737741569682778101_giraffe.gif%26ho%3Dhttps%253A%252F%252Faz616578.vo.msecnd.net%26s%3D324%26h%3D2359673ad5096c7c00eee5bfe391a66c5a66ecb74fd82a31d1664c48a8d330db%26size%3D980x%26c%3D3964622047%22%7D" expand=1]
All the recruitment websites say it: "Remember that you will be subjected to lots of standing and occasionally be asked to sit on the ground. Make sure your dress is something you can do this in." Let me tell you from experience, you're going to feel like a newborn giraffe while attempting to sit or stand and there is nothing you can do about it.

9. You're only scratching the surface of sororities.
Don't down a house just because you didn't like them during recruitment. Depending on the sorority's rotation, you only get to talk to maybe ten girls out of a sea of 200-300. You are merely scratching the surface of the women that make up that chapter, and you cannot label the whole sorority based on the small part you familiarized yourself with.
10. You're going to feel self-conscious.
It's expected, you're walking into a room/house full of girls that you don't know and who you know are at some point going to talk about you after you leave. It's a scary thought for a young girl. Just spend a good portion of that week building yourself up. Read some good scripture, talk to some friends, read encouraging quotes and do a lot of positive self-reflecting.
11. You're going to have to make hard cuts.

There are going to be cuts that you don't want to make. I know at Auburn you go from 12 parties one day to 5-6 the next. It's a tough call to make knowing that you only get to experience a small part of each sorority. The best advice I can give is to go with your gut.

12. You may not run home to your favorite sorority on Bid Day, but you will run home.
You may not be completely ecstatic about the house you accept a bid from. You might have even disliked them during the beginning of the week. Let me assure you, you will end up in the sorority that was right for you, even if it doesn't feel like it at the time. I've talked to several girls in my sorority and we all at one point or another during recruitment thought that we would have pledge something other than where we ended up.
So you may not run home to your top choice, you won't run home to a room full of girls that know and love you no matter what the websites say, but you will run home to a house full of women that want to get to know you and have your best interest at heart. You'll run home to girls that will become some of your very best friends — and that's the whole point of recruitment anyway.