Traveling can be a wonderful experience for cultural and personal knowledge. Weather you are going on a trip for work purposes, going back home, back to college or just a simple vacation, traveling can be very exiting most of the times. At the same time, traveling can be a little hazardous and horrible. I know, I love traveling but hate the process of getting to the place.
Though I don't hate plane rides, I do get tired of these things:
1. The never ending lines at TSA checkpoints at most airports.
If you are traveling from an international airport, be prepared to suffer the consequences of your trip. It can take up to 30 minutes like least to two hours of wait time. That's were consequences like losing your flight, patience and plane ticket happen.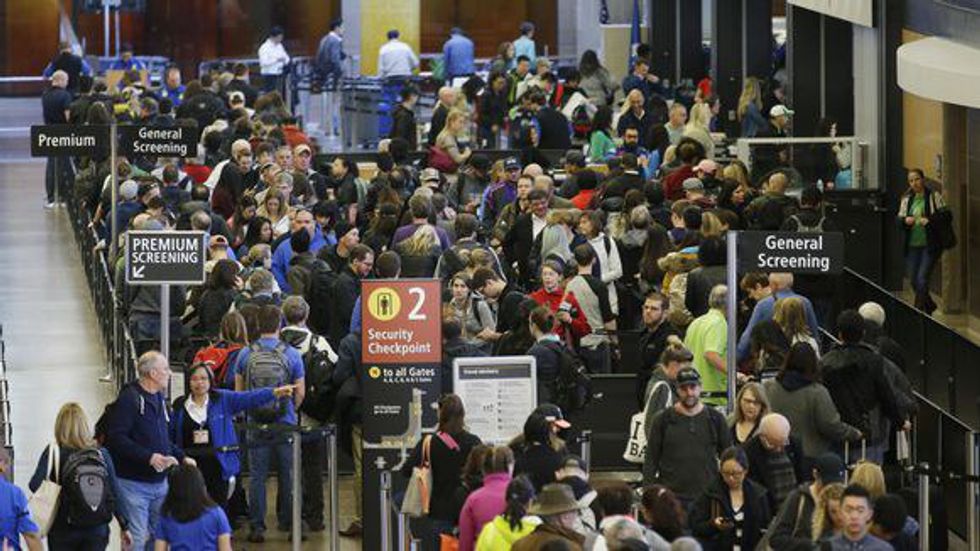 2. The lazy person in front of you at TSA checkup.
Even though airport security is now permitting that you leave your jewelry on, you must take off you're shoes if you are under 55 or over 12. There is no chance they are going to let you leave your shoes on. The same thing goes with the belt, you MUST take it off. Don't be lazy, you're holding up the line that already seems never ending. Its basic steps, if you are traveling with a laptop, it MUST go alone on a separate trade. Don't be lazy and the line will flow better.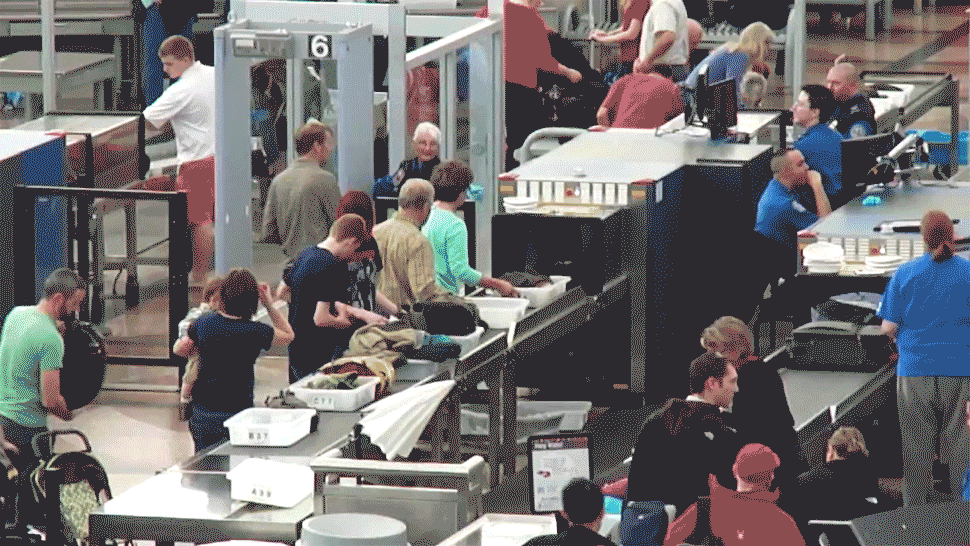 3. Waiting at the gate for hours.
Since you had to come early because of the horrible lines at TSA checkpoint, there's a slight possibility you might end up waiting hours in front of you're gate for your flight. I recommend you take walk through the stores or go pick up something to eat because you will be seating for long hours on the plane. Besides, its a fun way to entertain yourself while you wait.
4. Finding space in the over head compartment of the plane for your luggage.
Though most airlines permit one carry on per passenger, they usually don't have the capacity for all the carry-on of all the passengers on board. For example, if the plane fits 100 people and every one of those passenger brings a carry on, there is a big chance they only have space for 50 of those luggage's. If its not necessary, don't bring a carry on so other people can use the space. Hats and backpacks CAN GO UNDER the seat in front of you. Make the best out of the poor space of the aircraft, you are not only helping flight attendants, but other passengers too.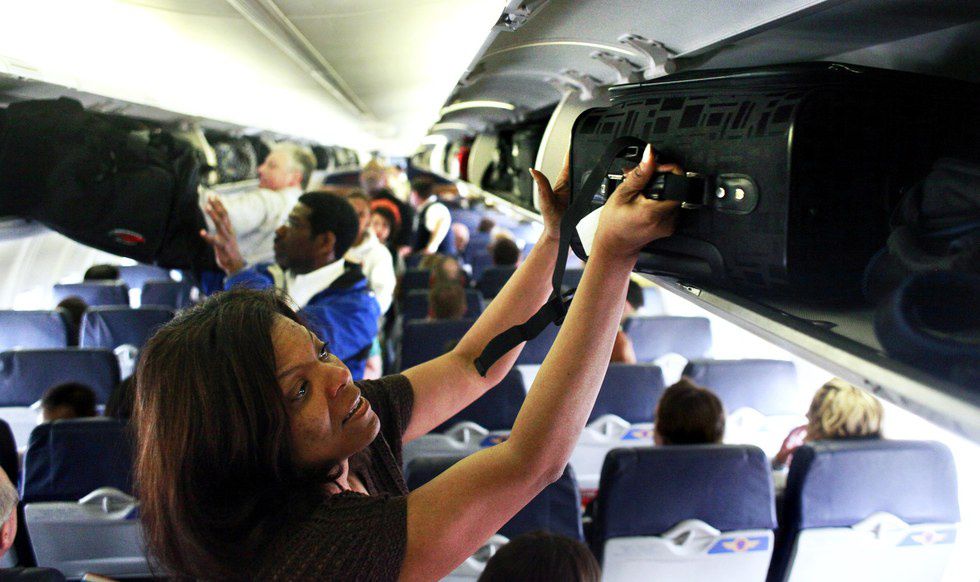 5. A lousy neighbor.
Some people don't understand that the plane is uncomfortable enough and try to make it much more uncomfortable for you. If you identify yourself as one of those lousy people, understand that sleeping in a strangers shoulder IS NOT OK. Changing the movie of the person sitting beside you because you can't keep yourself calm... is also NOT OK. Standing more than 4 times to go take a walk up and down the aisle... ISN'T OK EITHER. You don't only disturb the people sitting in you're row, but the people sitting in the aisle too. I know flights are usually long and somewhat uncomfortable but you're not the only one whose legs are numb.
6. Having a connecting flight.
Nothing worse than losing your connecting flight. This may happen because your first flight was delayed. Do the arrangements so this does not happen. You might even end up running to your other flight. Not only that, having a connecting flight can result in the lost of luggage.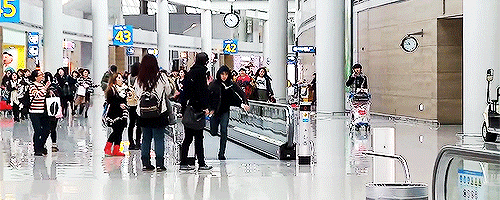 7. Finally, getting off the plane.
Dear flight buddy: everybody is as eager as you to get off the plane. Don't try and jump in front of the person beside you. Its not going to get you any further. This goes especially to the people that seat in the window... This part can be the most hazardous part of the flight. Its not hard to get you're luggage and move all the way down to the door to exit the aircraft... Why do some people take a lot of time to pursue this action? Take your luggage and keep walking.
8. Baggage Claim.
As if you weren't tired enough, you have to wait at least 20 min more until your bag comes out. Of course, this is nobodies fault, but either way its a tedious process to go through.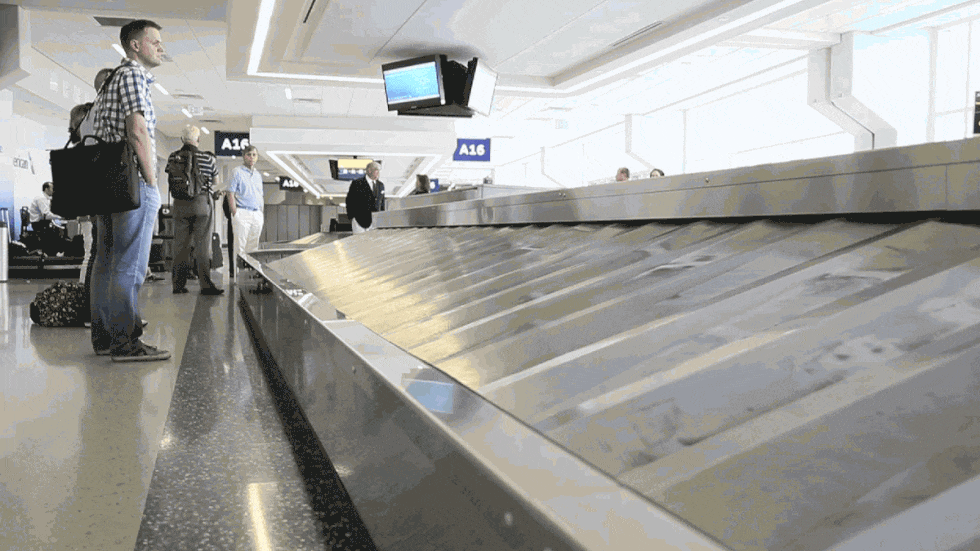 9. Finding nothing to eat when you arrive.
If you are like me, and like to travel really early in the day or really late at night, once you get to your destination you are going to be hungry and will probably find nothing to eat because everything will be closed at the time of your arrival.
10. Checking in.
If you are staying at a hotel, once you get the airport part done, you have to get to the hotel and check in. In some cases, its a fast process, in some cases, it's not.
11. Heading back home.

After a wonderful vacation, the trip has come to the end and is time to head back home. Although you had a wonderful vacation, it's time to return and head back home to the same routine.