I'm just a sucker for the beginning of each season because, in the words of F. Scott Fitzgerald, it feels like, "life starts all over again." The new climate feels like a new opportunity ― something beautiful, fresh, and unique.
However, there is something especially magical about the beginning of autumn. There's the cool breezes, the hauntingly red sunsets, and something otherworldly in the air that touches your soul in a unique way. Here are 11 quotes I hope will do just that for you.
1. "Wild is the music of the autumnal winds amongst the faded woods."
okay summer you've been fun but it's time to go i'm ready for crunchy leaves and pumpkin spice now not feeling hot and sticky in the dark

— Daniel Howell (@Daniel Howell) 1473958196.0
- William Wordsworth
You know how music can pull you back to a specific time or place? Autumn does that too.
2. "Her pleasure in the walk must arise from the exercise and the day, from the view of the last smiles of the year upon the tawny leaves and withered hedges, and from repeating to herself some few of the thousand poetical descriptions extant of autumn--that season of peculiar and inexhaustible influence on the mind of taste and tenderness--that season which has drawn from every poet worthy of being read some attempt at description, or some lines of feeling."
- Jane Austen, Persuasion
If seasons were stories, Autumn would be prose.
3. "Autumn seemed to arrive suddenly that year. The morning of the first September was crisp and golden as an apple."
- J.K. Rowling, Harry Potter and the Deathly Hallows
If you want to feel the especially cozy this fall, snuggle up in bed and re-read your favorite Harry Potter book.
4. "But when fall comes, kicking summer out on its treacherous ass as it always does one day sometime after the midpoint of September, it stays awhile like an old friend that you have missed. It settles in the way an old friend will settle into your favorite chair and take out his pipe and light it and then fill the afternoon with stories of places he has been and things he has done since last he saw you."
me getting ready for fall https://t.co/HYXNl7p7RZ

— official snoopy fan page (@official snoopy fan page) 1568165578.0
- Stephen King, Salem's Lot
Autumn— as nostalgic and bittersweet as an old friendship.
5. "At no other time (than autumn) does the earth let itself be inhaled in one smell, the ripe earth; in a smell that is in no way inferior to the smell of the sea, bitter where it borders on taste, and more honeysweet where you feel it touching the first sounds. Containing depth within itself, darkness, something of the grave almost."
-Rainer Maria Rilke, Letters on Cézanne
"Honeysweet" seems like a good way to describe the first cool day of Autumn.
6. "Life starts all over again when it gets crisp in the fall."
dogtober : the very best month for leaf pile jumping (millie_of_maine IG) https://t.co/n0hSMIV5Rj

— Humor And Animals (@Humor And Animals) 1539804443.0
- F. Scott Fitzgerald, The Great Gatsby
Newness of life!
7.  "That old September feeling, left over from school days, of summer passing, vacation nearly done, obligations gathering, books and football in the air ... Another fall, another turned page: there was something of jubilee in that annual autumnal beginning, as if last year's mistakes had been wiped clean by summer."
- Wallace Stegner, Angle of Repose
The beautiful freshness of a new start!
8. "Fall has always been my favorite season. The time when everything bursts with its last beauty, as if nature had been saving up all year for the grand finale."
- Lauren DeStefano, Wither
Same Lauren...same.
9. "I was drinking in the surroundings: air so crisp you could snap it with your fingers and greens in every lush shade imaginable offset by autumnal flashes of red and yellow."
- Wendy Delsol, Stork
Every season brings its own beautiful color, but there is something truly magical about the hues of Autumn.
10.  "Steam rising underneath a canopy of whispering, changing aspens; starlight in the clear, dark night, and wondrous beauty in every direction. If only all could feel this way, to be so captured and enthralled with autumn."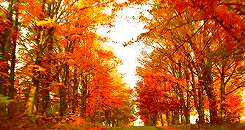 fall autumn GIF
Giphy
- Donna Lynn Hope, Willow
Evenings in Autumn mean breezes that whisper through the trees and the enchantment of the starry night sky.
11. "Delicious autumn! My very soul is wedded to it, and if I were a bird I would fly about the Earth seeking the successive autumns." 
– George Eliot
I think all of our souls are wedded to Autumn. I know mine is! Happy Fall, y'all!