Every new year, moviegoers stock up their purses and wallets to prepare for upcoming films coming out, but they forget the volume of movies that flew under their radar from the previous year. Many of them going unnoticed due to their low budget, limited promoting, new actors, or what ever it may be. It's impossible to catch every film release, but that shouldn't prevent you from watching them in the future
From indie romance films, unpopular genre hybrids, obscure thrillers, and loveable comedies, 2017 wasn't just a year full of predictable flops, over-hyped blockbusters, and poorly written movies. So here's the best movies from last year that you likely haven't, but need to see.
10. Super Dark Times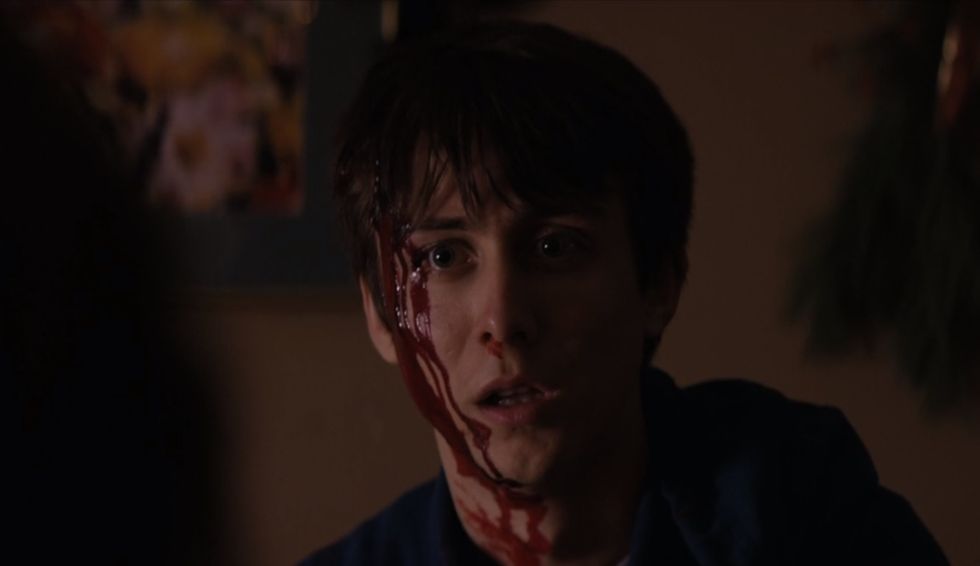 Super Dark Times
https://www.google.com/search?q=super+dark+times&client=psy-ab&hl=en&rlz=1C1AOHY_enUS709US709&source=lnms&tbm=isch&sa=X&sqi=2&ved=0ahUKEwiF_tSHnoTcAhWBJDQIHSKdAmAQ_AUIDCgD&biw=1280&bih=685#imgrc=_
Kevin Phillips's film brought us into the world of adolescent male competitiveness, to which unveils the horrid truth about teen boys' ability to create utter chaos. The unforgettable moments in the film played honestly to the extents that immature kids can reach into unsupervised circumstances. A cinematography that broadcasted us into a small town where a darkness lived inside everything. The three leads - Campbell, Tahan, and Cappuccino - acted meticulously with the malevolent tone of the story and it would be a grave mistake to not watch this film at least once.
9. Battle of the Sexes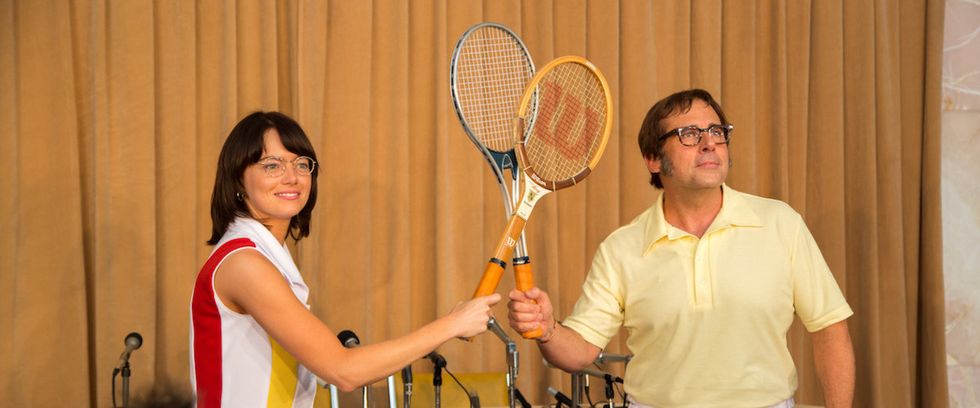 Battle of the Sexes
https://www.rogerebert.com/reviews/battle-of-the-sexes-2017
"Battle of the Sexes" was inspiring while also having times of humor and seriousness. The movie is a winner at the attempt to show the strength of women, the humility they face, and the endurance they possess to overachieve any limits laid at their feet. It was warming to watch and see how love can appear when you never expect it to. It's a prevalent story to our times of gender inequality and sexism. Emma Stone's performances are strong as they should be in those times of ignorance. Even if you don't like tennis or know who Billie Jean King, I assure you this film offers more than just the biography of a tennis player.
8. Good Time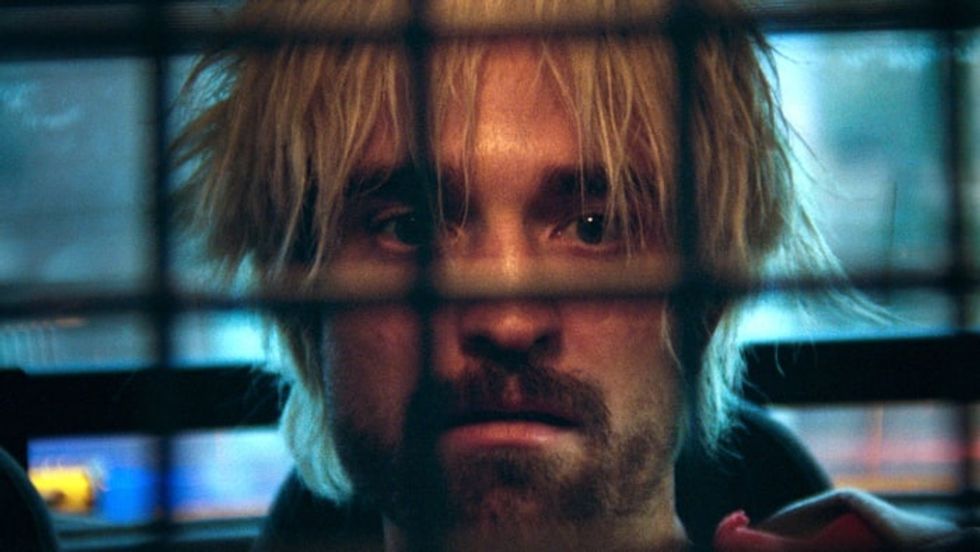 Good Time
https://www.rollingstone.com/movies/movie-reviews/good-time-review-robert-pattinson-delivers-the-performance-of-his-career-196823/
The Safdie brothers directed a harshly authentic crime drama while granting Robert Pattinson his most Oscar-worthy role to date. Two brothers attempt to rob a bank, but unfortunately, forget that banks are more technology-based than in the past. One gets caught while the other escapes and works all his connections to get his brother back. He faces problems along the way and through the wild night, his situations takes him farther and farther than what he's accomplishing. It's one of those films that pumps adrenaline through your body as you're taken on a chaotic, emotional rollercoaster.
I've seen so many people say they'll never watch another movie with Robert Pattinson after the Twilight franchise, but deciding such a thing would be a mistake. Every actor isn't amazing in every film they play, but that doesn't mean you should knock off their other work. Trust me on this and watch Good Times, your opinion of his capacity to act will greatly change.
7. Hostiles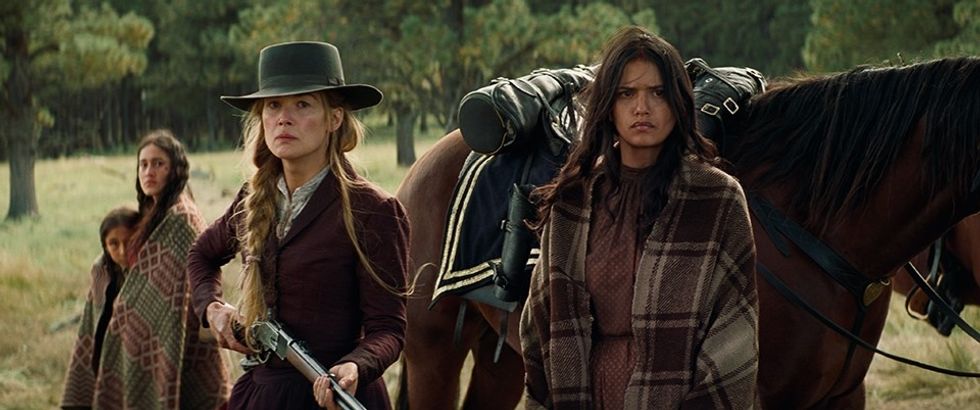 Hostiles
https://www.riverfronttimes.com/stlouis/hostiles-is-a-western-for-our-time/Content?oid=13671604
One of the heart-wrenching movies I've ever seen. The losses and grief in the move riveted me in such a way that I was wailing like a newborn myself. A gorgeous cinematography and outstanding performances by Christian Bale & Rosamund Pike. Scott Cooper's "Hostiles" took no time in delving us into the movie'a. The beginning of the movie opens with a family minding their own business until the Comanche warriors arrive and kill the family. They taunt the mother as they hunt her through the woods and by luck, she isn't found. But I won't spoil it anymore, you'll just have it watch it to find out the rest.
6. Free Fire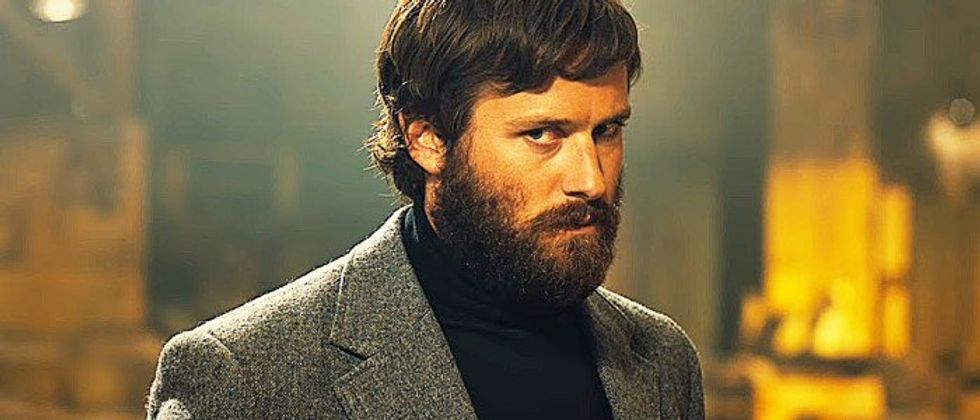 Free Fire
http://www.slashfilm.com/free-fire-armie-hammer-interview/
Obviously, Tarantino inspired, but I believe it met his standards and deserved his approval. A great cast of actors with seriously funny dialogue between all of the characters. Exceeds all expectations and transforms an encounter into a one-man shootout to the death. Bold and ashamedly fun, "Free Fire" is an electrifying action comedy about an illegal exchange that goes gloriously and remarkably sour. If you're looking to laugh your butt off while being entertained then this is your movie
5. Molly's Game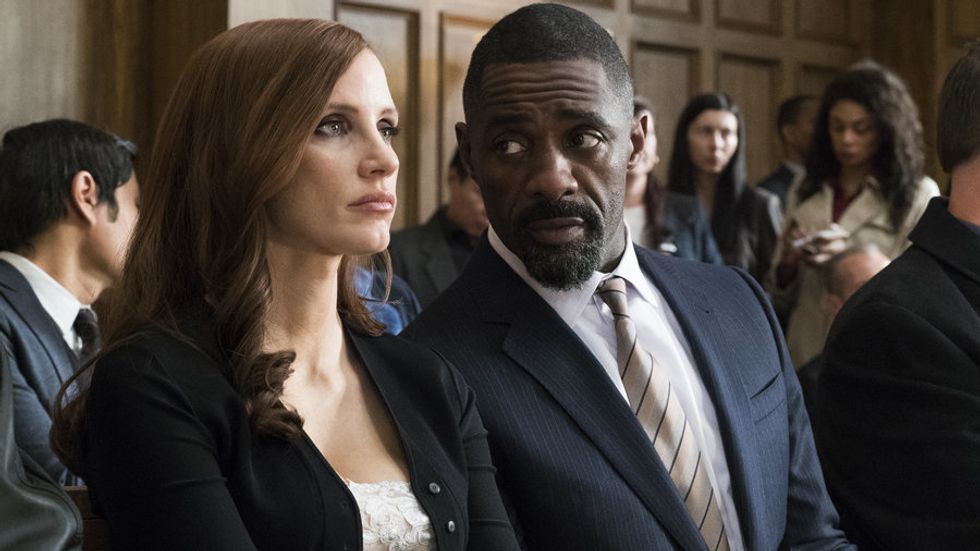 Molly's Game
https://www.google.com/search?q=molly%27s+game&client=chrome-omni&rlz=1C1AOHY_enUS709US709&source=lnms&tbm=isch&sa=X&sqi=2&ved=0ahUKEwiQycWrsIbcAhXP5J8KHbSbA1MQ_AUICigB&biw=1280&bih=642#imgrc=4iMOuE5trFcPoM:
"Molly's Game" is a captivating true story about power, money, and success, while also serving as a cautionary story. It's a boldly detailed piece of work but, as a directorial calling card, it's going to have a little beating. Just like the film's protagonist, Sorkin had his eyes to win and he did so greatly. The scenes between Chastain and Elba were extremely entertaining and was a shift from her number one baller image. It's amazing to enter the world of gambling and powerful men and see them manipulated by what seems to be a nobody. As we go with her on her climb to the top of the hierarchy, it really settles how you can do anything, lose it, and gain it all back again.
4. The Killing of a Sacred Deer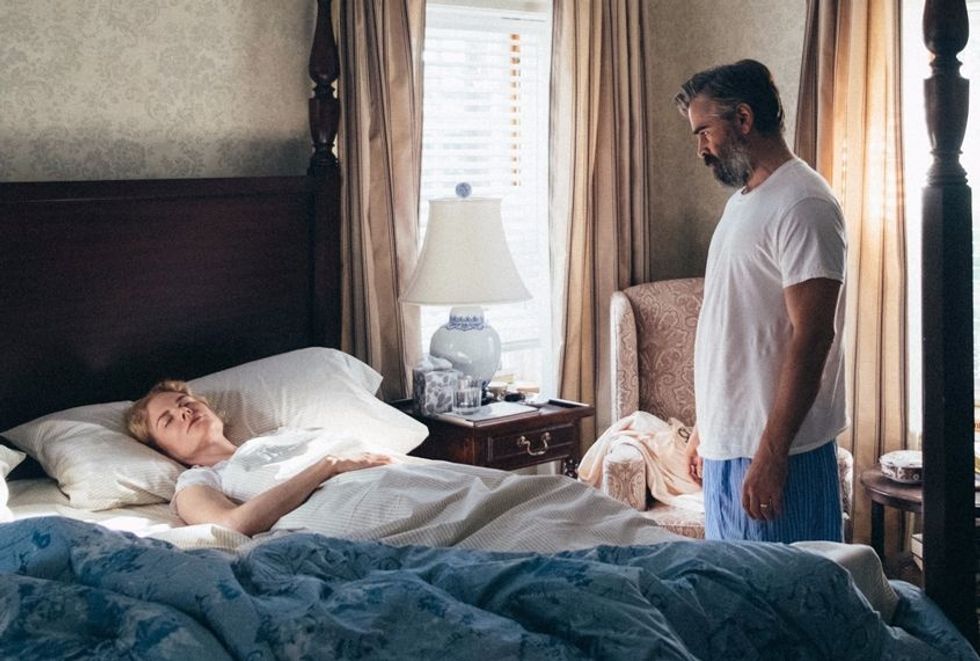 The Killing of a Sacred Deer
https://dailynewsegypt.com/2017/12/04/killing-sacred-deer-searching-perfect-cinematographic-blend/1c/
Colin Farrell played a wealthy surgeon with two beautiful children and an affectionate wife played by Nicole Kidman. Throughout the movie it grows creepier and stranger until you're sure then unsure what exactly is happening. We're introduced to Barry Keoghan's Martin who the surgeon takes under his wing. When he insinuates his way into the surgeon's home and family, we soon see the darkness that he brought with him. The characters are so dedicated to their personalities and the actors' performances in the movie were stellar. It's a story about karma, revenge, and being careful with the lives you play with. The visual style transformed with the tones of the scenes and broadcasted what it truly felt to be in their predicament. See this movie if you haven't already. It's an unnerving experience that you will never forget
3. Berlin Syndrome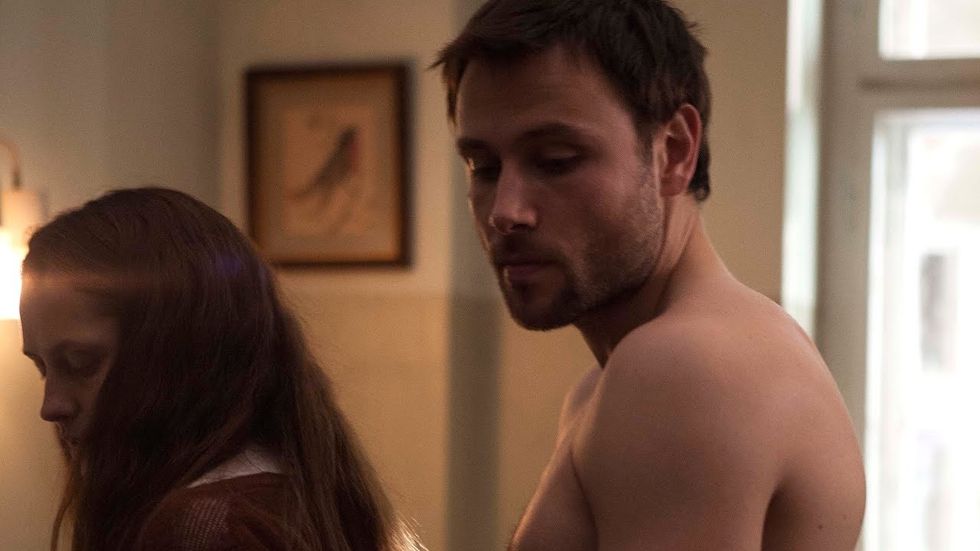 Berlin Syndrome
https://www.youtube.com/watch?v=RUThRM0wwU8
The protagonist is shy and introverted, sometimes to the point of it being the side effects of being forced into a submissive role. Her inhibitions to escape slowly drift from her mind as she realize it is near impossible, so as a way of coping with it, love flounders inside of her for her captor. Her treatment grows more abusive and cold and eventually there is a breaking point when she discovers something truly haunting. It was a thriller movie full of psychological complexity. A true relationship psychodrama and you're missing out if you haven't seen it yet.
2. Call Me By Your Name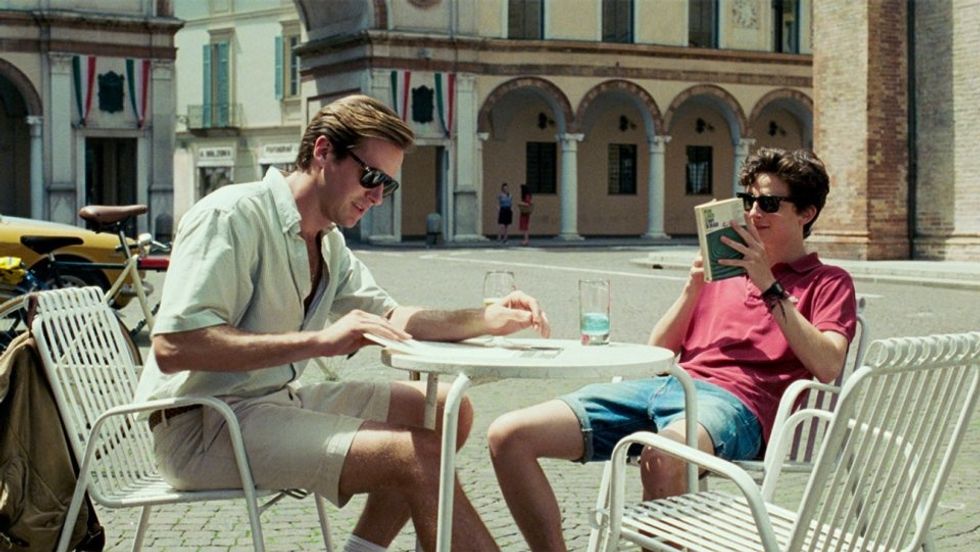 Call Me By Your Name
https://www.hollywoodreporter.com/lists/call-me-by-your-name-10-things-know-best-picture-nominee-oscars-2018-1078768
In the summer of 1983 in the north of Italy, an intense romance spawns between a precious 17-year-old Elio Perlman and the visiting scholar, Oliver. The decor and settings in the movie capture the life of Italy and all the stunning scenery it has to show. It's the type of movie you live in rather than just watch. Long after you've watched the movie, it's effect imprints on your mind as if you were the characters yourself. Not many movies capture the essence of true love, but you forget they were actors and believed them to be two real people having an intimate and emotional summer together. It's something everyone can watch regardless of your sexuality because everyone knows or wishes to know how it feels to be head over heels with someone and the feelings be absolutely mutual.
1. Mother!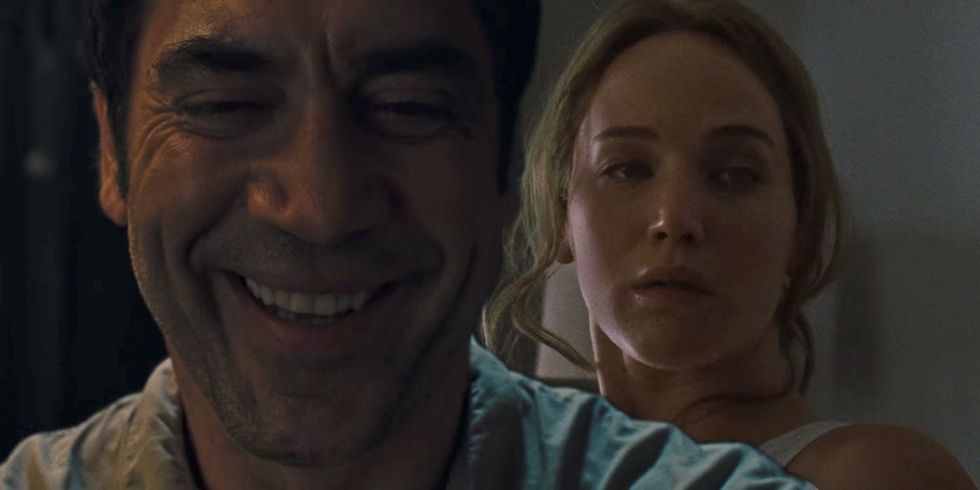 mother!
https://www.lifo.gr/guide/cinema/4061
Mother! was no doubt the best film out of 2017. It's an unparalleled treat that is clear on the director effort into showing us just how layered the movie was. It weaves fiction from fantasy to biblical to reality. An octagonal wooden home in the middle of the countryside soon becomes the location of a horrifying disaster. It's a guarantee that when you walk not walk away from this movie unscathed. There are scenes that are so chaotic, the protagonist played by Jennifer Lawrence barely hangs on by a string."Mother" I am lucky to have seen "Mother!" and when I left I left in utter disbelief. It is honestly the most terrific movie that could only happen in your worst nightmares. If you're prepared to be blown away then this movie should be your number one pick.