It is that time of year again: the time when Vans Warped Tour kicks off their annual summer concert tour. To this day, Warped Tour is the largest and longest operating music festival, featuring hundreds of artists\bands from different genres of music and congregating thousands of people to each destination it tours at each year. This year, Warped Tour begins on June 24 in Texas and ends on August 13 in Oregon, stopping at a total of 41 cities in less than two months.
This will be my fifth time attending Warped Tour, my first dating back to 2012. Each year I went to Warped Tour brought new memories and experiences that will remain fond to me, and it taught me what I should and shouldn't do the next summer I go back. Here are a few things I have learned about Warped Tour that any first-timers should follow to get the most out of their day:
1. Don't underestimate the heat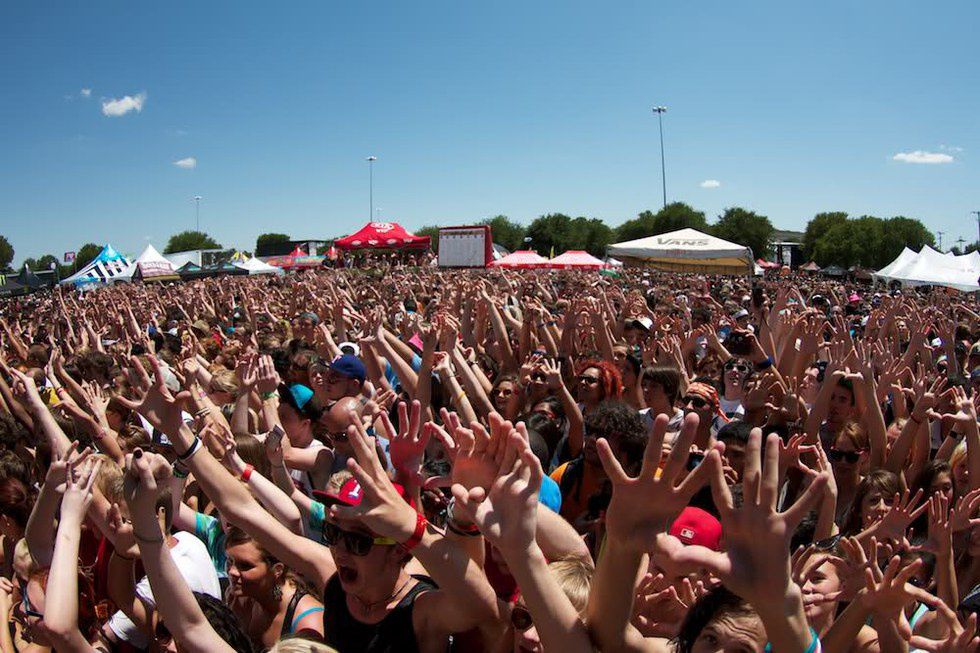 Warped Tour is an outdoor festival, usually picking a venue with a large parking lot to set up the stages, tents, equipment, etc. As seen in the picture above, there is limited shade; you will be standing in the sweltering sun on the heated parking lot gravel the majority of the time to see your bands perform. Keep an eye on the weather forecast and dress accordingly. Apply and reapply sunscreen as needed: you will get burned! Be mindful of yourself as well: if you start feeling sick and can't handle the heat, give yourself a break. Go find some shade (several empty tents are set up for those who need to get ouf of the sun), cool off, and...
2. Stay hydrated
It is so important to drink water throughout the entire day! You are allowed to bring an empty reusable water bottle made of plastic and\or one sealed water bottle into the venue. If you bring a sealed water bottle, do not get rid of it once it runs out of water. You can refill it at the free water stations provided on the venue, so there is no excuse for not drinking an adequate amount of water. There are also refreshment stands open to purchase water if you do not bring your own water bottle. Keep that water bottle and refill it to save money!
3. Dress appropriately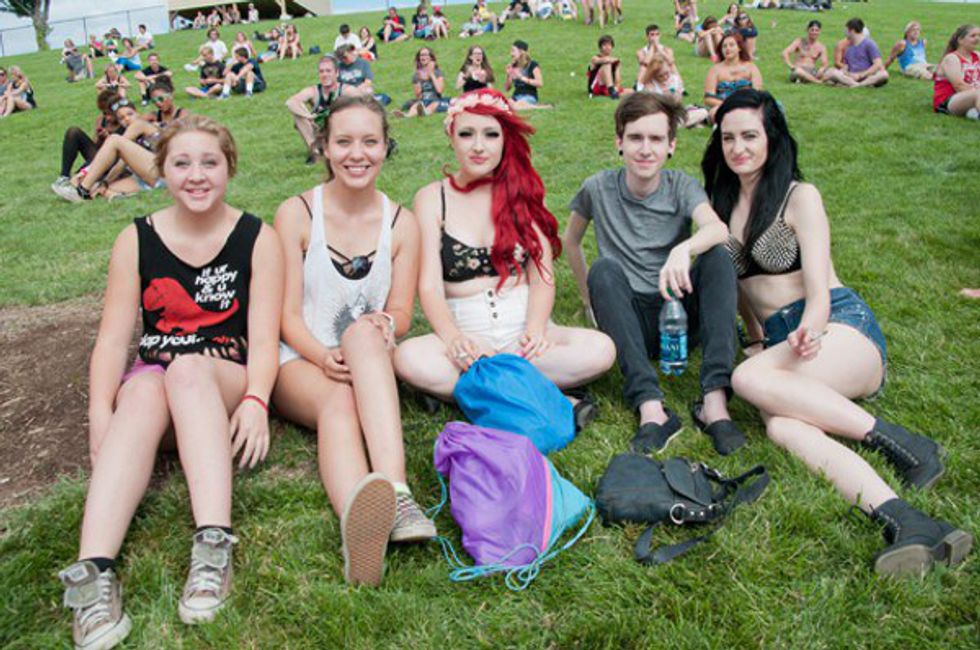 By appropriately, I mean dress accordingly to the weather and comfortably. The main thing I majorly disapprove of wearing to Warped Tour are flip flops, skirts\dresses, and long pants. You will be on your feet the entire day, standing within and around crowds of people: wear something comfortable! Flip flops are not reliable footwear, so leave them home! Sneakers or any other type of closed-toe shoes are acceptable, but be aware of the heat. Don't wear heavy footwear, like boots, if it's going to be 90 degrees outside. Also, it honestly isn't a good idea to wear a skirt or dress in general to Warped Tour, especially if you plan on going into any mosh pits and\or crowd surfing. Long pants are a big no-no; it's common sense with the excrutiating heat.
4. Bring cash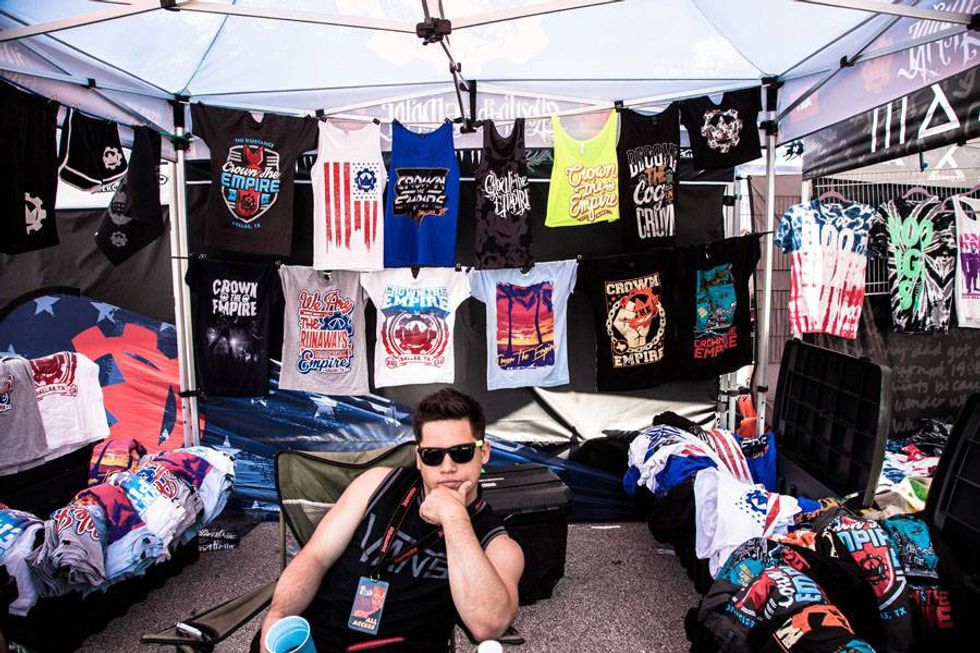 All the merch tents and booths I've seen at Warped only accept cash, so visit an ATM beforehand if you want to buy stuff. Just don't be stupid and bring a hundred dollar bill; break it up into smaller bills. It will make the salespeople's lives so much easier, and it would suck for you if you lost the hundred dollar bill somehow.
5. Take the time to decide which bands you want to see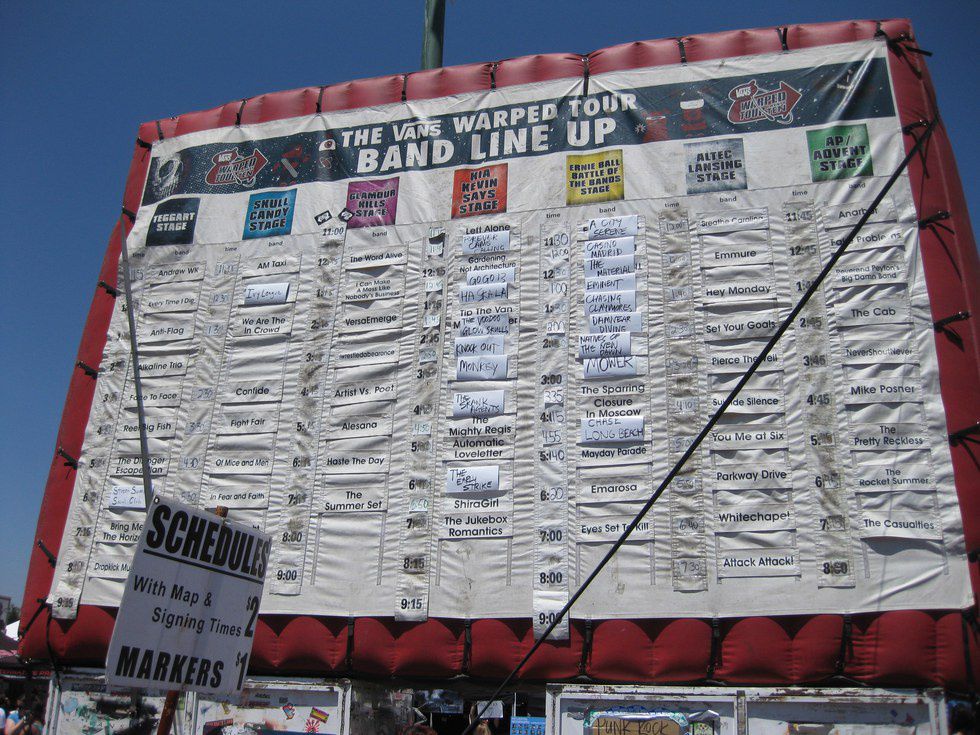 The times and stages in which each band performs are announced on the day of the concert, not beforehand. You can find out when and where a performance will be by purchasing a schedule (only $2), or observing the giant blow-up schedule board on the venue pictured above. If you plan on buying a schedule (and I highly recommend you do because the venues are big, and there is only one board located on the entire venue), bring a marker to keep track of the bands you want to see. If you forget to bring one, you can always purchase one. Step aside once you enter the venue and review the schedule: some bands you may want to see might overlap each other. You may not be able to see every band you intended to see, so you'll possibly need to narrow down your list. Having a schedule ready and available is the most sacred possession to have at Warped Tour: respect and use it wisely.
6. Be aware of the mosh pits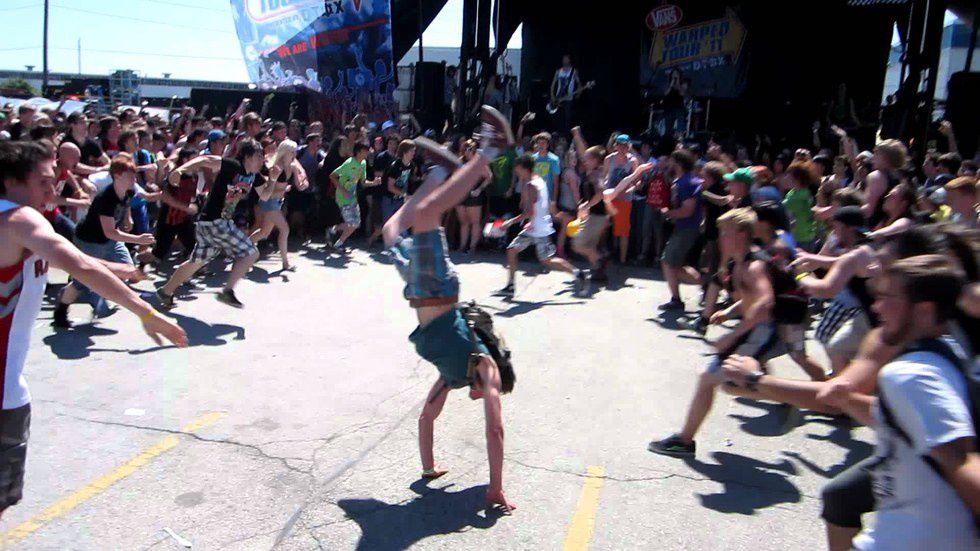 The majority of the bands performing at Warped Tour are geared towards the punk rock genre. Therefore, there will be tons of mosh pits at each set. They form quickly and are unpredictable. If you are not comfortable being in or around a mosh pit, make sure you aren't in the middle of the crowd, for that's usually where most of the pits form. Watch the set from the side of the crowd. If you happen to be in an uncomfortable position, be assertive to get yourself out. You won't be able to get out if you are timid in the crowds.
7. If you decide to mosh, follow the unwritten rules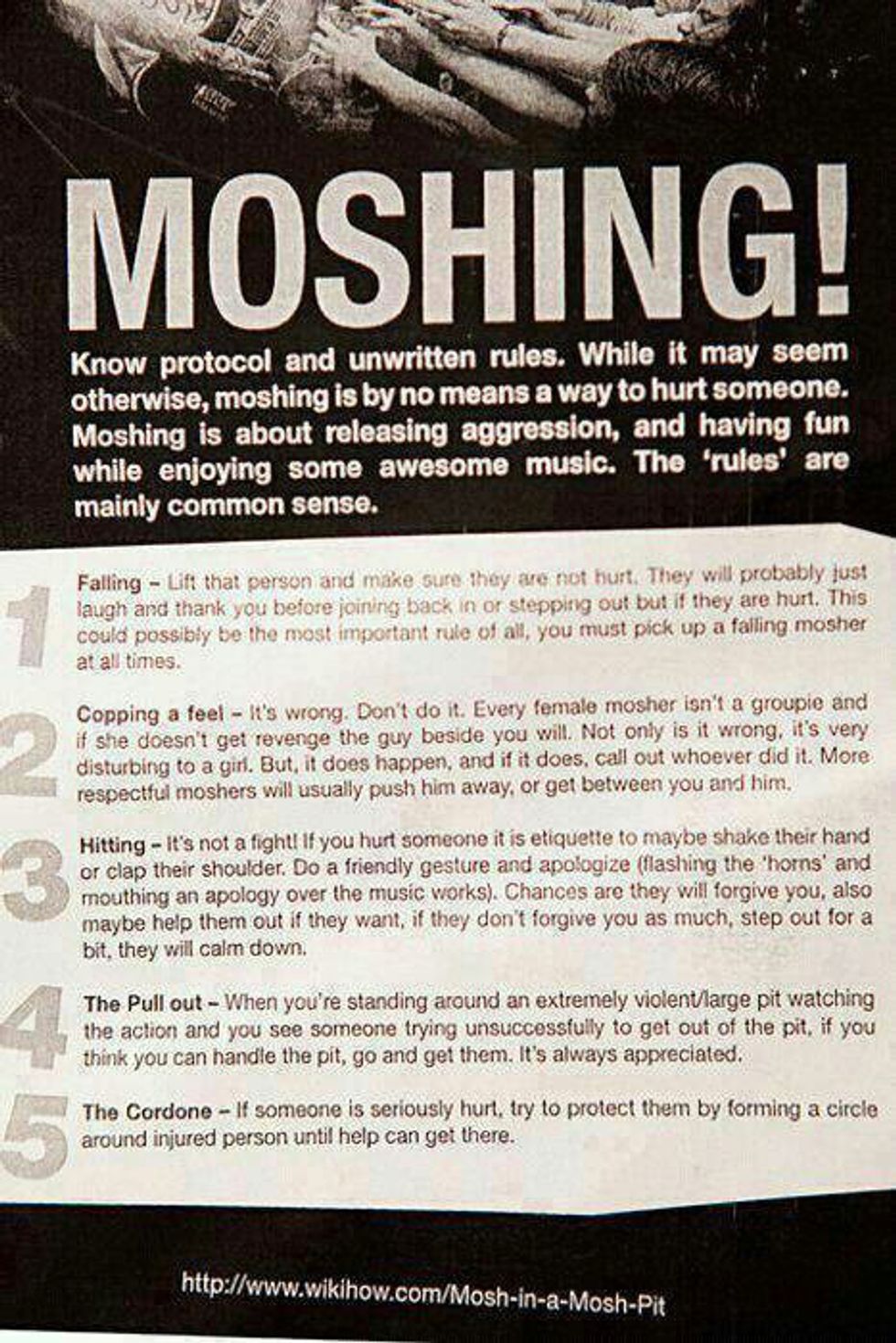 I fell in the middle of a circle pit one summer and five different guys rushed to my side to help me up. Gestures like this are much appreciated and can save a person from getting seriously injured. These are the main unwritten rules that are followed by all participants. It would be wise to read them over and know what to expect in a mosh pit.
8. Watch out for crowd surfers..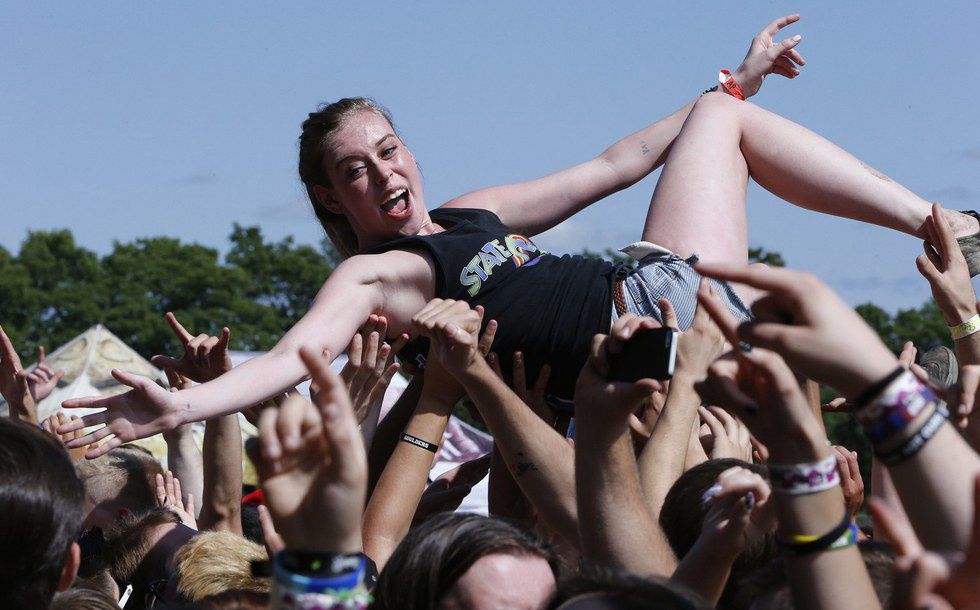 ..and be prepared to help them stay up. They will wind up over your head, so watch out and don't be that one jerk that lets them hit the pavement. Warn others around you if there is a crowd surfer approaching so they can help you help them stay up. It is also nice not to be surprised when there is suddenly a person falling on top of you...Consider it a rite of passage if you encounter a crowd surfer.
9. Take advantage of the free stuff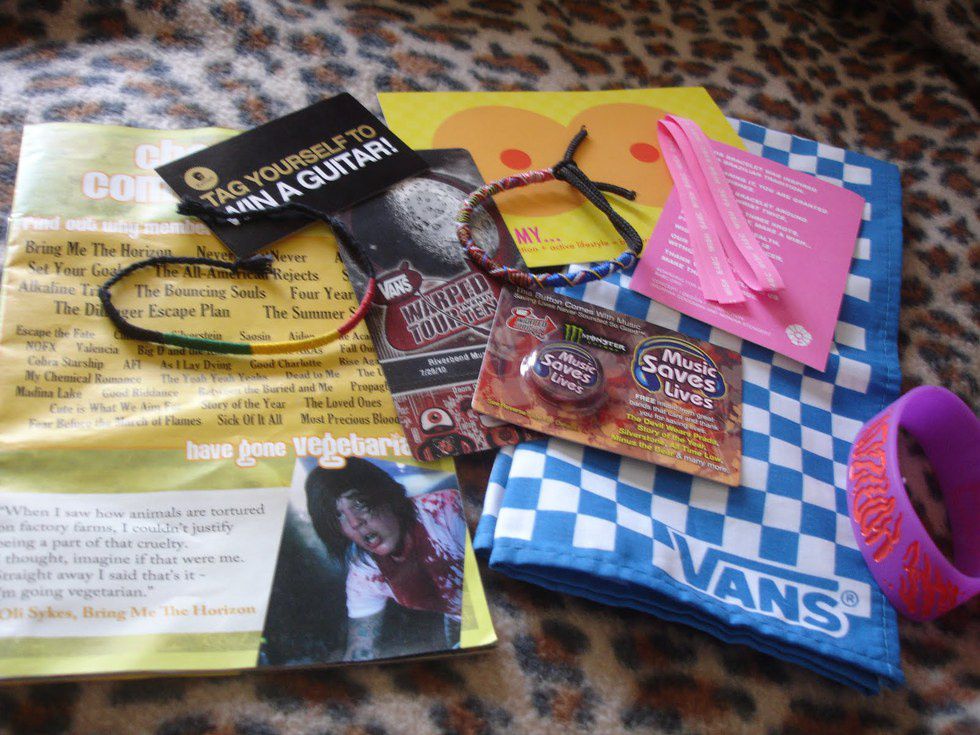 Almost every tent gives away free stuff. Keep your eyes peeled.
10. There are so many opportunities to meet your favorite band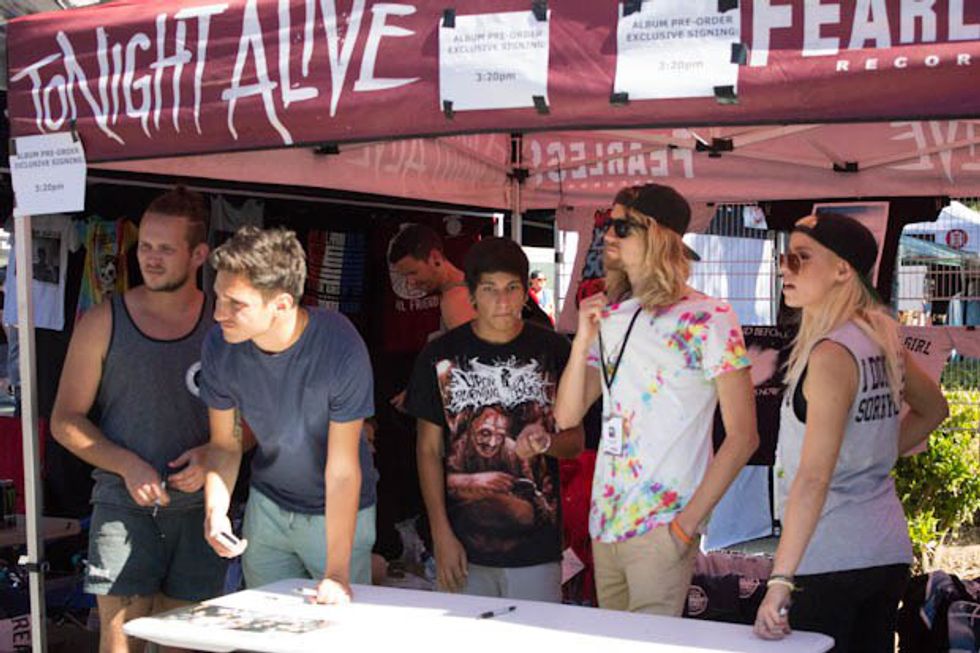 Sometimes after a band's set, they'll announce that they will do a quick meet and greet at their merch tent. Or go to their merch tent at anytime during the day. There is always a chance they will be at their merch tent. Every year I've been to Warped, I've met many of the bands I listen to just by visiting their merch table, attending their meet and greets after their sets, or just by pure coincidence. Hell, I saw Chris Motionless from Motionless in White casually buying chicken tenders one summer. Warped Tour is the best place to meet your favorite bands.
11. Don't be afraid to express yourself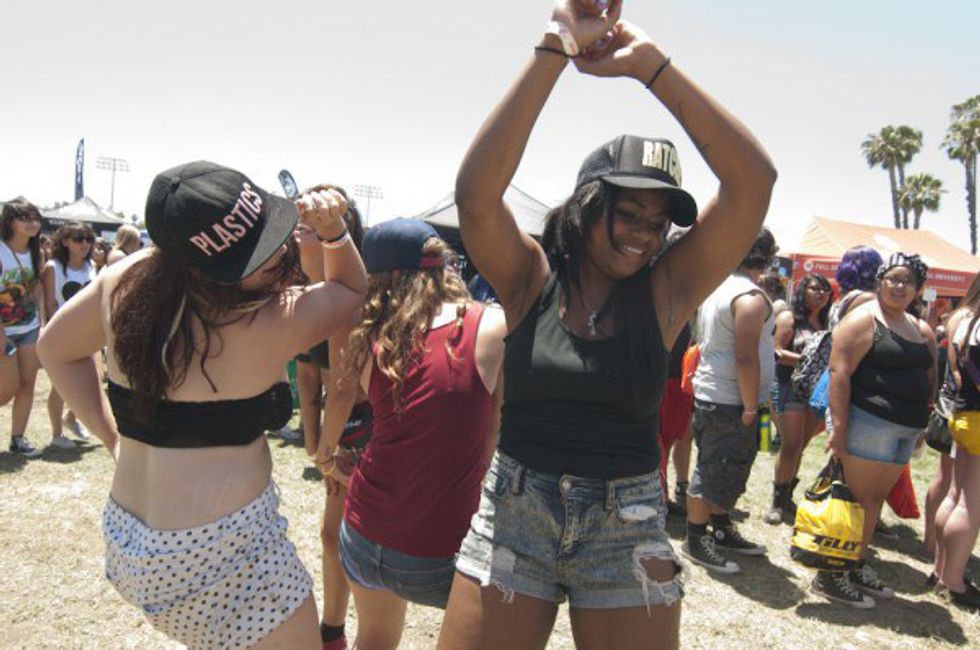 No one at Warped Tour is going to pick on you or judge you. It is such a rarity and a nonoccurrence, like spotting a leprechaun riding in on a cloud of rainbows in the middle of July. The fact that I had to make that analogy shows how uncommon it is. I have noticed that the most friendly, down-to-earth, and unique people can be found at Warped Tour in the five years I've been going. This is your time to shine and have the best time possible. Wear what you want, do what you want, be what you want. The only thing that will hold you back is yourself.