We all have deal-breakers when it comes to dating. Some are obvious, like how I won't date someone who dresses like a member of the Insane Clown Posse. Others are things you can't find out about someone until you get to know them. How someone acts, treats others, and present themselves is usually an indicator of how good, or bad, they will be in a relationship. Here are 10 signs that I have put together from my own experiences that will hopefully help you determine if the person you're dating is the actual worst.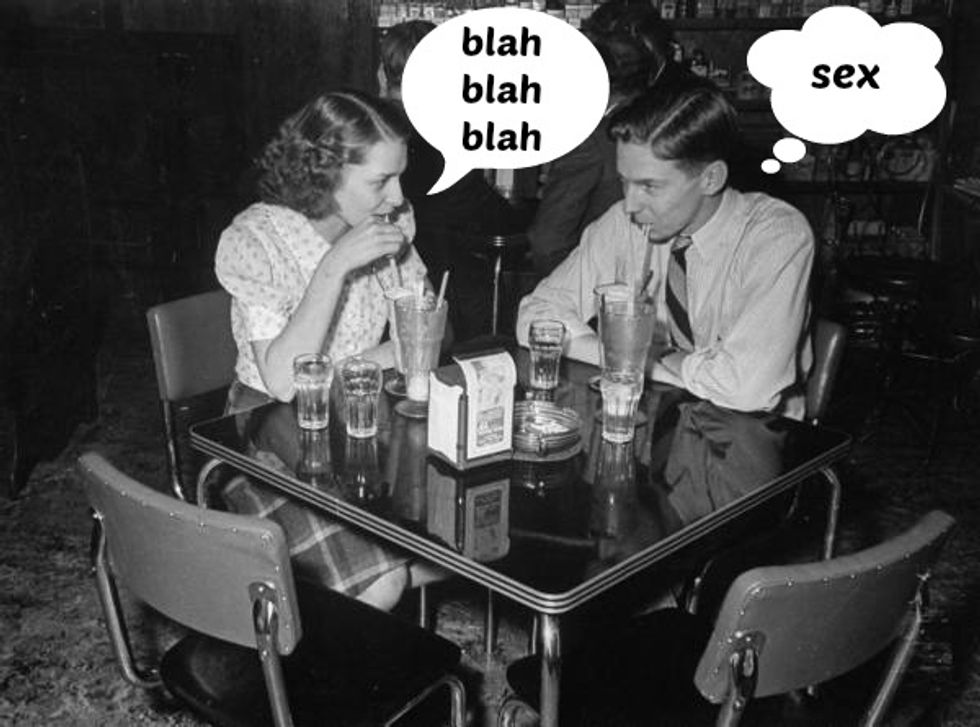 1. They talk about past relationships without you asking

How many times have I sat, staring blankly, listening to a guy tell me about his "crazy ex-girlfriend" when I didn't even ask...? I know guys aren't the only ones who do this, but it sure feels like guys are quick to label ex-girlfriends as psychotic. Regardless, unless we ask, why would you elaborate about past relationships? How someone speaks about past partners lets the current person they're dating know how they would talk about them in the case of a break up.
2. They devote too much time to their hobbies

What's the deal with people choosing their hobbies over people they're interested in? No matter how much you like them or they like you, if you blow them off to stay home and play video games or hang out with your dumb friends, they're going to move on. If someone can't give up some of their free time for you early on, don't expect them to do it later in the relationship. Also, what the literal hell is up with grown adults devoting hours to video games daily?
3. They don't have realistic, achievable goals

Unless you don't have any goals yourself, you shouldn't be with someone who doesn't care about his or her future. When I say having goals, I don't mean you have to search for single doctors and lawyers. When someone has goals, big or small, lucrative or not, they are living with a purpose and are driven. You don't want to get involved with someone who is content doing nothing or the bare minimum.
4. They pout when you don't give them attention

If you're reading this then I'm going to assume that you're an adult man or woman, and that means that pouting over wanting attention is not acceptable. Will someone please issue a PSA to Tinder so we can clear this up because apparently grown women and men are still getting butthurt over their significant other not spending time with them or texting them 24/7. Clinginess is not a good sign.
5. They believe the opposite sex owes them

Men: being a "nice guy" entitles you to NOTHING. Women: being a "good girlfriend" doesn't give you the right to be a bitch. If you're in a relationship, you deserve to be respected first and foremost. If you find your S.O. making statements like "I don't know why girls always friendzone me" or "all men are trash," reevaluate your choices. And, for the love of God, remember that under no circumstance does anyone of either sex ever have the right to demand sexual acts. You always have the right to say no (or yes)!
6. They feel the need to one-up everybody

One-upping is when someone always has something to say that tops whatever was said in the conversation. We all know a person who does this. If you can't ever finish a story without him or her eagerly telling you an even better story that makes them look good, that's not being respectful to you. When that person one-upping you happens all the time, it's a pretty good indicator that they don't really care about what you have to say.
7. Their opinion is always the right opinion

This one isn't hard to spot. If they can't agree to disagree about dumb issues, imagine what fighting with them about important things would be like. If political debates make him or her belittle you, that's a red flag.
8. They're pushy

If you say no, to anything, it doesn't have to be sexual, and he or she won't stop pushing you to change your mind... not a good sign. This characteristic can have a snowball effect and eventually become too much to handle, so it's better to be safe and address the issue when you first recognize it in your S.O.
9. They low-key insult you

This is one of my biggest pet peeves. I can't stand it when people so-called jokingly insult me and then play it off as flirting or just teasing. If they frequently give you backhanded compliments, there's probably some truth there about what they really think about you.
10. They don't appreciate your efforts

It's not up to you to give 100% when they are giving 40%. If they only hit you up when it's convenient for them, red flag. If they always cancel plans last minute, red flag. If you find yourself giving more than you're getting, red flag.
You guys, I wish dating was easier, and you didn't have to weed out people who show these signs, but people suck. It's hard to find someone who isn't actually a condescending, needy, ungrateful jerk. Keep looking, and keep in mind that there are plenty of good fish in the sea. Happy dating!