Sometimes life can be crazy and so can the stress of applying makeup to handle those outrageous moments we encounter in life. However, that does not mean you have to give up makeup or devote your entire savings account (unless you want to) to purchasing the best makeup products. Here are my Top 10 Makeup Hacks that will make your life a tad easier!


1. Place your mascara in a cup of hot water to make it thinner and more easily applied.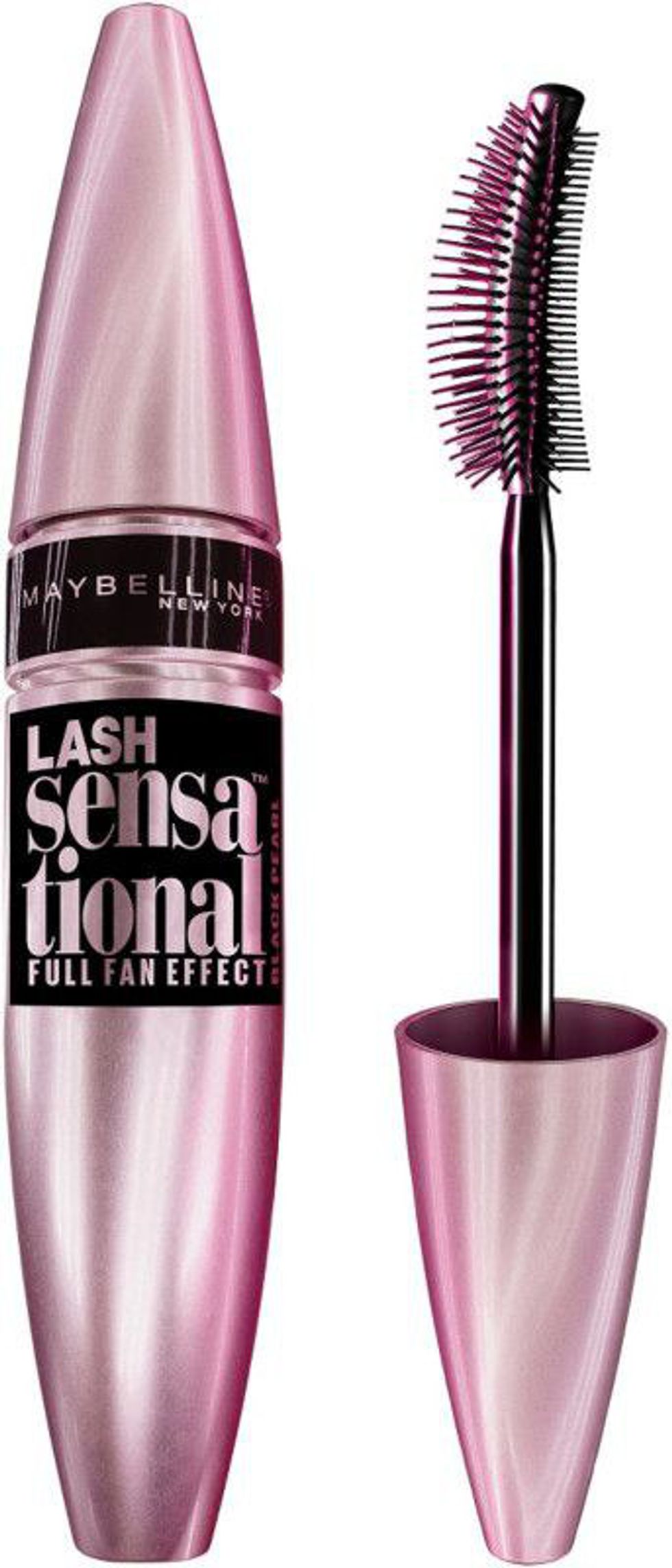 Mascara too dry? Got some spider lashes going on? Running out of mascara? This is the perfect hack to make your mascara as brand new without purchasing an entire new one. You can either place the mascara in a cup of hot water for a minute, but if you happen to be in a hurry, just run it under hot water for a good 30 seconds and you should see better fluidity in the formula. This helps to make the mascara less dry and eliminates any clumps that would eventually end up on you lash!
2. Make your own homemade brush cleaner.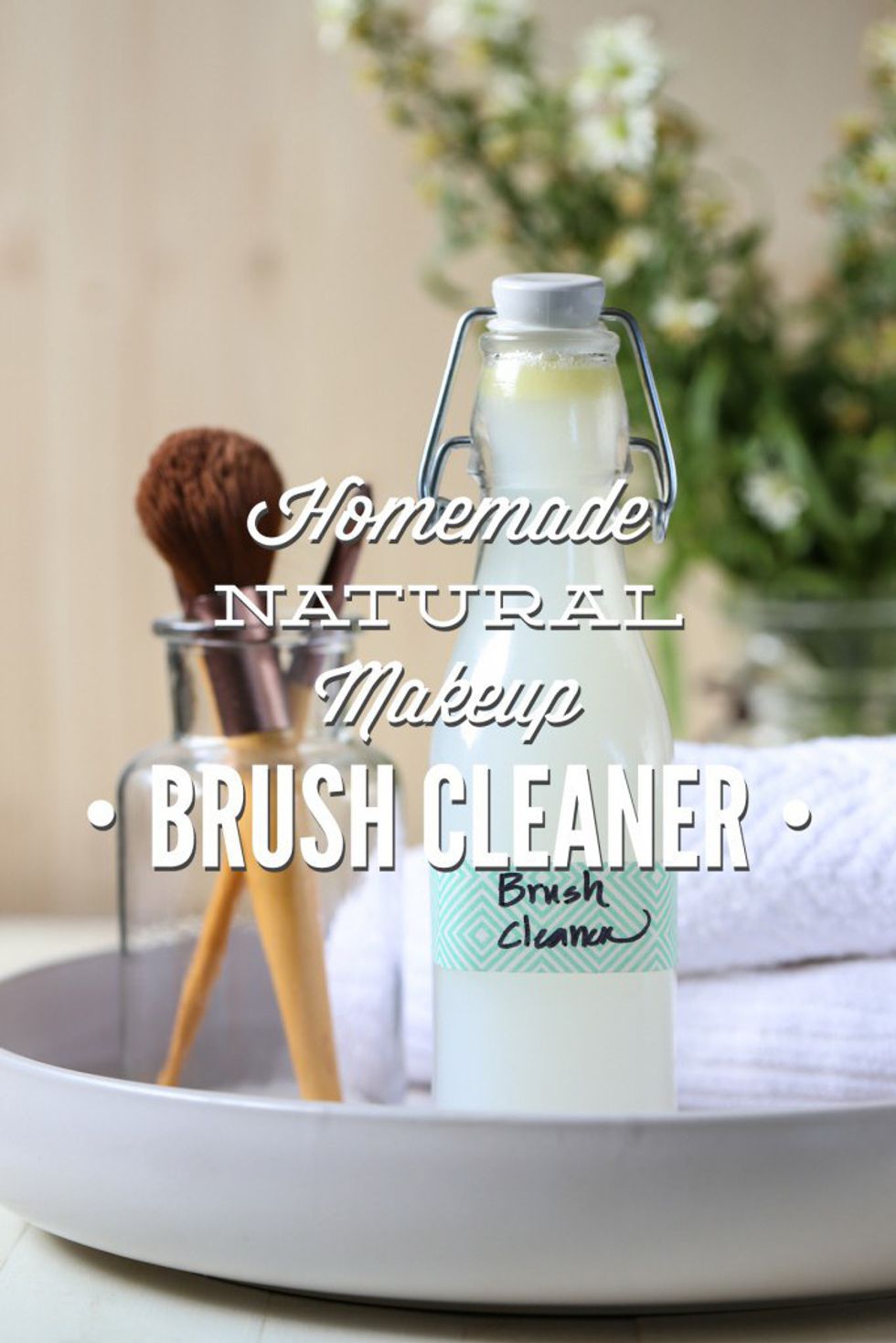 Trust me, I know how expensive both brushes AND brush cleaner solution can be. However, it is critical to clean your brushes at least once a month. Many people overlook good hygiene for their makeup brushes, but just from a couple of uses during the week, brushes begin to collect all types of germs and bacteria like it's their job. Plus, it is super- duper easy to create your own brush cleaner from ingredients you probably already have at home. Mix 1/4 cup of dish soap (or Johnson's Baby Wash), 1/4 cup of Olive Oil, and a small spoonful of Coconut Oil together and . . TA- DA, a perfect makeup brush cleaner before your eyes! Stop wasting time and money purchasing makeup brush cleaners when you can do this right in the comfort of your own home!

3. Fill in your hairline with matte eyeshadow.
[rebelmouse-proxy-image https://media.rbl.ms/image?u=%2Ffiles%2F2017%2F02%2F24%2F636235576061774266-1521495158_anigif_sub-buzz-2614-1466103104-2.gif&ho=https%3A%2F%2Faz616578.vo.msecnd.net&s=837&h=f4c84f4635906da0ececa2d72d02fe3753feb59f966b2e291819ea7649b3b367&size=980x&c=295004675 crop_info="%7B%22image%22%3A%20%22https%3A//media.rbl.ms/image%3Fu%3D%252Ffiles%252F2017%252F02%252F24%252F636235576061774266-1521495158_anigif_sub-buzz-2614-1466103104-2.gif%26ho%3Dhttps%253A%252F%252Faz616578.vo.msecnd.net%26s%3D837%26h%3Df4c84f4635906da0ececa2d72d02fe3753feb59f966b2e291819ea7649b3b367%26size%3D980x%26c%3D295004675%22%7D" expand=1]

I know this may sound crazy, but if anyone has crazy baby hairs or a very thin hairline, you may want to open your mind and use this hack! Filling in your hairline with some black or brown matte eyeshadow is a great way to blend baby hairs into your ponytail, as well as cover up any patches of think hair that you feel my show too much of your scalp. I am a lover of the high ponytail, so when it comes down to slicking my hair back into the perfect ponytail, there is no way that I am leaving home without filling hairline to a T!
4. Use liquid lipstick for your eyeliner.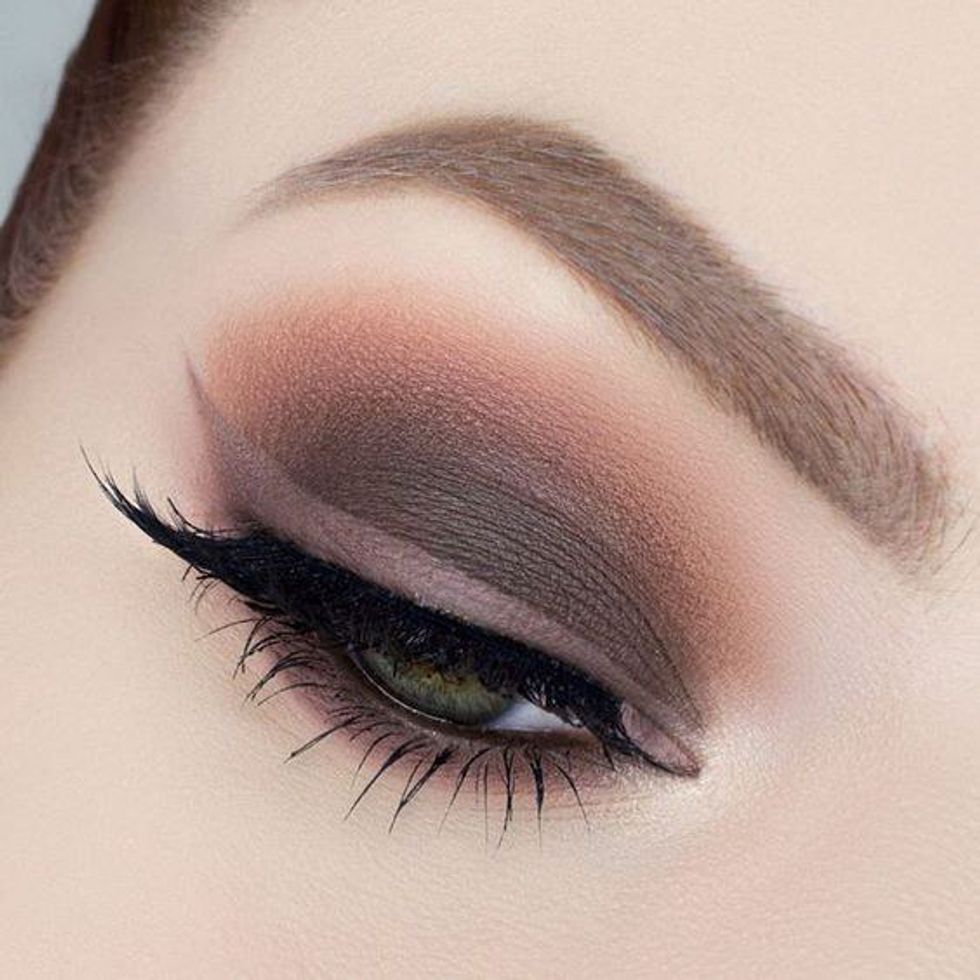 Liquid lipstick is the NEW winged eyeliner. If you happen to get bored with plain old black eyeliner, switch it up a bit! Liquid lipsticks from any brand possess a variety of colors to choose from and are made of great formulas that allow for quicker drying time and better application. As you can tell, many makeup artists on Instagram have been experimenting with this trick and it seems to give the perfect wing every. single. time. So, forget the bold lipstick and go with a bold wing for once, I promise you will not regret it.

5. Slide a bobby pin across a regular blush brush to create a fan brush.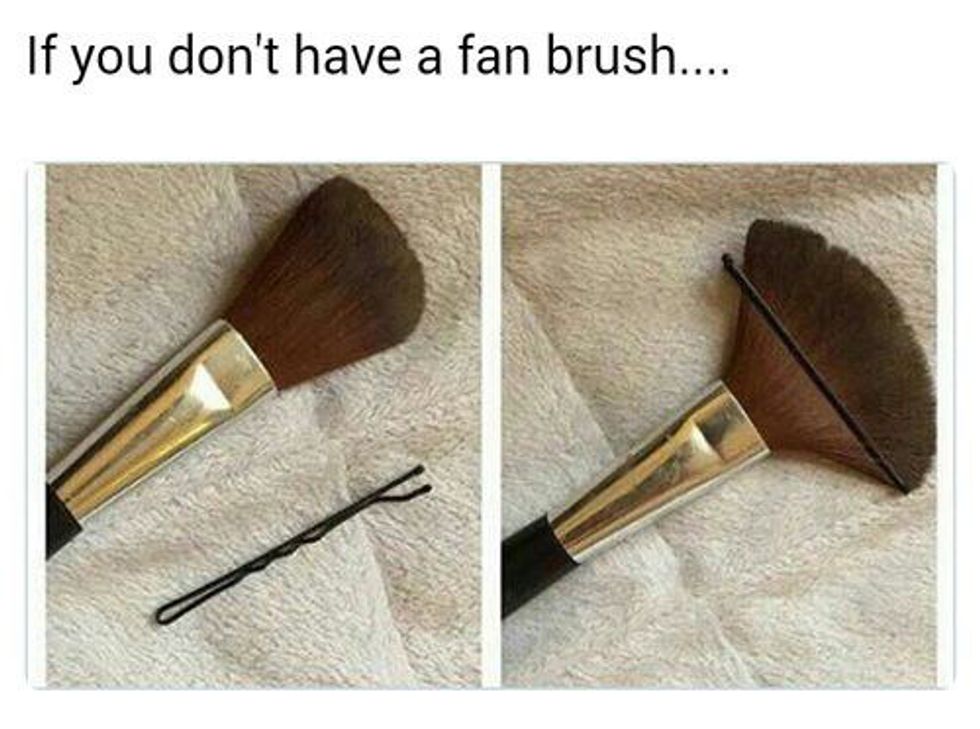 As the saying goes, MAKEUP = MONEY. It is really hard to spend $50 on just ONE single makeup brush, but brushes are a staple in makeup application. I mean, how else would you get a bomb highlight or perfect contour?! Still, you don't have to break the bank and buy every brush in the world to recreate the best makeup look. For all you highlight addicts out there without a fan brush (aka ME), take a bobby pin and slide it right across a regular blush brush. This will help flatten the brush as it takes the form of a fan brush. Sneaky, yes i know (;

6. Contour your nose with a fork.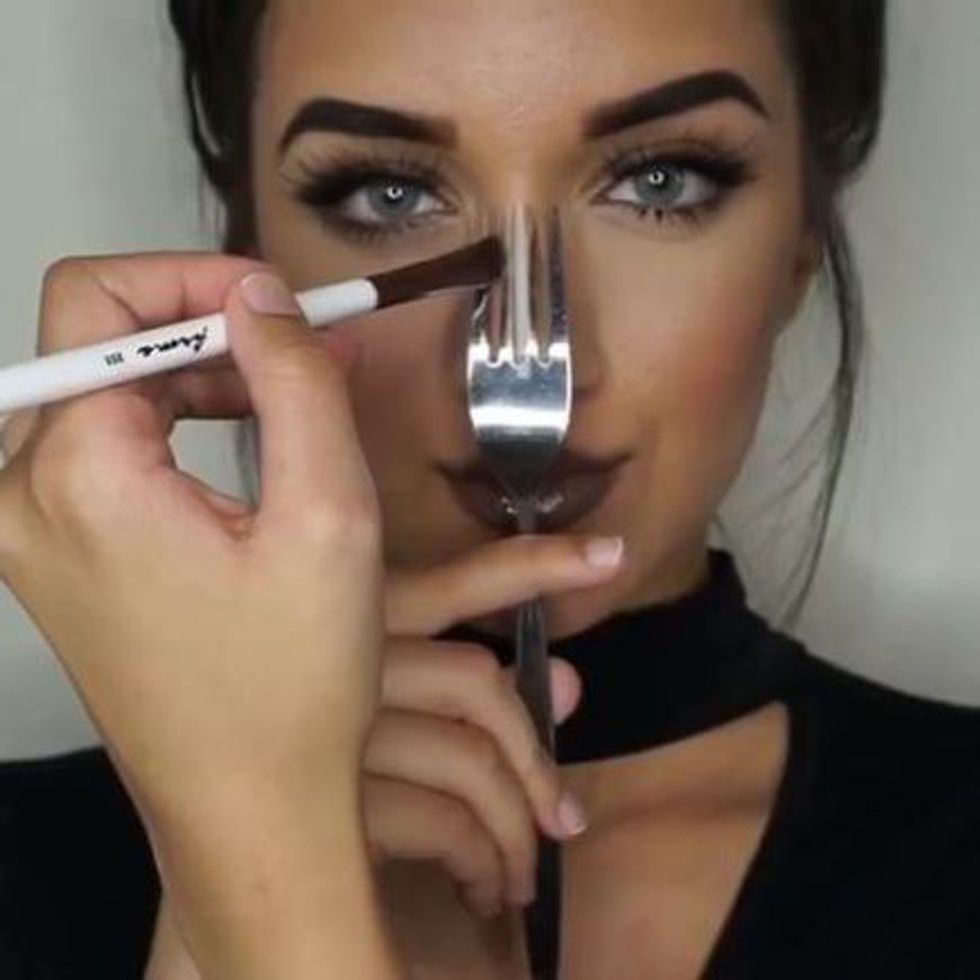 Want that perfectly contoured, slim nose? Place the prongs of a silver fork flat against your nose and take the darker contour color to fill in between those prongs. Once done, take highlighter or a lighter contour color and blend it in the middle of your nose. Finish blending with either a contour brush or beauty blender and notice how define your nose looks (even though it is still the same nose from before). Surprised? Yeah, I knew you would be!
7. Use a spoon for cut - crease eyeshadow.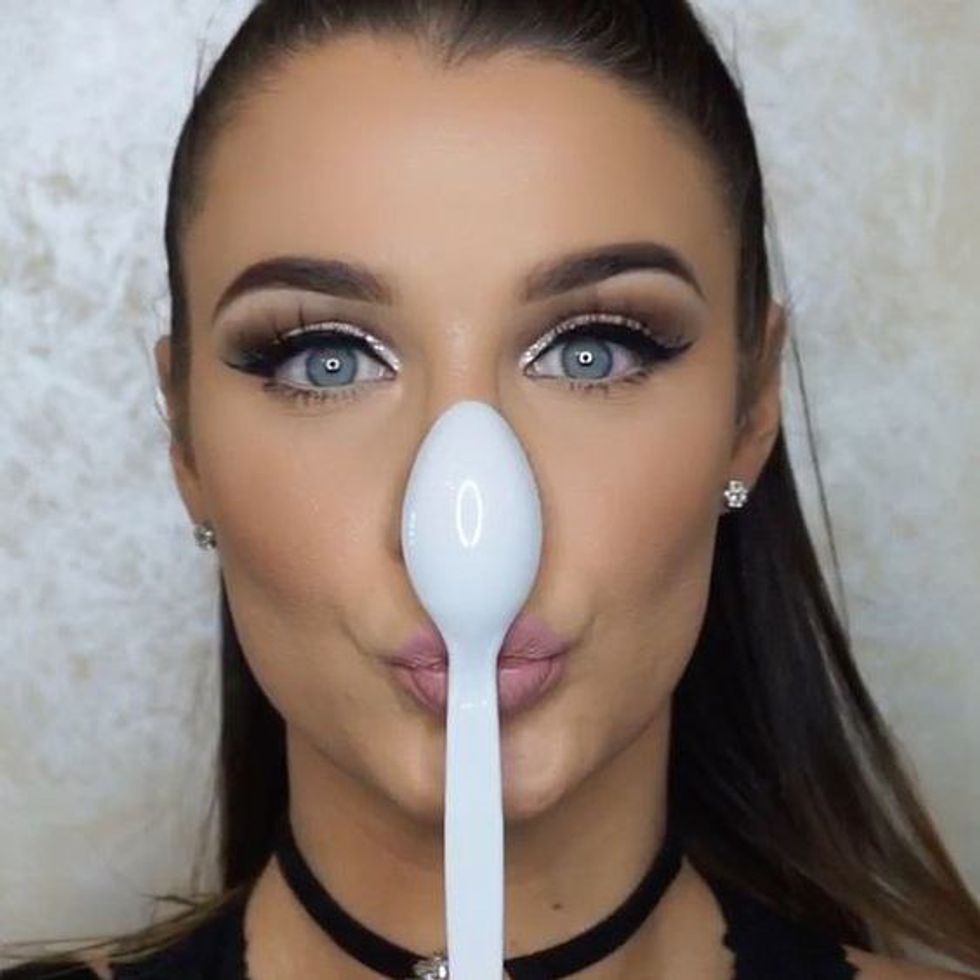 Well, since we're on the topic of eating utensils, why not use a spoon to for a clean, cut- crease. Sure, this may be going overboard quite a tad, but for those that love makeup, it is definitely worth a try. The spoon helps to enhance precise lines of colors that make the eyeshadow look neat and well- blended. In fact, this is a great hack for aspiring professional makeup artists who want to perfect their eyeshadow skills because it provides them with greater accuracy for color placement and intensified each color placed on the lid.

8. Purchase white eyeliner.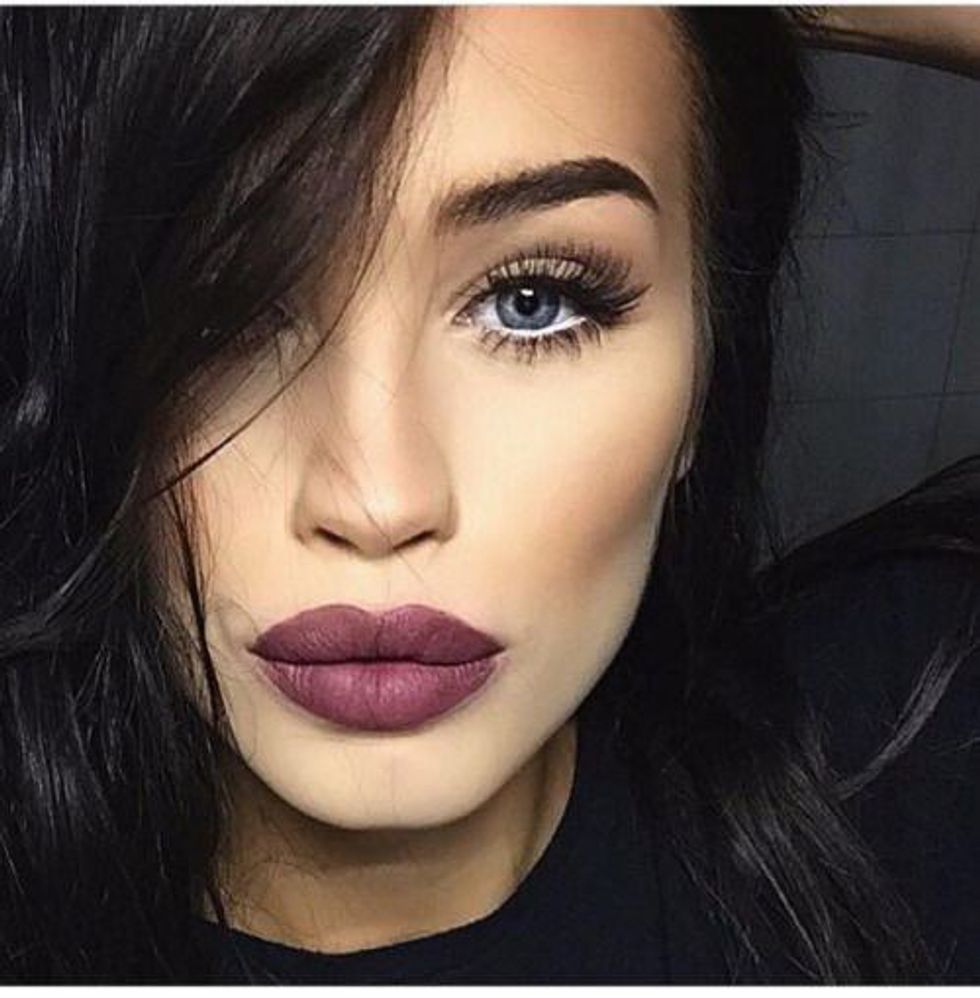 Just purchase it. Do it NOW. White eyeliner is the most versatile cosmetic and therefore, it comes with a bunch of hacks that you must try at least once in your lifetime. Feel tired and just blah? Apply some white eyeliner to your waterline and the inner corner of your eyes. This will not only brighten your face, but it makes your eyes appear bigger for a more "awake" look. Want to go for a bold - colored eyeshadow? Pat some white eyeliner on your entire lid before applying the colored eyeshadow to make intensify the actual pigment. Trying to be Kylie Jenner (just admit it, we all are) and get some full lips? Place some white eyeliner in the middle of your bottom lip, then outline your cupid's bow with it. After, apply your desired lip color and watch how plump your lips look!
9. Apply blush to the apples of your cheeks and blend UPWARD.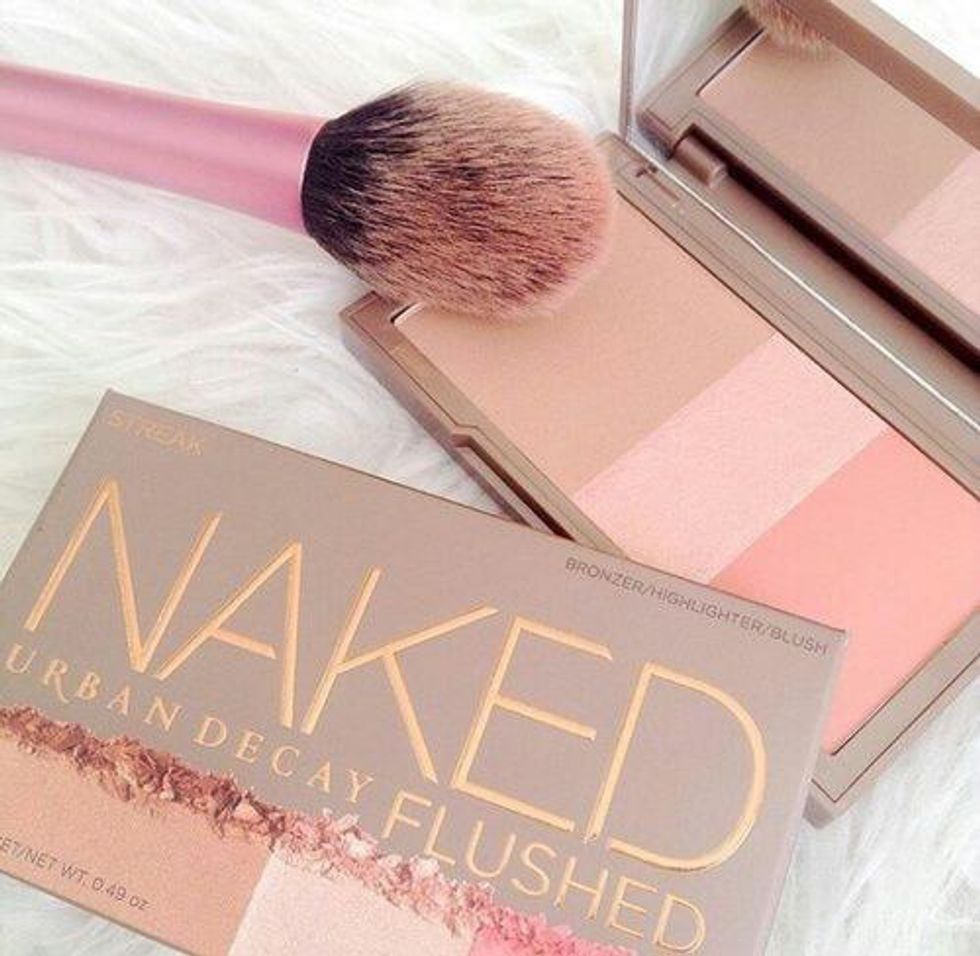 This is my favorite hack because many people think the best way to apply blush is to just pat it all over and guess what, YOU'RE WRONG. The right way to wear blush it apply a couple of dabs to the apples of the cheeks and then blend upward in a fluid, delicate manner. DO NOT, I repeat DO NOT make circular motions with the blush brush (unless you're a party clown with a kid's birthday party at 1pm). Fortunately, most of us are not party clowns, and this hack will helps to give you a more pinkish, youthful glow!



10. Apply red lipstick to cover dark circles.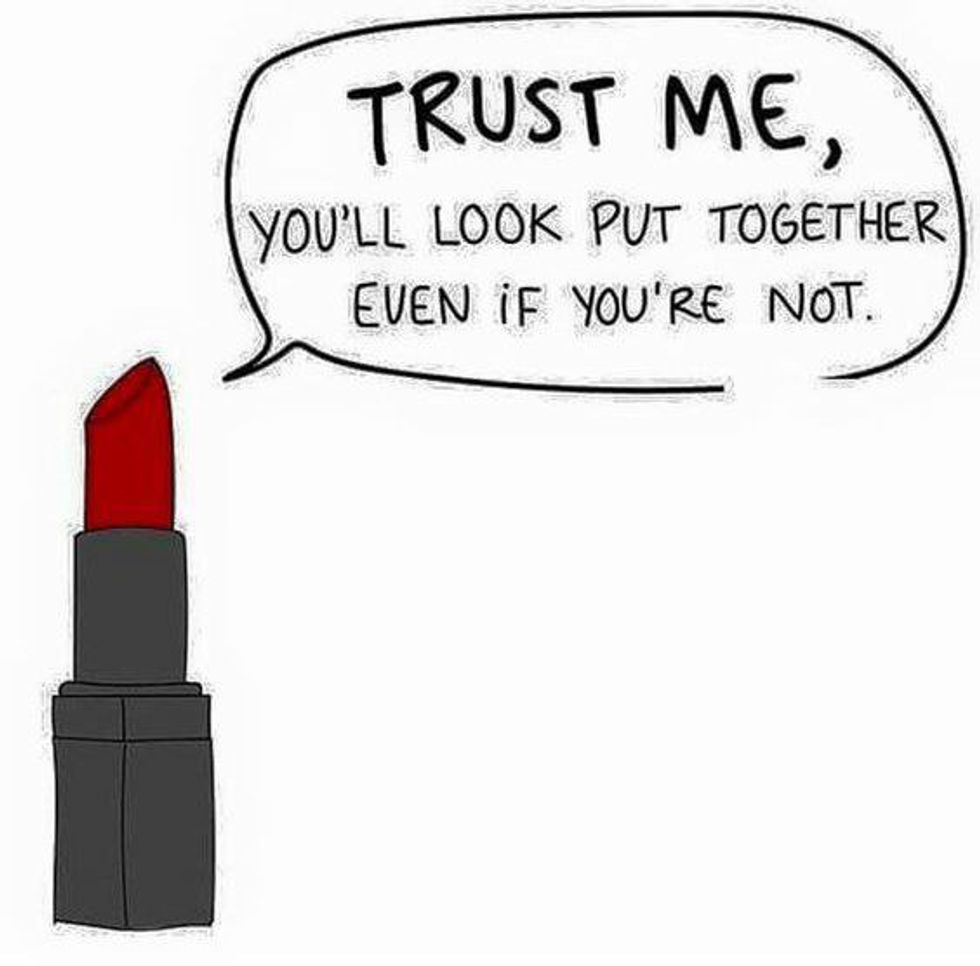 Color correct! Color correct! COLOR CORRECT! Gurl, ain't nobody want to see those baggy, dark circles of yours! Stop walking around like you're a zombie, grab some red lipstick you were going to wear to the club, and then apply some concealer over it! Now you can go on with your day like a normal human being!