Are you tired of scrolling through Netflix, trying to find new shows to binge watch? I know the feeling. Sometimes Netflix just doesn't have that right fix for us romantic comedy lovers.

If you haven't heard about them already, Korean dramas are the bees knees. Of course, there's also Chinese, Japanese and other Asian shows and films that have received significant praise - but it's South Korea that has been marking their territory in media and entertainment. From K-Pop (Korean Pop music) to K-Dramas, the South Korean entertainment industry has upped the standard.
But let's just focus on dramas for now. Specifically, romantic comedies. I'm going to give a pretty brief summary for each of the dramas below. Each episode is about 45 minutes to an hour, there's about 16-20 episodes for each drama series and if you're determined, you could finish in a week or two. Enjoy!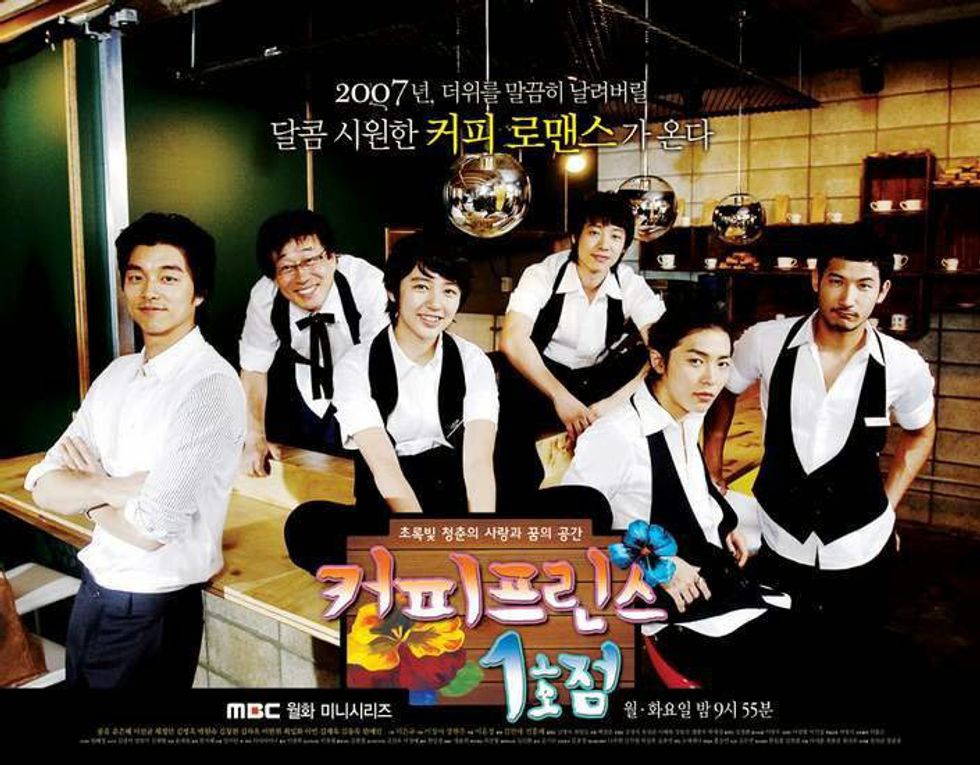 Go Eun Chan (Yoon Eun Hye) works incredibly hard every day, struggling to support her mother and sister after her dad passed away. She's also interestingly easily mistaken for a pretty-looking boy - you'll understand why soon. Choi Han Kyul (Gong Yoo), a direct heir to a big food company, is always under constant nagging by his grandmother to marry and take over the company. When Eun Chan and Han Kyul meet, Han Kyul comes up with the brilliant idea for Eun Chan to act as his gay lover to get his grandmother off his back about dating and marriage. And since Eun Chan needs the money, she agrees, and also takes an open position in Han Kyul's "Coffee Prince" cafe. Then, the inevitable happens: Han Kyul realizes that he's falling for Eun Chan, and starts to actually question his sexuality. What he doesn't know yet is she's actually a girl. What. A. Surprise.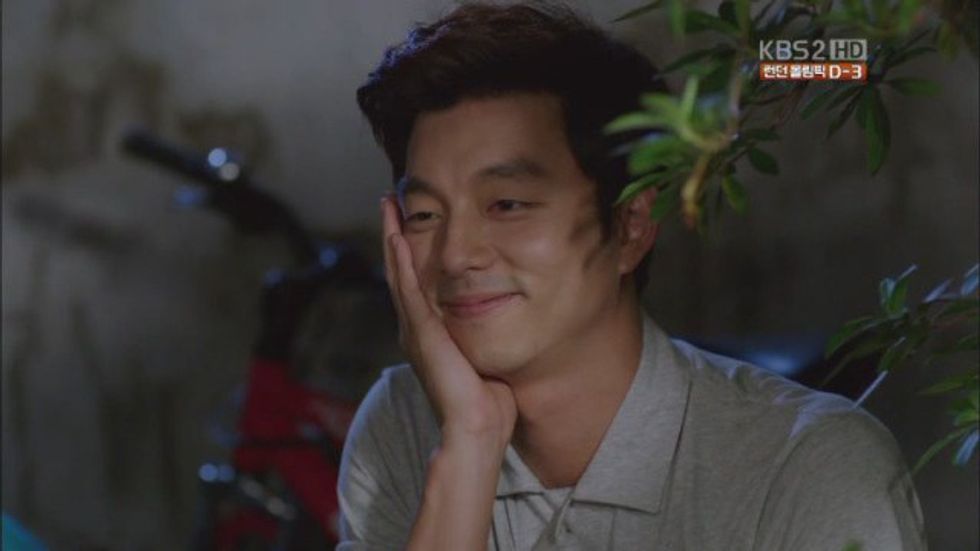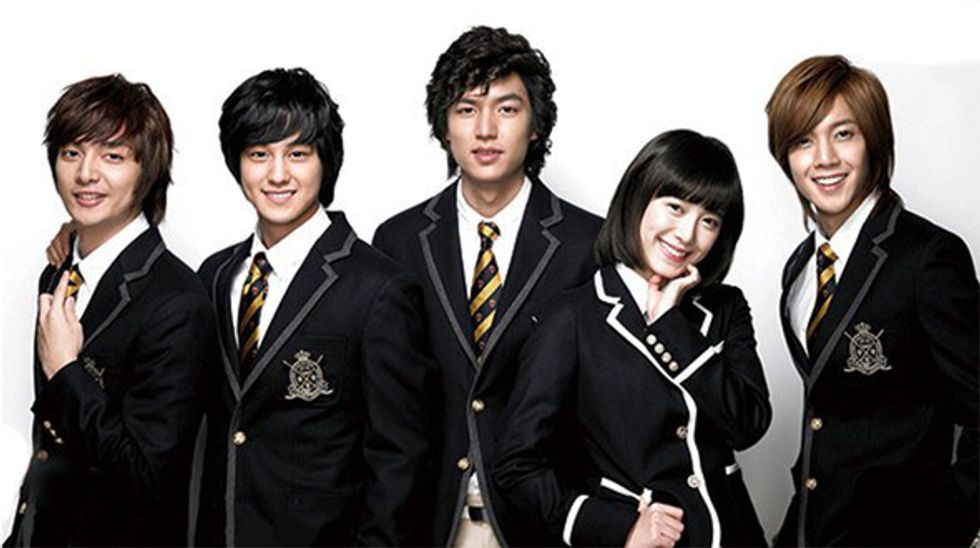 Boys Over Flowers, released in 2009, is the drama to watch if you're first starting out. Based on a popular Japanese manga, the story is about an average high school girl (Jan Di, played by Ku Hye Sun) whose parents own a laundromat near the famous and wealthy Shin Hwa High School. When she unexpectedly saves a bullied student from committing suicide, she becomes a media sensation. To save the school's reputation, the administration decides to admit Jan Di to the school on a scholarship, where she also meets the F4. These kids are the richest and most pretentious boys in school. Seriously though - they can be jerks. The F4 basically "rule the school", and if anyone ticks them off, that kid can even get a red card in their locker that gives everyone in the school the "right" to bully that person. Jan Di initially attempts to avoid the F4, but after they bully her only friend, she becomes the strong female lead we all know she is. Since she's the only one who has ever stood up to the F4 - especially to the "leader" Goo Joon Pyo (Lee Min Ho) - she instantly becomes a walking target. Goo Joon Pyo tries to push her to her limit by pranking her and basically using all of his power to make her an outcast, but somewhere along the way, he might just fall in love with her... Crazy. I know.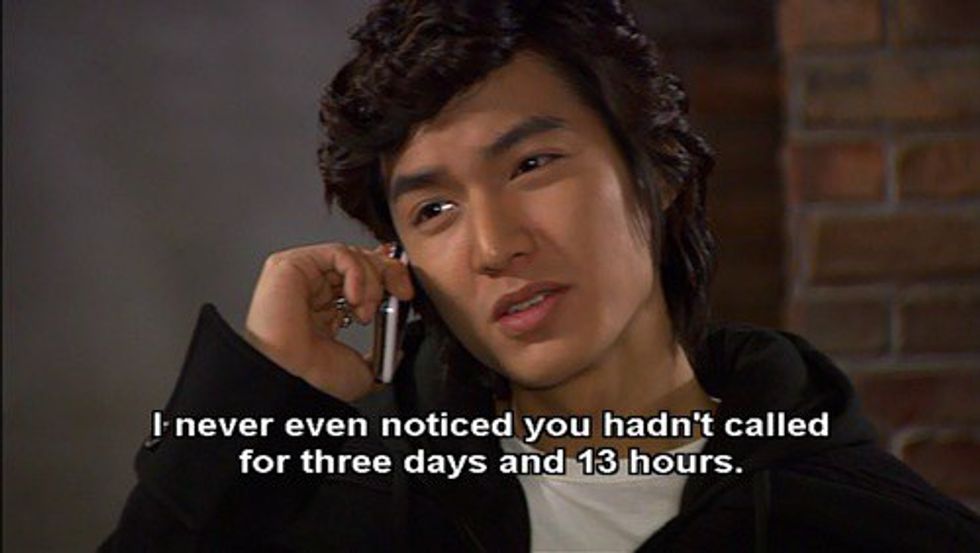 A huge hit internationally as well, BOF is the definition of a South Korean drama. Filled with angst, love, betrayal, friendships, love triangles and more--this is the sort of show you'll need some popcorn for. Just remember that this was 2009. FASHION HAS EVOLVED.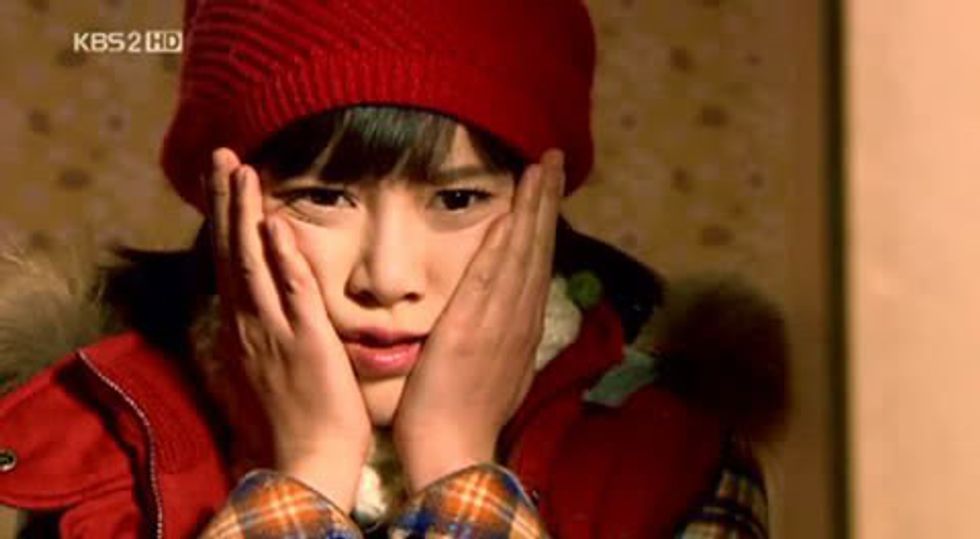 Ahhh. This story is the cutest, but also super crazy. When Mi Nyu's (Park Hin Hye) famous twin brother has to go to the United States for an emergency plastic surgury situation, Mi Nyu has to pretend to be her brother and take his place in his boy band. Being around famous people that are incredibly talented and good-looking? Anybody would love to be in her place, right?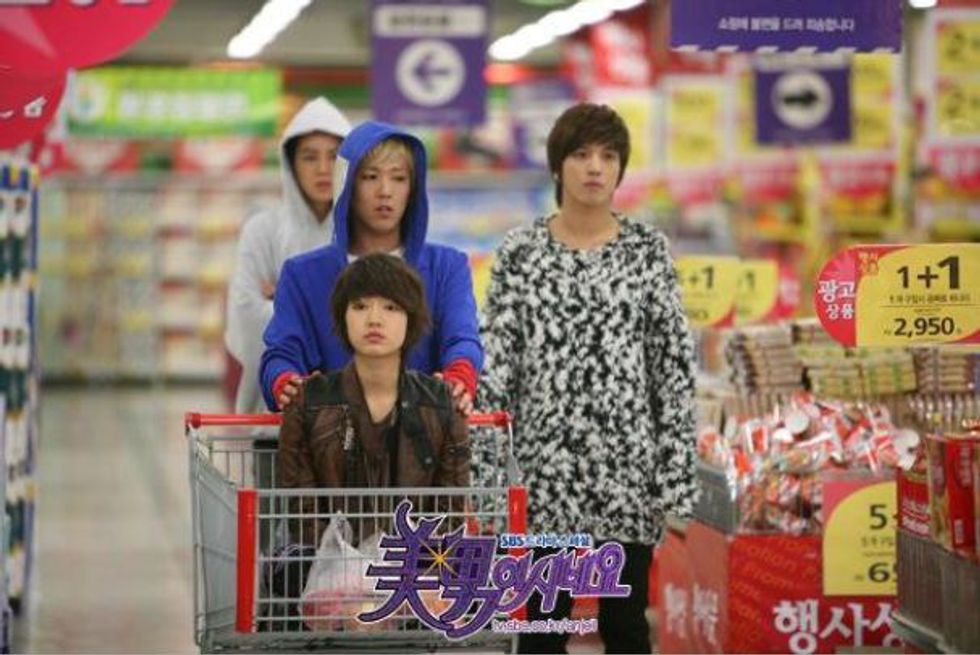 Maybe? Also, don't even ask about the clothes. 2009 was an interesting time.
She finds herself in awkward situations with the boy band members, and some members even find out that she's actually a girl. But is it possible for the band to keep going like normal when it's been infiltrated by a female? Crazy stuff is happening here, and you're also gonna see some pretty rad pig rabbits.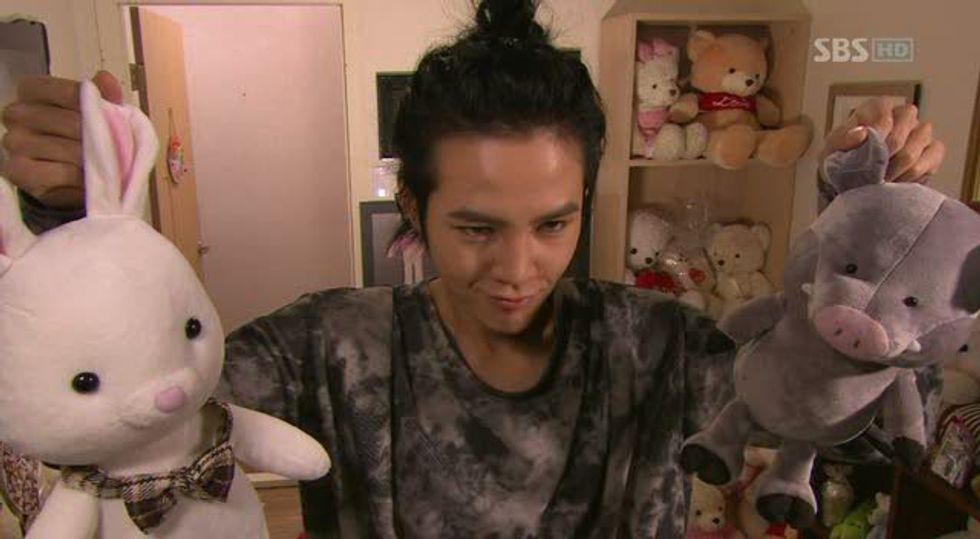 Playful Kiss is probably the cheesiest name for a drama ever, but this is definitely a romantic comedy. PK is based on a Japanese manga (Itazura na Kiss) and actually has been remade as a Chinese drama, Japanese drama, Thai drama and more. It's just that good of a plot. I love this drama particularly because there's not too much of that exaggerated stuff - the parents not approving and wanting to end the relationship, too many love triangle filler episodes or the whole power-struggle-for-money situation that is a staple in dramas everywhere. So if you're looking for a light-hearted, fun show to watch when you're done with work, this would be the one.
Ha Ni (Jung So Min) is in the lowest ranking class in her high school, but meets Seung Jo (Kim Hyun Joon - from BOF!) and instantly falls head over heels for him. Seung Jo is the smartest and most handsome boy in the school, and looks down on Ha Ni for her inferior intellect. Ha Ni tries to get his attention, but to no avail.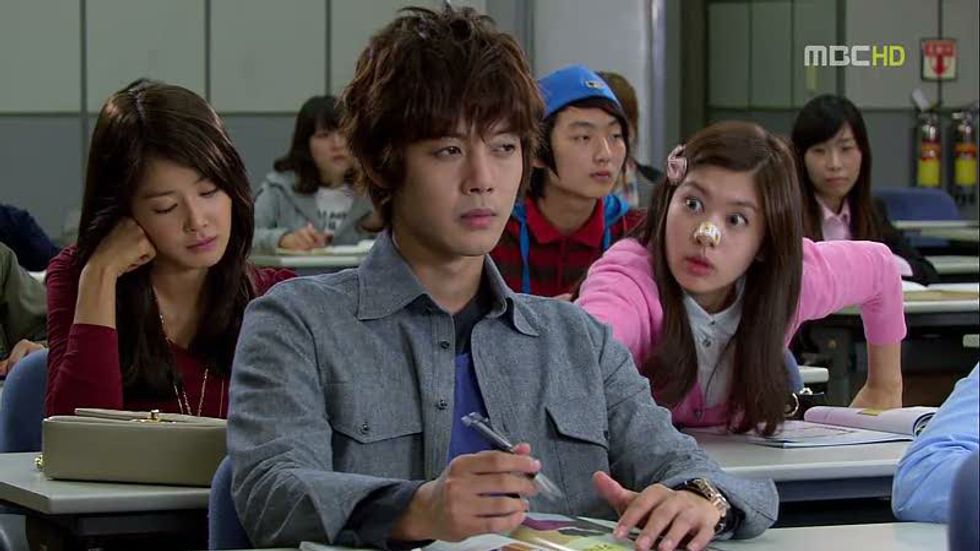 When she finally musters up the courage to deliver him her handwritten love letters, he rejects her... In probably the worst way possible. But in a turn of events, Ha Ni's house suddenly collapses, and she is forced to move in with her father's best friend… You guessed it, also Seung Jo's dad. They're now living in the same house, and things get pr-etty cozy.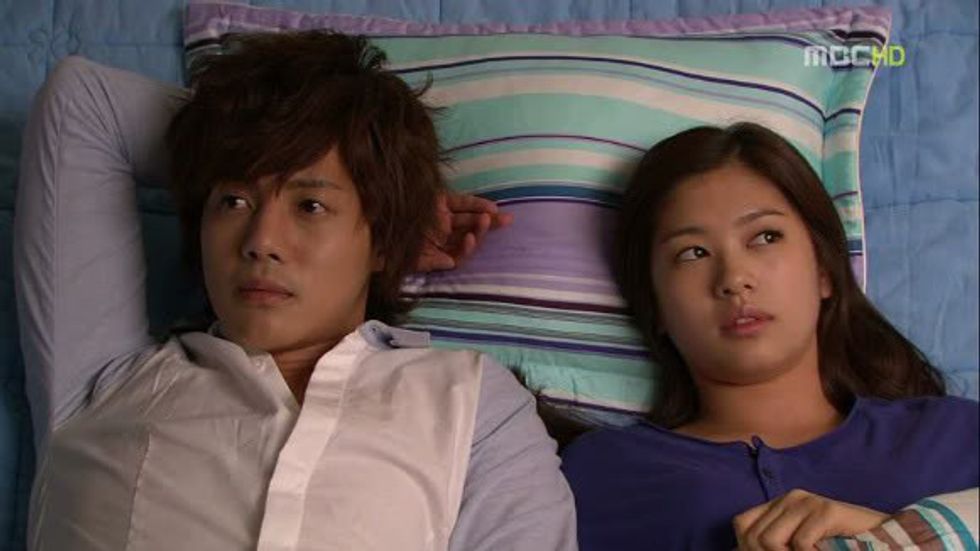 But think about it. This is basically any fangirl's dream.
You'll get to experience the ups and the downs of "The Chase" aka the honeymoon phase of their relationship, and it's just the cutest thing ever. Go watch it. Bring some ice cream.
This is an action/romance/comedy drama. And Lee Min Ho is in it. So it's great.
City Hunter starts off with the necessary background info: Years ago, a group of trained South Korean officers are on a top-secret mission to assassinate the North Korean officer team that carried out a mission to take out the South Korean president. The South Korean officials are successful on their mission, until on their way out of North Korea a sniper kills all but one man, Lee Jin Pyo (Kim Sang Joong). Jin Pyo survived because his best friend, Park Moo Yul (Park Shin Yen) sacrificed his life to save Jin Pyo's. After that incident, Jin Pyo decides to take care of Moo Yul's only son, Lee Yoon Sung (Lee Min Ho). Yoon Sung is then raised as an elite combat soldier, and even attends M.I.T. to earn a Ph.D., just like every other normal teenager. Jin Pyo is still adamant on retribution against the "Council of Five" Korean government officials who planned the operation and shot the team years ago, and Yoon Sung is trained exactly for revenge. But will Yoon Sung be able to follow through with the plan? Or will his heart change? Ooooh. Drama.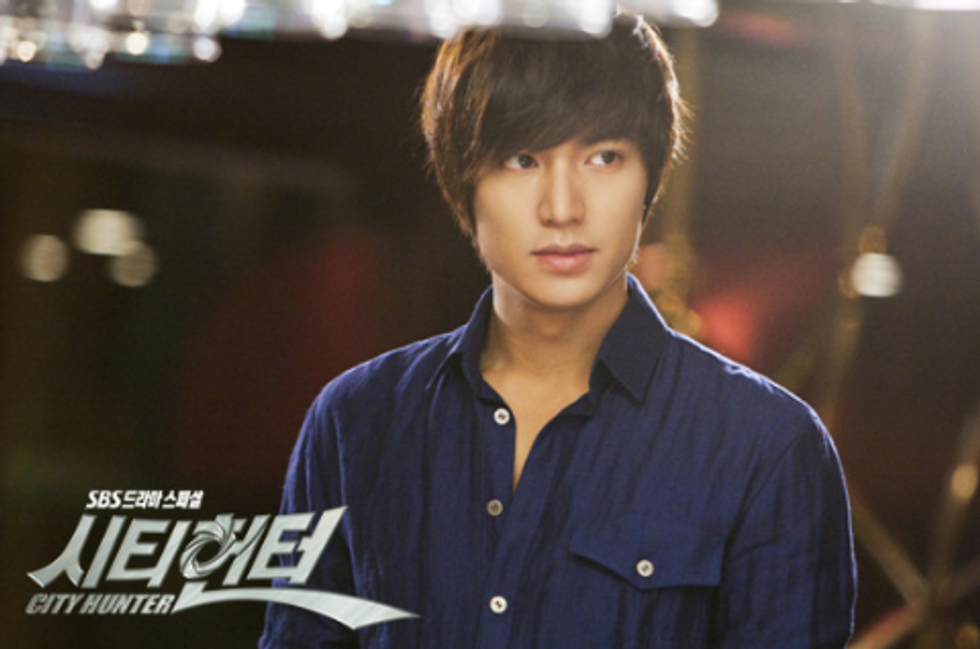 Yes Lee Min Ho. Yes.
An adaptation from the novel "Personal Preference" by Lee Sae, Kae In (Son Ye Jin) has just been dumped by her long-term boyfriend and is looking for a potential roommate. Of course, she's also looking to befriend a gay man for companionship. The usual, right? After Jin Ho (Lee Min Ho), an architect, scouts out the house for a business deal, Kae In mistakes Jin Ho for a gay man. Kae In needs someone to help pay to live in her late father's home, and Jin Ho just seems to be at the right place at the right time. Jin Ho, to have access to her house, agrees to be roommates with her. But will this lead to love? You know you can't put two adorable, heterosexual people in a house together and not let them fall in love in K-Dramas!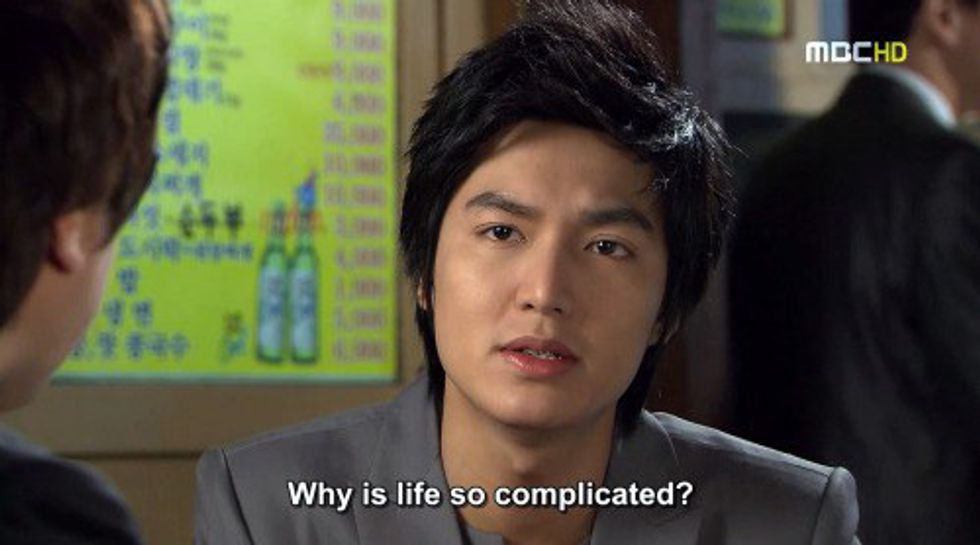 The idea of this was pretty cute, but I will honestly say I didn't like how it was structured. But hey, if you're a sucker for some romance, it'll be for you.
Back in elementary school, Sung Joon (Park Seo Joon) was always seen as the chubby nerdy kid who had no friends. Hye Jin (Hwang Jung Eum) on the other hand, was a pretty and popular girl. These two became close friends, and Hye Jin always stood up for him and comforted him in his moments of sadness. They became each other's first childhood love. But suddenly, Sung Joon's father took up a job in the U.S., and the two had to separate. Years later, they kept in distant touch through email. Hye Jin though, has changed in appearance. She developed her father's genetic skin condition, leaving her cheeks red. She no longer kept up with perming her hair straight, so it became frizzy. Essentially, Hye Jin has grown up to be "ugly".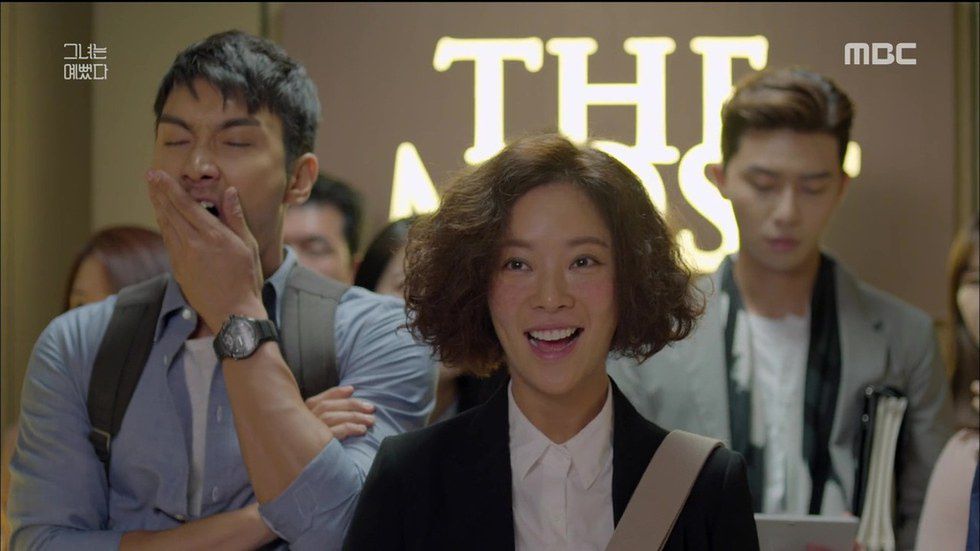 When Sung Joon plans on coming back to Korea, they arrange a meeting. But what Hye Jin doesn't know, is that Sung Joon grows up to become a handsome man, and no longer chubby. Startled and embarrassed of her appearance, she asks her beautiful best friend, Min Ha Ri (Go Jun Hee) to pretend to be her. Of course, this story spirals even more, and the real Hye Rin gets a job at "The Most" magazine. And who also is the new art director of The Most? You know it. Sung Joon. Will Sung Joon realize that his first love and childhood best friend is actually the seemingly ditzy new intern? Hye Jin can't escape fate!
Also, Si Won (also a part of the famous K-Pop group, Super Junior) plays as a second lead. This was his last drama before his departure to serve the military, and his performance is just so amazing in this drama. If you find that you get frustrated with Hye Jin (I certainly was) the character that Si Won plays will make you keep watching.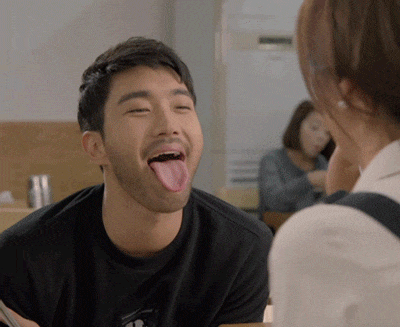 Guess who's the main lead in this one? Lee Min Ho!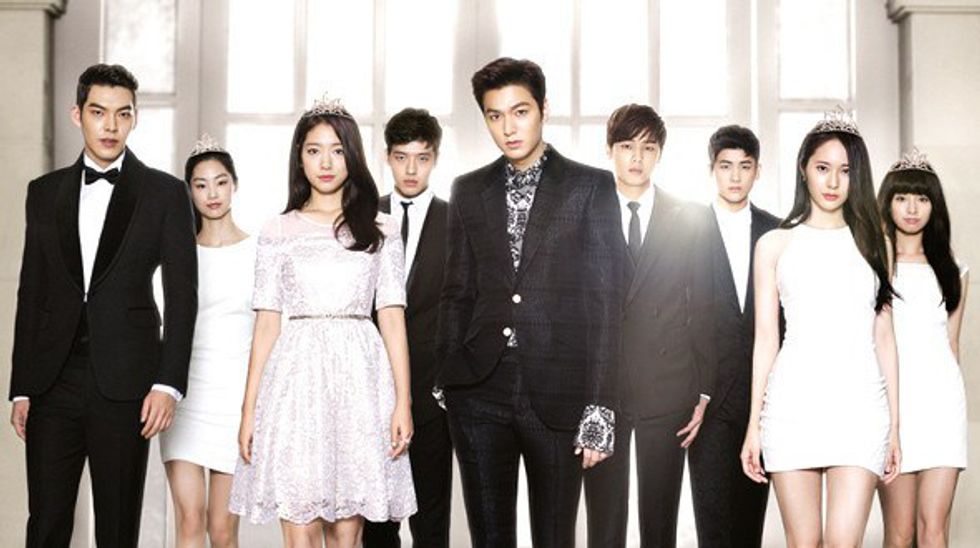 Heirs revolves around a group of teenagers that are well, heirs to giant South Korean empires. We see Kim Tan (Lee Min Ho) first, the true heir to the family-operated Empire Group living the California lifestyle, surfboards and everything. But his older half-brother, Kim Won (Choi Jin Hyuk) is the one calling the shots back in South Korea, with a solid background in business. Cha Eun Sang (Park Shin Hye) is the daughter of their family's housekeeper, and our lovely main lead. Even though Kim Tan is already betrothed to Rachel Ryu (Kim Ji Won), he falls in love with Eun Sang nonetheless. It's just meant to be. Love triangles happen, drama ensues, the whole she-bang. If you like Gossip Girls, you might enjoy this one. It's like a look into the complicated lives of the wealthy, and it's incredibly entertaining.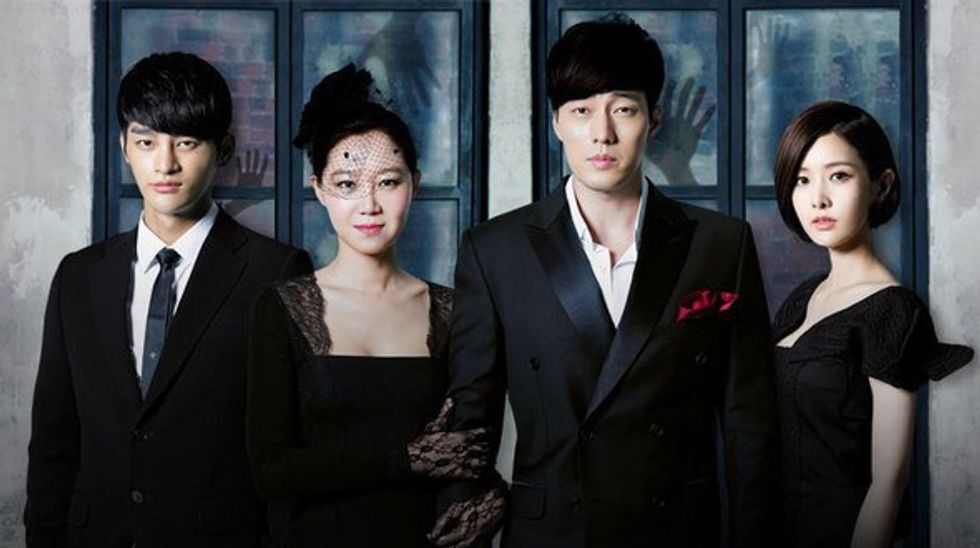 Disclaimer: If you're of the faint-hearted when it comes to "horror", don't watch this drama at night. In Master's Son, our main female lead, Kong Sil (Kong Hyo Jin) can see and interact with ghosts. Pretty scary stuff when she encounters them everywhere she goes, and the girl even tries to help them out--basically to fulfill their last true death wish. But of course, this whole "I can see dead people" thing can kind of disturb someone mentally, you know? She never gets sleep, and also looks a bit loony when she's seen talking to "thin air" in public.
Then, she meets the ever-so rude Joong Won (So Ji Sub), a wealthy CEO of the luxurious Kingdom Mall in Seoul. When a ghost suddenly appears and chases Kong Sil while she's talking to him, she instinctively grabs on to a very disturbed Joong Won. Unexpectedly, the ghost just disappears. Intrigued, she tries to get closer to him, even called him her "special person", because well, he seems like the only one who could help her. Joong Won has a pretty dark past too, and feels like he's haunted by his teenage girlfriend who had died in an accident years ago. As these two people's lives intertwine, someone just might fall in love.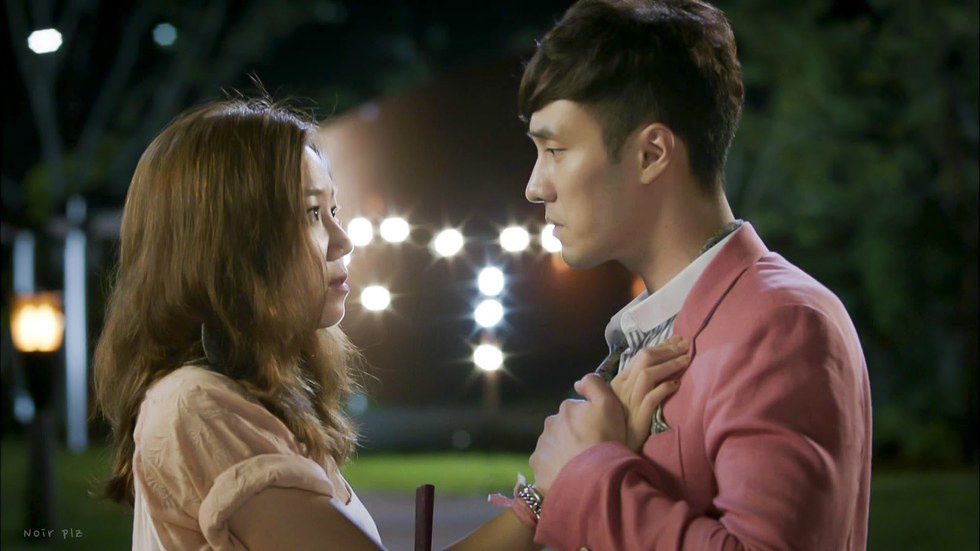 I like the horror/thriller part of this drama, and it makes it more unique to watch. If you're looking for a romance story with a twist, this is it. Just be prepared when it comes to seeing the ghosts; the makers of the drama did a fine job in the fear department.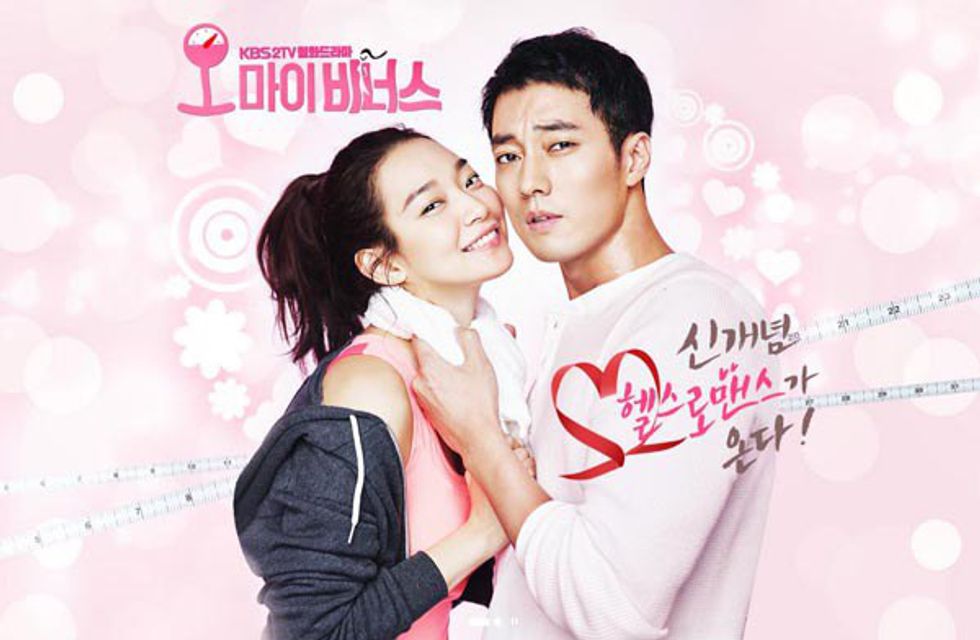 In high school, Kang Joo Eun (Shin Min Ah) was the town beauty, basically regarded as almost goddess-like. She was beautiful, smart, and confident. But, as years goes by, she loses herself in her job as a lawyer and paying off student loans. She starts eating unhealthy, and gains weight. To top it all off, her boyfriend (Im Woo Wik, played by Jung Gyu Woon) since high school dumps her on their 15-year anniversary. Things are pretty tough. But on the way back from a business trip from the United States, she has an embarrassing meeting with the main lead, Kim Yeong Ho (So Ji Sub) and needed medical attention. Yeong Ho is an heir to a medical service corporation and also doubles as an famous celebrity personal trainer in the U.S., John Kim. He sees to her needs with his two sidekicks, Kim Ji Woong (Henry), the manager and Jang Joon Seung (Sung Hoon), a wrestler trained by Yeong Ho.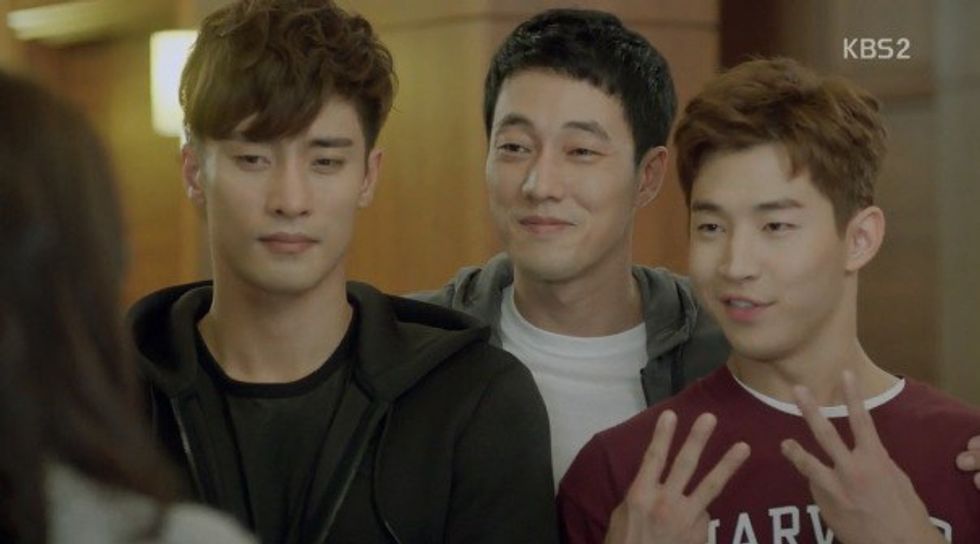 Later, Joo Eun even finds out that her ex-boyfriend has been dating Oh Soo Jin (Yoo In Young), who was actually one of her old childhood friends. Joo Eun is in a pretty sad situation, and Yeong Ho pities her, and says he has a weakness for helping people who seem to need it.
Yeong Ho ends up seeking refuge in Korea because of a scandal with one of his celebrity clients back in America, and the two leads run into each other again. Joo Eun mistakes one of Yeong Ho's sidekicks as John Kim, and asks them to help her lose weight in exchange for her keeping John Kim's identity a secret. They grudgingly accept, and along the way, Yeong Ho might just fall a little bit in love with Joo Eun's charm, chubbiness, and everything.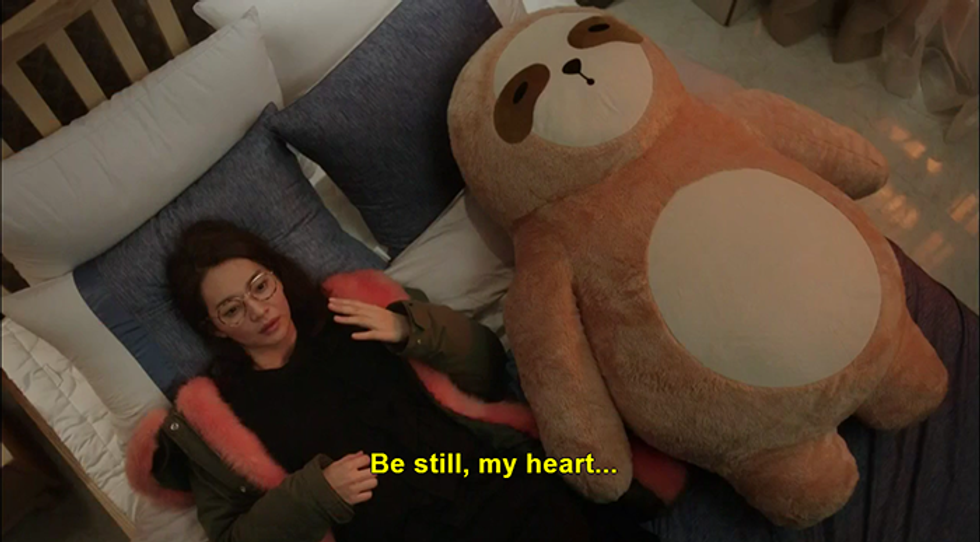 Why I love this drama and why I'd rank it #1 would be because of how pretty realistic it is. Joo Eun isn't weak, she's confident in her abilities, and she's aware that she's gained weight. But she isn't going to let it bring her down, especially in her career. That's how modern day women are nowadays, and portraying more strong female leads in the media has definitely improved. Yeong Ho, on the other hand, is stoic in his own way--but his "training" regime is realistic when it comes to weight. Eating just "organic" food or taking diet pills won't let you lose 10 pounds in a short amount of time, but taking care of your body and understanding how important being healthy is a great message for viewers. Yeong Ho even says that the ideal sexy woman, is a woman who is healthy and strong. It's just great.
That's it! Korean dramas (or actually, any global tv) can be found on Viki or Dramafever with subtitles. C'mon. You know you want to. Here's some more Lee Min Ho for you.