Originally, I came from Camden, AR, but, mom moved us to Conway because she believed Conway had the best schooling system in Arkansas. (She was just looking out for her kids. Thanks, Mom!) I've been in Conway since I was four years old! I was there to attend classes at the twin schools, Simon and Ruth Doyle Intermediate School. I even got to experience the best of both worlds when the old bomb shelter high school was still up, or what we called the "pods," to the new and glamorous three story high school! So fancy! Anyway, enough about all that! Let's start talking about how you know you are from Conway, AR when....
1. You have had to explain what a Wampus Cat is at least a hundred times...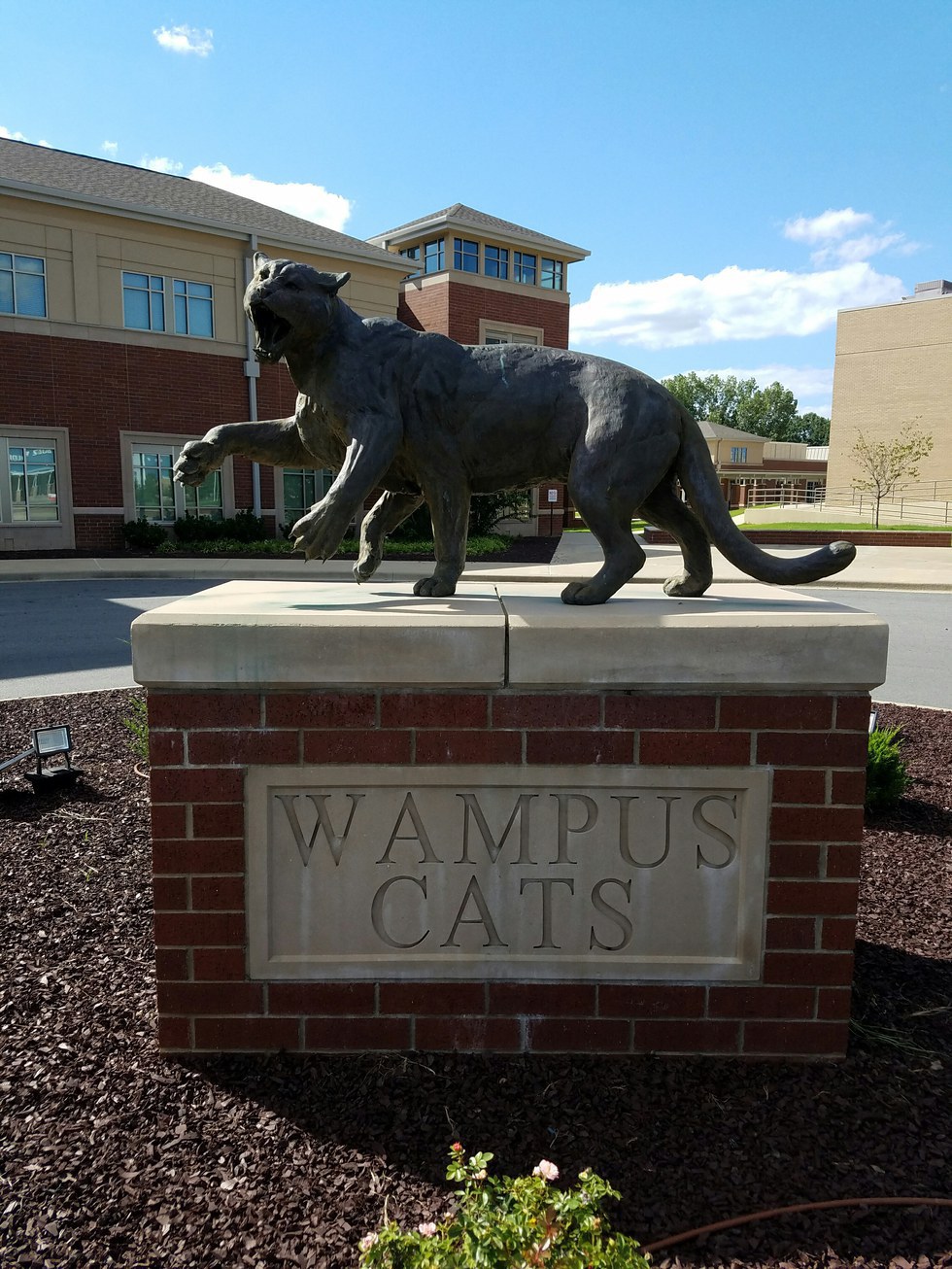 That mythical blue creature that's a cat with six legs? Yeah, that one. Four legs to run at the speed of light and two legs to fight with all its might. Surrounding towns/cities have heard of it, but no one knows what it is.
Well, the actual story of the Wampus Cat is from American folklore and is about a native woman who disguised herself as a cougar to spy on the village's men as they went hunting. Upon being caught, the medicine man cursed the woman by having the cougar's skin bind to her so she was now part woman and part cat, creating the Wampus Cat.
How we got a blue 6 legged cat out of that story is beyond me, but it's nice having a unique mascot! It's better than being one of many panthers, bulldogs, or eagles. (Sorry if you are from a school that is the panthers, bulldogs, or eagles... haha.)
2. You know what a delicious Pineapple Whip is...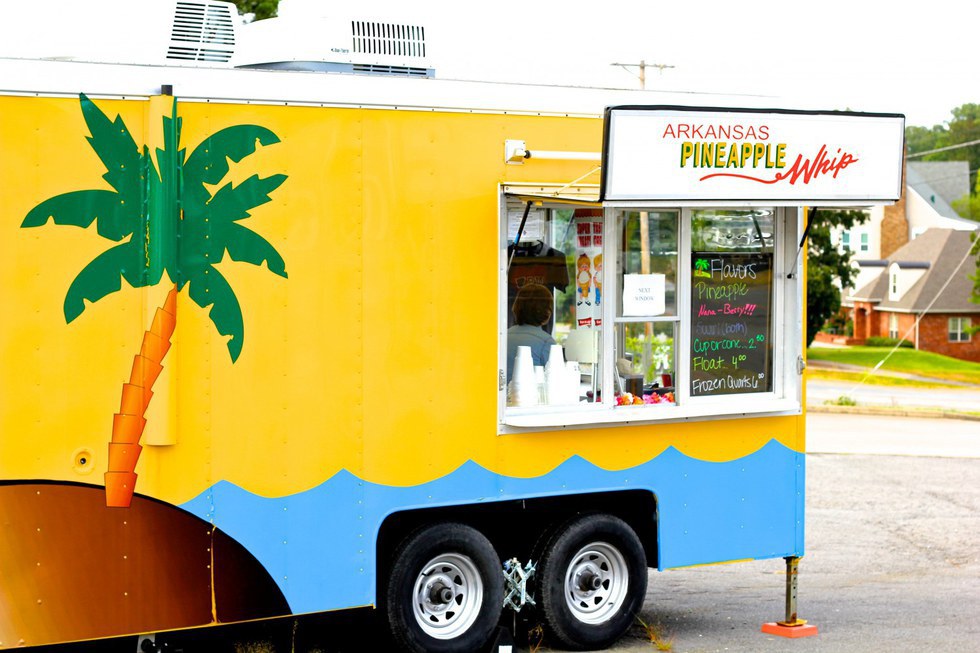 By now they probably are not only in Conway anymore and are most likely all over the place, but you know of that tiny yellow trailer in the 10 Box store parking lot. A delicious dairy-free, ice cream-like treat that you just can't get enough of (at least I can't). I attend school in Magnolia, AR and when I wear my Arkansas Pineapple Whip shirt, I cannot begin to tell you how many people ask me what a pineapple whip is. Haha!
3. You get excited for the first weekend of May...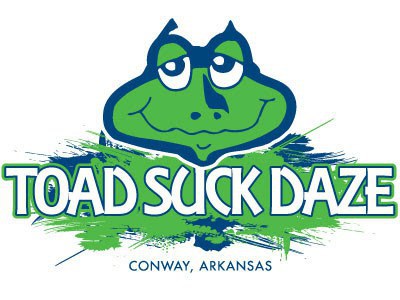 Not very much happens in Conway, but everyone knows what the first weekend of May is....TOAD SUCK DAZE! The time we celebrate the festivities of sucking toads! Just kidding! We do not suck toads!
During this time, we shut down the center of Conway, our town square, indulge ourselves in over-priced goodies, and enjoy rides and free concerts! To put the icing on the cake, we gather around in a large inflatable toad dome with the "Toad Master" to watch children blow on the bums of toads to make them hop to a finish line! In case you just wanted to know, we take toad racing very seriously. In the above picture you can see the 1st through 3rd place winners of the toad races with the "Toad Master" holding their GIANT trophies! Toad racing is so serious that "toad boxes" are passed out in schools so kids have a home for the toad they caught!
4. You give directions based on a painting of a toad in the road...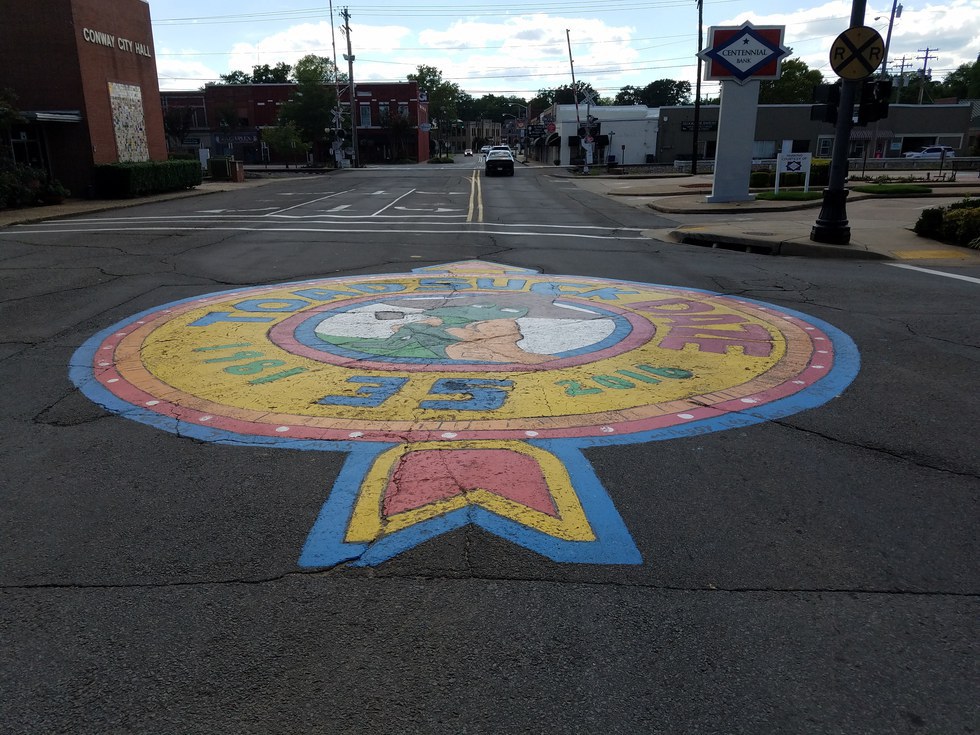 Maybe not all of us do this but, if you are like me and fail at giving directions based on street names, using land marks is the way to go! And no landmark is better than a giant toad painted in the smack-dab middle of town (a.k.a. Toad Suck Square). For those of you not from Conway reading this, if you can't tell, this is where Toad Suck Daze is held and we take Toad Sucking (I think that's right?) very seriously.
By the way, fun fact: They repaint the Toad in the road nearly every year!
5. You are around the age of a college student and are assumed to go to UCA...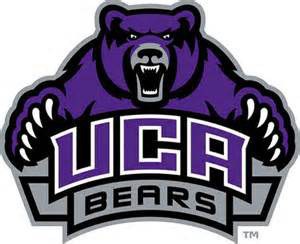 If you are anywhere around the age of a college kid, you are probably starting to get asked a lot by people if you are in college. Some of you are probably still in high school and are thinking about college, some are probably fresh out of college, and if you are lucky you will answer 'yes,' because you are actually in college.
Thing is, if you answer 'yes' saying you are in college, you have probably been asked the following question: "Oh! Do you attend UCA?" Sometimes they will hit the nail on the head because you are going to UCA. Other times, you have to crush their thought about you attending UCA because you don't. I don't know why people just assume that college kids in Conway must attend UCA; they just do.
I am a hard core Mulerider (my school's mascot) and students from other campuses who live in Conway might understand this, but I hold my mascot close to my heart and sometimes I feel a sting when people ask if I'm anything other than a Mulerider. I know they don't know any better, which is fine, because that opens up a chance for a good conversion!
6. You tell people you are from Conway and the first thing they think of is the college town...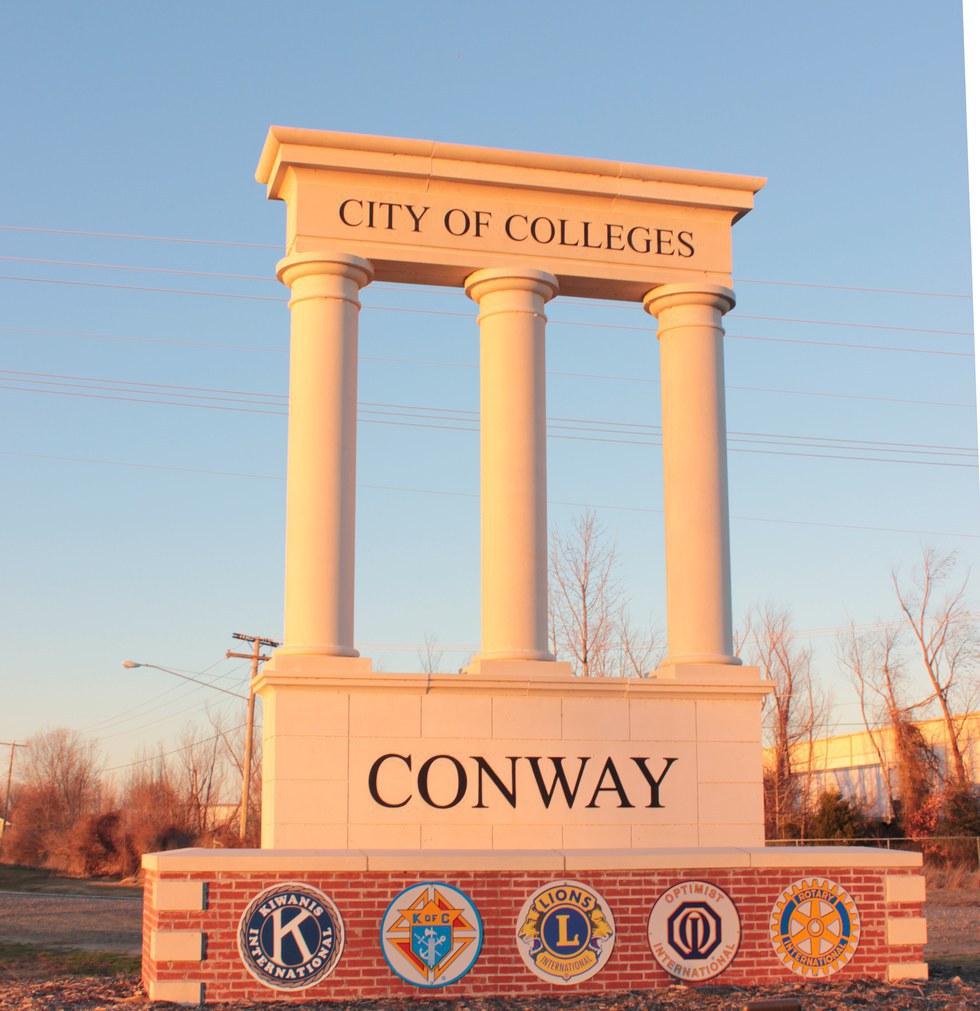 Usually, when someone from Conway talks to someone not from around Conway, the first thing the person will think of is the College Town. Example of conversation:

"Oh I'm from Conway!"
"Conway? Isn't that the place with all the colleges?"
See what I mean? And yes! We have a nice little assortment of colleges here in Conway and do not just have one, like most cities. We have UCA, Hendrix, Central Baptist... there's even a beauty school! We have options!
For those of you who left Conway to attend school, I bet good money that you were asked why you didn't attend a school in Conway. Why would you leave with all our options? Or the better question is why you wouldn't you leave? For me, my two biggest reasons for leaving were because
1. Conway doesn't have an agriculture program at the college level.
2. It was time for a change in scenery.
So I moved all the way down south to Magnolia! Those that left all have their reasons and again, it's a good way to start a conversation with others when you explain why you don't attend a college in the college city.
7. You were proud when Kris Allen won American Idol...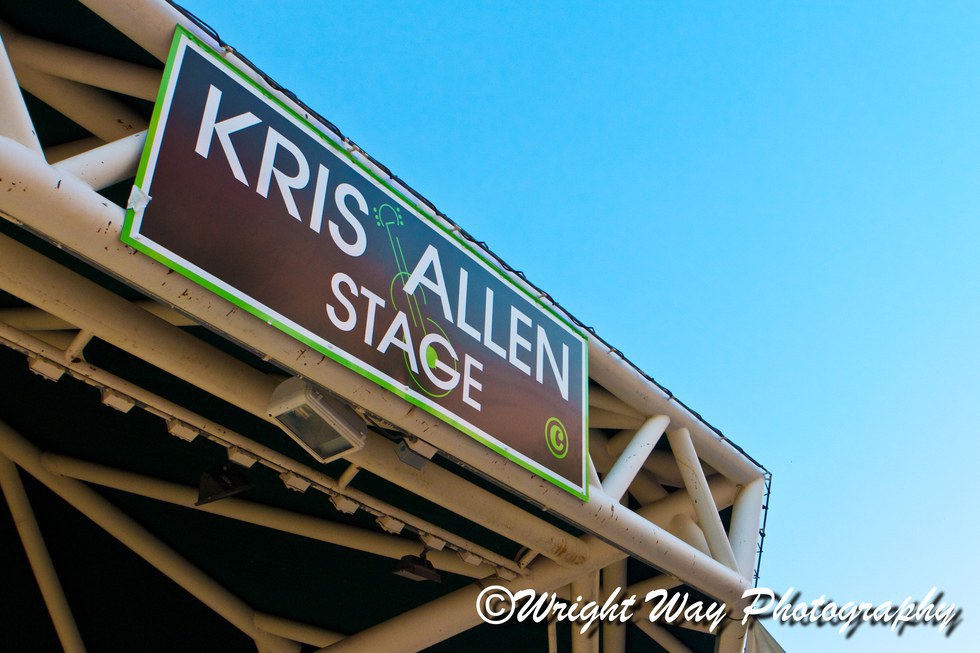 OK, maybe you weren't proud of Kris Allen, but you were proud that Conway, AR was getting some air time. It's not very often that Arkansas (let alone Conway) is on national TV, so when Kris Allen was on American Ideal and won, I feel like Conway residents lost their minds.
Now, some of us actually personally knew Kris Allen by going to church or were family/friends, so it became a big deal when he (and Conway) where on TV. Also, you know you are from Conway when you know that the Kris Allen stage in Downtown Conway is not the stage's original name.
8. You are annoyed with the never-ending construction on the roundabouts...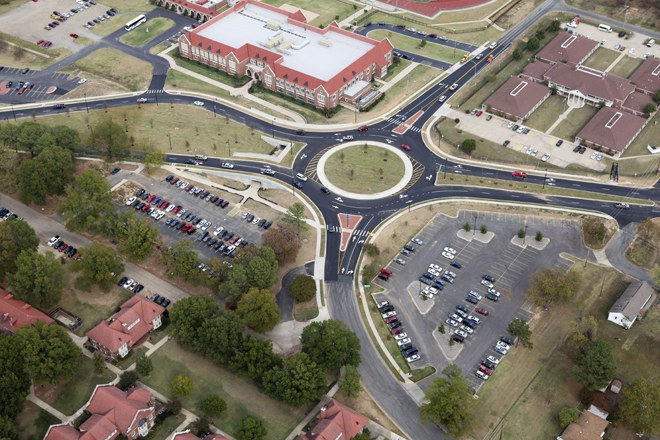 Arial view of Hendrix and of their roundabout.
For real now, will the construction ever stop?! We are basically turning into a mini-Europe because we are getting round-abouts at literally every cross roads. They are very beneficial to controlling traffic, but I am pretty sure I can't drive anywhere around Conway without running into construction on the roads. Though they do look nice when they turn them into floral gardens or plant trees.
9. You love, yet hate, that giant Christmas tree...
We can all tell that Conway is trying to freshen up by looking modern and historic at the same time. There always seems to be something new being built, but the one thing that caught everyone's attention is that giant, massive, way-too-big Christmas tree in Downtown Conway.
It easily towers over buildings, standing at a whopping 54 feet! The tree showed up in Conway two or three years ago and has had made a point to stay. We all love it, but at the same time we hate it.
We hate it because it cost $130,000 (source: Log Cabin Democrat) but at the same time we all love it because it has become a special icon in Christmas photos, a place for people to sing carols and for horse-drawn Christmas carriages to wait to carry you around downtown. Either way, it's a beautiful, monster-sized tree!
If you are from Conway and think I left something out, please let me know in the comments below!!