This is my personal exposé on working in an emergency department and telling you if "Grey's Anatomy" is a myth or not too far from the actual truth. The blood, the running, the codes, the ambulance, the sirens, happens all the time actually and it's not just a "once in a blue moon" situation.
Every day as you get there we do what we call huddle which is gathering together and talking about the shift before and what happened in regards how many people were admitted into the hospital if it was a busy shift and as well how our staffing looks for the incoming shift. Our huddles only happen twice a day for the change of morning and night shift. Morning shift is from 7 a.m. -7 p.m. and night shift is from 7 p.m. - 7 a.m. If your shift is any time between that (i.e. 10 a.m. - 10 p.m. or 9 a.m. - 9 p.m. you report to the charge nurse) which is the nurse that will be calling the shots and placing you for the day.
In the emergency department where I report to, we have what we call pods meaning different sections of where you will be working and they are sectioned off my acuity level.
Pod 1: the most critical acuity, the place where the trauma rooms are held and where you will find the running and sweating of the staff because the location consists of our code 5 or code blue (cardiac arrest) being held.
Pod 2: half side A and half side B meaning that half of that side have just as much acuity level in pod 1 and the other half have a lower acuity level.

Pod 3: it's a combination of all three and it is opened if we need more rooms because the level of patients present is a high census.

Side C: this side is our "urgent care" side and where we see the lowest acuity of patients relating to flu, headaches, or placing splints.

Working in this department is certainly not meant for everyone but if it meant for you, you will enjoy both flaws and perks of the department. I enjoy the busy the crazy and the short-staffed days, it is tough but it gives me sort of my purpose working in the department.
You eventually see people you know in a different state in a state you don't know and that they are needing your help and it also helps you understand how to prioritize the tasks you have ahead of you and the acuity level of patients. It gives you a rush and you are always left in a state of high intensity and sense of feeling rushed.
However, just because I am able to work in such a "selfless" environment, does not mean that it is always the best. In fact, many show up with an ungrateful attitude and have cursed at us or even have tried to throw a strike they are just not oriented to comprehend.
As many tiresome days, I have worked, it does pay up. It pays because at the end of the day it pays to have helped someone and it fascinates me to learn more about the human body and how deceitful it may be to ourselves.
Is there ever crying?
Yes, either patients, family members or even staff if the situation is too close they tear up or are touched up. It's normal. We are human, but we don't let it get to us and remove ourselves if we are not able to handle it.
Scandalous relationships and secret seductive rendezvous?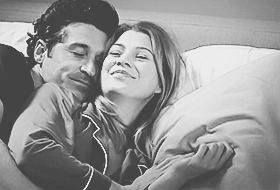 Giphy
No... and maybe yes. Everything is extremely secretive but everything is also spread so thinly you eventually hear it. No people are not sleeping at the hospital. There is not even time to go to the bathroom sometimes let alone sleep at the department. It's an emergency department that is continuously short-staffed just like any other place. Sorry no Dr. McDreamy is present here with his intern that decide to meet in the on-call room. Actually, we do not have access to that it is very limited and not even sure we may have an on-call room.
I met my own Cristina Yang...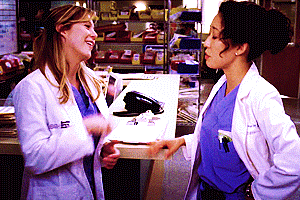 Working 12 hours, 3 days a week and sometimes picking up over time, helps you create relationships and even the best of friendships. I can say if you choose your friends wisely and are able to have enough free time to be with one another then you can have your very own Cristina Yang. You get to have close friendships that you can both work together and bond over the EMS that you got including the two new patients you just received.