I grew up with two older brothers and a bunch of male cousins, and I think it's because of that that I kind of grew up with a 'take no shit' mentality. I played with the boys for years before I had any female cousins to play with. I remember always being hassled by my aunts and my mother that I shouldn't be playing with the boys because one, I wasn't a boy, and two, I was going to get hurt. I, of course, did not care as a kid and my only concern was playing, and getting pushed and thrown around a few times was a sacrifice I was willing to make.
Growing up, my brothers and my cousins taught me to never let a guy or really anyone get away with treating me badly and that's stuck with me for years. It's the reason why I sometimes hate seeing memes of how short girls have bad attitudes or are considered spit-fires because they're closer to the ground/hell. Well here's some news for you, I actually won't stand for your crap under any circumstances and it has nothing to do with my height. It's ridiculous that standing up for myself has been given this negative connotation of being bitchy or someone with no manners or a bad attitude. Everyone has every right to speak up if they are being wronged. Women especially should not feel the need to sit back and have someone speak over them; we should make it second nature to speak up for ourselves and for those who can't seem to do it for themselves.
With this in mind, a recent tweet by Gem Short on "Good Statements For A Woman To Practice" reads as follows: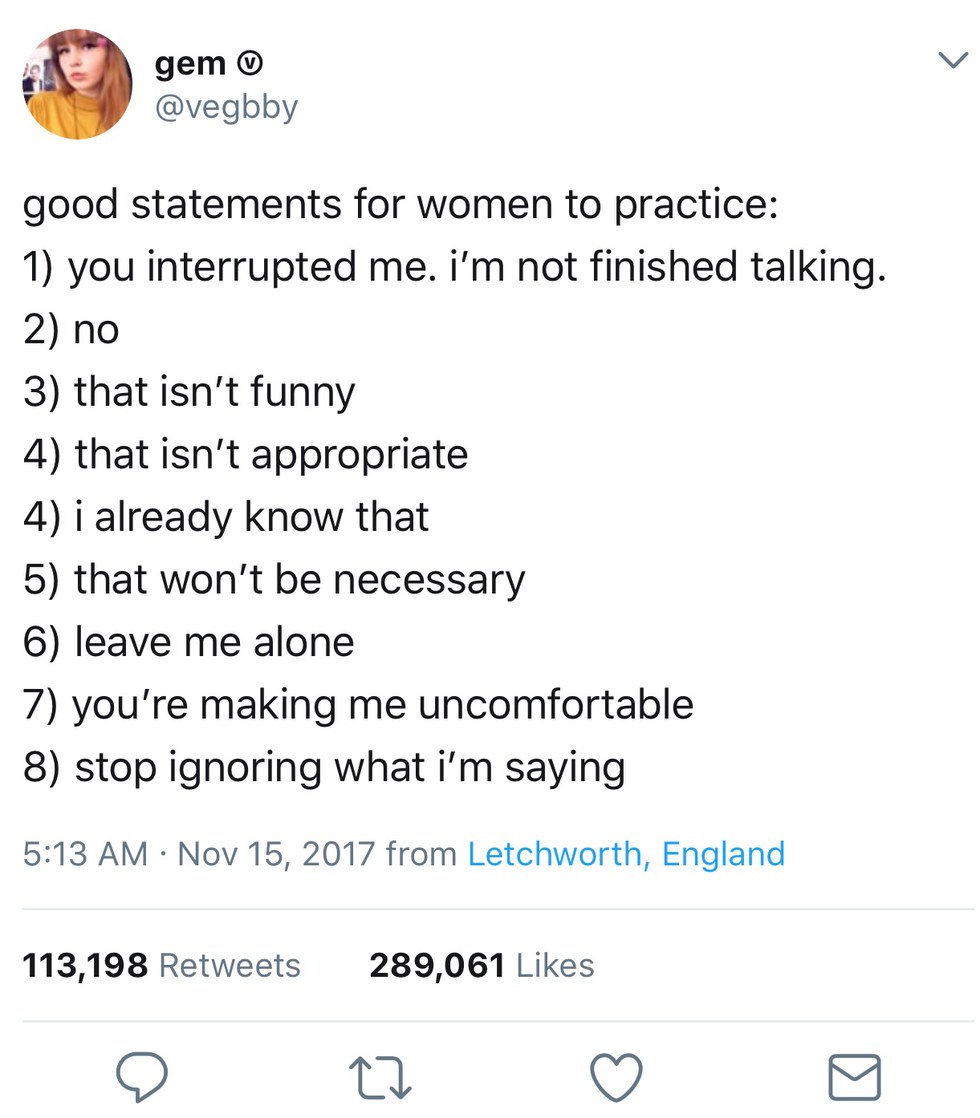 The list struck me because of the awareness that has been ingrained in me to understand that such statements may not always be met with the response you wanted or expected.

There have been responses to her tweet on how these statements should be used by men in support of women and in standing up for them if found in such a situation. Although I agree with such responses, I find it even more important for women to stand up for other women as well. I think that conducting oneself in such a manner and training oneself to rise against in this way will bring forth a message to a society governed by an ideal woman that doesn't say "no" or interrupt.
Standing up for yourself shouldn't have to be something you're afraid to do or feel out of the norm. It should feel normal to speak up for yourself when you know or feel that something isn't right. Don't let anyone make you feel uncomfortable and get away with doing it, that's not right. We need to retrain our minds to register when we're being talked down to or not heard and learn to speak up- mama didn't raise a fool.