Student section season tickets for the Wisconsin Badgers football games sold out in 45 minutes this year. They sell out every season, and there's a reason. When you walk into Camp Randall Stadium, you become emerged in a sea of students, alumni, and fans in red and white. Everyone is in a cheerful mood and ready to beat whoever the Badgers are playing. You fall in love with the energy all around, and can't help but feel pure bliss. If you've never been in the student section at a Badgers game, I highly recommend it, and the following events show you why.
1. Tailgating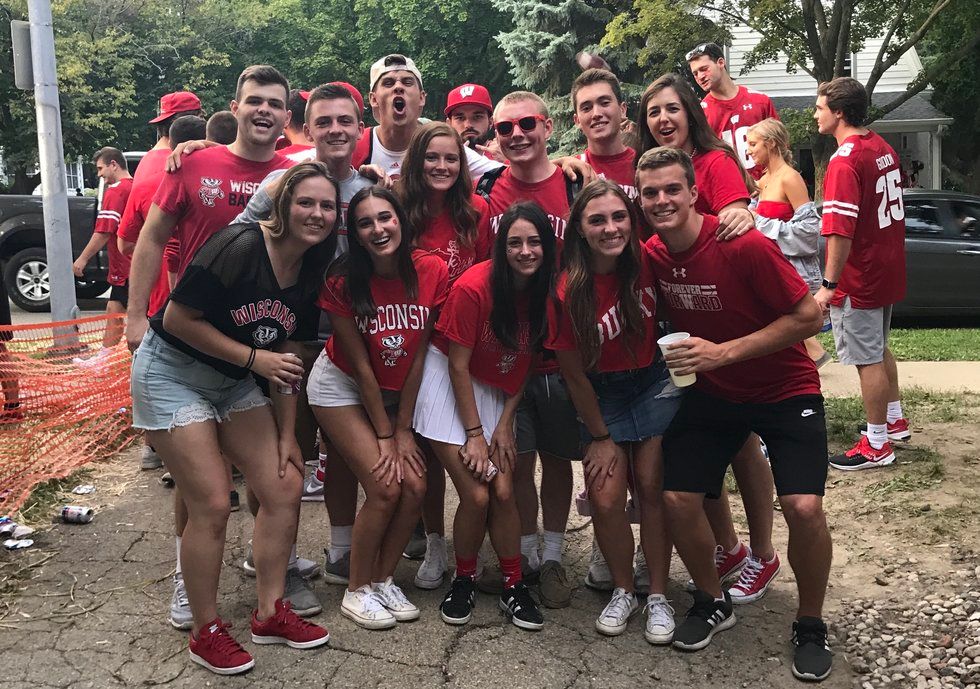 A couple hours before the game starts, many students go to a house party right by Camp Randall that's full of people dressed up in their red and white. You meet so many people and new friends! There's always those guys sitting on the porch yelling "Go Badgers!" to every group that walks by.
2. Ben's Pretzels
I guarantee that you will never have a better soft pretzel than Ben's. 10/10 recommend eating for sustenance during the game, oh, and it's pure deliciousness of course.
3. Jumbotron Video Montage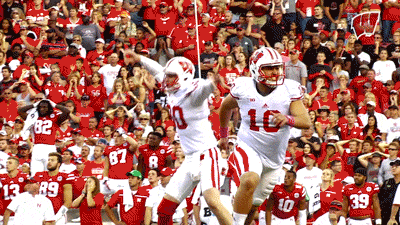 Chills. Cheers. Russell Wilson, JJ Watt, Ron Dayne, Melvin Gordon, Rose Bowl, Big 10 Championship, and so on. It's such cool feeling to watch moments from Badger Football history, and know that 5 years from now, there will be new moments on that board that you were a part of.
4. Marching Band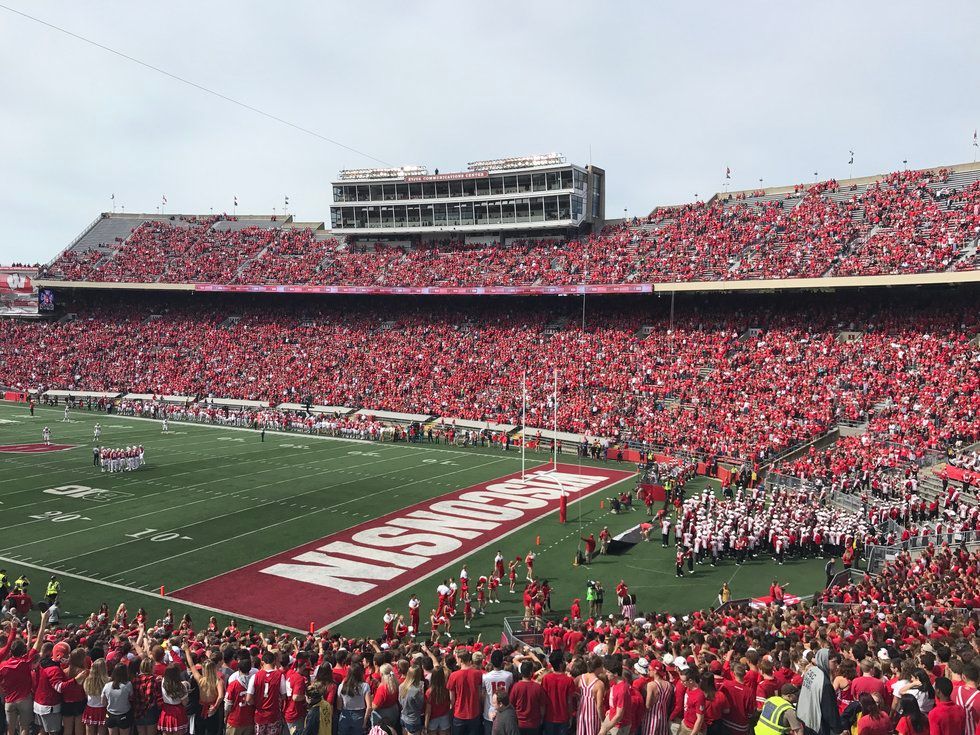 The Marching Band performs countless songs while forming a W, among other formations, on the field. They are so impressive that they have their own quarter. The 5th quarter. Respect.
5. Keys at Kickoff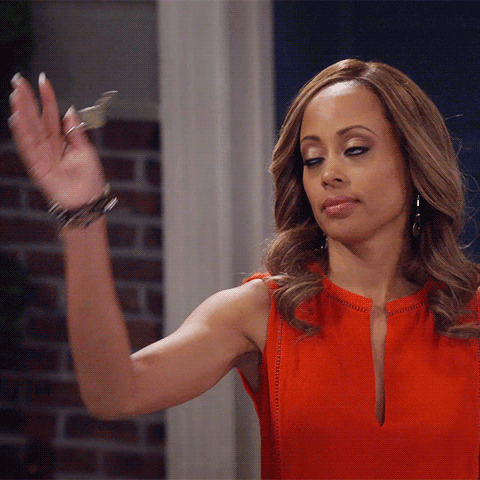 Whenever the Badgers are about to kickoff, students bring out their keys and dangle them. Tradition.
6. First and Ten Wisconsin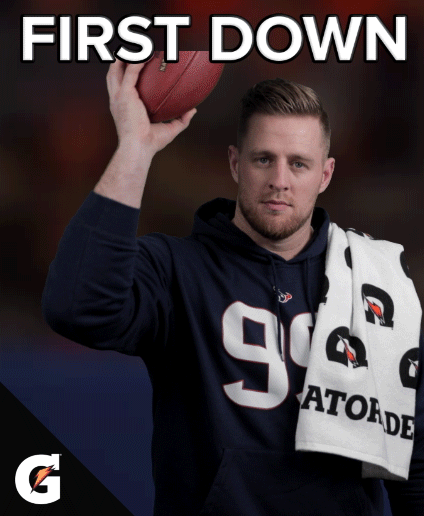 After every first down, the whole stadium yells "First and Ten Wisconsin" paired with the first down arm movement. First downs are very good, so we celebrate.
7. Touchdown Celebration 
At 0:50 in this video, you can see how the student section celebrates a touchdown! The band plays, and the students bend forwards in backwards in time with the music, eventually getting faster and faster. This lil' dance happens after every touchdown and every extra point scored!
8. "Varsity"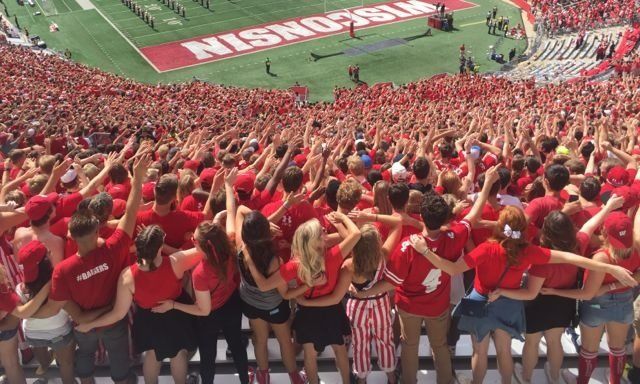 Everyone in the stadium wraps their arms around each other and slowly sways from side to side singing: Varsity... Varsity... U-rah-rah Wisconsin... Praise to thee we sing... We sing! Praise to thee.. our Alma Mater... U..rah..rah... Wiiii-sconnnn-sin!
9. Build Me Up Buttercup
This is honestly my favorite part of the whole day. You can catch the whole student section loudly singing the whole song: WHY DO YOU BUILDDD ME UP-- BUILD ME UP--BUTTERRRCUP BABY JUST TO LET ME DOWN--LET ME DOWN--AND MESS ME AROUND--AND THEN WORST OF ALL--WORST OF ALL--YOU NEVER CALL BABY WHEN YOU SAY YOU WILL--SAY YOU WILL--BUT I LOVE YOU STILL--I NEED YOU--I NEED YOU--MORE THAN ANYONE, DARLIN'--YOU KNOW THAT I HAVE FROM THE STARTTT--SO BUILD ME UP BUTTERCUP DON'T BREAK MY HEARTTTTT. Love it.

10. F**k You, Eat Sh*t
No, you didn't hear it wrong. No feelings are hurt in the process.
11. Student Section Race 
Cartoon letters race on the Jumbotron screen, with each letter representing each student section. If your section wins the race, you have bragging rights for the rest of the game. This event takes place at the end of the third quarter, prior to the Jump Around.
12. Jump Around
Once the 3rd quarter clock runs down to 0, the entire stadium waits in anticipation for the moment when House of Pain's "Jump Around" song comes on. Jump Around is the most iconic part of each game. Once it's over, many students leave because honestly, standing and cheering for more than 2 hours straight is exhausting.
The University of Wisconsin-Madison is an excellent school for academics, ranking highly on leaderboards for universities all over the world, in numerous categories. On game day, there's not a doubt in my mind that UW-Madison has the best football student section in the country, because Camp Randall's energetic and exciting atmosphere cannot be beat.