If anyone knows me, you know my obsession with Ellen is one like no other, I have a small collection of Ellen t-shirts and socks I got on sale on her website, as well as comfy undies that I sleep in all of the time. I have tried for years to be one of the lucky audience members graced by her presence on her show, and because of my cousin Autumn, I will finally be fulfilling one of my wildest dreams this Thursday March 10th, 2016!
Exciting right? I say all of this to explain to you why Ellen should be my best friend...and you might possibly agree with my reasoning.
1. First of all, she is seriously a saint. Making people happy is her forte and it is something I very much enjoy doing as well!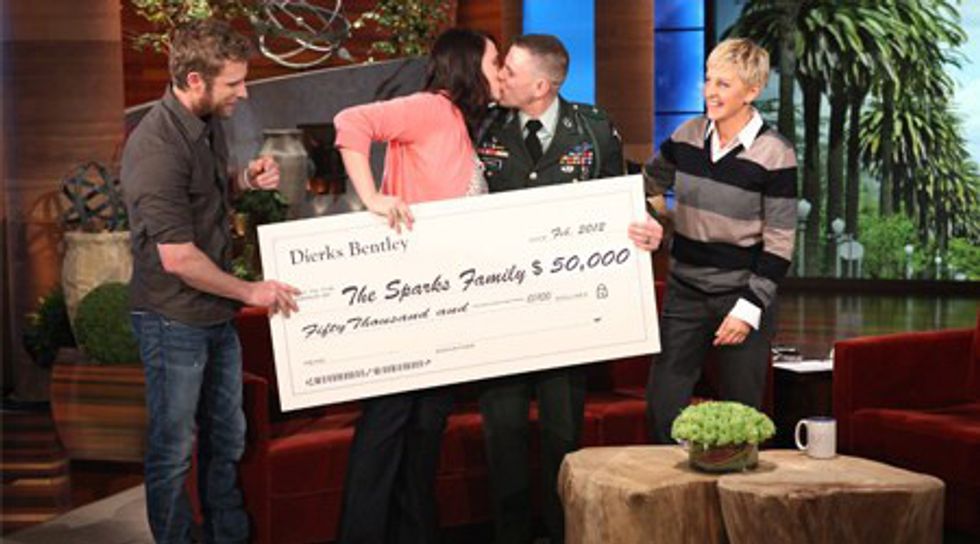 2. She has the same obsession with Taylor and Justin as you do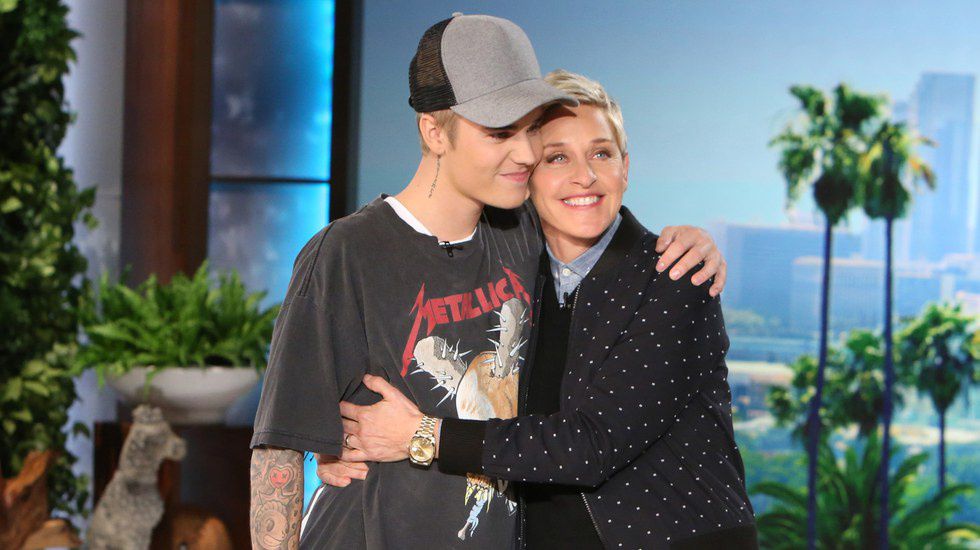 3. She can make you laugh so hard, even on your worst days
[rebelmouse-proxy-image https://media.rbl.ms/image?u=%2Ffiles%2F2016%2F03%2F07%2F635929078597660904-1027117660_635929078589848477-1294800102_giphy.gif&ho=https%3A%2F%2Faz616578.vo.msecnd.net&s=167&h=59a6577feb4c7618b4be857b091f6047b6c35103b8906decefb35320ed90363a&size=980x&c=2343967594 crop_info="%7B%22image%22%3A%20%22https%3A//media.rbl.ms/image%3Fu%3D%252Ffiles%252F2016%252F03%252F07%252F635929078597660904-1027117660_635929078589848477-1294800102_giphy.gif%26ho%3Dhttps%253A%252F%252Faz616578.vo.msecnd.net%26s%3D167%26h%3D59a6577feb4c7618b4be857b091f6047b6c35103b8906decefb35320ed90363a%26size%3D980x%26c%3D2343967594%22%7D" expand=1]
4. She knows how to have a good time
[rebelmouse-proxy-image https://media.rbl.ms/image?u=%2Ffiles%2F2016%2F03%2F07%2F6359290937891576071035556833_635929093781156999-1920700460_giphy2.gif&ho=https%3A%2F%2Faz616578.vo.msecnd.net&s=152&h=ebd7dd1b03bb9b06e23d82d419fb01982ed691cb8cf56e616e22097b8579b7a6&size=980x&c=1735511055 crop_info="%7B%22image%22%3A%20%22https%3A//media.rbl.ms/image%3Fu%3D%252Ffiles%252F2016%252F03%252F07%252F6359290937891576071035556833_635929093781156999-1920700460_giphy2.gif%26ho%3Dhttps%253A%252F%252Faz616578.vo.msecnd.net%26s%3D152%26h%3Debd7dd1b03bb9b06e23d82d419fb01982ed691cb8cf56e616e22097b8579b7a6%26size%3D980x%26c%3D1735511055%22%7D" expand=1]
5. You share her witty yet classy sense of humor
[rebelmouse-proxy-image https://media.rbl.ms/image?u=%2Ffiles%2F2016%2F03%2F07%2F6359290945135981951327463041_635929094503285756653092088_giphy0FNNPO5T.gif&ho=https%3A%2F%2Faz616578.vo.msecnd.net&s=478&h=87a2545652891f7910ec162a7f863a0a40b80753b947fffc680e18654ad594db&size=980x&c=3944696839 crop_info="%7B%22image%22%3A%20%22https%3A//media.rbl.ms/image%3Fu%3D%252Ffiles%252F2016%252F03%252F07%252F6359290945135981951327463041_635929094503285756653092088_giphy0FNNPO5T.gif%26ho%3Dhttps%253A%252F%252Faz616578.vo.msecnd.net%26s%3D478%26h%3D87a2545652891f7910ec162a7f863a0a40b80753b947fffc680e18654ad594db%26size%3D980x%26c%3D3944696839%22%7D" expand=1]
6. You are just as hard to get together with as she is. *Tries for tickets for ten years*
[rebelmouse-proxy-image https://media.rbl.ms/image?u=%2Ffiles%2F2016%2F03%2F07%2F635929095974317037-16020971_6359290959616603061219534622_giphyFJ72NG5X.gif&ho=https%3A%2F%2Faz616578.vo.msecnd.net&s=533&h=152a3bdfcec7f330d3d2ea430d4e70b4507e8a25b17713c1c9b156fdd3eb7016&size=980x&c=3171099400 crop_info="%7B%22image%22%3A%20%22https%3A//media.rbl.ms/image%3Fu%3D%252Ffiles%252F2016%252F03%252F07%252F635929095974317037-16020971_6359290959616603061219534622_giphyFJ72NG5X.gif%26ho%3Dhttps%253A%252F%252Faz616578.vo.msecnd.net%26s%3D533%26h%3D152a3bdfcec7f330d3d2ea430d4e70b4507e8a25b17713c1c9b156fdd3eb7016%26size%3D980x%26c%3D3171099400%22%7D" expand=1]
7. She inspires you to be a better you
[rebelmouse-proxy-image https://media.rbl.ms/image?u=%2Ffiles%2F2016%2F03%2F07%2F635929097173670604-1470112155_635929097164313479556509094_giphy969BD1KZ.gif&ho=https%3A%2F%2Faz616578.vo.msecnd.net&s=344&h=f35d4816b6c3bfd470110e2c5173ee686e920d49369aa37cca06cddf42d8ed14&size=980x&c=1953596249 crop_info="%7B%22image%22%3A%20%22https%3A//media.rbl.ms/image%3Fu%3D%252Ffiles%252F2016%252F03%252F07%252F635929097173670604-1470112155_635929097164313479556509094_giphy969BD1KZ.gif%26ho%3Dhttps%253A%252F%252Faz616578.vo.msecnd.net%26s%3D344%26h%3Df35d4816b6c3bfd470110e2c5173ee686e920d49369aa37cca06cddf42d8ed14%26size%3D980x%26c%3D1953596249%22%7D" expand=1]
8. She appreciates everyone for who they are, so she won't judge how much you eat and say you're going to the gym but you don't
9. You never have to worry about her stealing your man
[rebelmouse-proxy-image https://media.rbl.ms/image?u=%2Ffiles%2F2016%2F03%2F07%2F635929098997770037-179529181_635929098989957611-597404335_giphyWV9EP5U1.gif&ho=https%3A%2F%2Faz616578.vo.msecnd.net&s=929&h=936617c3d6a74012549fdeffaf0cfde1c7649c1594c938aeea295ad82f7735b1&size=980x&c=3939532531 crop_info="%7B%22image%22%3A%20%22https%3A//media.rbl.ms/image%3Fu%3D%252Ffiles%252F2016%252F03%252F07%252F635929098997770037-179529181_635929098989957611-597404335_giphyWV9EP5U1.gif%26ho%3Dhttps%253A%252F%252Faz616578.vo.msecnd.net%26s%3D929%26h%3D936617c3d6a74012549fdeffaf0cfde1c7649c1594c938aeea295ad82f7735b1%26size%3D980x%26c%3D3939532531%22%7D" expand=1]
10. Dance parties aren't even a question
[rebelmouse-proxy-image https://media.rbl.ms/image?u=%2Ffiles%2F2016%2F03%2F07%2F6359291009041373841010258414_635929100893458586141904297_giphy5GB9YO1S.gif&ho=https%3A%2F%2Faz616578.vo.msecnd.net&s=158&h=6ee7fb256ae9e79928763d42d540a2e45cbada36e37eba8540d5ee0fe1ef05b2&size=980x&c=2647905706 crop_info="%7B%22image%22%3A%20%22https%3A//media.rbl.ms/image%3Fu%3D%252Ffiles%252F2016%252F03%252F07%252F6359291009041373841010258414_635929100893458586141904297_giphy5GB9YO1S.gif%26ho%3Dhttps%253A%252F%252Faz616578.vo.msecnd.net%26s%3D158%26h%3D6ee7fb256ae9e79928763d42d540a2e45cbada36e37eba8540d5ee0fe1ef05b2%26size%3D980x%26c%3D2647905706%22%7D" expand=1]