"I lost my job."
"My parents are separating."
"I wrecked my car."
"My boyfriend broke up with me."
Odds are people have enough common courtesy to eliminate responses such as, "At least you had a job," or "At least you have a car," when replying to such a confession. Though the aforementioned reactions are few and far between, one particular phrase became commonly accepted in our culture:
"Think about it... Things could be worse."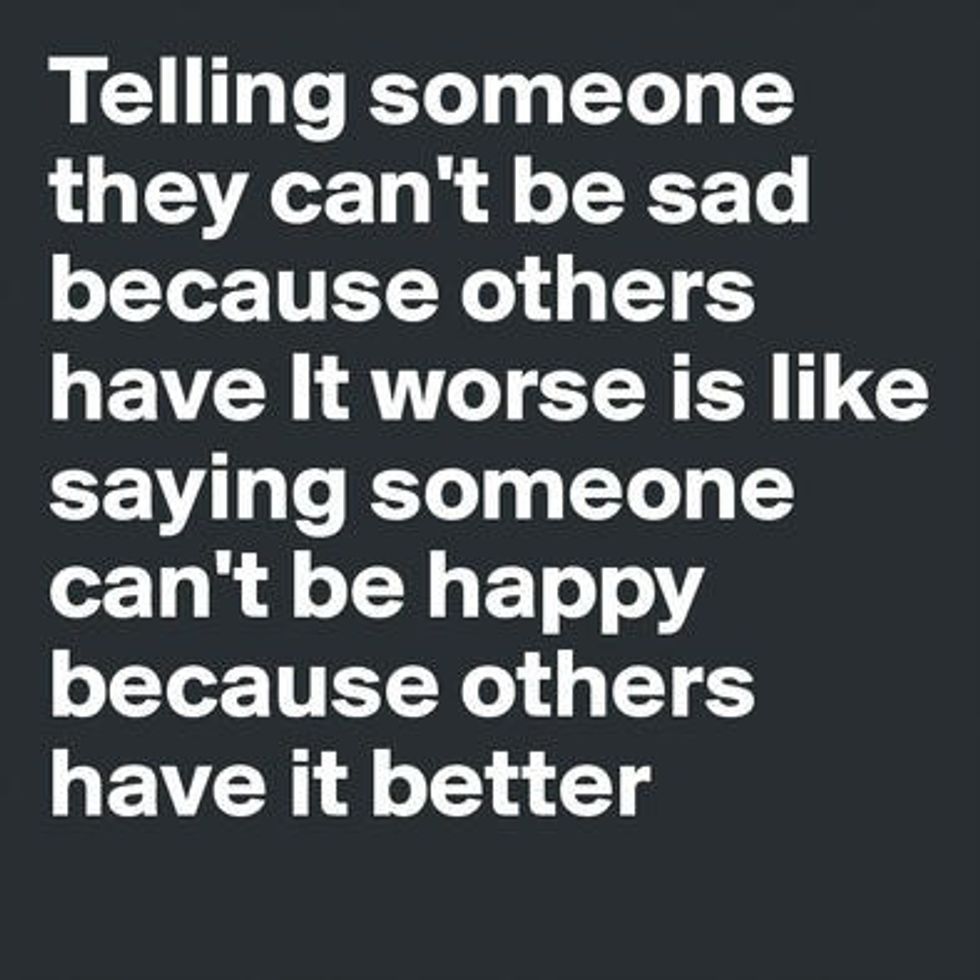 It's a phrase used to dilute the magnitude of a struggle and make a personal issue seem less relevant or important. As a society, we have lost the art of empathy. Instead of sitting with a friend, taking a quiet walk with a loved one, or simply being a good listener, we strive to fix everyone's problems and quickly dismiss their pain as overreactions. Although plenty of exceptions to this exist, the general idea of comparing one problem to another in order to diminish its weight is inappropriate and a weak conversational tactic people use when they don't know how to just listen or how to empathize.
If I had to take a guess, I would say we respond with the "could be worse" because we don't know what to say. However, it's okay not to know exactly what to say when someone is hurting. It's okay to say, "I don't really know what to say, but I am very sorry, and I am glad you shared that with me." Sure, it might sound cheesy, and sure, you may not feel very helpful, but it turns out, not everyone who shares their concerns and issues wants you to be helpful. Sometimes, they just need to tell someone for the sake of saying it out loud. Attempting to water-down their worries will evidently be detrimental by relaying the message they have no right to complain or express discontent.
In my opinion, relationships are a core, foundational aspect of humanity. In those relationships, the ability to empathize is a major key (cue DJ Khaled references/jokes). Empathy - rather than sympathy - allows us to step into someone else's shoes instead of merely commenting on how uncomfortable and inconvenient they appear. Empathy allows us to be burdened and relatable and affected and joyed in sync with others. As a society, instead of listing - or even mentioning - ways "things could have been worse", let's learn how to use empathy when our friends are hurting.
**Side note: apply advice stated above on a case-by-case basis. Sometimes, you gotta be empathetic. Sometimes, you just gotta tell the whiners to quit yapping. Discretion advised.