Love is such a wonderful and beautiful gift. I think Liam Neeson said it best when he stated, "Everyone says love hurts, but that is not true. Loneliness hurts. Rejection hurts. Losing someone hurts. Envy hurts. Everyone gets these things confused with love but in reality, love is the only thing in the world that covers up all the pain and makes someone feel wonderful again. Love is the only thing in the world that does not hurt."
Comin' in clutch Liam.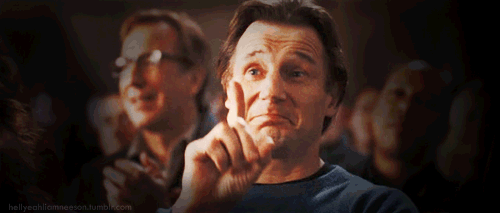 Most people unfortunately know the pain of heartbreak, of someone leaving, or the sorrow that follows the loss of a loved one. However the real tragedy comes when we close off our hearts to love due to the pain we've experienced or when we accept love that's half hearted and impure. We start to believe misconceptions and remember how our love was taken for granted in the past, when really it was the lack of love that was the problem.
Now trust me when I say I've been in positions where I swore love was the problem and I could just never love anyone or anything ever again. But life does move on with or without us and eventually you see the light; that love is the solution. Without love we would always be broken and searching for happiness. We would never know what it feels like to be completely accepted and forgiven. The people who love us show why life is worth living. And trust me, no matter who you are or what you've done, there is always someone that loves you.
Those friends that hold you close when you're hurting, the coach that supports your dreams when it feels like everyone else has given up on you, or that family member that reminds you every time time you text them that they're always there, no matter what. Those are the people that show you what love is all about. Be that person to others always because life is tough. People will hurt you and sorrow will bruise you but never lose sight that love is the answer. Love is always the answer.
Love is patient, love is kind. It does not envy, it does not boast, it is not proud. It does not dishonor others, it is not self-seeking, it is not easily angered, it keeps no record of wrongs. Love does not delight in evil but rejoices with the truth. It always protects, always trusts, always hopes, always perseveres.
1 Corinthians 13: 4-7