Whether they're Sigma, Kappa, PIKE, or ATO, there's no doubt that frat boys are truly one of the most charming individuals. Maybe it's their extraordinary talent to toss back five beers in under a minute or maybe it's their overly exaggerated alpha male personality. Whatever the case may be, going to a university that thrives off Greek Life you can't do anything but admire them. There's no doubt about it that girls seem to be infatuated with their unquestionable charm. But why?
1. They're attractive

Frat boys have an overflowing amount of confidence. Being affiliated with a fraternity automatically makes you attractive even if you look an absolute mess. Of course, you have the ones who think it's cool to boast mommy and daddy's money but nine times out of ten girls think they're obnoxious. Majority of frat boys are attractive regardless of confidence. Walking to class, I can unmistakably spot them a mile away with their scruffy beards and soft smiles.. Surprisingly, the dad bod is in which means he has a belly full of Natural Light and pizza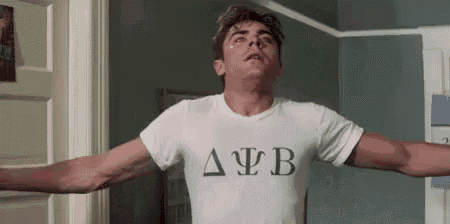 2. They throw amazing parties
There's no doubt that frat boys know how to have fun. Hello, have you never been to a spring party? These parties get completely insane. There's guys wrestling in haystacks, beer showers, and most of all girls drenched in glitter ready to "finesse" a frat. One thing the girls love about the frats is access to some of the biggest parties of the year in exchange to possibly hookup later.. One of my friends said "The reason I don't date G.I.Ds is because they can't invite me to parties." I couldn't decide if I should've been offended or proud?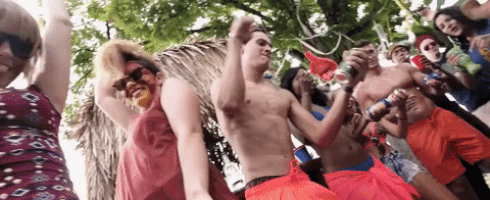 3. They dress nicely
Dressing nice is one of the main necessities of a "frat boy". They could be wearing a suit or sporting their exceptional greek letters on a t-shirt and still look like a "daddy". The funny thing is they look good, and they know it. I don't know why but there's something extraordinary about Nike crew socks and gray New Balances that make a girl go crazy.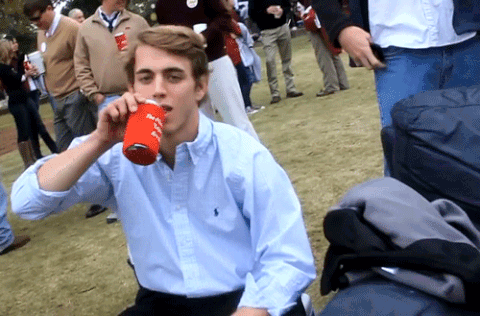 4. They're humorous
I attribute my daily laughing outburst due to the Old Row instagram. Nothing makes my timeline better than seeing frat boys shotgunning beers and totally making a fool out of themselves. Frat boys are naturally funny even if that means they sound like a complete fool. If I had a dollar for every time I've seen "justice for harambe" carved somewhere around campus, I'd probably be a millionaire. While some may see this as a fault, it's actually a compliment. They will always alleviate the mood. Girls love a guy she can laugh with and be an absolute weirdo around.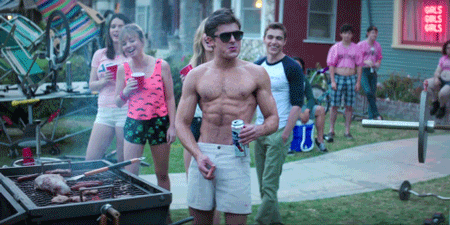 5. They're not all jerks
Listen, not all frat boys are bad. Due to past experiences, sometimes the smart, friendly guys in fraternities get overshadowed by the established negative reputation. You'd be surprised that majority of them are actually very intelligent but this gets completely overlooked by their crazy antics. Honestly it's not just frats who are jerks because guys who aren't affiliated with Greek are just as rude. Living by some frat boys on the same dorm hall, you start to get to know them and realize they're more than the stereotypical "frat boy."
Like it or not frat boys will always be in style for many years to come. So get with the program and get you a frat boy. This one is for the girls! TTYL.