ast week the iconic movie "Legally Blonde" turned 15 years old. "Legally Blonde" is by far my favorite movie because of the main character Elle Woods. Elle Woods is witty, smart and a person who I aspire to be like and here are more reasons why!
---
1. She sets a goal and does everything to accomplish said goal
When Elle Woods first told everyone that she is going to law school people gave her the most confusing looks because nobody could believe her. Her advisor was telling her that she is trying to accomplish the impossible and her parents even chuckled. She stayed up endless nights studying for the LSAT because she knew what she needed to do and it worked because she got into Harvard.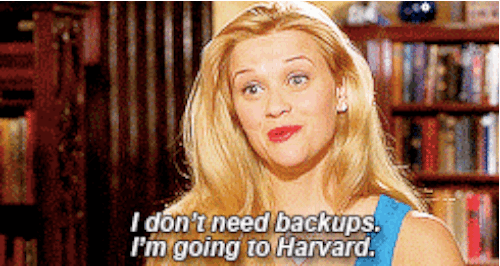 2. Her confidence in herself is goals
Throughout the entire movie Elle always had high confidence in herself. She never doubted that she wasn't going to get into Harvard or that she couldn't get that new dress for a discount price. When she decided to represent her client herself without even taking the bar she knew that she could do it and because of her trust in herself she won the case. Elle teaches us that you have to be confident in yourself because sometimes people are going to doubt you no matter how right you think you are.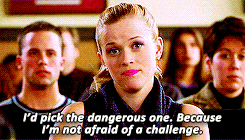 3. She does her own thing and doesn't let anyone stop her
When Elle came to Harvard she was completely stereotyped as the typical Malibu sorority girl who wears a lot of pink. Yes, Elle wears a lot of pink but she also carriers her pet chihuahua everywhere she goes no matter how many side eyes she gets. She doesn't let people characterize her a dumb blonde and she shows up to a costume party as a Playboy bunny and doesn't run out the door when she realizes she dressed wrong. She lives her life the way she wants no matter how different it might be.

4. No matter how busy she gets she always has time for herself
If there is one thing that I learned from the many times that I have watched "Legally Blonde" is that there is nothing that can't be solved by a great workout or a good manicure. Life is going to get hard at times and you have to take breather from time to time and take care of yourself!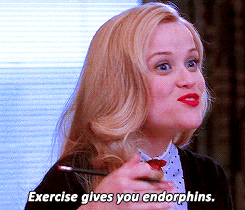 5. She lives and breaths her sorority and sisterhood
Elle Woods loves her sorority almost has much as she loves getting her nails done. She never misses an opportunity to tell someone that she is a Delta Nu and she was even the president of her sorority. When her client Brooke is being convicted of murder and Elle went to get her alibi she swore she wouldn't tell anyone because Brooke is her sister. Even though the alibi was super important Elle was not going to break the bond of sisterhood.