It's the most wonderful time of the year: with the kids jingle belling, and everyone telling you be of good cheer, and... people getting offended over Starbucks cups?!
[rebelmouse-proxy-image https://media.rbl.ms/image?u=%2Ffiles%2F2016%2F11%2F02%2F636137127203980875-823300068_A1ZYomIOGj5xC.gif&ho=https%3A%2F%2Faz616578.vo.msecnd.net&s=15&h=b90064a8c5713ea5c1f3314f55e0477a0b8227e368ebe95876b2819e618b917c&size=980x&c=2406632876 crop_info="%7B%22image%22%3A%20%22https%3A//media.rbl.ms/image%3Fu%3D%252Ffiles%252F2016%252F11%252F02%252F636137127203980875-823300068_A1ZYomIOGj5xC.gif%26ho%3Dhttps%253A%252F%252Faz616578.vo.msecnd.net%26s%3D15%26h%3Db90064a8c5713ea5c1f3314f55e0477a0b8227e368ebe95876b2819e618b917c%26size%3D980x%26c%3D2406632876%22%7D" expand=1]
Most people remember last year's red cup controversy all too well: Starbucks releases their annual red cups for the holiday season, but instead of designs such as reindeer and snowflakes, the cup was simply a red ombre. For reasons I cannot comprehend, some corners of the Internet went into an uproar, claiming Starbucks had declared a war on Christmas. It was ridiculous then and it's even more ridiculous now. I mean this is what kids are going to be learning about in history class in 30 years!
This year, I was hoping that this year, outrage over coffee cups, much like the whip and nae nae, would be left in 2015. Alas, I was wrong. On November 1, Starbucks unveiled a limited addition green cup that is not for the holidays, but rather to encourage people to be united with each other. The cup features 100 hundred people, ranging from a farmer to a barista, all drawn in a single stroke.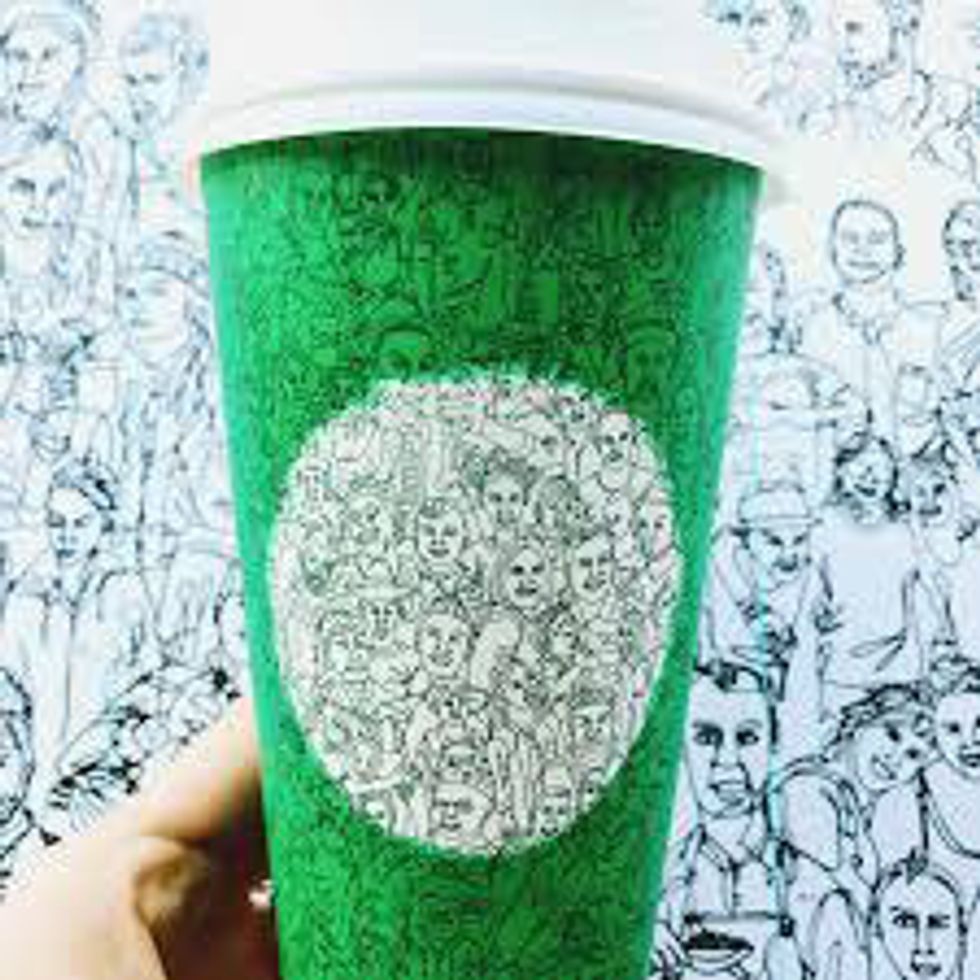 Unsurprisingly, in this age of solving disagreements by insulting each other via the Internet, people were offended, once again claiming Starbucks was waging a war on Christmas. (HALLOWEEN JUST ENDED. IT'S TOO EARLY FOR THIS.)
However, this all seems completely counter-productive to me. Starbucks is encouraging us all to be kind to another, especially in the face of the election. Also, for me at least, being united and giving back is one of the main aspects of the holiday season. This is exactly what Jesus did during His time on Earth. Think about bringing some goodwill and joy to the world before you claim that Starbucks not having snowmen on their cups is ruining everything for you. Spread love and the true meaning of the season instead of senseless hate and complaining on Twitter. Also, your cup being red, green, white, black, purple, whatever, is not going to change the taste of your coffee. I don't know about anyone else, but I'm going to enjoy my chestnut praline latte regardless of the cup I'm just going to throw away afterwards, and I'm going to spread holiday cheer while doing so.