"Just keep swimming. Just keep swimming. Just keep swimming, swimming, swimming."-Dory
If life has you pushed up against a wall and you have been faced with inevitable circumstances it feels like you can't breathe. Your life is virtually suffocating you and draining all the hope and strength within you. There is nothing real about my forced smile. I wear makeup to cover the redness and puffiness from crying. I say I'm okay, but truthfully my depression is killing me on the inside. I've never been the person who likes to have other people worry about my problems, I've always worried about everyone else's. Even in the darkest of times, like now, I can't help but to extend my hand and help others who are feeling just as bad.
I can't help but to type this with trembling hands and tears in my eyes because I know how badly it hurts. Everyone isn't going through the same thing, but the same type of motivation and advice helps them along the way. Not everyone has someone that they can turn to when they need it most. It can get extremely lonely and a lot of the times you go through something that you shouldn't go through alone. In times like this I ask myself a few things to keep me going. Sometimes you don't need anyone else's help but your own so here is what I do:
I ask myself, "Is this worth crying over?" If it isn't I try my hardest to get over it as quickly as possible, but I'm an emotional person and sometimes it takes a lot longer than anticipated. If it is something that is worth crying for then I cry. I cry until I cannot cry any longer. It can be the greatest medicine of all and there is nothing wrong with a good cry every once in a while.
I also ask "Am I over analyzing this?" Situations can easily be made worse if you over analyze them. I over analyze all the time. I could be talking to my boyfriend and then he wont respond for a while I automatically think he is ignoring me. Since I think he is ignoring me I begin to wonder what I did wrong and it turns into a mess. In reality though he isn't ignoring me, he just forgot to tell me he is at work. I know over analyzing can cause so many more problems than you had to begin with so try not to. I have lots of trouble to see a problem simply how its presented, I always think there is a deeper meaning and that I have only scratched the surface. The problem is what it is and nothing more or less.
I hold grudges pretty badly and I have to ask myself "Is this worth staying mad about?" 99.9% of the time I say yes it is and I stay mad. Recently though I had found this post on Twitter that had said "5 by 5 rule- If it's not gonna matter in 5 years, don't spend more than 5 minutes upset by it."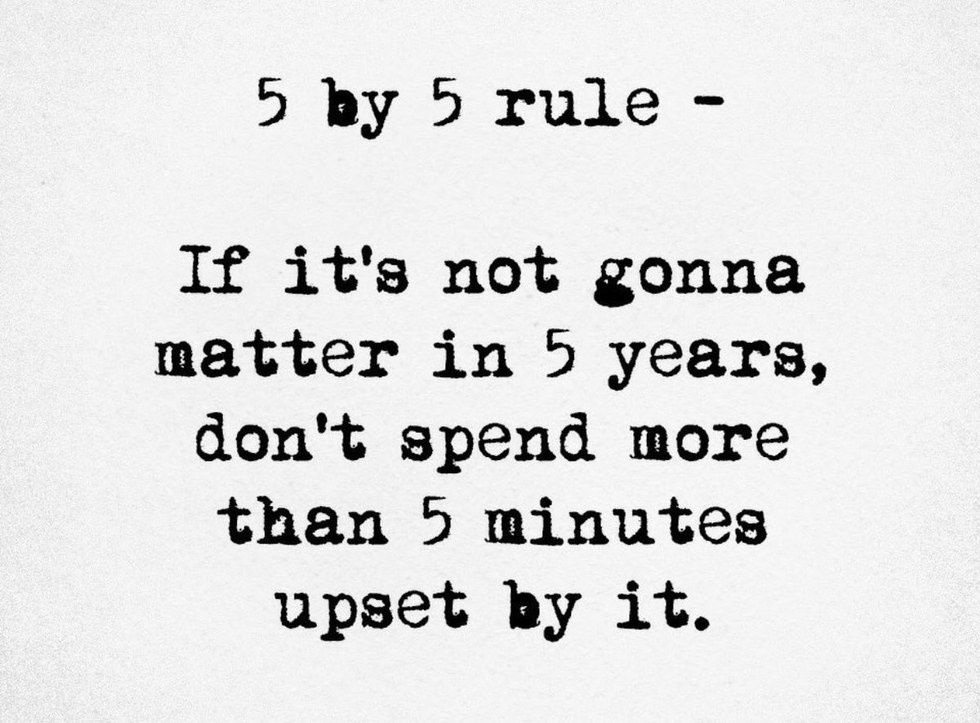 This is now my life motto. I try to go by this on the daily. It is so important to not hold grudges and sometimes I take forever to finally forgive that person. Only limiting myself to reacting to it for only 5 minutes is tough, but it is what I have to do in order to keep staying positive.
Finally after asking all these questions I have to make myself realize, "I am never truly alone." Even if no one is there to answer my calls when I need to talk or if it is late at night and everyone is asleep I remember that I always have God here for me. No matter the trials and tribulations of life He will always be there to hear my worries. I ask for his guidance, to lead me in the right direction with what has been going on. I ask that he points out the right decision to make, knowing I don't have to make it on my own. I pray for peace for when I go to sleep I am calm and my worries subside for a little while. Most importantly I let him know I love Him because I know how much He loves me.
In the worst of times it is so hard to look up and see the positive things that life has granted you. Life is so spectacular and the best thing about life is that it is you never know what could happen. You can have the best day of your life tomorrow and you would never know it until then. I have to keep looking up because God is pointing me in the direction I need to go. If I don't look up, I won't see him. So when I am feeling down and upset I do those 4 things and try to make best of what I have been given.