My Body My Rules
I have always loved tattoos. And I knew from a very young age that I wanted tattoos when I was old enough. I have always seen them as art. Meaningful or not. Tattoos are gorgeous. I will never regret mine. Here are the meanings for all of my tattoos along with photos.
Family Tattoos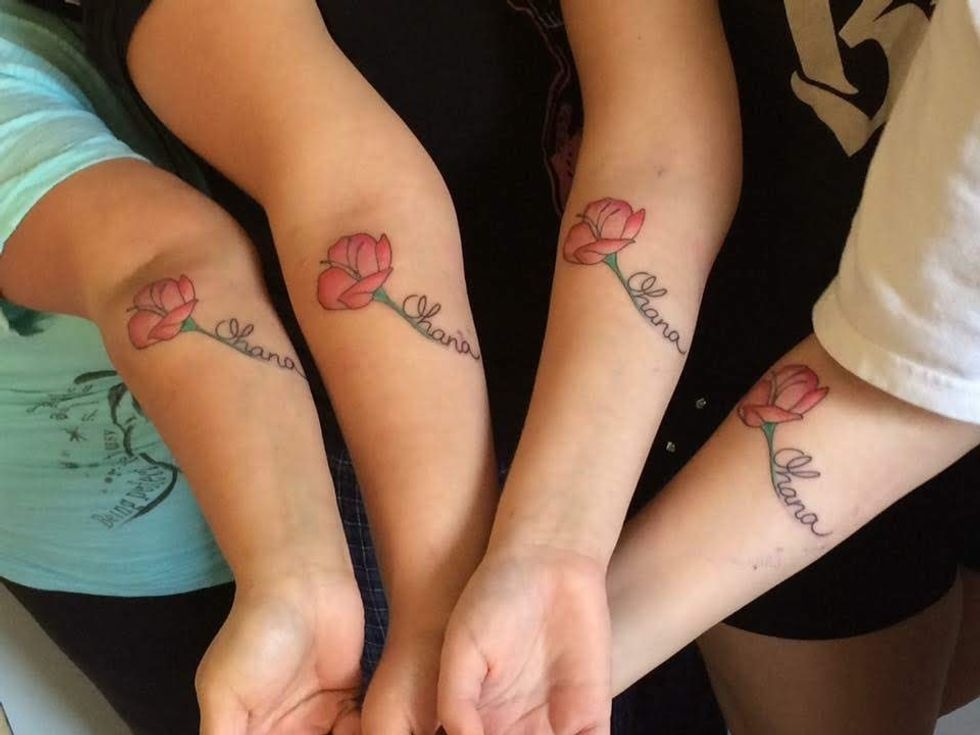 This was my first tattoo. It means so much to me and whenever any one asks about it, my face lights up. This tattoo is for my family. My best friends. My mom and sisters have it matching with me. "Ohana" stands for family, which is very special to me. The flower we got represents "never forgetting" which we see it as never forgetting where we have come from and who we will always have.
Ed Sheeran Quote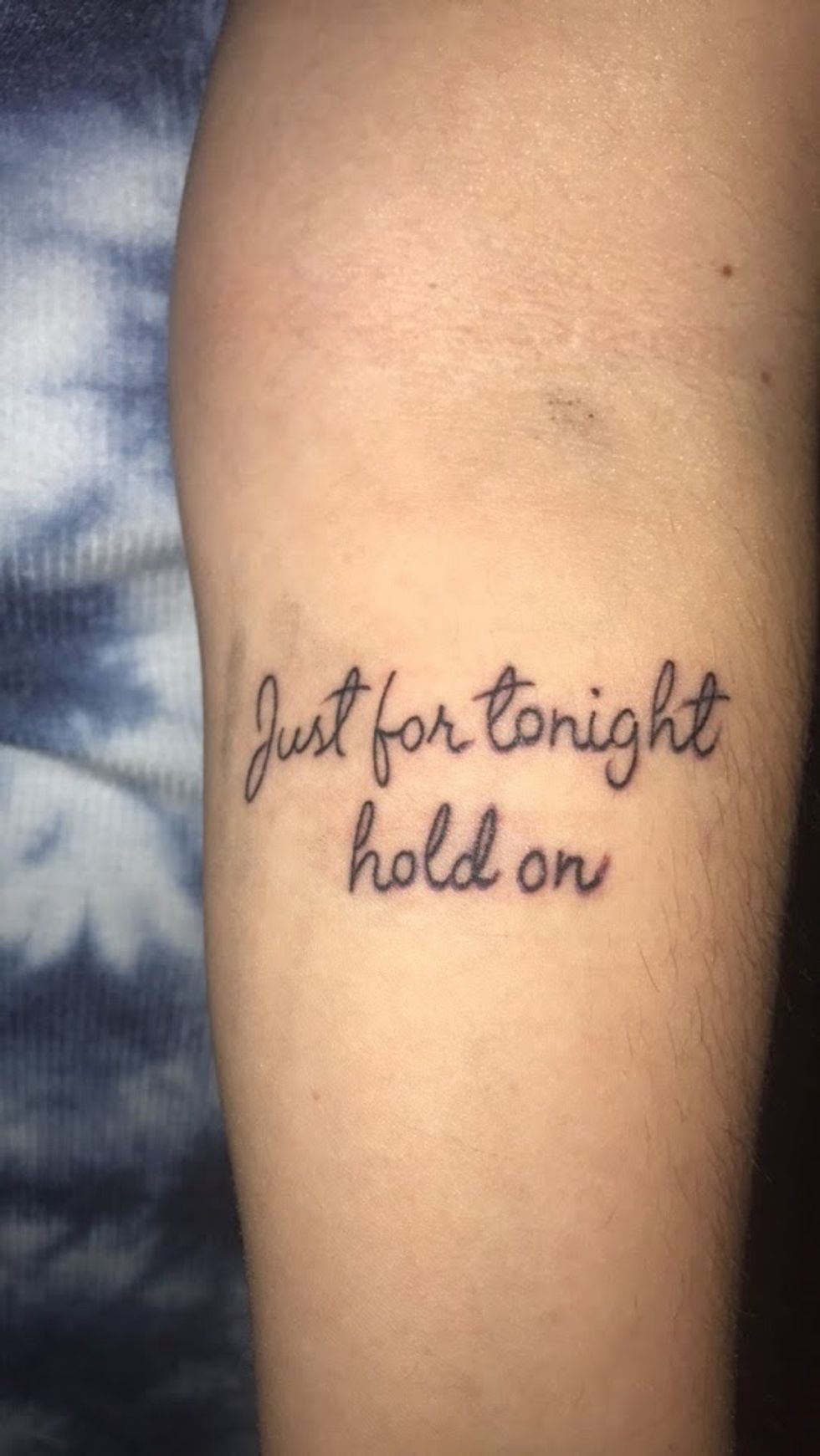 The next tattoo I got was an Ed Sheeran quote. I do love Ed so much but this tattoo isn't specifically for him or dedicated to him. The tattoo is a quote from Ed's song, "Even My Dad Does Sometimes" which I personally see it in a way of saying of "Its okay to be upset at times and its okay to have depression and to cry" The specific quote I chose was "Just for tonight hold on". This is my personal quote that has gotten me through soo much and has really helped with my depression because when ever I have a hard night, I can look at my arm, and know that everything will be okay if I make it through the night.

Semi Colon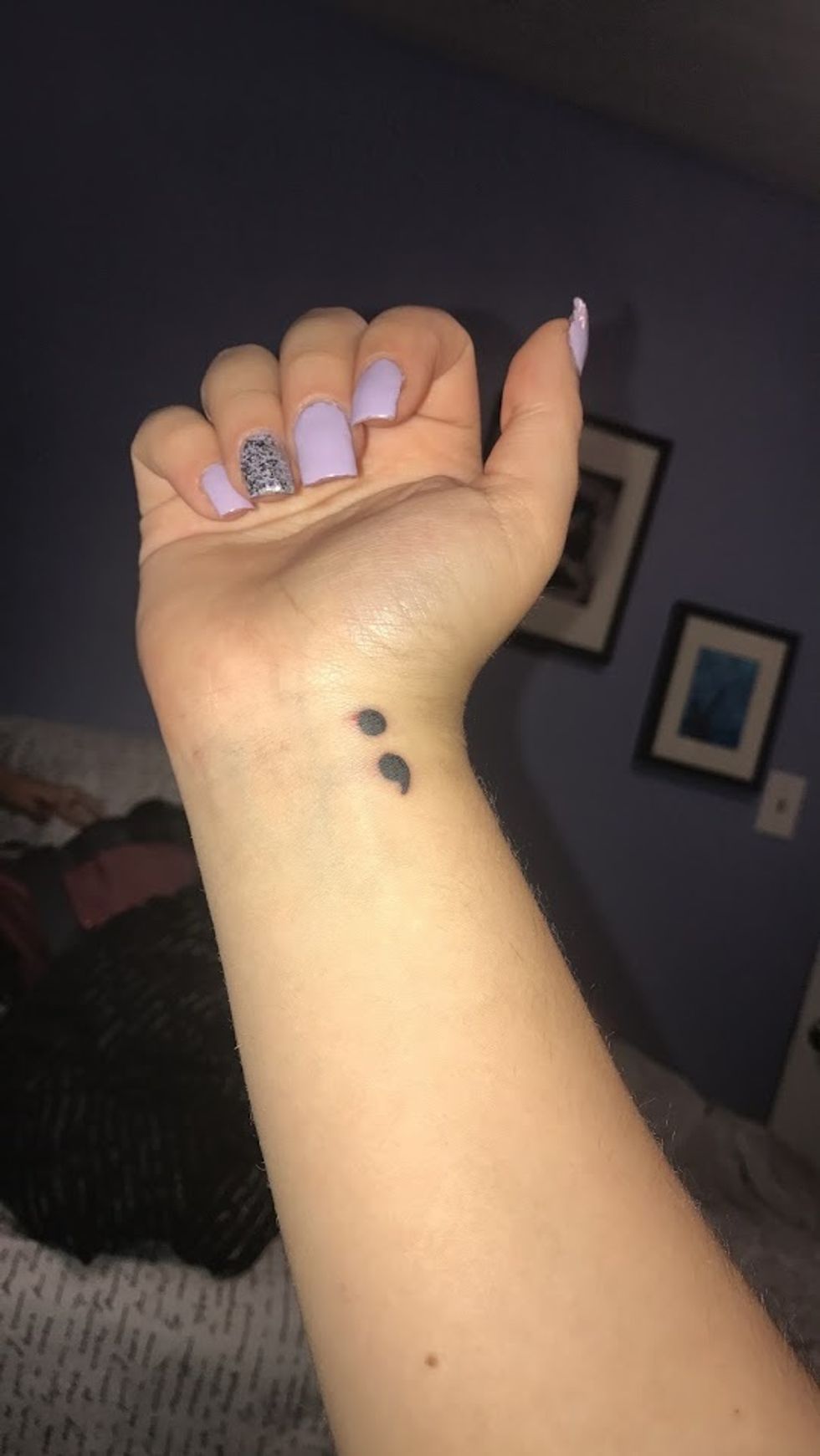 May people have heard of the semi-colon project. The semicolon project is for suicide awareness and self harm awareness. Basically meaning "a semicolon continues a sentence that could have ended, but the author decided to continue going". The sentence represents our life and every individual person is their own author. When ever I have felt like hurting myself, I think of the semi-colon project and look at my tattoo and see how important my life is and why I shouldn't hurt myself.
"J"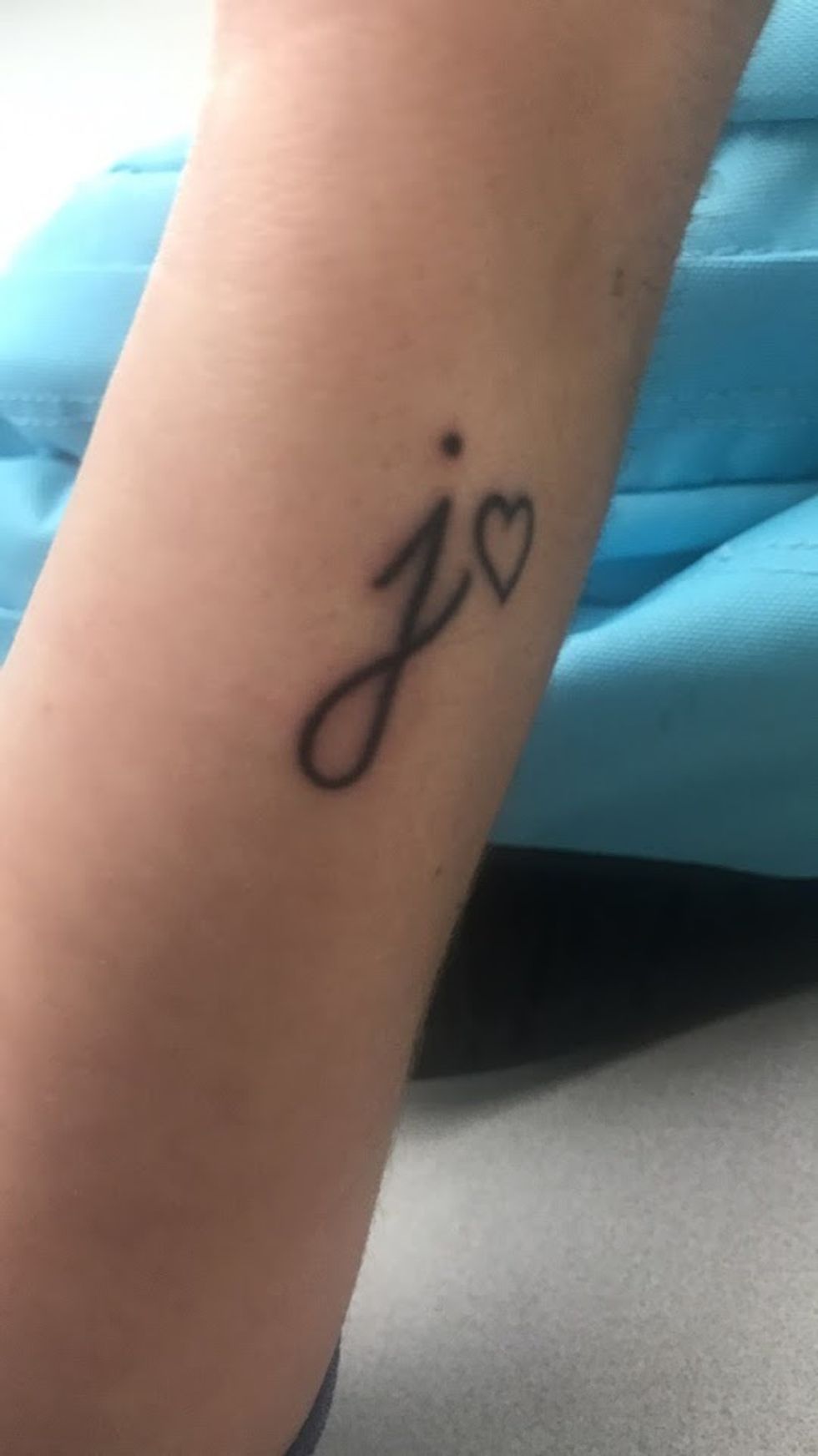 This "J" is very important to me. If you didn't know, I have a twin sister, Jordyn. Hence the "J". Jordyn is my best friend so I wanted to get something dedicated to her to show her just how important she is to me. She will forever be my best friend so I thought I would get a little something to prove it to her.
Pinky Promise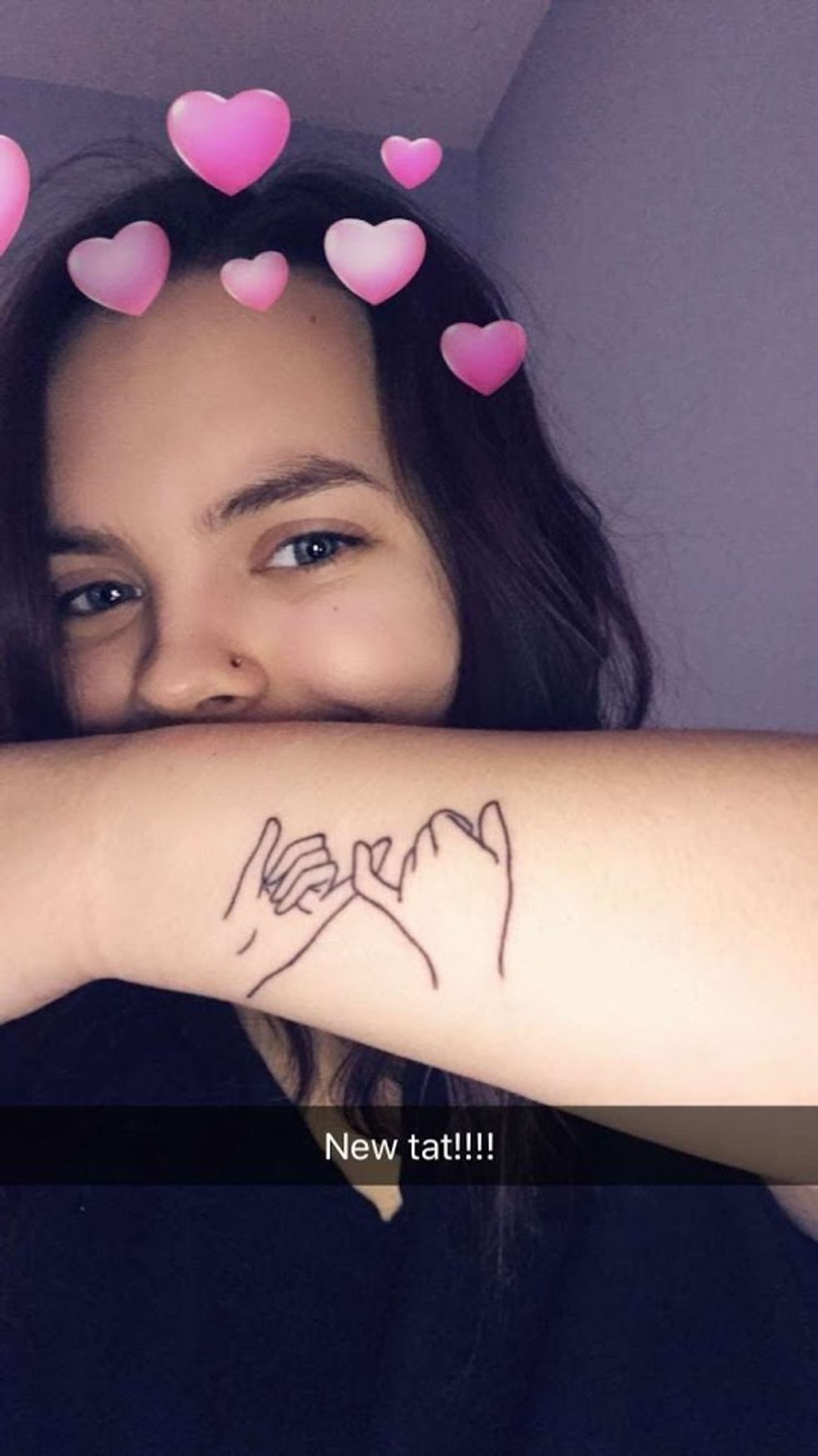 My 5th tattoo is one I got matching with my twin and best friend, Josie. We have known for years that we have wanted matching tattoos, but never knew what to get. As soon as we saw this, we knew it was the one. We got a "pinky promise tattoo" because we "pinky promise to always be best friends". After 7 years of friendship, I can say she will always be one of my best friends and I am forever grateful to have her in my life.
Paper Airplane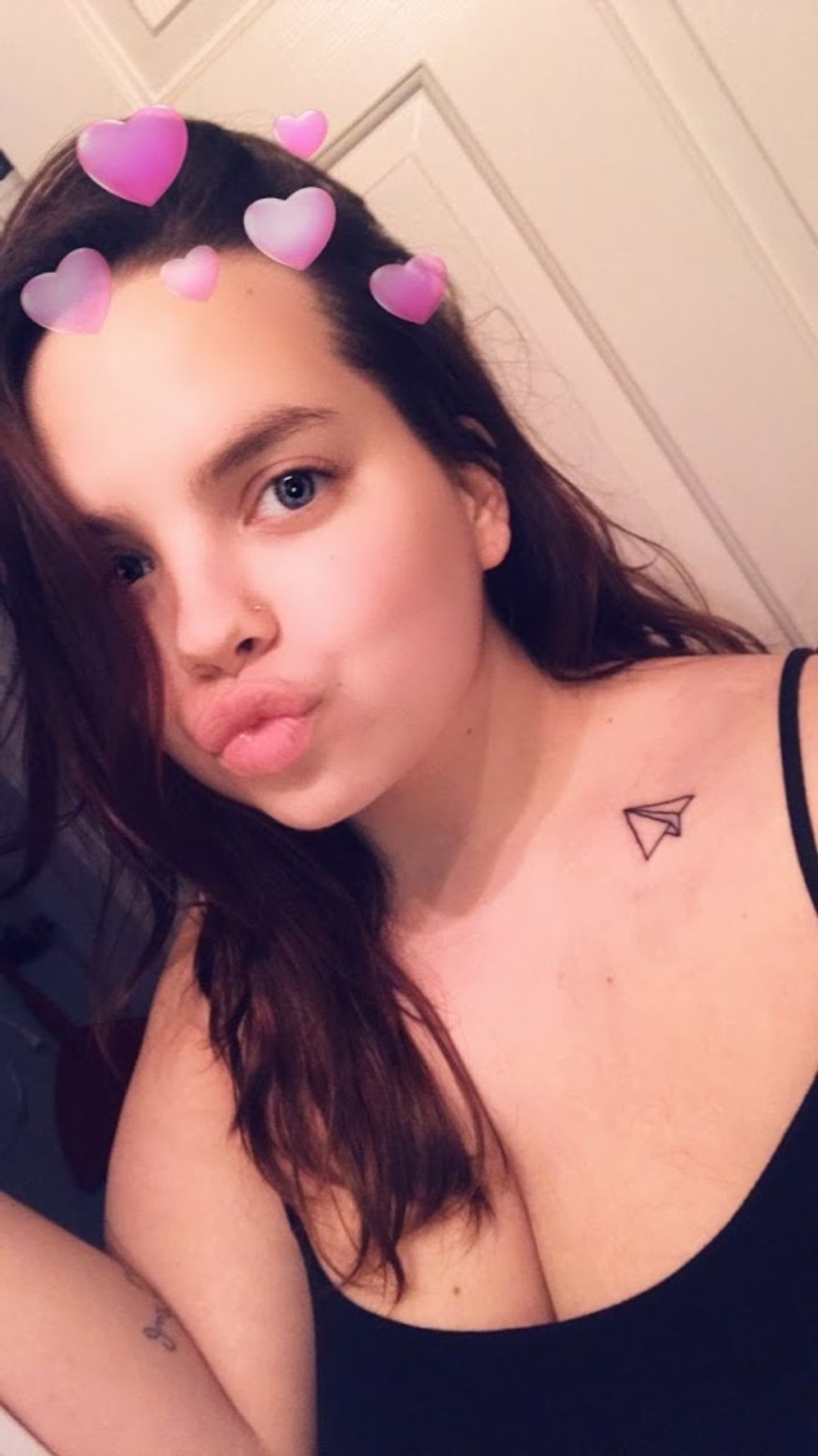 My paper airplane was very last minute... Friday the 13th. I went to my local tattoo shop where the do $31 sheet tattoos, as long as it is on the sheet they provide. I picked the paper airplane because it was the only one that I could make up a meaning for... I use it to say "always move forward" cause that's what paper airplanes do. They always move forward.
Love Yourself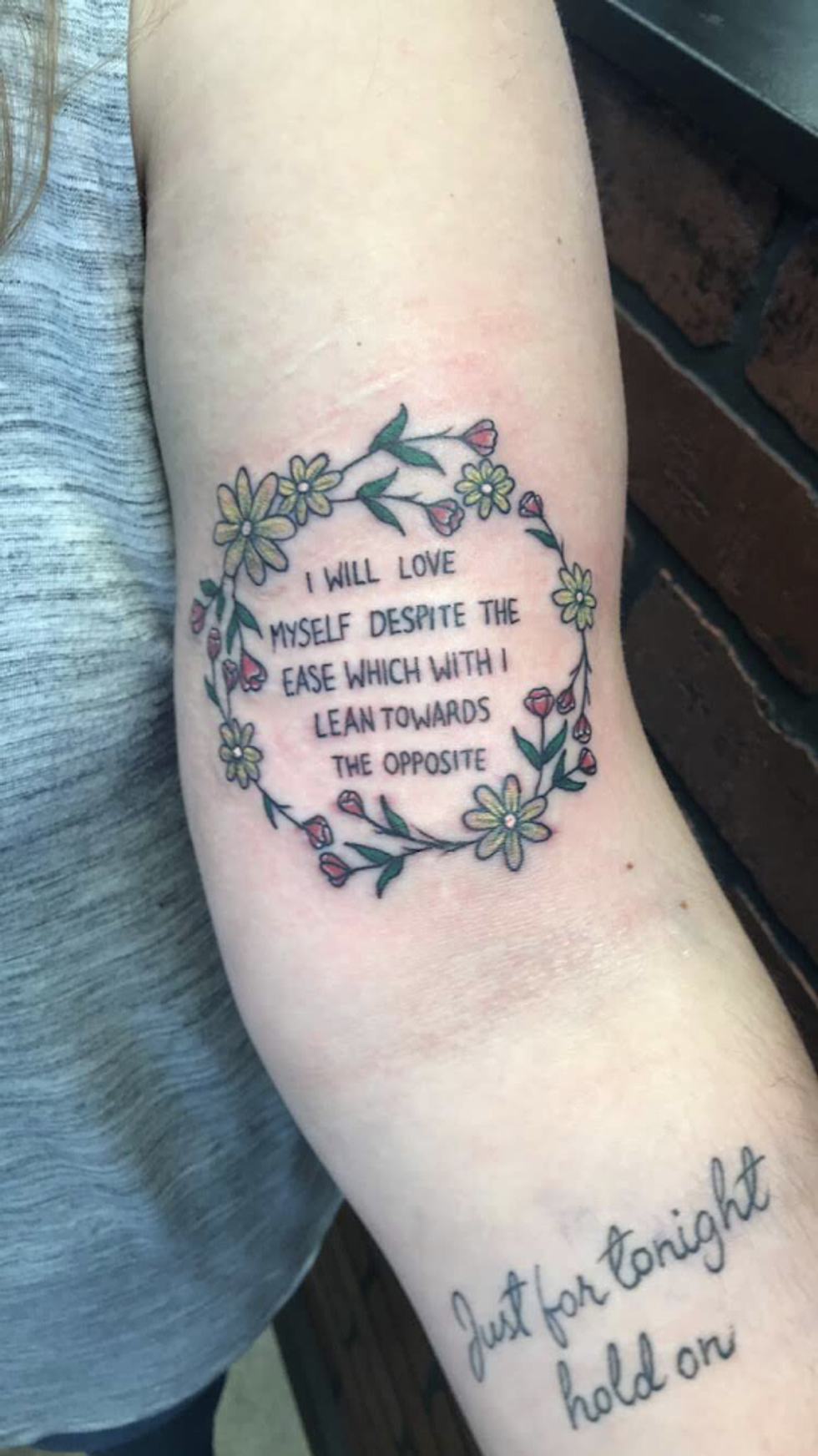 My last tattoo is one that has a huge meaning behind it, while also being my biggest tattoo. I have had self esteem issues for as long as I can remember. The tattoo is everything I really needed on my road to confidence and loving myself. It serves as a reminder that even though it is soo easy to hate things about myself, I have to beat the difficulty and see the things I should love about myself.
I will forever love these because they all represent such important things I have gone through and will continue to go through.