I often like to describe myself as an avid traveler and a lover of art history. Therefore, Italy, a country known for its rich history and culture, was one of my dream destinations. I went on a Trafalgar tour through the Italian cities of Rome, Naples, Assisi, Florence, Bologna, and Venice. In this first article of a series of Italian travel pieces, I will be focusing on the first two cities mentioned.
I have traveled extensively in my life, especially throughout Europe. However, I admit that even I was overwhelmed by Rome. It has the appearance of being very crowded, with packed streets and buildings that seem to be on top of one another. There is just too much to see all at once. Moreover, everywhere I looked more ruins seemed to just emerge out of nowhere. One minute I would look over and see the remains of the Baths of Caracalla, and the next I would see the Colosseum. It was a very surreal experience to be in a city filled to the brim with thousands of years' worth of history. I thought that the Tower of London or Notre Dame Cathedral in Paris were old, but this was on a whole other level. Fun fact: Rome only has two subway lines because as they dig underground they keep finding new ruins. That explains why the streets are constantly packed with pedestrians, cars, and Vespa scooters.
The first day in Rome was one of the hardest of the entire tour because of the sheer multitude of sights that needed to be seen. That day I went to the Vatican, the Pantheon, the Colosseum, and went on a walking tour of the popular fountains and piazzas in the city. Any free time was spent sampling delicious gelato, or sipping wine at a café by the Trevi fountains. In Italy the legal drinking age is 18 (I am 19), so I very much enjoyed being able to legally drink and purchase alcohol; Italian wine is truly exquisite, though the limoncello is not as pleasant as it looks.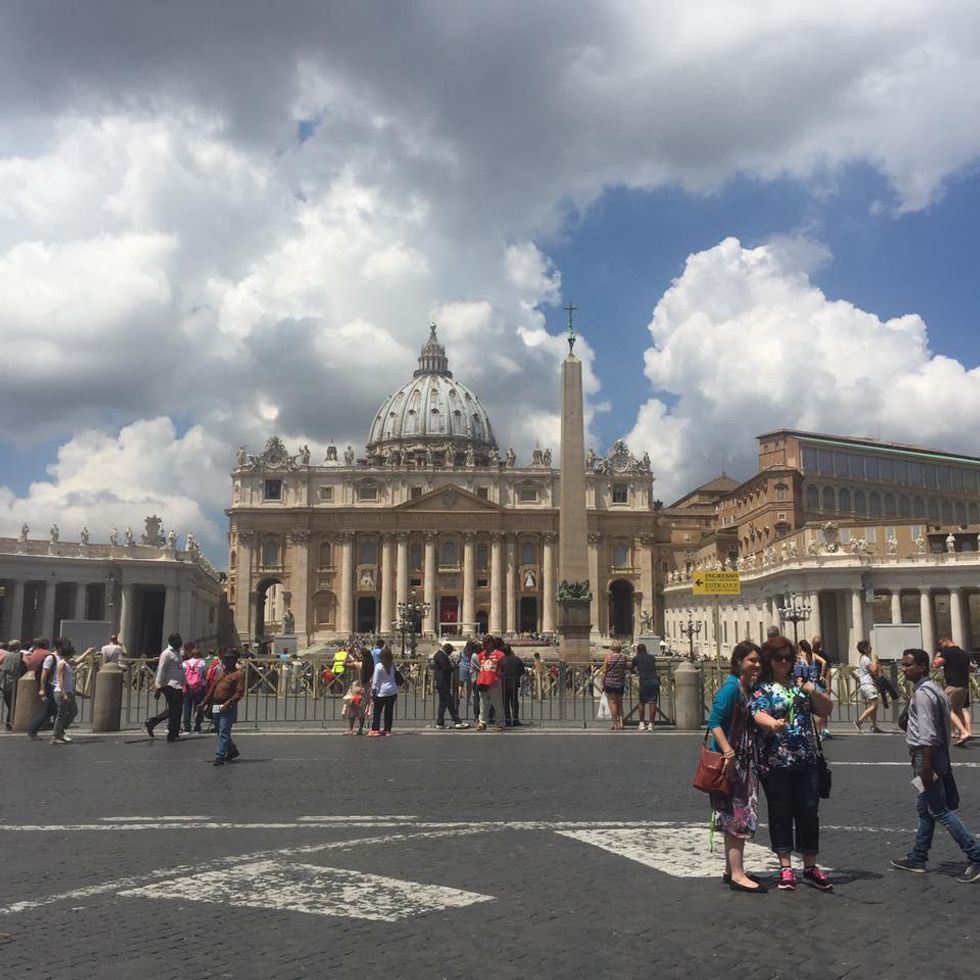 Because I was on a special tour of the Vatican, I was able to see more exclusive features like Bramante's staircase and special rooms of Etruscan artifacts. The best part of the tour was, of course, the Sistine Chapel. In AP Art History, I studied several of the frescoes in the chapel extensively, especially Michelangelo's The Last Judgement. This fresco is so iconic with its depiction of a muscular, enraged Jesus Christ, Michelangelo's self-portrait in a flayed skin, and best of all, a depiction of a Cardinal, who had insulted the artist's work, as a demon having his genitals bitten by a snake. The Sistine Chapel overall was unbelievably beautiful, and I am still disappointed that I was not allowed to take pictures inside. St. Peter's Basilica was also very awe-inspiring, with the stunning Baroque altar by Bernini and Michelangelo's famous Pieta. Even though the tour only allowed me to see a small portion of the Vatican's contents, it was still very much a worthwhile experience.
The Pantheon is another monument I had extensively studied in my AP Art History class. It felt very familiar upon seeing the coffers and the oculus. However, I had forgotten that Raphael was actually buried there, so seeing his tomb was a nice surprise. We didn't stay too long, but it was beautiful. The Colosseum, located next to the majestic Arch of Constantine, took my breath away. It was very well-restored, and it was fascinating to see the basements where the gladiators stayed and the animals were kept. As I sat on one of the steps and absorbed my surroundings, I couldn't believe that I was actually sitting amongst ancient ruins.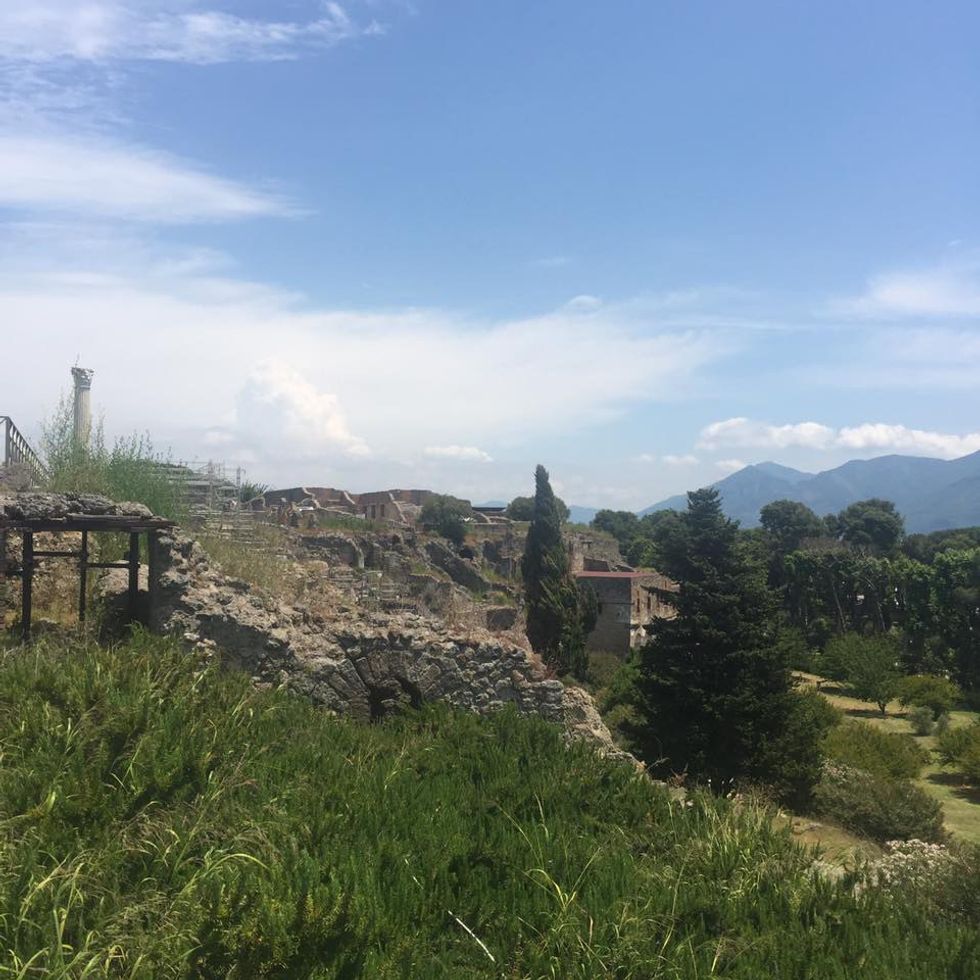 The next day my family and I did an optional day tour to Naples and Pompeii. We spent the majority of the day sweating in Pompeii, but I did not mind the heat. The city is so well-preserved, even more so than the ruins of Rome. The city was so very advanced, with fast food restaurants, raised crosswalks, elaborate bathhouses, and even water fountains that were restored to functional use today. The city was also dubbed the "Las Vegas" of the Roman Empire because of its entertainment arenas and famous brothels. Seeing ancient penises carved into the stone to indicate the brothels was especially hilarious. However, it was also intimidating to learn that Mount Vesuvius is due very soon for another eruption. After Pompeii, we drove to the beautiful city of Naples, where we admired the coastal views and weaved our way through the street alleys so famously shown in Sophia Loren's films.
Then, my time in Rome came to an end. To be honest, I wish I had had one more day in that city. Because I had spent one of the "Rome days" in Naples and Pompeii, I didn't have the chance to really just walk around Rome and experience the city outside of the tour group. Moreover, the city itself is so immense and filled with many sights to see. I visited the main monuments and wonders of Rome, but I was left wanting more and not ready to depart. Hopefully I can come back to Rome in the near future and experience the city to full extent.