Floating Museum Cruising The Chicago River
The Floating Museum is an art collective that creates temporary, site-responsive cultural spaces throughout Chicago's neighborhoods.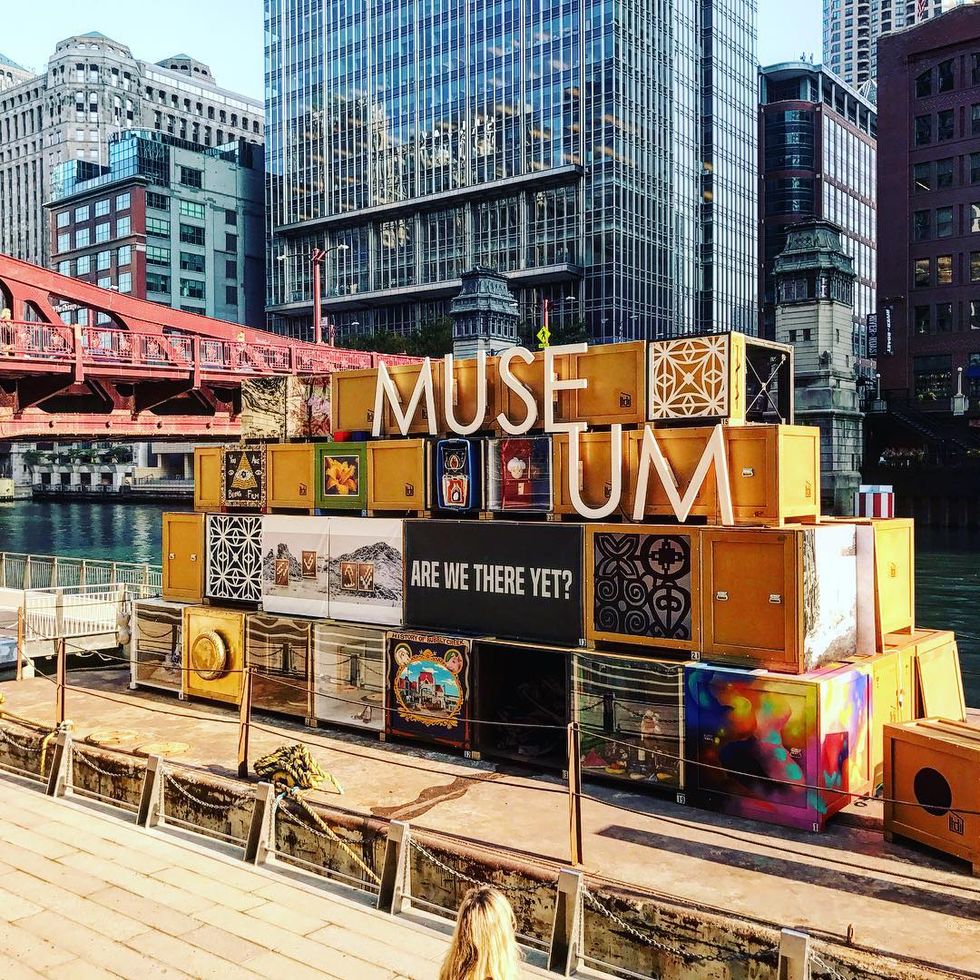 Their Mission

Structures made through The Floating Museum are platforms for engagement between local communities, external institutions, and independent partners. The art collective uses socially engaged artworks to activate local archives and histories and nurture both new and existing networks that push neighbors and institutions alike to rethink the potential of their spaces.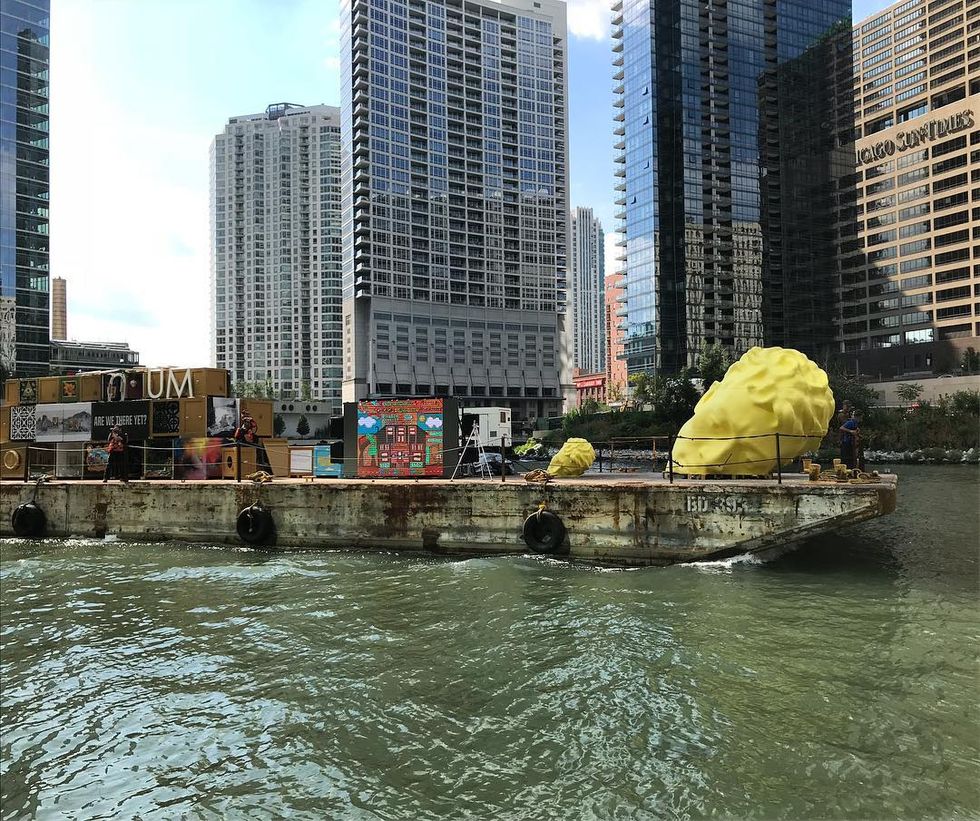 CHICAGO RIVERWALK
River Theater
Aug. 14 – 27
Celebrating the River's industrial past, Floating Museum has transformed a barge on the Chicago River into an aesthetically striking mobile gallery filled with art crates displaying work created by local artists and collaborators. "River Assembly responds to history as a way to contemplate the present and speculate on the future of the Chicago River as a space in flux, drawing on its industrial past looking to its future as a valuable urban cultural asset."
The River Assembly installment of The Floating Gallery is a 100-square-foot shipping barge that will exhibit for the duration of a three-week voyage up the Chicago River. The mobile museum will showcase artwork, media, and performances by more than 30 local and national artists, including:
Miguel Aguilar (aka Kane One), Tiaybe Bledsoe, Marcus Alleyne, Hebru Brantley, Marcus Davis, Asia Delores, Bill Douglas, Louis DeMarco, Kameco Dodd, Marcus Evans, Assaf Evron, Krista Franklin, Maria Gaspar, Tracie D. Hall, Jeff Harris, Adam Hines, Jeremiah Hulsebos-Spofford, Yashua Klos, Gaby Ibarra, Kopano (performance), Faheem Majeed, Christopher Meerdo, Ciera Missick, Cecil McDonald Jr, Jesse McLean, MonAerie (performance), Derek Moore, Dan Peterman, Cheryl Pope, Pope.L, Fernando Ramirez, Kameelah Janan Rasheed, Cauleen Smith, Sheila Smith, Edra Soto, Lan Tuazon, Maria Villarreal, Roman Villarreal, JGV/WAR (J. Gibran Villalobos & Wil A. Ruggiero), Amanda Williams, Bernard Williams, Avery R. Young & De Deacon Board (performance)
The Floating Museum is currently managed by Faheem Majeed, Jeremiah Hulsebos-Spofford, Andrew Schachman, and Avery R. Young.

WED, AUG. 23
SONG CIRCLE 6-8 PM
A rare opportunity to sit in on a creative session with some of this city's most remarkable blues and gospel voices, led by renowned poet and vocalist Avery R. Young.
THURS, AUG. 24

BREAKING BREAD: THE RIVER WALK SESSION 6-8 PM
An informal discussion led by a different panel for each session. We will talk as neighbors, as Chicagoans, and as family, over food, about topics as they relate to each site we're at.
SUN, AUG. 27
ART.I.FACT 2-8 PM
An intersection of art, history, and discipline, this finale event features a full choir, live music, dance performance, and video screening.
2–3pm: Gallery Tour
3–6pm: Sticks + Tape
6–7pm: DJ Set with AM/FM
7–8pm: Performance by Avery R. Young & De Deacon Board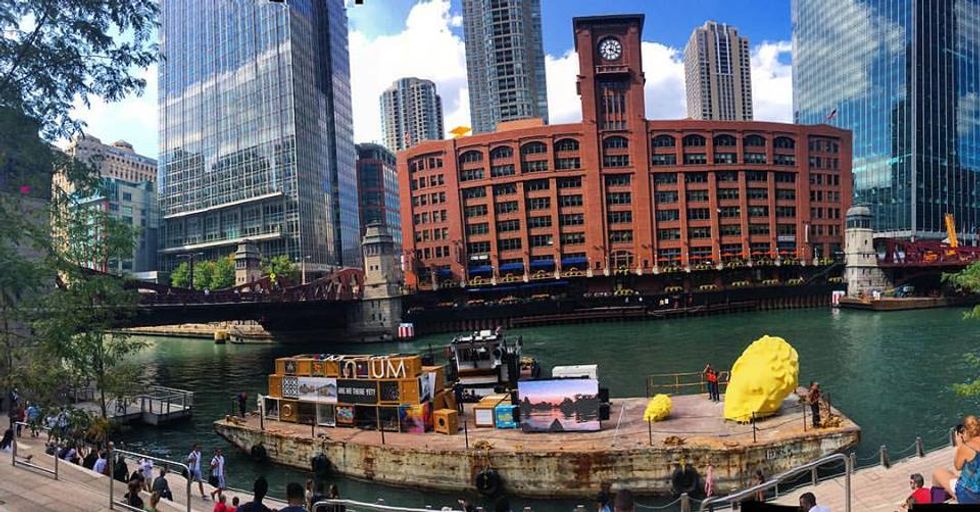 To follow the Floating Museum more closely:
- Visit their Website
- Follow on Instagram
- Like on Facebook