We're living in a historical time. There are protests and rallies taking over cities almost every day, and earth shattering news alerts are lighting up our phones even more frequently. People are passionately angry about the state of our country and our world, and social activism is evident everywhere. This past week, Pepsi thought it would be a good idea to, as they say, "join the conversation," and essentially release an advertisement capitalizing off these struggles.
If you haven't seen the ad yet, take a couple minutes to watch. At first glance, it might seem appropriate or even progressive. A diverse group of young people are marching in the streets for some generic cause, and somehow something as trivial as Pepsi has the ability to bring everyone together and rise above any and all struggles.
This ad has since been pulled because of how much controversy surrounded it. Here's the problem: the ad completely disregards the realistic adversities oppressed people face in working for social justice, glorifies the insignificant support of celebrities, and ignores the realistic violence contributed by police force in social movements.
The signs held by the "protestors" in the video are extremely generic and oversimplified, promoting words like "love" and "peace." It does not acknowledge any specific issues existing in today's society. It seems to trivialize the issues that do exist, inferring they can be mended with an effort towards amicability and acceptance. More than this, the marchers all seem to be experiencing a state of bliss. Everyone is smiling and laughing, not at all angry about what they are protesting but rather elated by their utopian reality. The entire scene is completely unrealistic and does not do justice to the passionate hard work put in by the historically successful social movements of the past and present.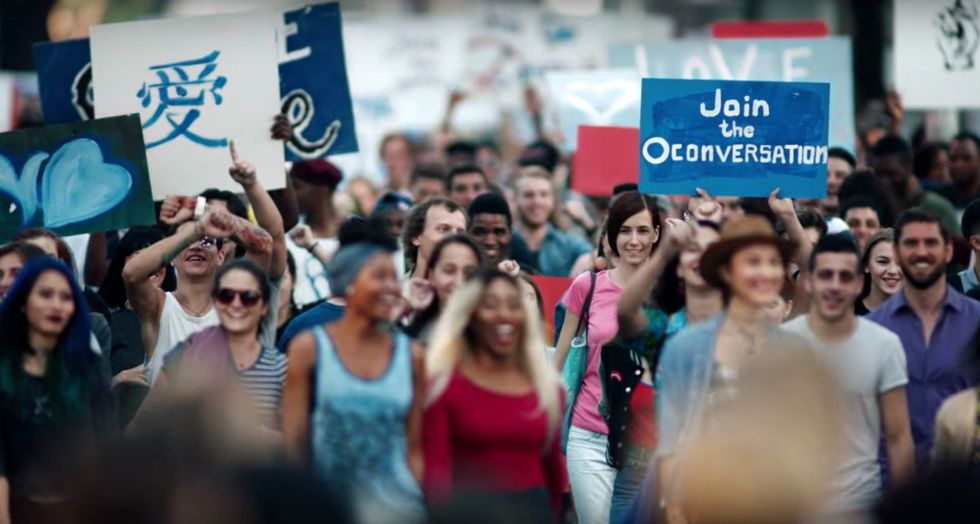 Here's the next problem with the ad: the star of it being one of the infamous Kardashian celebrities. Kendall Jenner, along with the rest of her Keeping Up squad, has done very little to benefit society, which is probably why it's so appropriate that she was in this ad. The video depicts her leaving one of her many photoshoots to join the movement (how selfless!) and later handing a Pepsi to the cop at the end, essentially ending police brutality and healing all nationwide conflict. This is actually a perfect representation of celebrities who want all the credit for donating time for a cause and none of the work. Jenner, like many other celebrities, wants to be known as someone who cares about social causes. Otherwise, she might be subject to judgment and a declining fanbase. Jenner used our country's political climate in an attempt to strengthen her image and further her career. Luckily, most of the public saw right through this façade and didn't let it get very far.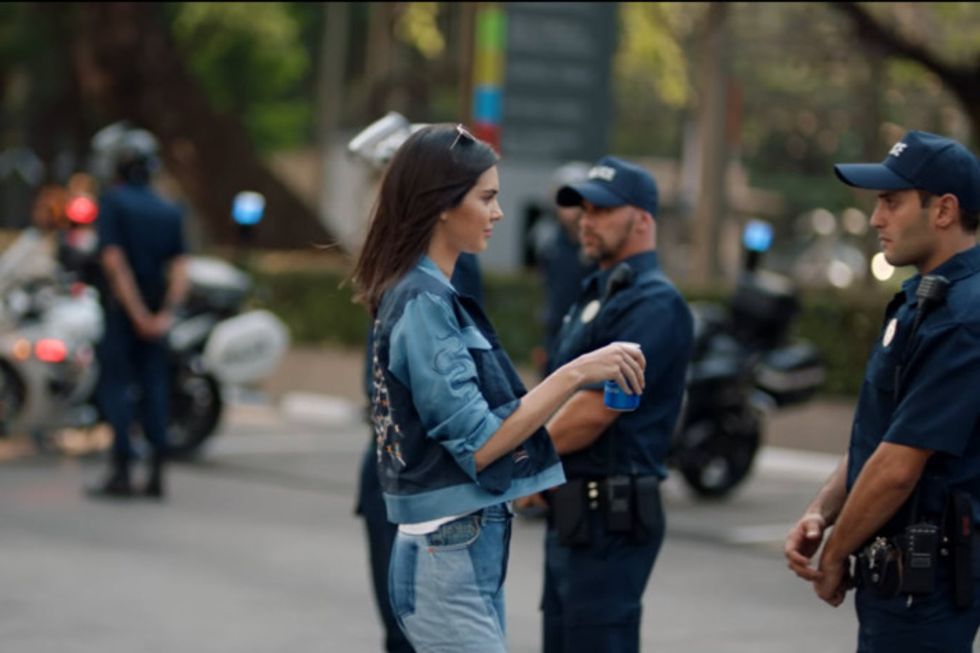 Ah, last but not least, the exchange of soda that ended all violence. All it took for cops to stop attacking protestors and racially profiling minorities was a can of Pepsi, who knew? This naive portrayal of unarmed, friendly policemen at what is supposed to be a protest is dangerously inaccurate. We are all way too familiar with cases of police brutality, especially at political rallies, with officers using forces like tear gas and batons to silence activists. The conflict between protestors and policemen has a long and hostile history, and the ad seems to suggest that a sugary beverage and a supermodel can overcome that conflict.
American social movements are powerful and complex. They are nothing like a Pepsi ad and should not be fed to the public in such a simplified way. If celebrities like Kendall Jenner are so motivated to make a difference, they should do so in a concrete way; they should utilize their platform in way that's productive and beneficial rather than selfishly motivated. Change is obviously needed, and yes, we should all "join the conversation," but these conversations need to be realistic and insightful in order to be successful.