What exactly is fashion? According to the dictionary, fashion is "1. A prevailing custom or style of dress, etiquette, socializing, etc." or 2. "Conventional usage in dress, manners, etc., especially of polite society, or conformity to it." However, if you ask a fashion student or a fashion enthusiast this same question, you will probably hear answers such as: "Fashion is a way of expressing oneself," or "Fashion is a form of art," and "Fashion is playing around with and breaking the rules of conventional dressing." Fashion may seem like a simple concept, but behind the word is a world full of creativity, breakthroughs, and endless possibilities.

It's hard to define fashion simply because it means something different to everyone. For instance, it could be someone's passion in which they use fashion blogs and social media to express their creativity, or it could be someone's entire career. Working in the fashion industry might be some people's way of putting food on the table for themselves or their families. Then for some, it may just be a foreign world they see all around them but have no interest in following up with current trends, designers, and such.
Because fashion is such a broad term, there are several factors that break it down season by season and determine what fashion is at the moment, what's in and out, and what almost everyone will be wearing.
The first factor is haute couture fashion houses including Chanel, Christian Dior, and Jean Paul Gaultier, just to name a few. Haute couture houses have been leading the way in creating trends and classic, iconic fashion looks. Most of their pieces are one-of-a-kind, unrealistic for daily wear, and way beyond the budget for the average person. However, the themes of these designs are often imitated and reconstructed by fast fashion outlets into versions that are more suitable and affordable for most people.
The media is another major factor in establishing fashion trends. Media outlets such as television shows, movies, social media accounts, and magazines create thousands of trends and fads. These forms of media show people millions of different looks and endless possibilities in the way certain items can be worn together. The way someone's favorite character dresses may inspire them to dress a certain way. The way an item is placed in a unique fashion editorial may inspire them to try a new look. People exposed to these media outlets may even subconsciously piece together their own personalized creations that were inspired by what they had seen on TV, print, or the Internet without even realizing it.
Another factor in determining fashion are celebrities. These days we are exposed to celebrities every time we open up a magazine, turn on the TV, surf the Internet, and look up at ads or billboards on our daily routes; so it's no surprise they play such a big role in fashion. A public figure can wear a simple item one day and within the next few days you will see versions of it in stores and on the streets. Designers love to use major stars to market their brands, so many times they will give current "A-listers" free clothing, shoes, purses, and accessories as a way to promote themselves through these celebrities to the mass public. This makes the public aware of the designers' lines and encourages them to want to purchase the items whether they can afford to or not.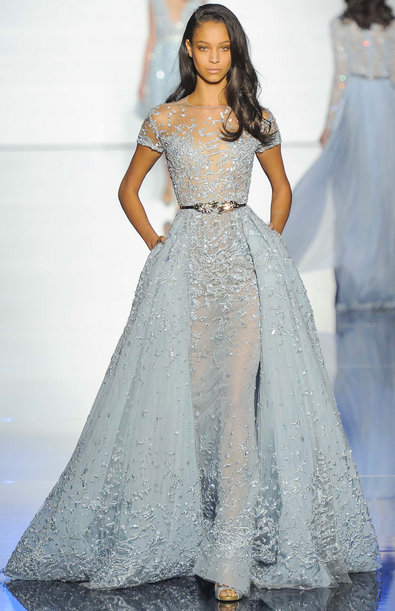 Pictured above: Zuhair Murad Spring 2015 couture

Some may agree with the factors that go into determining trends for every season, and some may dislike it. The great thing about fashion, though, is that it's completely okay to break the rules, which many people forget. Society popularizes trends carried down from fashion houses, celebrities, and media outlets, but if you don't like what everyone else is wearing, you don't have to dress like that. There are basic dress codes that people in American culture follow, but there is nothing wrong with breaking away from simple, everyday styles. Fashion is a perfect tool to use in expressing who you are or how you feel without having to say a single word.