The instant you set foot on Western Washington University's campus, you become a part of one of the top 10 university art collections in the country. We can thank Paul Brower, Western Gallery's own museum preservation specialist, for the upkeep of such an assemblage, but also the students for essentially making it what it is today.
What exactly makes it so great, though? "Students get to see real art by real famous people," said Brower. "I think that's sort of the reason behind the Western Gallery -- that it's not necessarily there to show student work or faculty work, but to bring in work from outside the region so that people can see real, big people in the art world." However, while that may be the case, it doesn't mean students can't, and don't, get involved.
"A lot of people do historical reenactments," Brower said about one of the campus's most popular attractions, "The Rock Rings," located just behind Academic West. The fixture, which is often converted into a castle, allows students in medieval costumes to freely wave duct-tape swords and make use of cardboard shields. But that's not all it's used for: "It's a surprisingly good study spot," said Curran Cummings, a WWU student. "It's mostly quiet, and there are a lot of nooks and crannies to hide out in."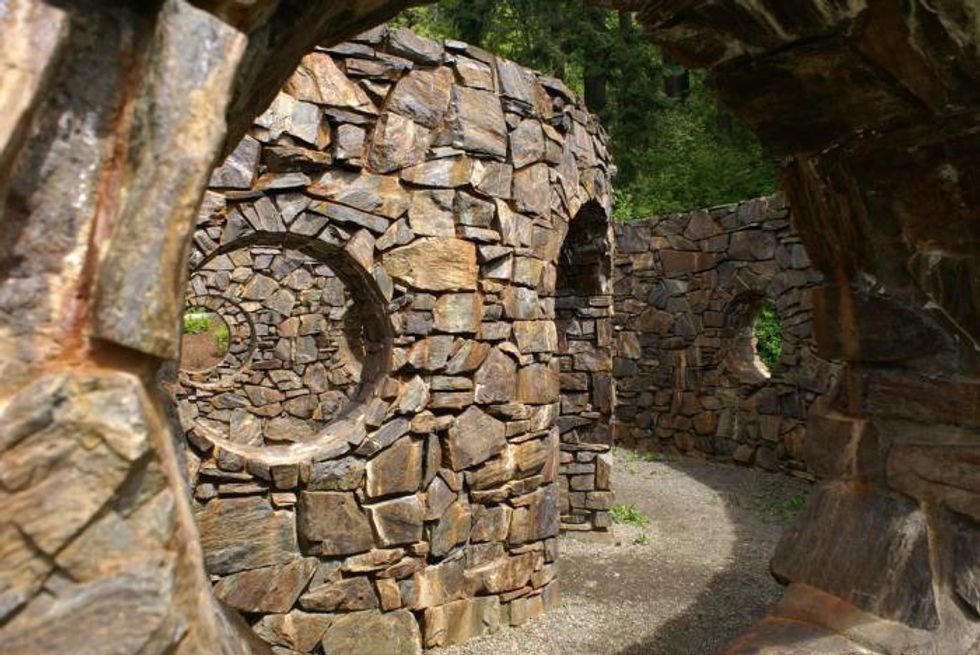 Nancy Holt's Stone Enclosure: Rock Rings
"The Rock Rings" isn't the only sculpture widely used by students, however. "Wright's Triangle," which artist Richard Serra intentionally placed to obstruct one of the most walked-across pathways on campus, is large enough for anyone to internally explore. In fact, as Brower discussed its history, a smiling couple walked directly through it in order to avoid splitting up. Similar works of art, such as "The Log Ramps" and "The Stadium Piece" (also known as "The Stairs to Nowhere") often bring the same kind of happiness to students. "'The Stairs to Nowhere' is my favorite place on campus," said Jenny Lynn, yet another satisfied student and patron.
However, while it's certainly fun to people-watch on the "passageway" that is Bay View Station and have one-sided conversations with Western's little green men (more formally known as "Feats of Strength"), it doesn't seem fair to overlook the actual student involvement that went into a few of the collection's pieces. Do Ho Suh's "Cause and Effect," Brower's personal favorite, was created specifically with student involvement in mind. Students glued the numbered pieces together, and even had to teach Brower himself how to fix a broken one when the time came.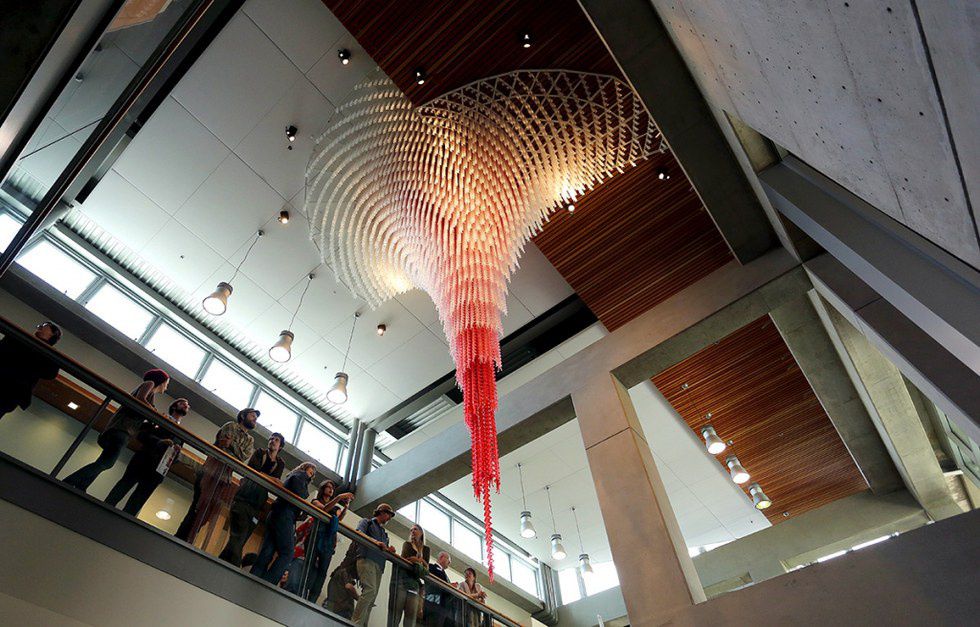 Do Ho Suh's "Cause and Effect"
And let's not forget about the infamous "bear" carving in front of Old Main; what most mistake for an inappropriate public display of affection between a man and his large furry friend is actually a first-time sculpture carved on site by Richard Beyer -- with the help of a few students, of course. "The Man Who Used to Hunt Cougars for Bounty" still exists today as one of the university's acclaimed landmarks, even if students refuse to acknowledge its true identity.
However, some would argue that student interpretation is one of the best parts of the collection. "Students have their own names for a lot of these pieces," Brower said in specific reference to Anthony Caro's India. Likewise, students often come up with with their own backstories. "I had no idea the stairs were built back when Western had a football team," Lynn continued about her favorite piece, which was, indeed, inspired by a stadium. "I like 'The Stairs to Nowhere' better."
No matter what you decide, it's hard to contradict Western's rank as one of the best public art galleries in the States. Student interaction, involvement and interpretation only make it that much better.