After months of looking and sending in applications, I recently started my first job at the late age of nineteen as a waitress and counter person at a local Italian restaurant. I have worked there for two weeks, but have only just begun taking home my tips. Over the past week, I have also been struggling to find time to write articles, and so for this one I am going to be telling all the kids about the first week of a new job through Timothee Chalamet gifs, with little tips and tricks here and there.


The training period.
Training sucks, and yet is simultaneously probably the most boring time I have ever had in my life. Still, you make mistakes, but if you're lucky you'll have a good group of people behind you. I met with a good number of my coworkers on the first day, and all of them were absolute sweethearts. I couldn't have asked for a better bunch to work with. But the training! It was absolutely nerve wracking, especially dealing with people who want food as much as you do after four hours. It takes awhile to get use to being on your feet when you have not in… ever, but sometimes the time flies and you barely notice it.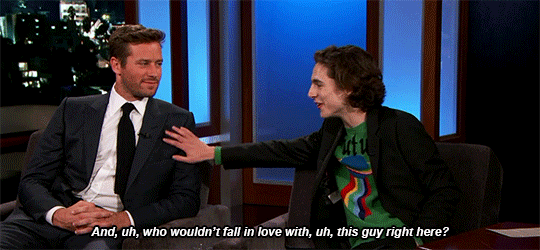 Meeting the coworkers.
I touched on this vaguely above, but there's more to say. I would highly recommend making friends with the coworkers you have, or at least greeting them with the utmost smile and wave when you first come in and leaving it as an open invitation. As I said before, they are the biggest sweethearts I have come across, and not just because they make me free food. I'm never bored at work, and to be quite frank, I was suppose to go in today and was bummed that I could not- even if I had to do homework. I love their company, and I feel very welcomed there. Not every workplace is like this, but if you give out an open invitation- even if you're shy, you'll find someone who makes it worth your while.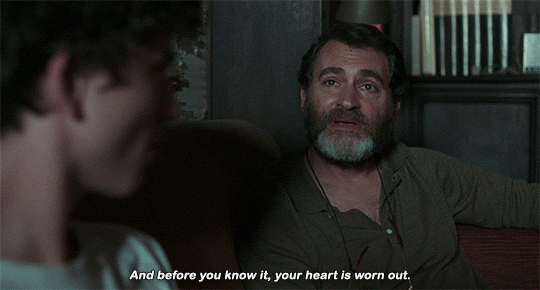 Balancing school life and work life.
Okay so this one isn't Timothee but this gift of Michael Stuhlbarg speaking to Timothee spoke to me on a deep level about this. This is proving a struggle on me as of late. Last night I got a zero on an assignment which I worked on for seven hours. How, may you ask? Because I was distracted in conversation and I forgot to download the proper file. I'm sure it's possible, and I am determined to make it work, but it's a challenge. Don't ever underestimate it, because it will quickly whip you into shape. I would highly recommend, if possible, to get ahead on your assignments on your off day. Yes, it is time consuming, but in the end, isn't it all about getting that money? And, just another bit of advice, if it does become a challenge there is no shame in deciding that it's not your time to work. I had come to that conclusion awhile back when I first started, and even though my mind has changed, I still hold the same opinion. Those who say "you will always be stressed out in the real world" don't understand that realistically, in the real world you will not have to do school work and balance a part time job. Am I saying to quit immediately? No, because the work experience is needed, but give it a month minimum before deciding.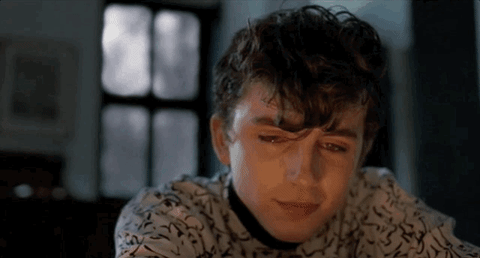 Don't sweat your mistakes.
Take every day as a new opportunity. I'll be totally honest and say right now, I cried three nights already because I was so stressed and tired, and embarrassed over my mistakes. Luckily, the support system I have there is amazing, but regardless of how bad or how good your support system is, it's up to you to take everything as a learning opportunity. It's okay. Just breath, everything is going to work out. There is a reason that they have training, and after all, it is your first job. Things are bound to get messed up, it's up to you to learn from it. Eventually, you'll be a pro.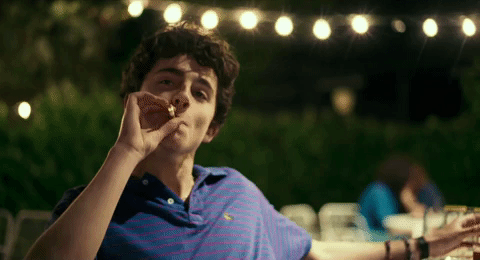 Take advantage of your off days.
This is pretty self explanatory but if I had a nickle for every off day I wasted, I would probably make up the money I made in tips on training and didn't get to keep. Do homework, read your book, study, do something but don't sleep all day, no matter how tempting. Even if you wake up at eleven, it's still better than sleeping past two. Got homework you need to do that could wait? Don't do it when you get off, just wait. Take your breather and sleep.
In the end, the first job will either be fun, or a stepping stone into something bigger. Take advantage of the new skills you acquire, because you won't find them anywhere else than on the floor.
Gif sources in order: pinterest ,http://m.diary.ru, timotheetea.tumblr.com, giphy.com, imgur.com,