I'll start by saying that after week one it looks like the NFL is going to be very exciting to watch with many new and exciting competitive teams, and while there are many top stories to talk about I'll hit on a few that I think are really critical.
Hey ESPN, You Had One Job...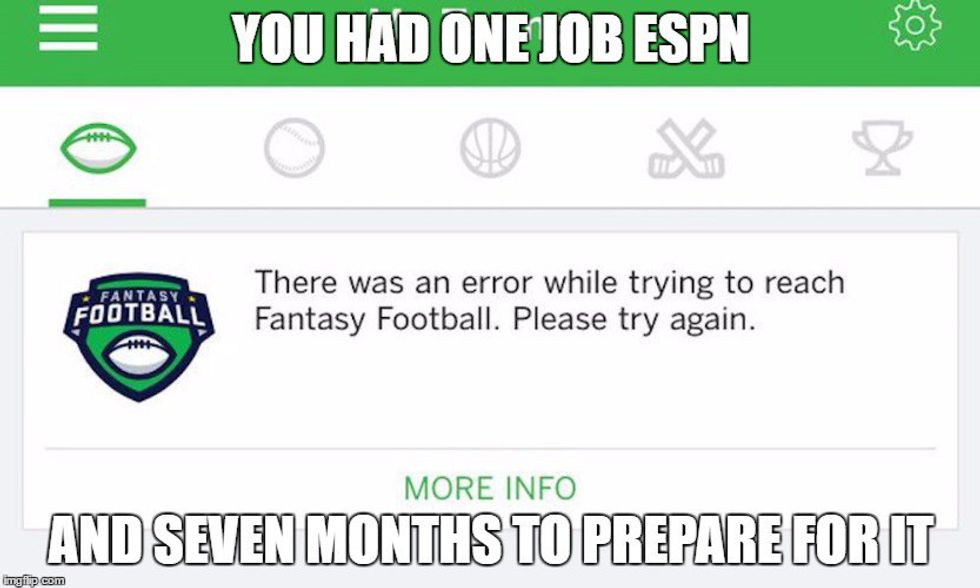 Many NFL fans like to partake in the wonderful hobby of Fantasy Football. ESPN is the leader in service providers, with millions of leagues and plenty of devoted fans. On the opening day of the NFL season, ESPN had one job: to make sure their App worked. With seven months to prepare for this day, their App crashed within 15 minutes of the first game kicking off. For four hours after, it would continue to crash. This caused massive anxiety to Fantasy Football users, as many people have a lot of money on the line and needed to change their lineups for the four o'clock games. I won't go on long about this because most people don't care, but this made me hate ESPN more than I already did. It's a good thing my teams played well, or I may have written this entire thing about them.
Andrew Luck Can't Do It Alone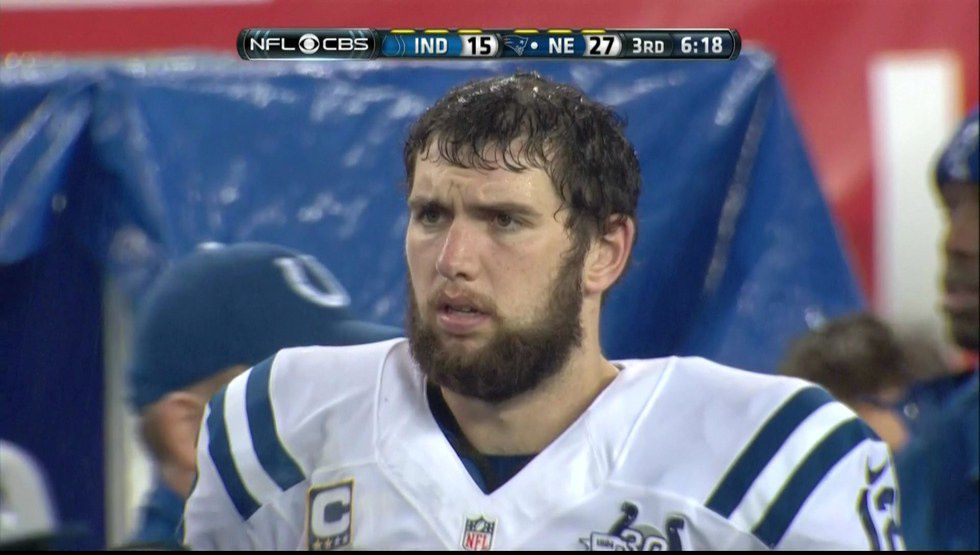 Luck had quite a rough season last year, under-performing and getting injured for most of it, to the fault of his offensive line. He was poised to comeback and prove all of his haters wrong this year, with a plan to dismantle the Lions and take home a big fat "W," and he nearly did. Down 34-28 with just over four minutes left in the game; it was time for Andrew Luck to do what he is known best for, a game-winning drive. He drove the team down the field 75 yards in eight plays to hit Jack Doyle for a six-yard touchdown. Leaving just 37 seconds for the Lions to win, or should I say the Colts defense to let them. In three, yes you read that correctly THREE plays Matthew Stafford drove 50 yards to put the Lions in position for the game winning field goal. With a stellar kicker like Matt Prater, and 43 yards to go, the Lions took a two-point lead. Add an unsuccessful kick return for a safety and you have a final score of 39-35. With Andrew Luck getting left out to dry one more time, by that terrible Colts defense. Hopefully they can salvage the season, and pick up some defensive players this off-season, because Andrew Luck sure could use all the help he could get on the other side of the ball.
Jimmy G. Came to Play
You may be surprised by the above paragraph to learn that I am an enormous New England Patriots Fan, because typically they hate the Colts. But rivalry aside, I'll talk about a new handsome New England QB who surprised many on Sunday night, leading the Patriots to a 23-21 victory over the very talented Arizona Cardinals. Sure this game came down to the wire, and a missed game-winning field goal by none other than Chandler Catanzaro, the man who single-handedly lost me my fantasy football season last year when he missed an extra point. But let's not look past the obvious, Jimmy Garoppolo is GOOD. The guy went 24-33 with 264 yards and a TD without an interception. Beating the top opponent out of the four games he will most likely start while Tom plays catch with Gisele, Jimmy looks promising. The question will linger though as the season moves on. Do the Patriots extend him, or trade him to some desperate team? Personally, I like the extend option, because it secures a future, but Jimmy may not want to wait three years to get that starting job if he can go somewhere else and build his own legacy. Only time will tell, but it's something I plan on keeping a close eye on.