This isn't the first time someone has recommended a TV show to you. You probably have dozens of friends telling you to watch this great show, listen to this amazing podcast, see this life-changing movie. It's exhausting. Despite all that I'm here to tell you to start watching "The Bold Type," immediately.
I'm an avid TV watcher. If seen all the teen-angst at the CW, experienced all the heart-wrenching deaths orchestrated by that emotional terrorist Shonda Rhimes, and glimpsed inside the terrifying mind of Ryan Murphy on FX. Despite my extensive television experience, I have never seen a show quite like "The Bold Type."
At first, The Bold Type seems like many other shows on TV. It's about a group of twenty-somethings living in New York. "Friends," "Sex and the City," and "Girls," have all covered the same things, more or less. "The Bold Type" is so much more than that.
The show centers around Jane (Katie Stevens), Kat (Aisha Dee), and Sutton (Meghann Fahy). Three employees at the same magazine, Scarlet (think Cosmo). What makes The Bold Type so special, isn't the funny dialogue, or the great clothes, but how the show addresses problems facing young women. The show handles a variety of issues (privilege, unemployment, slut-shaming, the MeToo movement, sexuality, relationships, guns, and most importantly friendship), in a subtle and grounded way unlike anything currently on television.
I remember the moment I realized what a special show "The Bold Type" was. It was the season one finale. In one scene, a character recounts an assault that happened decades ago, at the hands of her boss, an assault that wasn't reported. The scene isn't over-dramatized, there are no tears, the woman doesn't regret her decision. She made a choice for the sake of her career, recognizing the limited options for women at the time, and recognizing the importance of coming forward now. "The Bold Type" is a show that young women need. A show that is honest about the struggles facing women, while simultaneously encouraging women to show agency and fight back against injustice.
If that's not enough to convince you, the show boasts an unrealistic amount of talent. The three leads have a crazy amount of chemistry, and Melora Hardin shines as the editor-in-chief of Scarlet. The show is funny, full of heart, and a great way to spend one hour of a week. Most of all, "The Bold Type" is important. So start watching "The Bold Type" and make your life better.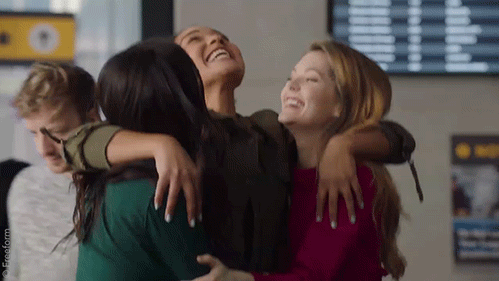 Giphy.com