If you've never watched an episode of the hit NBC series (formerly on FOX) "Brooklyn Nine-Nine", you are missing out. One day, out of curiosity, I began watching Brooklyn Nine-Nine and never looked back.
All of the characters are funny, witty, relatable and the show is a combination of "Scrubs", "Parks & Recreation" and "The Office", but better. Each episode does a great job of mixing comedy and serious issues. It's not your typical, stoic police show. I can't believe it took me so long to get hooked! Better late than never, I suppose.
Here are nine reasons to watch Brooklyn Nine-Nine:
1. It's hilarious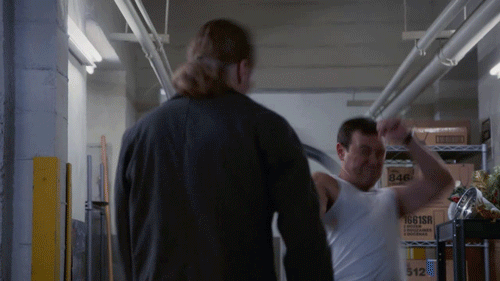 GIPHY
Every episode is funny. If you don't agree, fight me. Detective Boyle (Played by Joe Lo Truglio) is a bit of a doormat and a people pleaser, but he always manages to say the best one liners; i.e. "Weaponize our sweet little mouths." The writers are comedic geniuses.
2. We all know or work with someone like Jake Peralta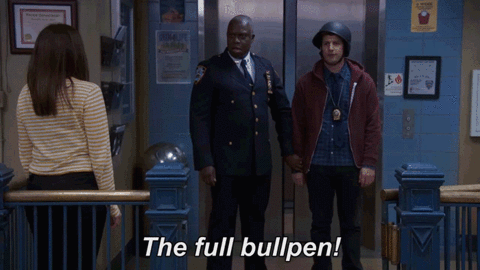 GIPHY
Jake Peralta (played by Andy Samberg) is the type of person who doesn't take life seriously, but knows how to get stuff done. We all know someone who has a knack for making awkward situations even more awkward or funny, or likes to let loose at work and diffuse the monotony of every day life with puns and humor.
3. We all know or work with someone like Amy Santiago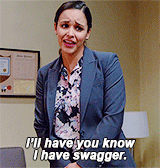 GIPHY
We all know that ONE person who is a kind-hearted overachiever and a full-blown type A personality, but also drives everyone else bananas because they try too hard to be cool or suck up to the boss - that character would be Amy Santiago (played by Melissa Fumero). Amy is the opposite of Jake, but they are a perfect match. (SPOILER ALERT: They become a couple)
4. If you love SNL, you'll love Brooklyn Nine-Nine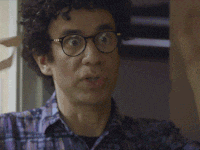 GIPHY
Since Andy Samberg, an SNL (Saturday Night Live) alum, is the main character, the humor in the show is similar to the humor of SNL. Former SNL characters such as Maya Rudolph and Fred Armisen have made appearances in the show.
5. Gina Linetti is a fucking treasure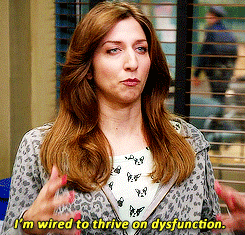 GIPHY
Hands down, Gina Linetti (played by Chelsea Peretti) is my favorite character on Nine-Nine. She is Captain Raymond Holt's quirky assistant with a zero-fucks-given outlook on life. She has no time for negative energy and speaks in emojis.
6. It's not your typical police show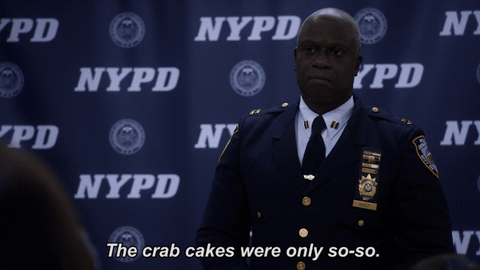 GIPHY
Brooklyn Nine-Nine does an excellent job of balancing comedy and drama that's depicted in the reality of working in a police department. If you're looking for a lighthearted workplace comedy that tackles serious issues while remaining humorous.
7. CHEDDAR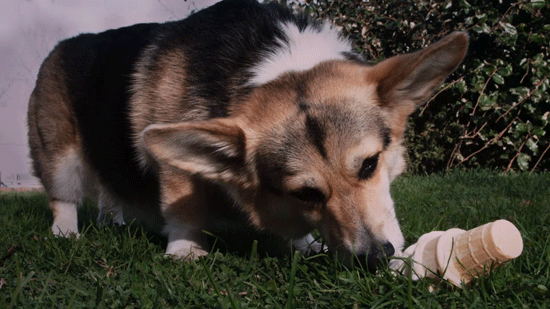 GIPHY
You'll have to watch the show to learn about the glorious Corgi, Cheddar.
8. It normalizes and celebrates gay marriage

GIPHY
Captain Ray Holt, head of the Nine-Nine, is an openly gay married black man who frequently discusses the struggles he faced for many years as a police officer and how hard he had to work to become captain. The show does a great job of tackling issues of race, gender and sexuality. His husband's name is Kevin and they are perfect together. Nine-Nine is both progressive AND funny, so it's basically the perfect TV show.
9. TERRY CREWS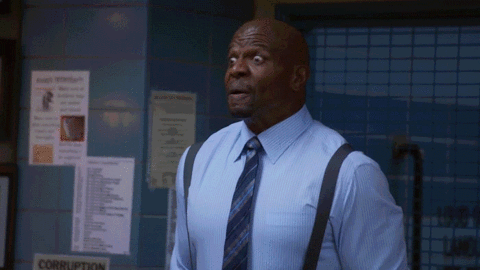 GIPHY
Terry Crews plays Sgt. Terry Jeffers and he's one of the best characters in the show. Need I say more? NOW GO WATCH IT SMILEY FACE.
NINE-NINE!