Recently, at my local Dutch Brothers Coffee stand (shoutout to Monmouth Dutch Bros.!) they put up a sign with allergen information, to make it easier for the gluten, soy, and lactose intolerant.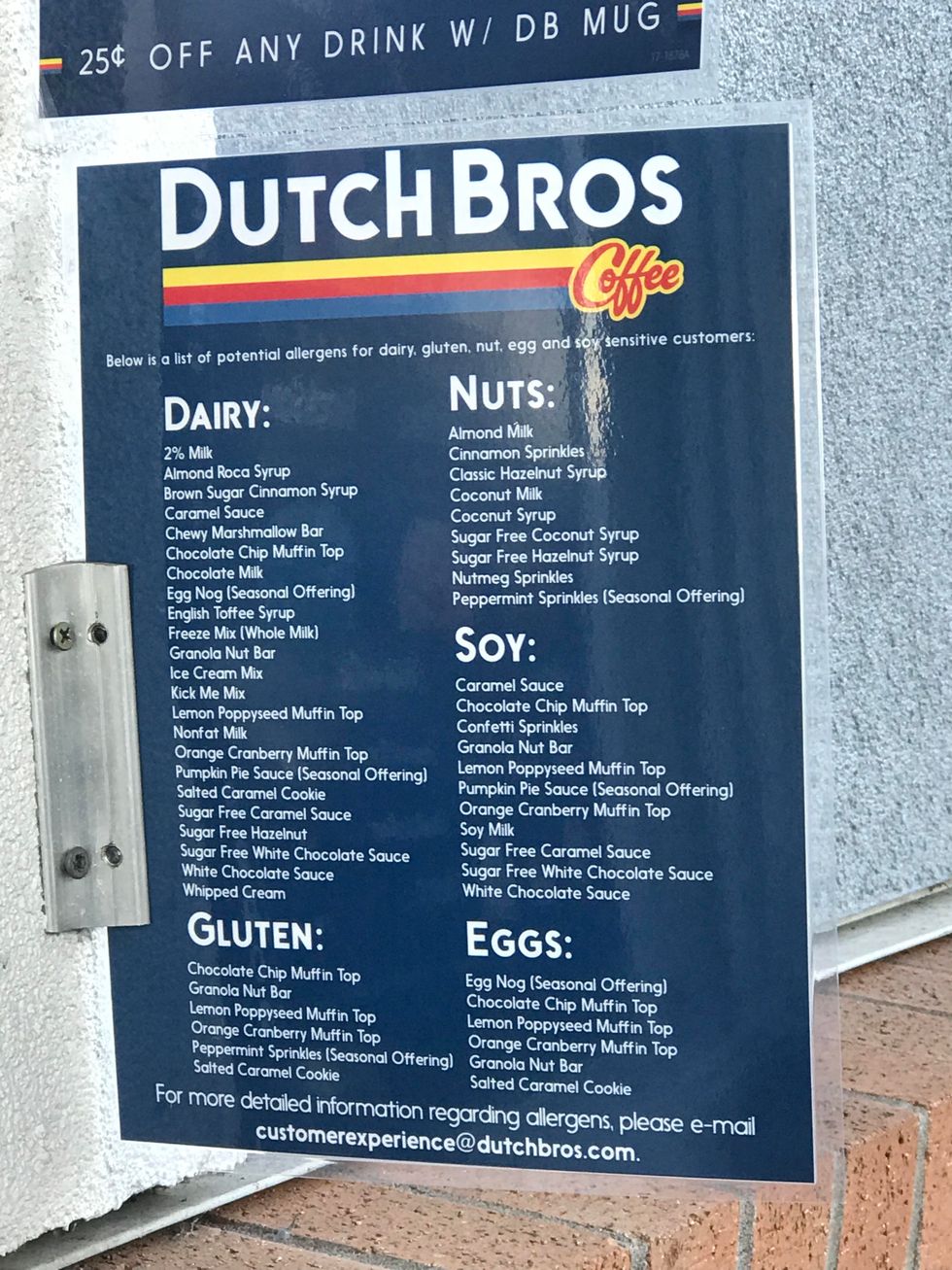 Not only is this considerate as all get out, it also makes it immensely easier to order as someone who eats a plant-based diet.
Which is just the most obnoxious way of saying that I'm a vegan.
Now that this information is available at stands, it's much easier for my fellow herbivores to make delicious new combos without worrying about accidentally ingesting milk or eggs. But I'll make it even easier: here are my favorite vegan orders at Dutch.
1. Mochas
The chocolate sauce is dairy free! Rejoice! Flavored mochas are so creamy and delicious... Especially with coconut milk (it has the most fat content of their alternative milks).
Here are a few of my favorites:
"Grasshopper" (dark chocolate and creme de menthe)
"Double Torture" (vanilla mocha with two extra shots)
"Black Forest" (dark chocolate and cherry)
And last, there's no name for this one, but an English Toffee Mocha is to die for.
2. Iced teas
As long as you avoid the occasional special with white chocolate thrown in, you should be good here. However, they can be quite sweet and if you're like me, that's not ideal.
In general, my tip is to order half sweet, but here are my two favorite, less sickly sweet orders:
A plain, pink grapefruit green tea
"Ray of Sunshine" (blackberry, peach, and grapefruit)
3. Lattes
Now, with no sauce (chocolate, caramel or otherwise) these will be less creamy, but also less sweet! If that's your dig, here you go:
"Nutty Irishman" (Irish cream and hazelnut)
"Amaretto" (almond and cherry)
"Islander" (chocolate macadamia nut, vanilla, and coconut)
4. Chai
Now, this is where it gets tricky. If you believe honey is vegan, then you're good to go; if you're not on the honey train, then chai is a no-go for you.
But for those who love themselves some bee-juice, I have two words for you: dirty chai. (A chai with espresso shots tossed in.)
It's a plain and simple drink you can get anywhere and adds no sugary syrup. Frankly, the Dutch chai is sweet enough, you really don't need any flavors added. However, I find that I do need the added espresso shots to balance it out. Plus, you get that added caffeine kick, and who doesn't love that?
---
Hopefully, this gives you some ideas for next visit, so you can do more than the (very safe) soy vanilla latte. Go forth and caffeinate!