When you walk into any coffee shop in the fall, chain or small business, you're bound to find a fall basic: a pumpkin spice latte. Based on the menu, the pumpkin spice latte is your only option to get into the fall spirit with your drink, but I (a barista) am here to inform you that you have many more options.
Below, I have compiled a list of drinks (barista tried and true) that definitely have a fall vibe, but are also guaranteed to satisfy your taste buds and your morning coffee craving.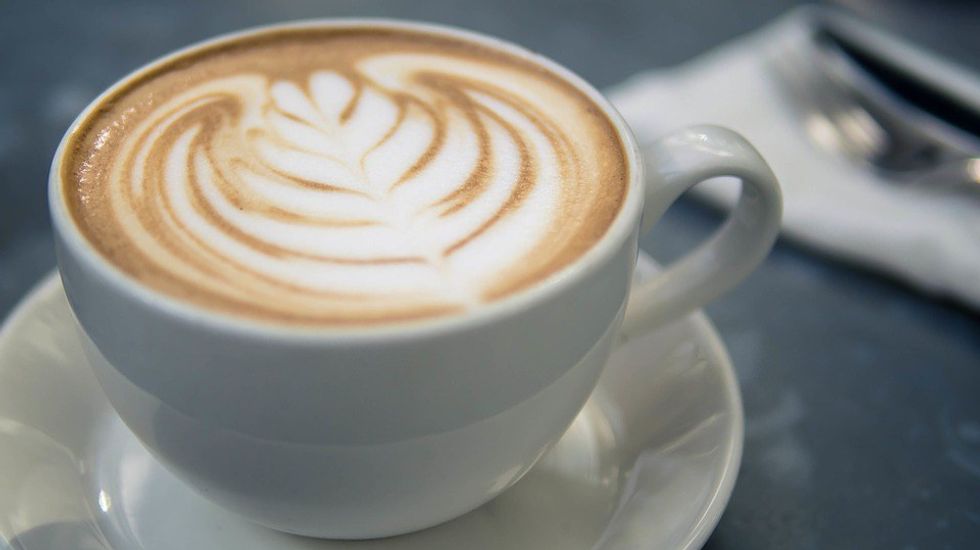 ---
Start with: Caramel latte
Add: Cinnamon
Caramel lattes are great, and that's why every single coffee shop carries some form of them all year long. Adding cinnamon to it gives it a bit of spice without totally changing the typical caramel latte.
How to order: "I'll have the caramel latte, add cinnamon, please."
---
Start with: Chai latte
Add: Pumpkin
Bonus: Top with whipped cream and sprinkle with cinnamon
Chai already has a sweet, yet spicy flavor to it, and the pumpkin just mixes perfectly with it. This drink is great hot or cold. Personally, I love to tone this down by adding a sugar-free vanilla, as well.
How to order: "I'll take the chai latte with pumpkin (and sugar-free vanilla) flavoring."
---
Start with: Caramel Apple Cider
Add: Marshmallow
Typically, most coffee shops add apple cider to their menu in the fall, and they market it as a "Caramel Apple Cider" (apple cider with caramel). It sounds crazy, but marshmallow is a totally underrated flavor, and adding this is just another sweet flavor for an excellent combination.
How to order: "I'll try the caramel apple cider with marshmallow today."
---
Start with: Pumpkin Spice Latte
Add: Marshmallow
Much like the Caramel Apple Cider, the Pumpkin Spice Latte is already a fall staple, but it can definitely take a little sprucing up. The marshmallow contributes another flavor and tones down the overall spice of the typical PSL.
How to order: "I'd like the pumpkin spice latte, add marshmallow flavor, please."
---
Start with: Mocha Latte
Add: Cinnamon (on this one, I would recommend cinnamon flavoring and powder)
Ever tried a Mexican hot chocolate? This is a lot like that, sweet and spicy. Not only is this one a great latte, but this one also doubles as a hot chocolate too, if you request it without the espresso shots.
How to order: "I'll take the mocha latte with cinnamon flavoring and powder."
---
Start with: Vanilla Latte
Add: Caramel and cinnamon
Vanilla is a basic, no-fail latte, and although it's always good, it's usually boring. Caramel and vanilla together are also a no-fail option, seeing as their both a favorite latte, but also adding the cinnamon is an easy way to bring the fall spice to your simple drink.
How to order: "I'll take a vanilla caramel latte with cinnamon."
---
Start with: Pumpkin Spice Latte
Add: Butterscotch
Butterscotch and pumpkin may sound crazy, but the sweetness of the butterscotch combines beautifully with the spice of the pumpkin. It's a different taste, but nonetheless, it's an awesome choice.
How to order: "I'd like the pumpkin spice latte with butterscotch."
---
Start with: Caramel Latte
Add: Salted caramel
So many, and I repeat, so many coffee shops have a salted caramel flavoring in the fall (usually it's a seasonal item), and you'd be surprised at how much better the salted caramel flavoring is. Oh my gosh, guys, it's a game changer, if the shop has it.
How to order: "I'll have a caramel latte, but with the salted caramel flavoring instead."
---
* All of the drinks listed above are the common latte option, meaning all can be done hot, iced, or blended.
** Drinks be ordered in a sugar-free, low-fat, or reduced calorie version with the same effect, but the calorie count will then vary based upon your location of choice. (Personally, I always get my drinks reduced calorie and find no taste difference.)
***Additionally, these drinks can be made in the form of a cappuccino (more foam, less milk) and in the form of flavored coffee (just ask for the flavors to be added to your favorite morning brew).