All the Small Things – Blink 182
A very catchy tune, that always find me jumping and singing along to. That doesn't mean much though cause I sing to every song...
Ocean Avenue – Yellowcard
This song suddenly has me riding a bike down the boardwalk into the California sunset with not a care in the world.
Hollaback Girl – Gwen Stefani
You're right Gwen you're not a "hollaback girl," but you are 2016's "Misses Steal Your Boy.". At least that's what Miranda would say.
Ignition Remix – R. Kelly
"Now, usually I don't do this, but uh…" From 2003 to now, this song will always ignite any party.
Lose Yourself – Eminem
Just thinking about this song has me suddenly in a 6th-grade blue jean, white tee, slim shady version of myself spitting rhymes about Mom's spaghetti. Sike that never happened…
Say My Name – Destiny's Child
Thank you, Destiny's Child for giving the world Beyoncé.
Jumper – Third Eye Blind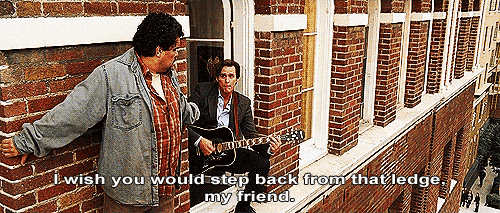 Sk8er Boi – Avril Lavigne
Avril, let's be honest, you were a teenage pop star who was dreaming about Tony Hawk.
Sugar, We're Going Down – Fall Out Boy
Back in the day, I definitely thought he was talking about shooting himself or someone else. Luckily the real meaning was a play on words about trying to be cocky to get a girl. But maybe not the best song back in middle school?
Gold Digger – Kayne West & Jamie Foxx
Who knew Kayne could foreshadow his life now with Kim Kardashian?
Remember the Name – Fort Minor feat. Styles of Beyond
This song brings back memories of Friday night high school basketball games, where the crowd seems just a little bit louder and the names will always be remembered.
Lips of an Angel – Hinder
Hey, every decade needs a one hit wonder. Sorry, Hinder I can't listen to your other songs cause it's five minutes of screaming, but we had a good run there.
Stacy's Mom – Fountains of Wayne
Hey, Stacy… Can I come over after school?
Drops of Jupiter – Train
"Drops of Jupiter in her hair" might be the most interesting way of saying she is an angel, but a classic song nonetheless.
You're Beautiful – James Blunt
When you really look at the lyrics to this song it might be as creepy as Taylor Swift's Blank Space. Actually no, Taylor wins with the line "I'm a nightmare dressed like a daydream" definitely wins. Lord help that guy… or guys.
Honorable Mentions
Yeah! – Usher feat. Lil' Jon & Ludacris
Iris – The Goo Goo Dolls
Semi-Charmed Life – Third Eyed Blind
Good Riddance (Time of Your Life) – Green Day
I'm a Believer – Smash Mouth
Kryptonite – 3 Doors Down
Wonderwall – Oasis
Hate It or Love It (G Unit Remix) – 50 Cent
Drift Away – Uncle Kracker
Snow (Hey oh) – Red Hot Chili Peppers