My Uncle Samboy, Avelino B. Lim, Jr., turns 55 on April 1. The Skywalker of the PBA (Philippine Basketball Association) is still recovering from the stroke he suffered in November 2014.
Mom and I just FaceTimed him with the help of his chief nurse, Ate Elaine Indong and another nurse who was on duty. Today, he was very alert and looked chubby. He listened with his eyes wide open while we told stories and greeted him happy birthday. Although he still can't talk; he would blink, close, and open his eyes to signal a yes or a no, and smiles once in a while.
During every FaceTime session, we try to refresh his memory with happy stories, jokes and refrain from saying things which might upset him. He always smiles when he hears us talk about Ate Jamie, his only child, and Aunt Lelen, the wonderful and loving lady he married.
When mom starts talking, he gets emotional just like when we visited him in Manila last August. It might take a long time for him to recover but with God nothing in impossible. He is a good man and is loved by so many. I always pray for you, Uncle Samboy and I hope we can visit you again soon.
For his 55th birthday, I am honoring my uncle by featuring a compilation of the stories I solicited from family, close friends and some of his close friends. I started this project almost 3 years ago and would like to thank everyone who helped.
By the way, let's look at some of Uncle Samboy's pictures taken before I start with the birthday surprise featuring the stories I compiled for him: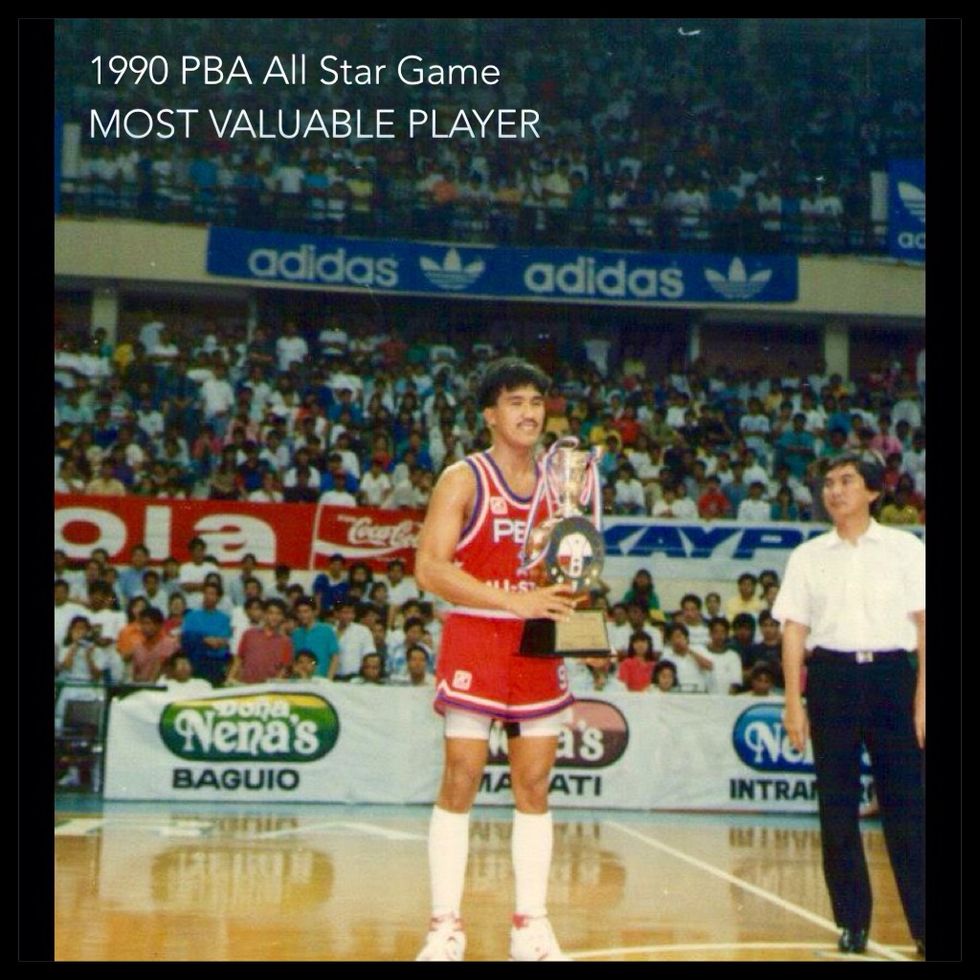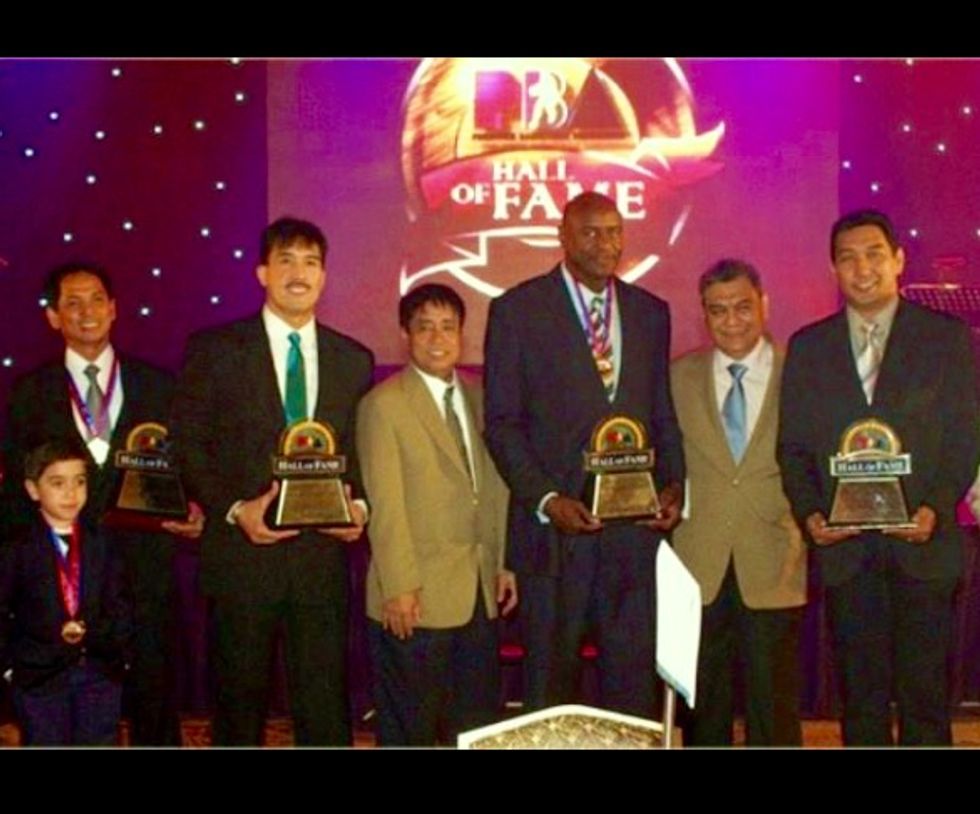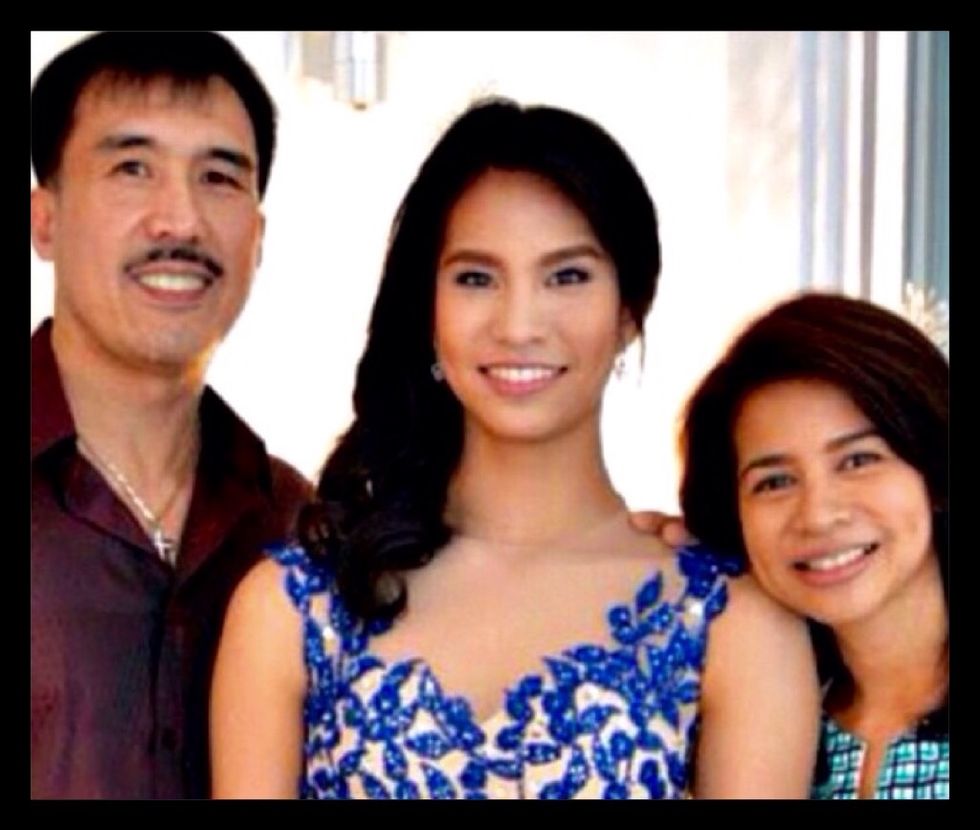 ---
Chapter 1 - Disney World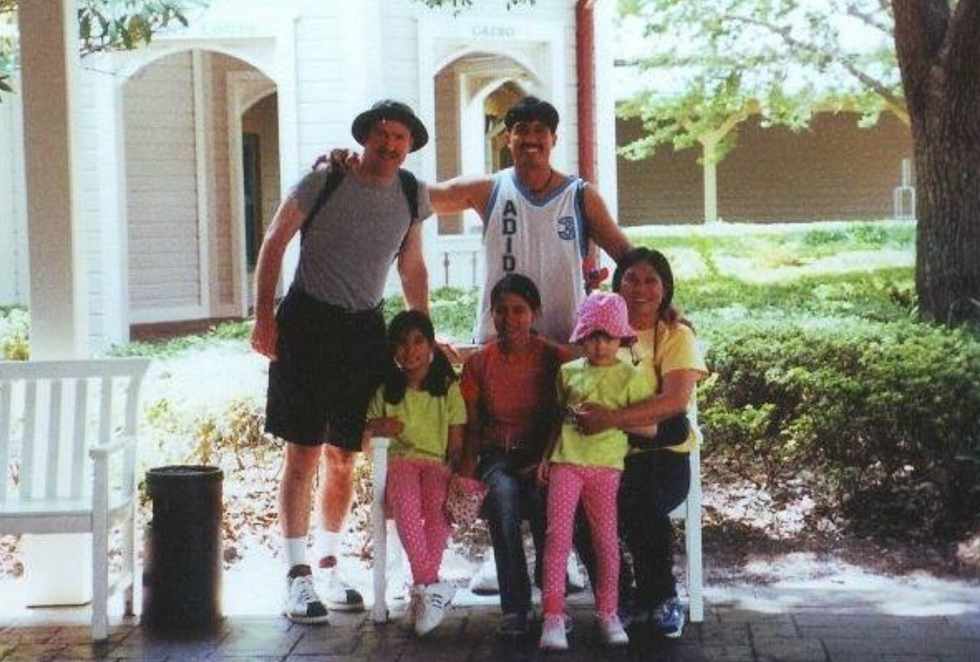 In honor of Uncle Samboy's birthday, I decided to share this project I've worked on for almost three years now. I wanted to keep his memory alive, and long before I started being a writer or content creator at Odyssey, Interviewed his fans, family, and friends about their favorite stories of Uncle Samboy. So, I will start with my own.
When I was six years old, I was elated to visit Disney World, and I knew it would be the best time of my life. Imagine meeting your favorite Disney Princesses, .getting on those rides, and being in,"The happiest place on Earth." Well, it would have been, "The unhappiest place on Earth," if my Uncle Samboy was not there. His kindness and genuineness made me love spending time with him. He was, as quoted from Lee Harpers To Kill a Mockingbird, "The same in his house as he is on the public streets." He also showed me some of his magic tricks, and I thought he was the coolest.
Most importantly, he saved my life. At the Disney World hotel we stayed at, there was a gigantic waterslide. I figured I would be okay going on it since I already knew how to swim.. But, I was obviously a novice! So, guess what happened? I went down the waterslide, got submerged and almost drowned. But, guess who saved me? Uncle Samboy! He came in like a knight in shining armor and rescued me from a horrendous fate. I am still here thanks to him, and will forever be grateful!
---
Chapter 2 - The Letran Days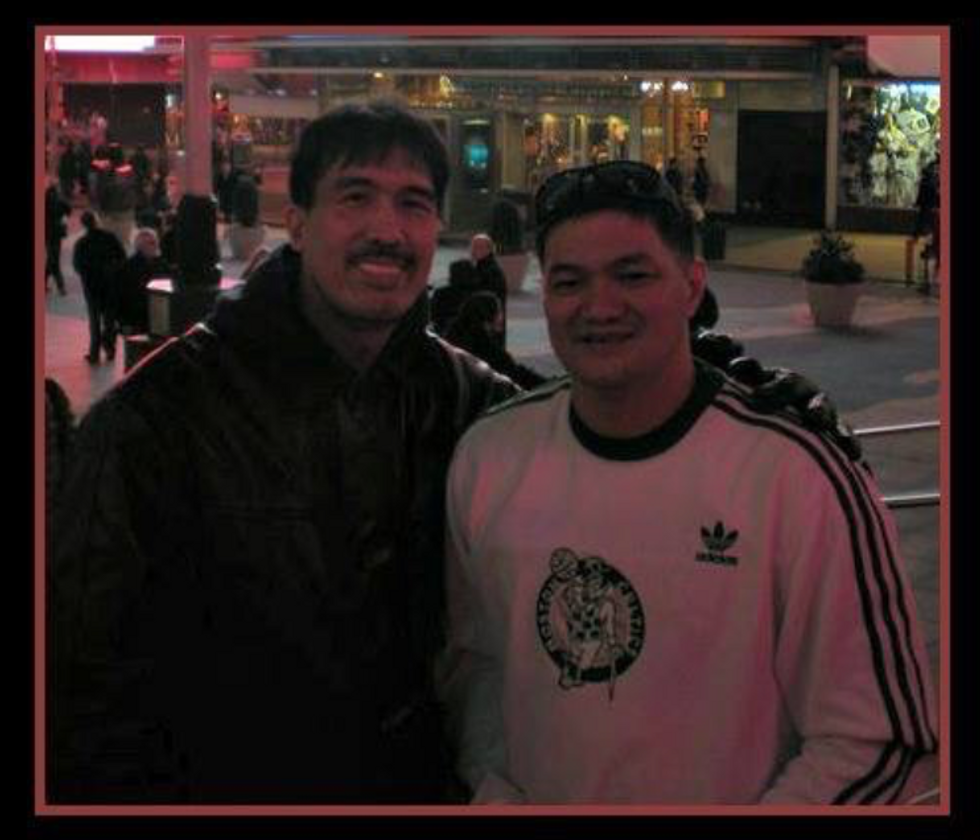 2 years ago, I talked to George Cats, a loyal friend of Uncle Sam's. We talked and went down memory lane when he shared nostalgic stories of Uncle Samboy's College days at Letran
As a little girl, I thought Uncle Samboy's birthday was awesome since it was on the same day as April Fool's Day. I remember asking my mother if he ever got pranked on his birthday. She said no because he was the one who played the jokes on them. Uncle George confirmed , "That is absolutely true. Do you know the birthday tradition that they practice in the Philippines? If the birthday celebration takes place at a restaurant, the birthday boy/girl has to pay for the meal". Well, your Uncle Samboy would always say, 'It's not my birthday.' And I would reply with, 'It's your birthday.' 'No it isn't.' We all knew that he was just trying to pull our legs.. He was the best prankster, and he was so fun to hang around with."
---
Chapter 3 - Uncle Samboy and Tito Jun

I also got in touch with Jun Zarate . Him and and Uncle Samboy were childhood buddies. Check out this sweet email he sent:
"Your mother messaged me about your uncle samboy's condition and I can't help but feel sad. She described how difficult it is for your uncle sam to deal with his medical condition. but I told her the God is good and He will take care of your uncle samboy and his family. I want to let you know that your mom is a great sister and they are very close. Your mom may be feisty and is a strong but compassionate woman.. next week I'll be on vacation and I will have time to tell you the stories about your uncle sam and our younger days."
"some of those that I remember is that he loves to wear chinese kung fu shoes, he likes the 70's tv series the 6 million dollar man, aside from making sketches or drawings of basketball players. but one thing that stand out is his love of God. during our high school days, we try to look at each other before our classes start and most of the time, I find him at the back of the school bonding with a handful of students listening to bible study of mrs wilson (she is the American missionary for inter school Christian fellowship). and that is your uncle samboy. a very humble man and yet one of the living legends of philippine basketball."
---
Chapter 4 – Words of Encouragement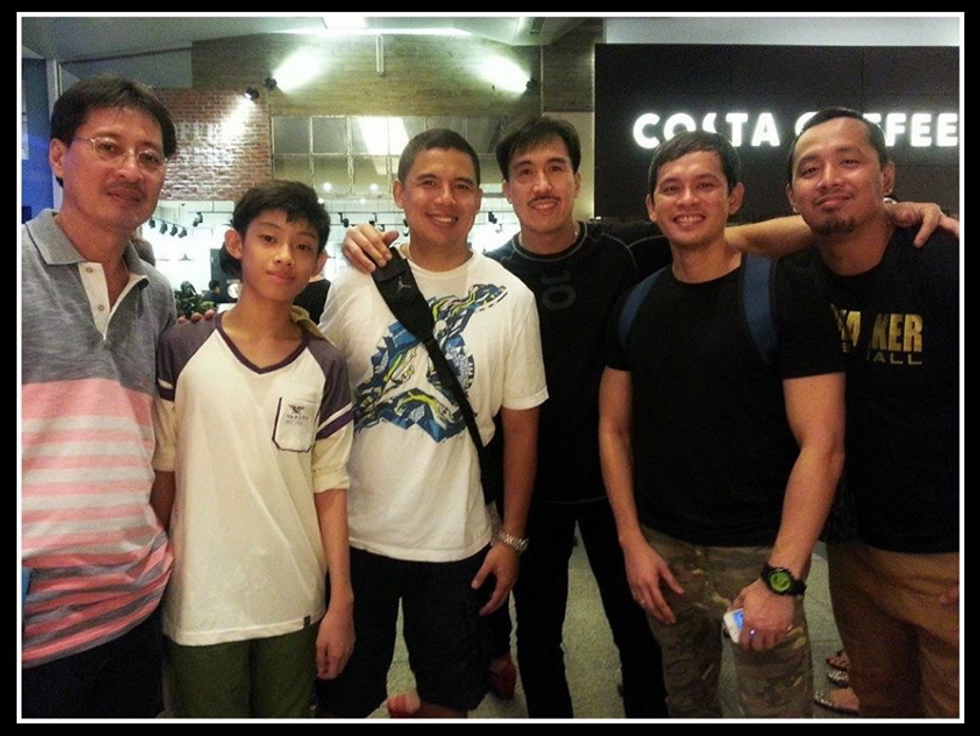 This was the very first story about Uncle Samboy that I received. It is from Dredd Gesmundo, and the story tugs at the heartstrings.
"I worked with Coach Sam in his Basketball Camp – the Skywalker Basketball, Samboy Lim Personalized Training every Sunday for 7 years...I remember one Sunday in the camp, I hurt my knee while demonstrating lateral defense to the kids. Coach Sam checked my knee and told me that I tore my ACL. I didn't believe him. (yeah, i was in denial ). He asked me to see a doctor and if I will need to go under the knife, then just go. He said he'll see me in 2 months so we can play ball again....And again, I didn't agree with him. Instead of going for an operation. I went for rehab, which didn't work coz if there's a tear, strengthening the muscle won't heal or fix the tear.
"After a few weeks, I received a call from Coach Sam checking on me if I had my operation already. I said I haven't. He said I am just prolonging my agony and that I am wasting time. So he helped me book an appointment with Dr Canlas (which wasn't easy 'coz he was the most in-demand sports do in the Philippines). Same thing as Coach Sam told me, I tore my ACL and that I really need an operation. Coach Sam even called Doc Canlas to check if I really went to visit. haha. And yes, I went for the operation."
"Even on the day of the operation, I called Coach Sam and told him I'm finally going for it. He gave me and my mom, words of encouragement and again, he said "he'll see after 2 months so we can play basketball again". After attending rehab with Moro in Ateneo, I was back on my feet in a week, without crutches...and yes, on the second month, I went to the camp again, coached kids...and played 1 on 1 with coach Sam. of course he won 'coz my knee wasn't still in good shape (excuses). And after another 2 months...I was back dunking again. I am praying for Coach Sam's quick recovery."
---
Chapter 5 - True Brothers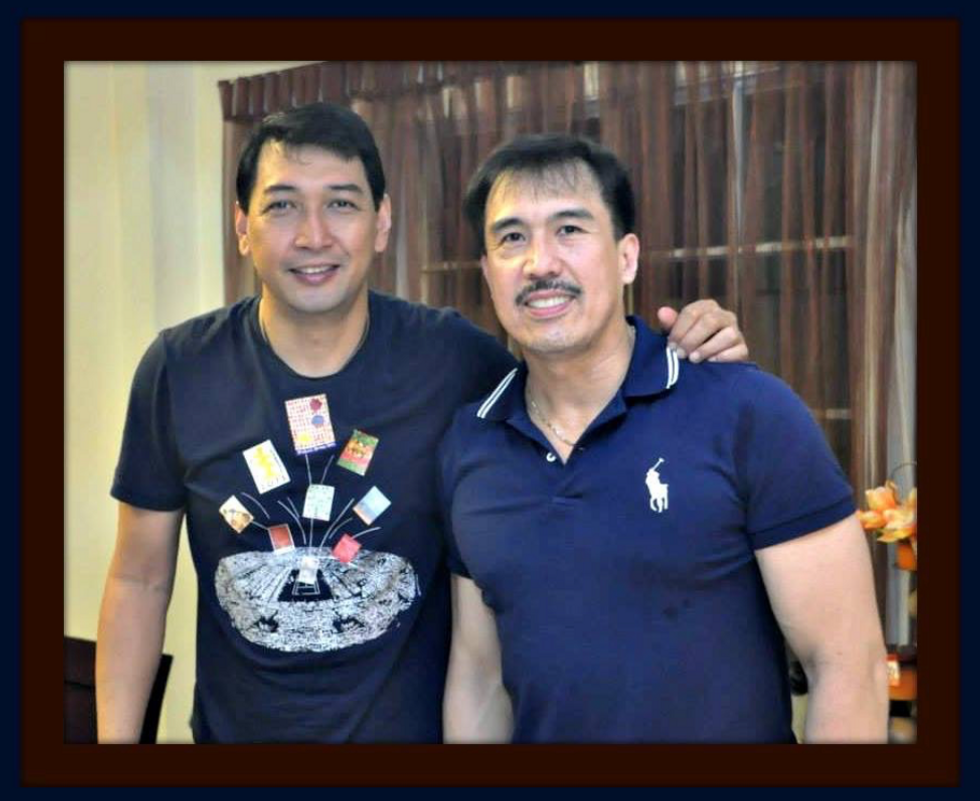 This reminisce is from Uncle Samboy's dear friend and teammate, Uncle Allan Caidic. It is very heartwarming, well-written and comes from the heart of his brother from another mother - Uncle Allan. The Triggerman (Uncle Allan's monicker in the PBA) is really "A real friend who walks in when the rest of the world walks out."
"Hello everyone! Dani Wicklund is the niece of my partner Samboy and she asked me to share some memories about her Uncle. Samboy and I had so many fond memories together that started way back in 1982, when we were chosen to be part of the ASEAN School Youth Championship held here in Manila. Since then, we were constant roommates in almost all the tournaments we participated in. Like the ABC Tournament better known now as the FIBA Asia, Jones Cup, Malaysian Invitational, Guam Friendship Games, Pesta Sukan Tourney, Asian Club Championship, World Club Championship, SEA Games, Asian Games and later on, in the PBA under San Miguel Beer team."
"Some will wonder or will question our friendship coz you seldom see us together outside basketball. But for us, our friendship is not measured by being together everytime. We have this special bond that even if we're not always together, we are very close like brothers. That friendship was developed during the times we were roommates, sharing jokes, stories, etc. He became my kumpadre when I got him as ninong to my eldest daughter Marisse and later on, he got me also as ninong to his daughter Jamie. Even my siblings and his siblings got us also as ninongs to their children. So for me, Samboy is not just a roommate, teammate, friend, partner to me but like a true brother. It really pains me to see his situation right now but we have to be strong for him and continue to pray for his recovery."
---
Chapter 6 - The Party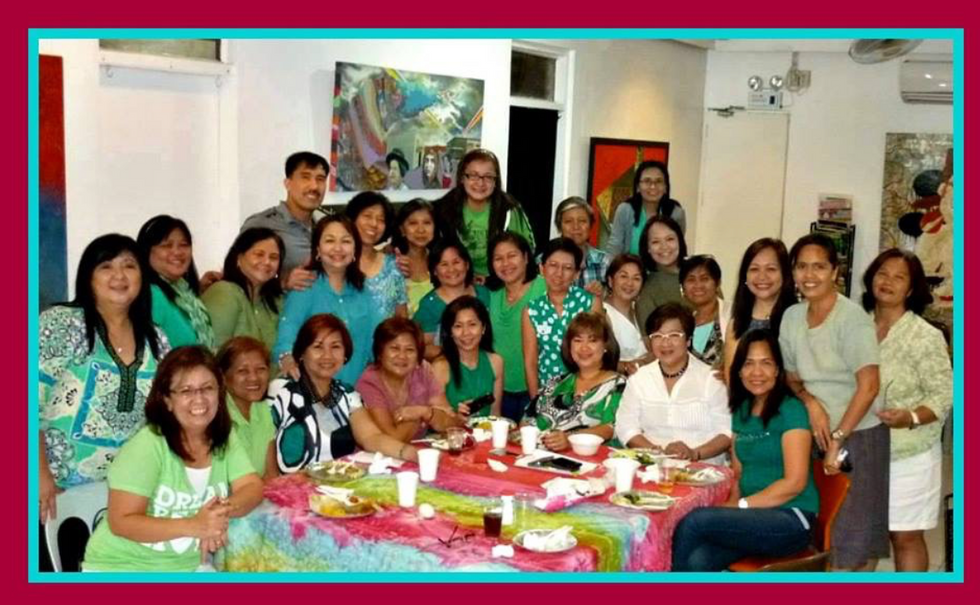 Erlinda Nacino – Rocco Nacino's mom or Tita Linda as I fondly call her, has helped Uncle Samboy in many ways. She is a benevolent, charitable, caring woman who is like a sister to my mom. They were high school BFFs. My family and I are so lucky to have her in our lives. I hope that you will enjoy the story about how she met my Uncle Samboy.
"I got to meet him last year (2013) during the Valentine's & Chinese New Year get-together of CEU Rosebuds 76ers. He represented your mom so he was the only boy among the Rosebuds! he was so nice & sweet to all! I offered him Balut & Red eggs & he liked them. We enjoyed his company during the party!"
---
Chapter 7 - The Pictures taken Before the Tragedy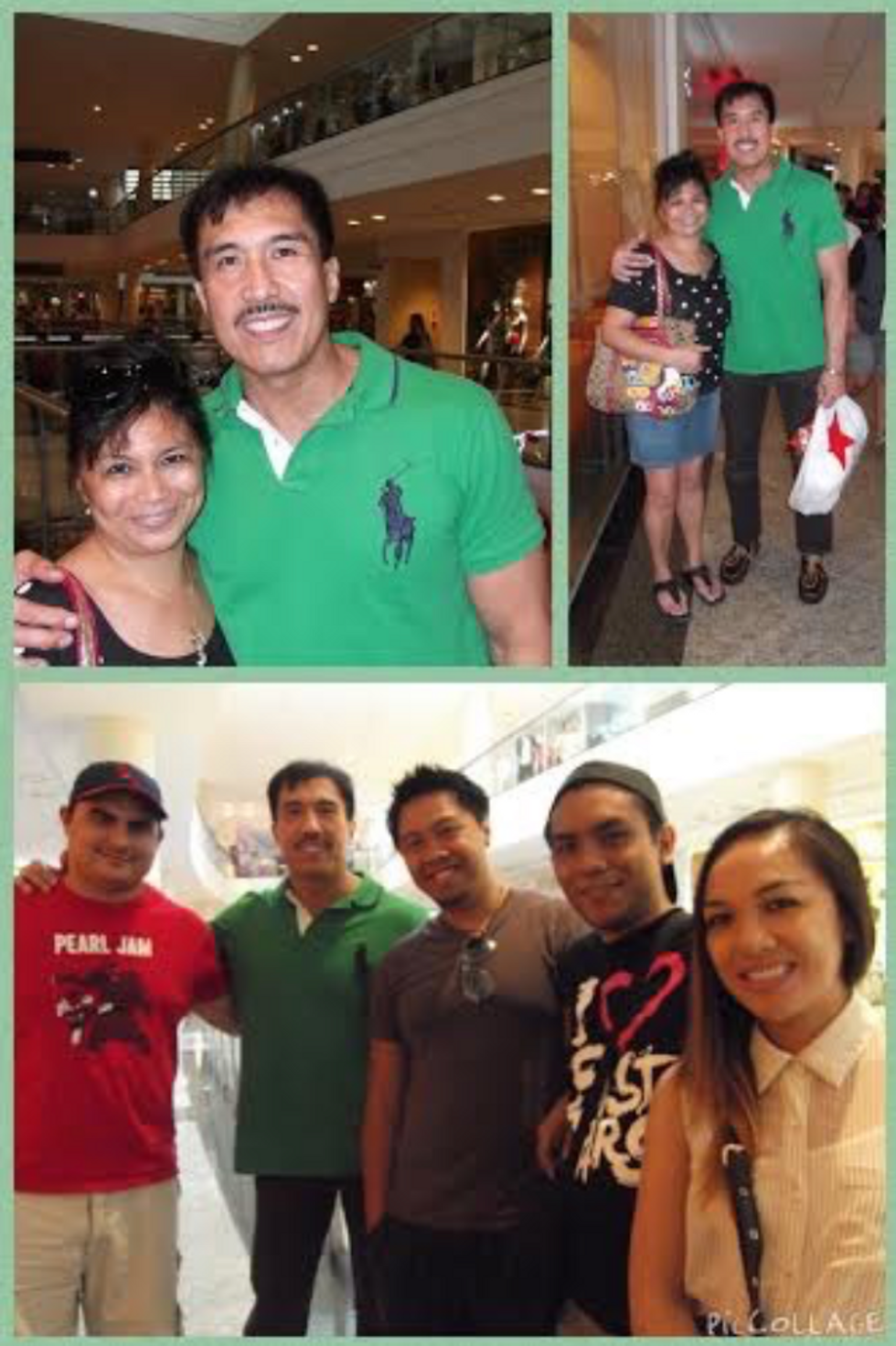 Tita Emma has been one of my Mom's best friends since high school. She is funny, kind-hearted, and caring. A month before tragedy struck, she and her son – Chuck, vacationed in Manila and got to meet Uncle Sam. Mom sent some gifts via Tita Emma and she personally handed these over to him. These are some of the last pictures taken before Uncle Samboy had a stroke.
"Maricor and Danielle, this was taken on Friday, Nov 21 when we met up with Samboy at the Glorieta.... we were all happy to see each other after so many years... I gave him a hug and kiss for you and told him that you love him very much... he knew that.... when it was time to part.... he gave me a big hug and kiss and said 'those are for my big sister...please tell her I love her very very much....' he looked so handsome and healthy- the crowd still recognized him as their idol Skywalker...."
"'Dear Jesus, Healer of the sick, we give You thanks for you are the Creator of all life and goodness. We praise you for the world. You have made for us to build up and enjoy. Loving God, help us to be faithful heralds of Healing and Hope. Grant us the awareness of the healing needs of those around us and the compassion to respond willingly to those needs. We ask this through Christ our Healer and Source of all Hope. Amen.'"
---
Chapter 8 - That's Why He is Loved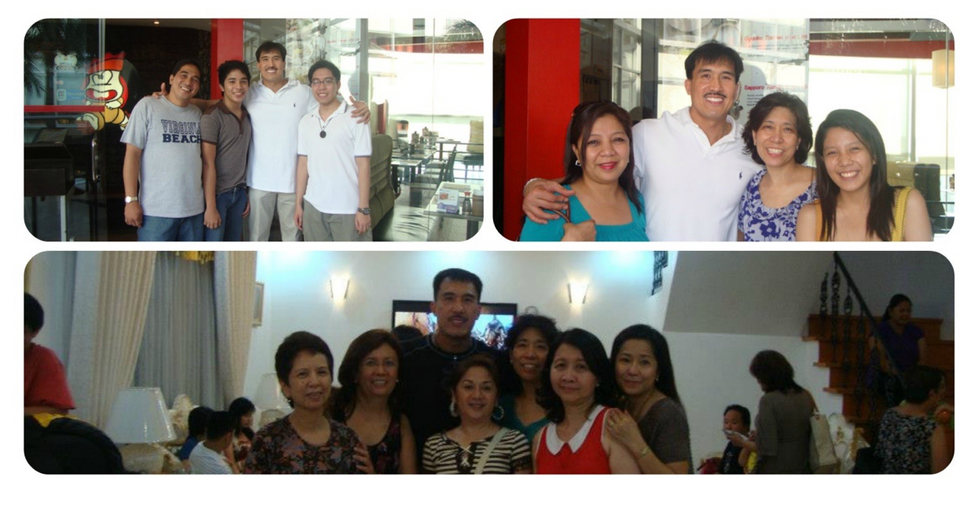 My dear Ninang (Godmother) Dr. Tess Ansay, one of my Mom's BFFs, shared her thoughts about Uncle Samboy and how good and humble he is.
"Dear Danie,
My fondest memories of Samboy were so many but the thing that stands out is that he treated me like his sister, and my family as his, too. He went to my mom's birthday, he invited us to eat out, he gave us ringside tickets (first time in my life to see a live PBA game). And his hands - basketball player, right? Skywalker. When he puts his hand on your shoulder, he has such huge hands! but he was so kind and gentle, very protective. He treats people ever so kindly. That's why he is loved back."
"He even let my nephew Patrick promote his product (at that time USANA), at the SLPDA (free of charge Ethel, you said it right). People would say 'Hi, hello Samboy!' would smile and greet them in return, maintaining his humility. God bless you Sam!"
---
Chapter 9 - The Skywalker in the United Kingdom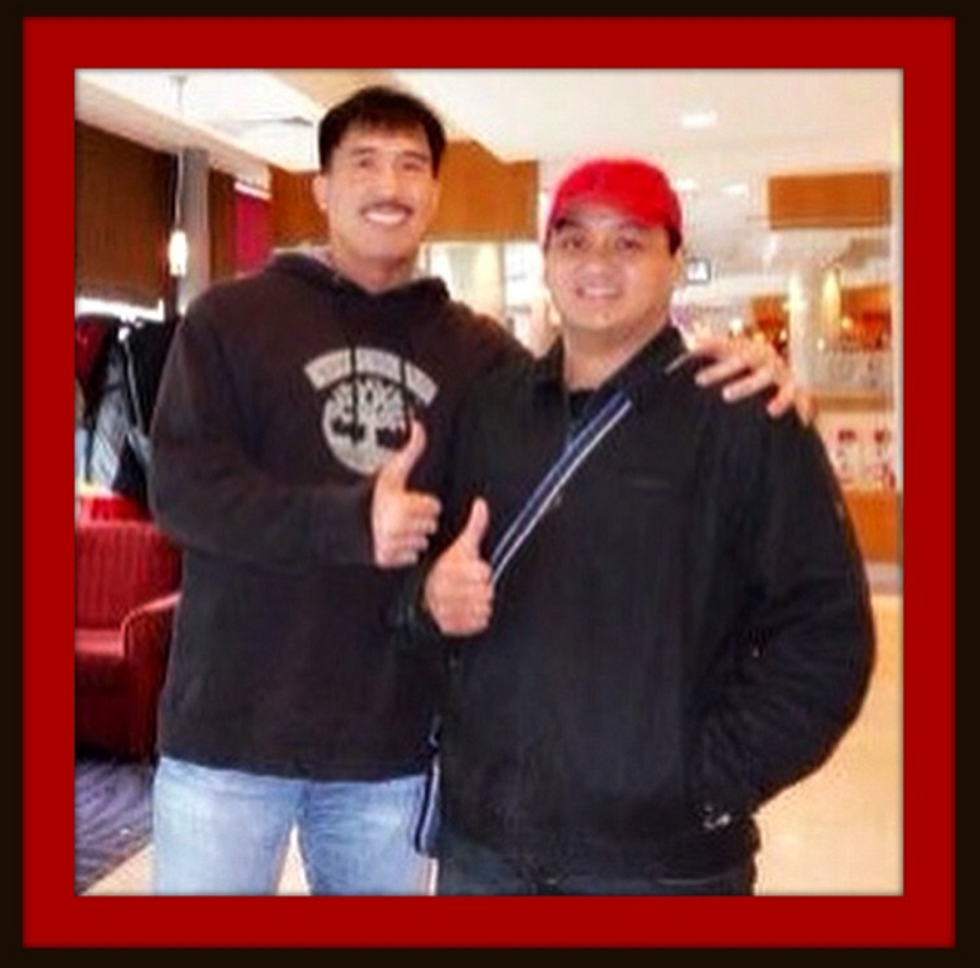 Here is a nice, sweet story from Lek Salariosa
"This picture was taken on February 2012 in Jury's Inn Hotel in Liverpool where the PBA legends played a very exciting exhibition game with the Merseyside Tigers at Liverpool Echo Arena. Kuya Sam and I together with my better half meet Kuya Sam as per Bon Bon & yours truly had a chat before the PBA legends came over here in UK and arranged the meet up as we always do back in the Philippines.
"I still recall what Kuya Sam told me during that day 'Lek, naalala mo yung sinabi ko sa inyo ni Bon noon nung nag ensayo kayo 20yrs ago sa Letran for the Jrs.varsity? Sabi ko sa inyo, No one can change your life, No one else except you' tignan mo kung nasaan ka ngayon, nasa UK ka na Lek Kaya I'm so proud of you.' Just imagine a famous person telling that to you, I feel really proud of myself the moment Kuya Sam told me those inspirational words. Kuya Sam, I'm still holding the last words and promises we had before you left United Kingdom, 'magkikita pa tayo at maglalaro pa tayo nila Bon, Lek.'"
---
Chapter 10 - A sentimental message from Del Jimenez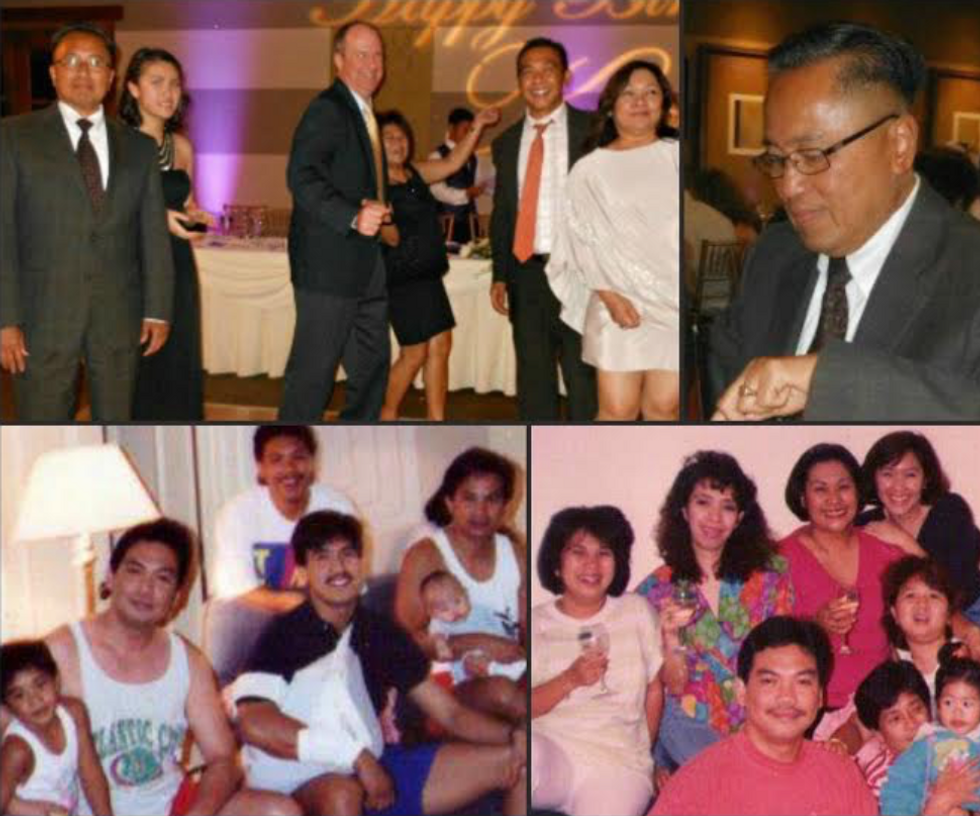 Even though my Uncle Del never met Uncle Samboy, he had several great things to say about him. Uncle Del has been so supportive during this time. I appreciate all of the advice he has given me and my family. I hope you like this sentimental story he shared
"Danie, I never met your Uncle Samboy. Only heard from your Mom's friends... Your Tita Marissa, Tess, Lulay and Carol, about how wonderful he is and these are the nice words that I heard. He's very humble, even though he's one of the best during his time in PBA, you will never hear any self serving comments. Very quiet but very loving/caring. That your Mom is his best friend and confidant. He's very willing to help others especially his family and very generous person. I have lots of opportunities to meet him in the past but unfortunately, it did not materialize and I regretted it.
"When I met your Mom the first time, she told me to meet your Uncle one day but it never happened to the point that when your Dad started the courtship, your Mom was insistent that I should meet him since I did introduce your Dad to your Mom. I applaud you for doing these wonderful essays about your Uncle Samboy. Reading to him what you wrote would be so uplifting to him even though there's some deficit of his cognitive function.
"Just to let you know that I feel all the family members pain of what your Uncle Samboy's been and going through especially your Mom. I know you'd been a pillar for Mom through this difficult times....continue to give your out-pouring love and support to alleviate her anxiety and fear of unknown especially that they are so far apart physically but emotionally close. One that compensates a lot is you. Your Mom is so proud of you and I'm too. Keep up the excellent work at school. Your Dad is also included with the global narrative even though I least mentioned him. I hope all is well with him and of course you and your Mom."
---
Chapter 11 - Brother and Sister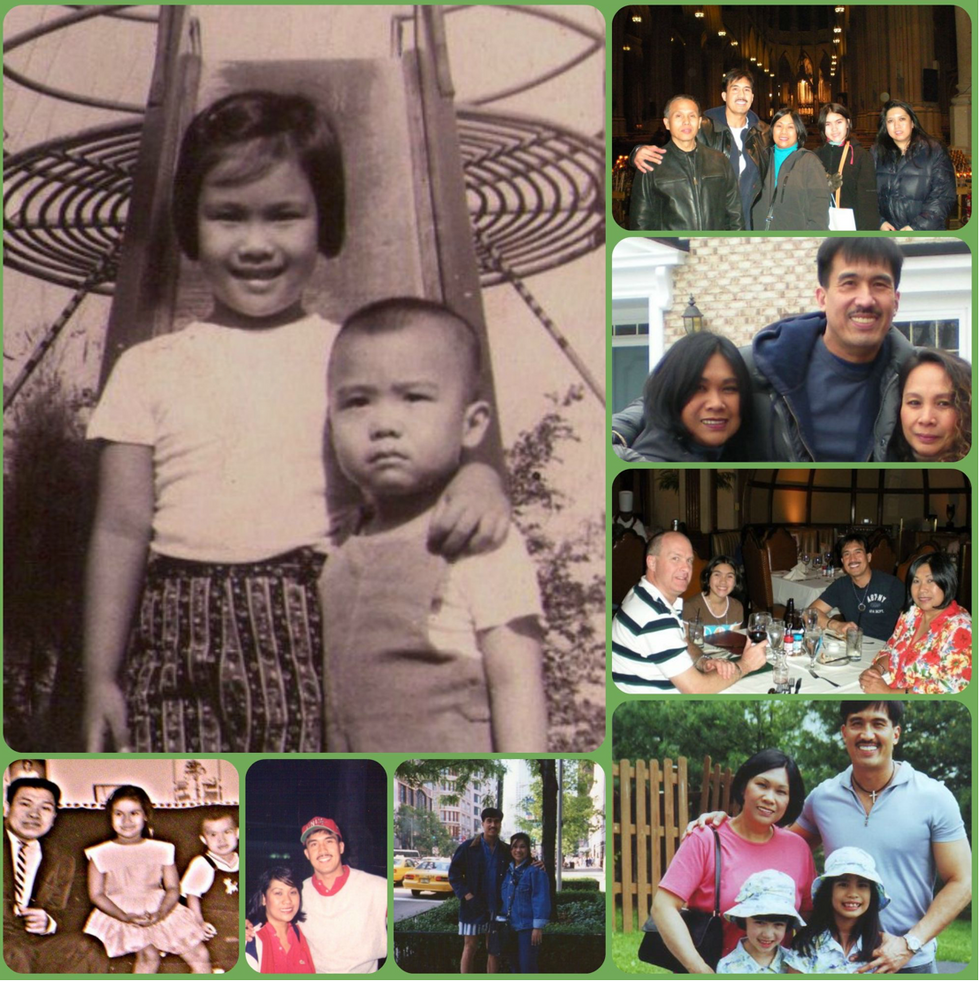 My mother and Uncle Samboy have a bond that is hard to find nowadays: the sisterly/brotherly bond. She has been there with Uncle Sam through thick and thin - Through childhood, professional careers, illnesses, and hardships. They embody the quote, "Our brothers and sisters are there with us from the dawn of our personal stories to the inevitable dusk." Ever since I was a child, Mom has shared stories with me about my great Uncle. When they were kids, they were playmates and best friends. They biked, talked, and swam with one another. He started shooting baskets as a young child with my mom and Grandpa Avelino Senior. She said that at that young age, he was already exhibiting signs of being a great basketball player in the future. During their basketball games she'd team up with Lolo Abe and uncle Samboy would beat the two of them. Mom told me about his games, shots, and injuries.
Not only did she share the basketball related moments, she would also share the ones that tugged at the heartstrings. How humble, kind and good hearted Uncle Samboy is. They were so close and I personally witnessed this bond when Samboy Sam would vacation here in the US and we'd all get together. I also remember the many times a week that both of them would talk on the phone for hours.
I thank my Mom for telling me all about him. These were part of my bedtime stories. Without these wonderful tales, I would not know how legendary and amazing he is. If I have kids someday, I will carry on this tradition and tell them about their exceptional relative, Samboy Lim. He is one of a kind and will always be with us through the stories we tell. He is the stuff that legends are made of!! Love you, Uncle Samboy. I hope you like this birthday surprise I compiled for you. God bless you always. Be strong, hang in there, we love you!
---
Chapter 12 - Samboy is the Most Humble Person I Know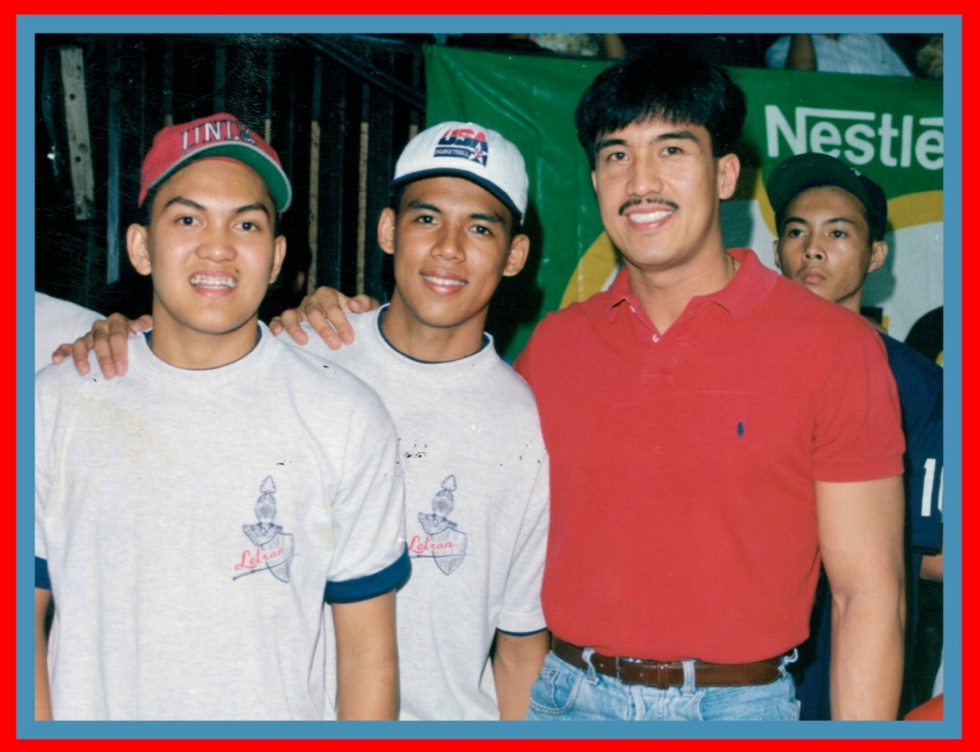 Uncle Gio has been a part of my family's life for a long time. He is the nephew of Coach Larry Albano, Uncle Samboy's Letran Coach. I remember Mom would tell me about the times that Uncle Gio and Uncle Bon played with each other as little kids and how she has known him since he was little.
"I have a lot of memories with your Uncle Sam. Danie, for the record, from your Grandmom to Uncle Bon, they treat me as a family member, and I will always be grateful of that. Your Uncle Samboy is the most humble person I know. Growing up, my parents got separated. 1992 to 1993 I was not able to make it to make it to play for Letran and as a kid, I really felt bad about it. I cried in front of your Uncle Bon and Sam. I think Ate Coy was there too. Your Uncle Sam just said to work hard and don't lose respect to your coaches. I just followed his advice and the following year I made it to the team. I did not end up to be a basketball superstar like him but I think I owe a lot to your family."
"And one more thing. Kuya Sam always tells me to study hard. Your Uncle Sam finished college. Not all athletes do that. Now, my advice to you is the same as what your uncle told me. Remember education is the only treasure that no one can take away from you. Kuya always tells us to play and study hard first.

"He is a very down to earth person. He does not brag of what he achieved. He will always be included in my prayers."
---
Chapter 13 - Kind and Down to Earth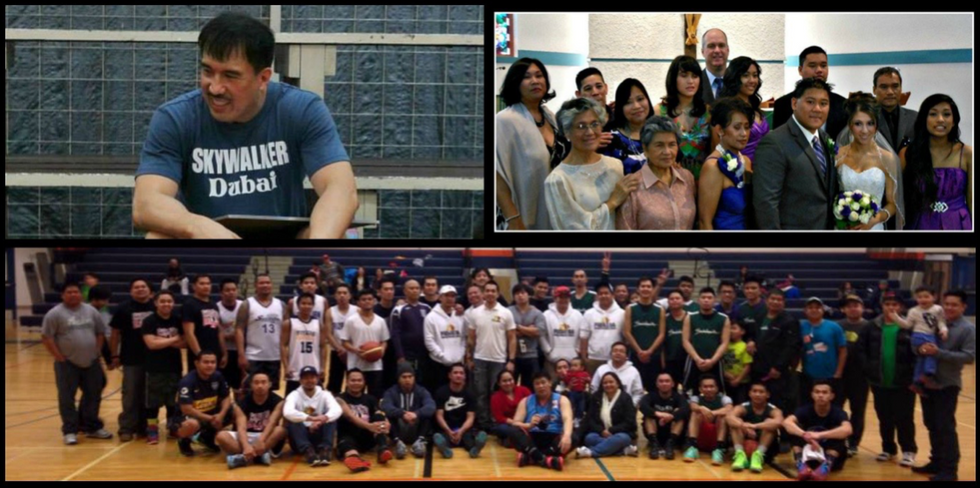 Uncle Erly and our other family members and friends in Winnipeg, Canada have helped Uncle Samboy in numerous ways. On February 28th, 2015, they had a successful Samboy Lim Fundraising Basketball Tournament. My family and I are grateful for their kindness and generosity during this difficult period
"Sorry Danie, I don't have any memories with Samboy becaused we never meet each other, through FB only.Oh, I remember when we went to Toronto with Ate Letty, Virgie, Geralyn, and Candace. When we were at the hotel that night, I had a chance to chat a bit with Samboy. All I can say about Samboy is that he is a really good man, kind and down to earth. WHY?? Because who am I for Samboy to waste his busiest and precious time to chat with me."
"I remembered he said he will come here and we're gonna play basketball together with his cousins Boy, Hermie. Not sure if it's gonna help you for the memory with Skywalker. Thanks Danie, I appreciate and am very thankful for your family, especially your mom, for accepting me for what I am and who I am as member of family. Goodnight."
---
Chapter 14 - That Is How It Started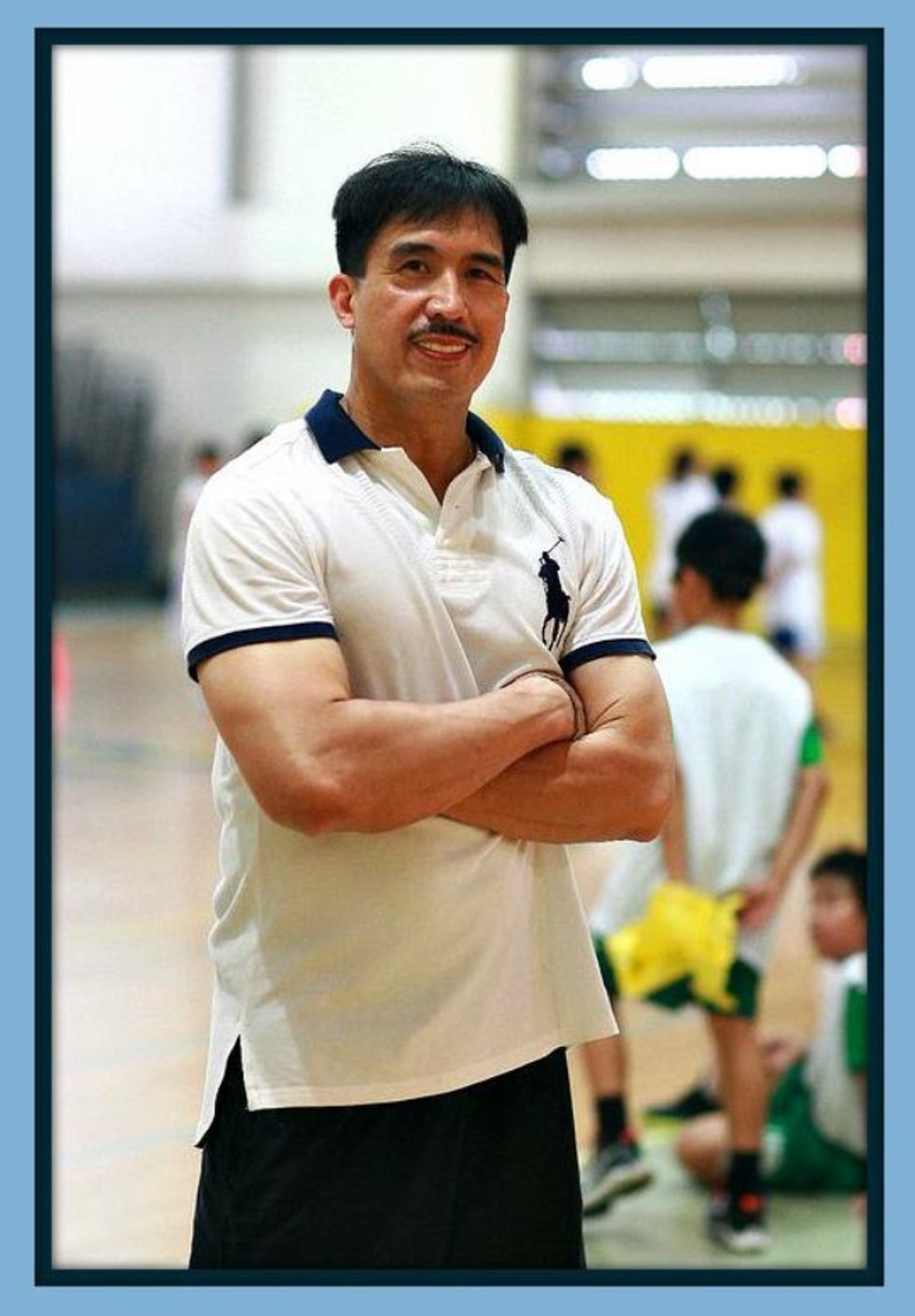 Tita Fely has been there with us through thick and thin. She is what you call, "A woman of substance." In fact, this quote perfectly describes her, "A woman who walks in purpose doesn't have to chase people or opportunities. Her light causes people and opportunities to pursue her."
"Last Dec. 2014, I have been seeing a lot on Facebook posting about Samboy. My brother Aggie had been sharing the post. So, I asked my brother, Aggie who is Samboy Lim. He responded that he is the son of our half brother, Avelino. I have met Doming (the older brother of Avelino) in person before I left for US in May 1971.. My sister in law (wife of my brother Manuel, took me to my father (Francisco Lim) just before I left for US and my father and I met for the first time in person. He already had a stroke but still handsome. Few days, before I left for US, I decided to visit him alone to say goodbye. I brought him Ensure and apples. That was when I met Doming in person. I heard of your Lolo Avelino from my brothers. I know that he was a lawyer and a professor in UP. So, after finding out that Samboy was my nephew, I look for him on FB. I found one and typed a message - that I am his long lost auntie and was praying for him. Then your Mom called me - that is how it started."
---
Before I end this compilation of stories, we would like to thank all of our family, friends, Uncle Samboy's friends and devoted fans for their prayers, well wishes, and birthday greetings.
Please continue to pray for Uncle Samboy's recovery. God Bless. We love you, Uncle Samboy!