Before I started transitioning or even identified within the LGBTQ community, I had a heavy heart for Transgender Day of Remembrance. This year it hit me hard, almost sickening because I am not a data person, nor am I up to date as I ought to be on the number of lives lost due to anti-transgender violence, but this year I took it upon myself to get educated. I can admit I was scared to look at the numbers, thus I have not kept up data wise within the LGBTQ community. But as I looked at the numbers, I was in awe at the tragedies this community has faced, a community that I am very proud to be within.
As I am trying to write this article, I am looking at the numbers. I cannot ease my eyes off the screen as I am stone like still in a dark abyss. I am choked on words, uneasy, and holding back tears for the pain these individuals have endured. I am looking at words such as "stabbed", "bludgeoned", and "tortured" and I am still. I feel a long drawn out tear reach the bottom of my chin and I am verbally left without any form of words. But, as I let out a soft shallow breath, I am ready.
Transgender Day of Remembrance is one day to some individuals, but to others, it is a lifetime of commitment. We are present, we are valid, and we do exist and choose how we identify. While I am fortunate enough to freely express myself within the community I live in, I am reminded that some individuals are hidden. They are hidden not because they are ashamed, but they are hidden for their own safety within the community. As I was once hidden because I was afraid, too. The data has proven that violence continues to rise across the United States. But it is the unheard violence that has effortlessly taken the lives that were so very valuable because the most painful violence is that of one's self.
While the data indicates anti-transgender violence, the data does not accurately represent the suicides within the Transgender community. One of the worst thoughts an individual may face is the darkness inside their head that is telling them they are no one. While there are resources on social media for individuals, social media has made violence more apparent with verbal assaults, abusive comments, and hate speech. For I have found myself spamming multiple comments on my profile such as the one below.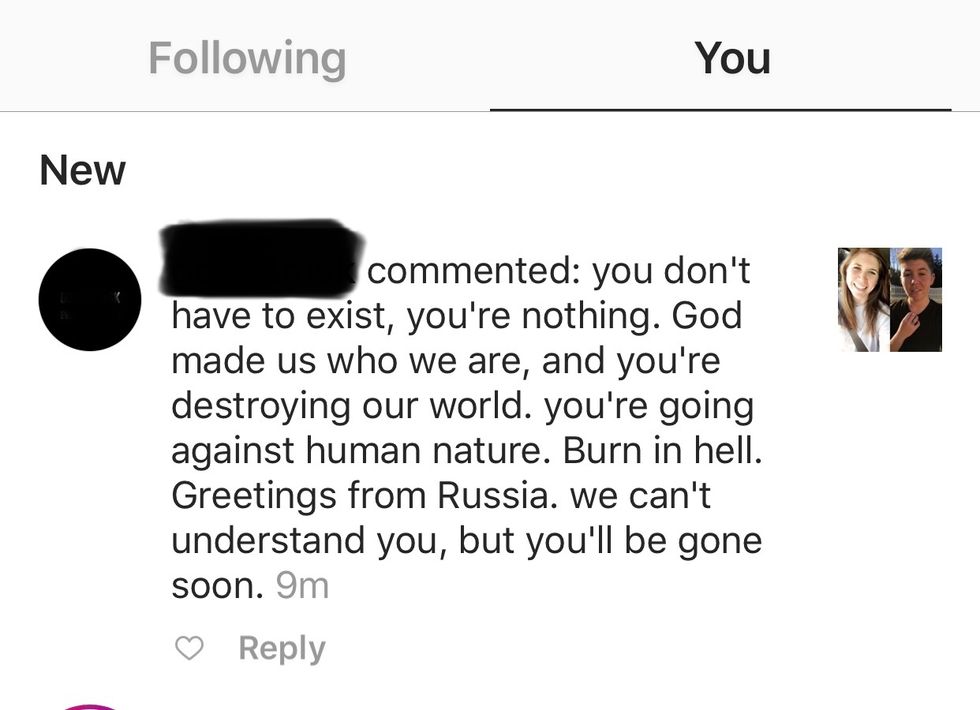 To choose to be seen as visible is to remain as we are, human. -Ian Hodges
In a world that tells us we should not exist, we must stand together. So, before you bypass a stranger with their head down in the crowd, stop and tell them they are appreciated. One small gesture to them is an effort to keep to them to stay. To see them as they are is to see them as a human being and we are all human beings with all unique features. Keep in mind, it is not about what they are, but about who they are, and they exist just like you.