With Summer quickly approaching and Spring break around the corner for many people, I thought why not share some of the places I have found extremely cute bathing suits for really good prices! After about 10 minutes on any of these sites, you just might want to buy the whole store. I also will include pictures of some of my favorites from each of these online stores!!
Aerie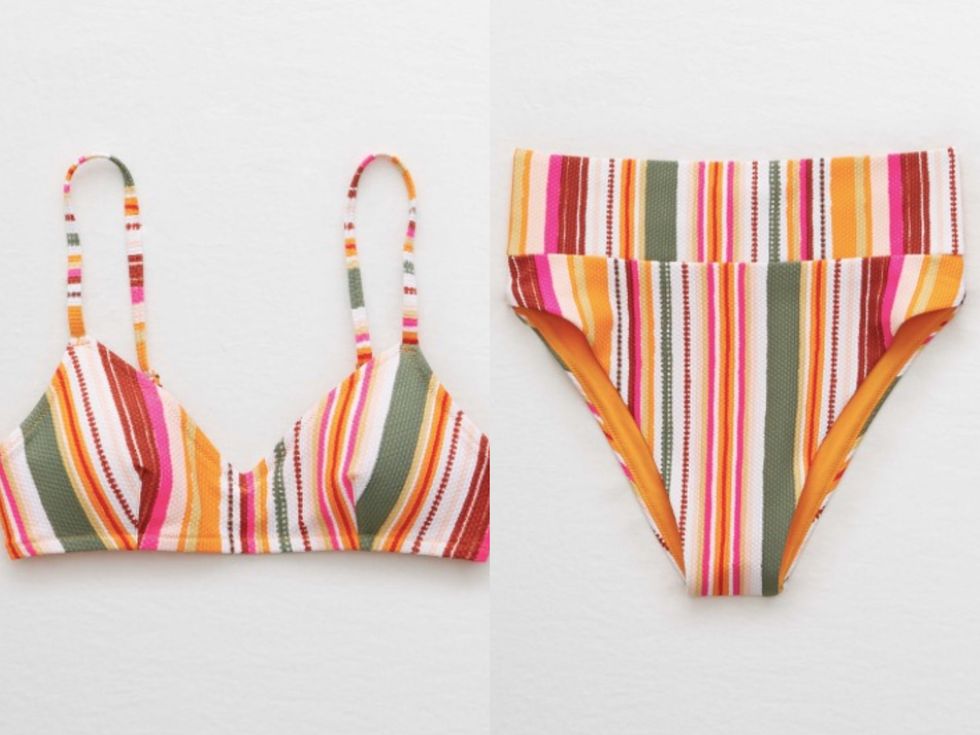 This is one of my favorite sets from Aerie, and both pieces are on sale currently! Price: $17.47 (T)/$14.97 (B)
Aerie/Sophia Pedro
I'm pretty sure about 80% of my bathing suit collection is from Aerie. I really went on a spree about two summers ago. I especially LOVE their bottoms and all the different styles they have. I actually just ordered a high-waisted pair to try out!! Needless to say, Aerie bathing suits are definitely a steal, especially if you check out their clearance section. They always have so many cute and trendy options and still a lot of size availability for them being on sale.
Cupshe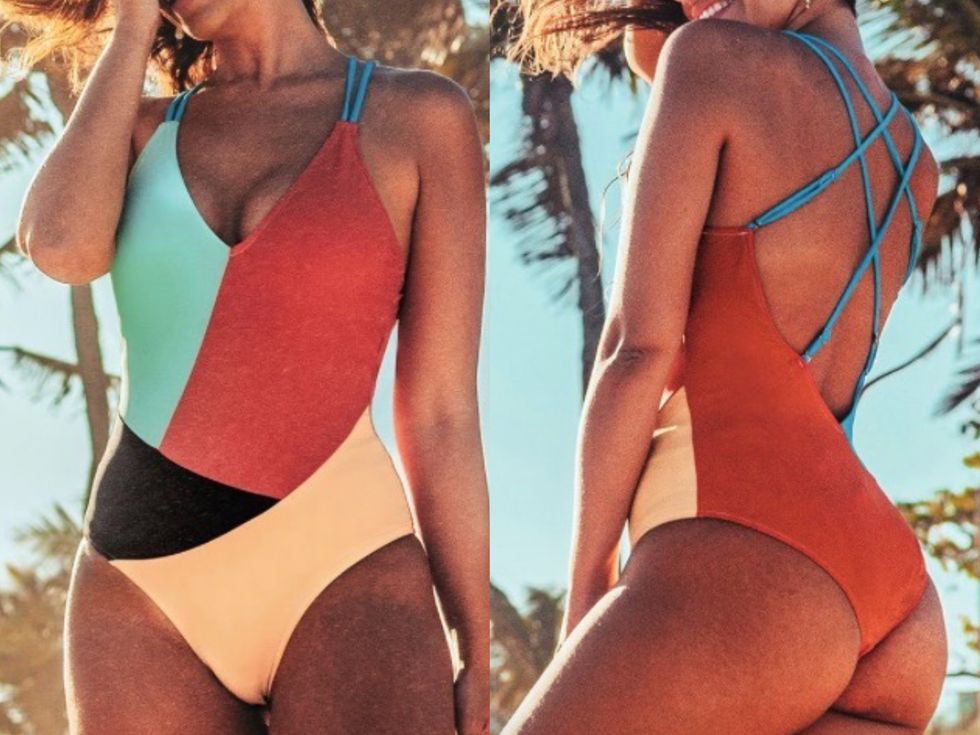 I have been really liking one pieces lately, especially color-blocked ones! Price: $24.99
Cupshe/Sophia Pedro
Cupshe is one of those wholesale clothing websites similar to shein or zaful. However, for bathing suits I am more of a fan of Cupshe because of their return policy. Last summer I ordered swimsuits off of shein and some worked great, but others did not. All swimsuits on shein are final sale (which I must have missed), so I couldn't get my money back for the ones that didn't fit. They were extremely cheap so I wasn't too upset, but having the option to return and get your money back is still very nice; cupshe allows you to do this! All of their suits are very inexpensive, cute, and good quality. I would say just read the reviews before you buy to get any hints about sizing and material. I actually have a couple swimsuits from cupshe waiting in the mail room as we speak.
Target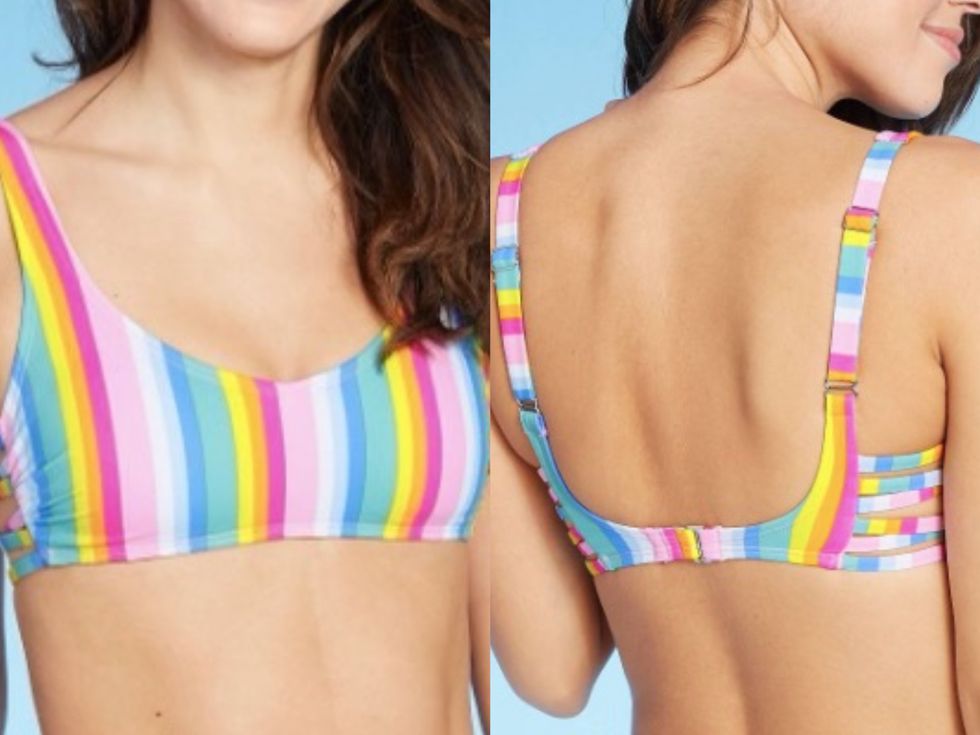 I'm a sucker for stripes so this bikini top is right up my alley. Price: $14.99
Target/Sophia Pedro
I feel like target has always been a go to for cute and durable swimsuits that won't break the bank. They have so many different styles, colors, and patterns. I honestly like going to the swim section of my local target more than shopping online. For some reason I feel like the store always has a lot more stuff, but online is obviously amazing for when you don't feel like getting out of bed.
H&M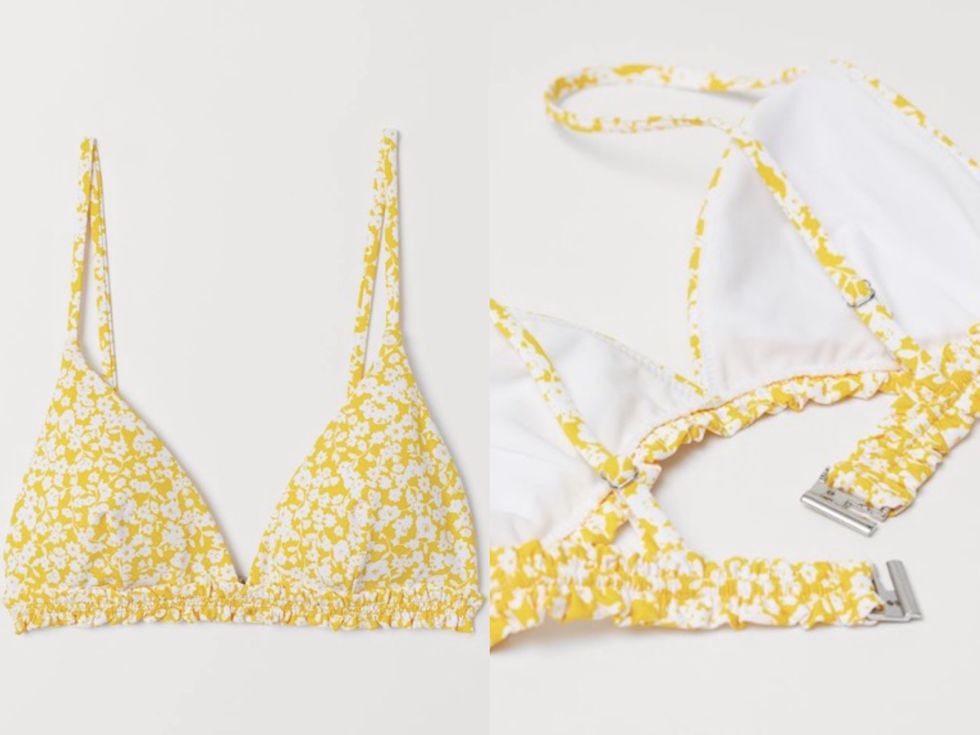 I never really hopped on the yellow bandwagon, but I might just have to with this top :) Price: $13.99
H&M/Sophia Pedro
Last summer was the first time I tried out H&M bathing suits and I liked them a lot. But I think my bank account liked them even more!! I'll be honest and say they probably work better for people with a smaller bust, but those were just the styles that I happened to buy and try on. I'm quite a big fan of prints and H&M has a lot more solid-color options, but they are really good basics to pair with any color or pattern of bottom. This is also true of the next online store I will share with you guys. I specifically chose a solid colored swimsuit for that one because I just realized all the others I chose were prints...
Asos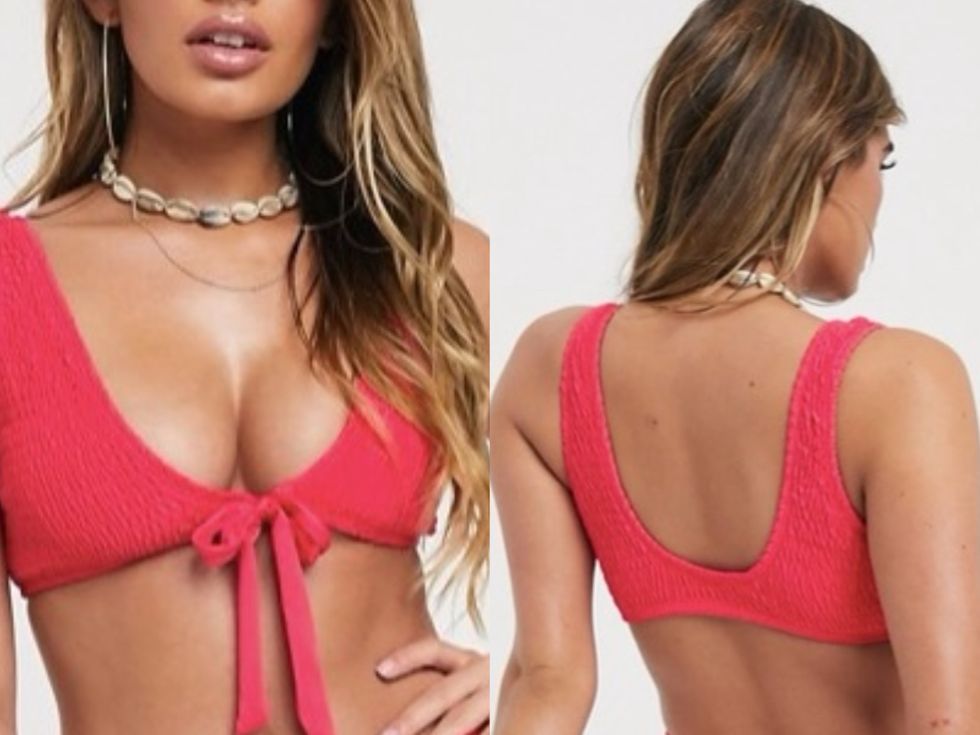 This scoop neck, tie style is my absolute favorite. I'm pretty sure I have 5 or 6 bikini tops that look like this but in different colors. Price: $19.00
Asos/Sophia Pedro
Asos is a relatively new online store for me. I always heard people talk about it or have seen ads on other sites for it, but I have never actually bought anything from there. I recently went on the swimwear section, when I was probably procrastinating studying, and found really cute stuff. I would say similar to H&M, a lot of the swimsuits are one color or have the ribbed material like the one above. I also feel like a lot of them are pretty skimpy and stringy, so if you aren't a fan of that, maybe these swimsuits aren't for you. However, they still have many styles to choose from, the prices are amazing, and it's free 2-day shipping and returns!!