When I think about my time here at Washington State University there are several things that come to mind. I'll never refer to Saturdays in the fall as anything other than "Cougar Football Saturday," sunsets here are more unique than just about anywhere else in the world, and my pledge class is single-handedly the one group of people who have kept me sane after all this time.
Now that the time has come to say goodbye to all my friends and end my undergrad career, it is only proper that I reflect on my time spent here at Washington State University and the people that made it worth my while.
To my pledge class: So many of you are the total opposite of me. If you told me at 18 years old that in a few months I would become best friends with you all, I would have laughed in your face. There's no way I can stand that amount of people at one time. But here we are four years later, creating havoc and memories.
Let's take a trip down memory lane, shall we?
Four years ago we ran home to 800 Campus Street better known as Kappa Kappa Gamma. We took pictures with girls we just met and would refer to as "sisters." From the beginning, we were brought together to hang out as a tight-knit PC, and we would create memories for the next four years. So fast forward to the closing of our four years and we're all about to part ways. Some of us are about to start our big girl careers and move to cities out of state and out of the country. Some of us are continuing onto a higher education, and some of us are going to take a year off finding what exactly it is that we want to do.
Although it is unaware what the future has in store for us, this much I do know: We will all be successful. We will all provide a purpose in other people's lives. We will find happiness in whatever it is that we do. And we will always cherish the memories of each other that we have.
So thank you PC 14 for the most incredible four years that just so happen to be my college years. Thank you for being my shoulders to cry on, my friends to celebrate the good times, help me get past the hard times, and never fail to crack a smile on my face in-between.
More specifically this is what I have to be most thankful of:
Megan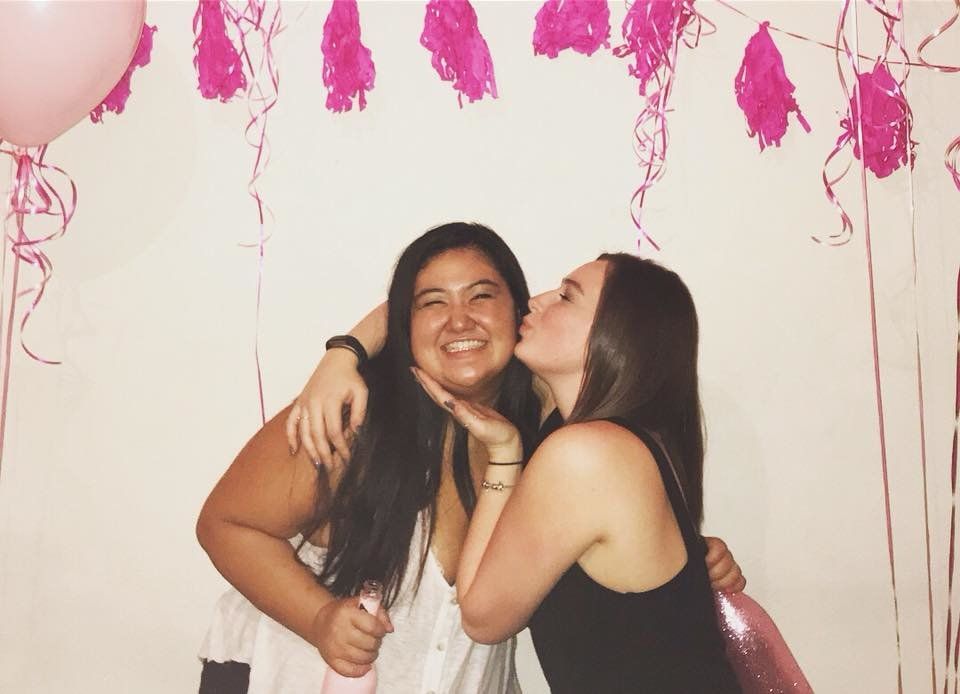 You've been there through it all. You've been my ride or die since the beginning, you've put up with my shenanigans, helped me through the most doubtful of times, and celebrated with me through the best of times. Our poor decisions which range from getting late night Cougar Country and ice cream to day-drinking Bloody Mary's have been some of my greatest memories with you. Your grandma habits have really rubbed off on me and I thank my lucky stars my entire last year in this cute little town was spent with you. I will forever remember this entire year of living with you and all that we endeavored.

Sabrina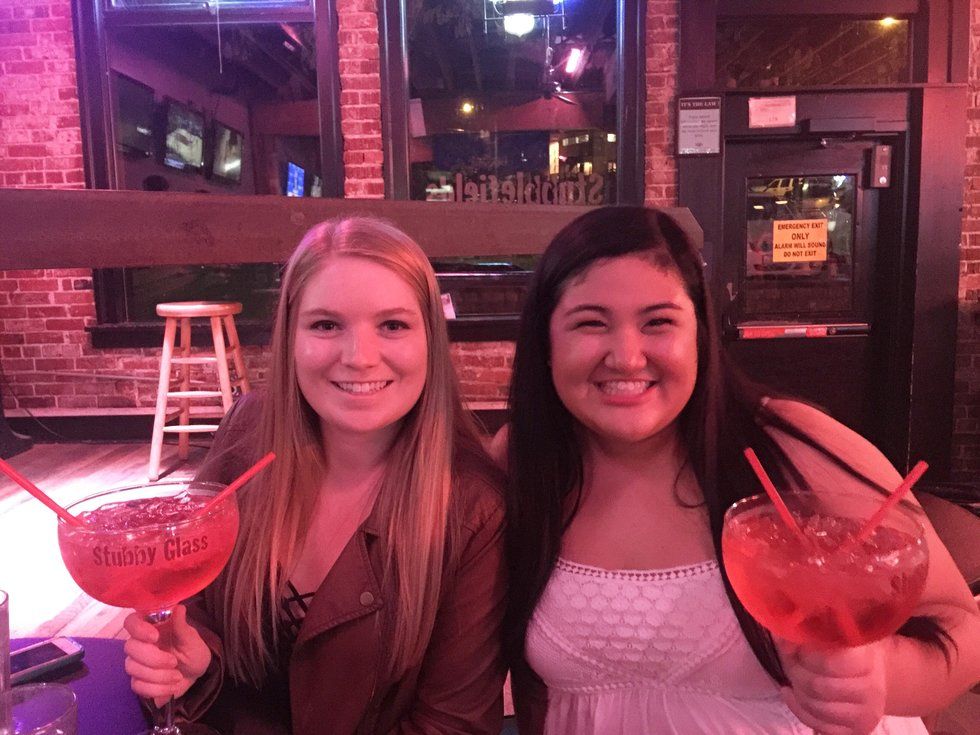 Through good times and bad times, we have been through it all. You have always been, and always will be a special light in my life. You are who I have to thank for all of my success in college. From late night studying in the Kappa kitchen to late night Applebee's runs, you have always made the mediocre of situations the best. You have a talent to make me laugh at any time whether it's at you, with you, or at myself. You, my dear, are such a loyal person that you will pass that trait along to the future children who are lucky enough to call your classroom home. I will forever remember the days of getting to know each other and how everyone questioned how two of the most opposite of friends could be so close.

Jules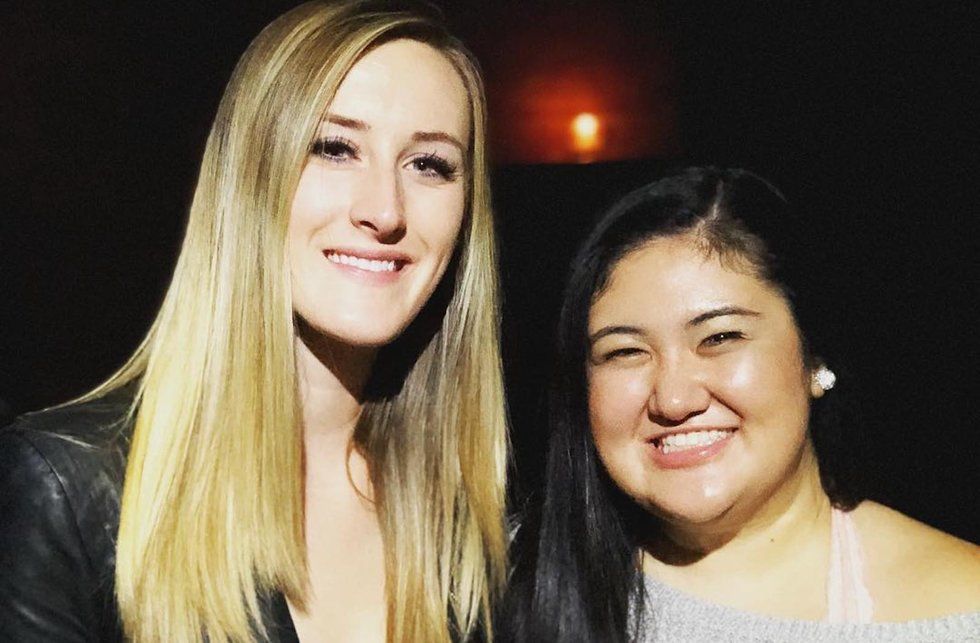 Calling you the life of the party is an understatement. You always know how to have a good time and your social butterfly personality makes sure others feel the need to have fun as well. You know when to differentiate work from play and you do quite a good job at it seeing that you're already so successful. Hanging out with you is always one big adventure and I never know what will happen to make my day brighter. You have a gift to make people feel wanted and that is going to take you so far in life. I will forever remember my first encounter of crying to you in the middle of the night for no apparent reason and feeling bad about it afterward.


Tiffany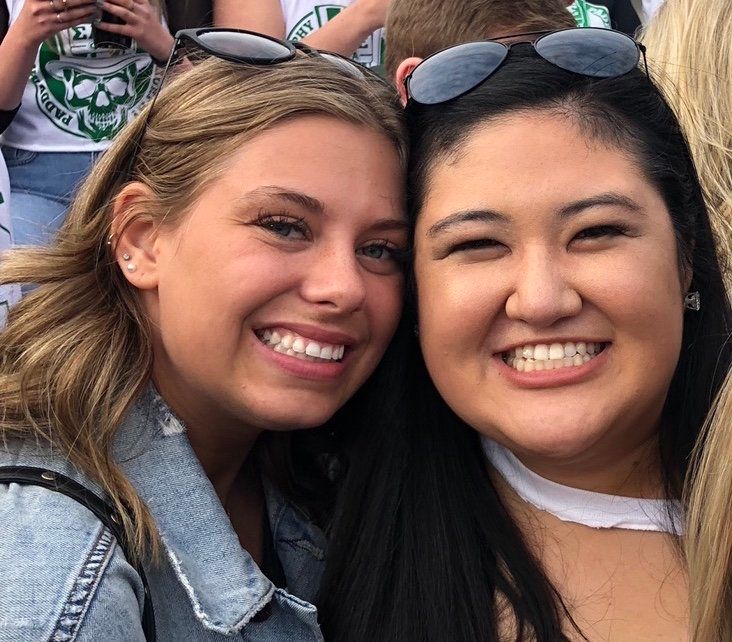 If ever there was someone I would compare myself to in a similar aspect it's you. You are not afraid to say what's on your mind and be your true self. It's an admirable trait of yours and I have the utmost respect for someone who will stick up for those they care about, just as you always have. You have always been there for me in the toughest of times and have been a shoulder to lean on, one to cry on, and have always had loving arms to hug me tight. You are a forever friend I didn't know I needed. I will forever remember you admitting your love for One Direction and our late night McDonald's runs.
Cade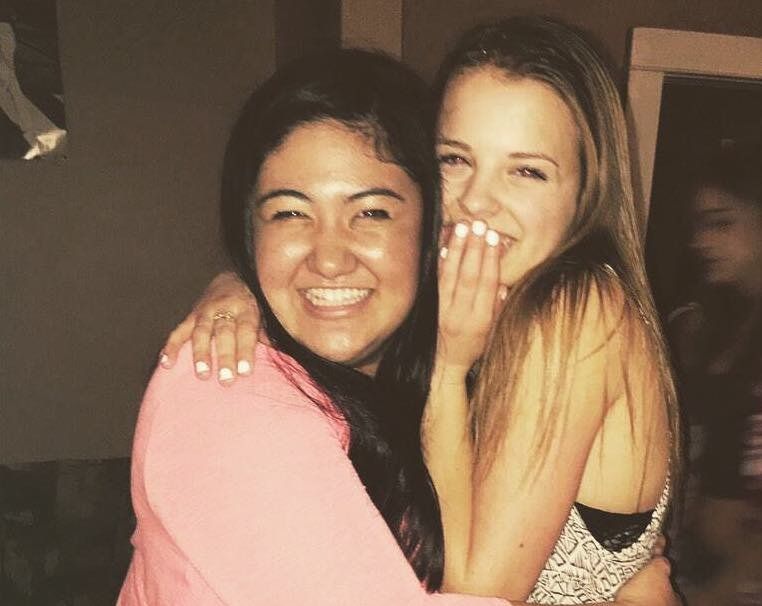 To the first friend I made in college. You were and still are a little ray of sunshine that can brighten everyone's day. Even in anger when you say something negative, you somehow make it sound positive. Moving into our big beautiful mansion with you was one of the best entrances into living in a sorority and I'm so happy to have done it with you by my side. And now that we're older and whenever I get to see you, I still get that goofy smile and start laughing because we pick up just where we left off. I will forever remember that you were the friend that kept in touch while I was away in Disney World.

Katy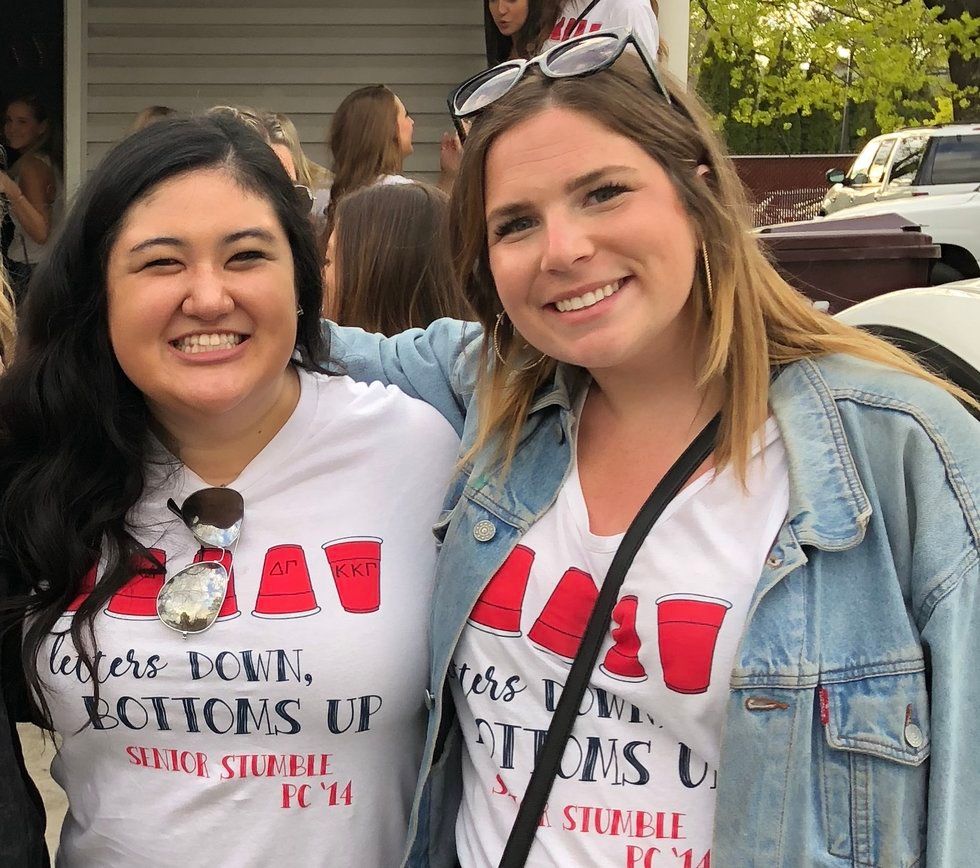 You are someone I aspire to be. I aspire to be as intellectual as you are, as down to earth as you are, laugh at myself with ease as you do, and treat everything with as much humor as you make possible. You have been nothing but an amazing friend to those around you and even when you make fun of me, I still feel the most loved and admired by you. You are the type of person I feel sorry that not everyone has in their life. You are someone I didn't realize I needed and I didn't know I was missing. I thank my lucky starsfor you, Katy. I will forever remember the late night Taco Bell runs we made spontaneously and those precious car rides we had catching up on life.
Brooke

Hearing your name will always make me laugh, for you are the class clown of our pledge class. You have proven that if I can't laugh at myself I can't laugh at anyone else. You can turn any situation positive and I wish, god I wish I had the friendliest of personalities that you have where you make everyone feel as though they are the most important person in the world. It's something not everyone can do but you do with such ease and such grace. You are someone I have always been brave enough to confide in without judgment and without hesitation. Brooke Bofto, you will one day do stand-up comedy at my wedding whether it's singing "Rebel," or just telling an embarrassing story of myself. I will forever remember you forcing me to talk to my crush when he visited the house numerous times.
Anne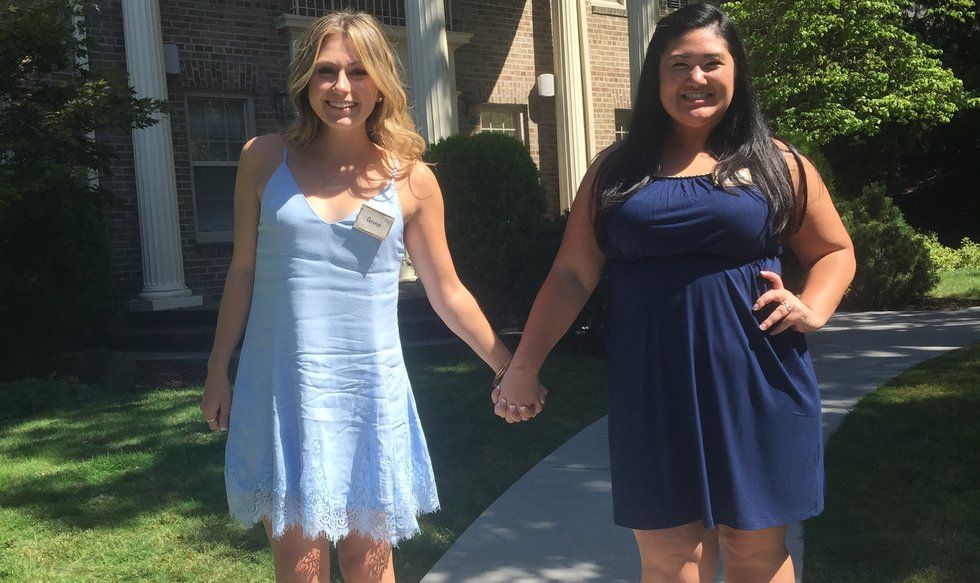 Where to even begin with my coffee loving, basketball freak of a friend. You, too, were one of my first friends whom I bonded with by having sleep on my bedroom floor. Our 5 A.M. wakeups, our Starbucks run to get enough energy throughout the day, and our hair curling sessions will always be my favorite memories with you. I've never met someone who can make so much fun of me but love on me at the same time. I don't know what in the world happened when you sent in your recruitment application, but somehow I'm so glad it didn't work out with you because otherwise we wouldn't have given that snap bid to you and you wouldn't become the sister I most needed and always wanted. I thank you for loving my own little as if she were your own. You have been the greatest friend to her when I couldn't be and for that, I'm eternally greatful. I will forever remember you being as blunt as needed with me on any and every topic, and for always keeping me in check when I needed it most. You're a true sister.
Korbyn
You may possibly be THE most outgoing person I have ever met. And that says a lot because I have been told that I myself am pretty outgoing. You are someone I always enjoy seeing whether it's around the house, out at the bars, or just passing by every day. You are someone I can't imagine not seeing every day and I'm not entirely ready to prepare myself for that. One of the most admirable things I've seen of you is how you take anybody and everybody under your wing. You make others younger than you feel so wanted and as though they belong. You may not realize it but you're a mama bear that everyone needs in their life and every little sister would dream of having. You have helped shape my Kappa experience into something so positive and I'm forever in debt with you for that. I will forever remember when we first got close because of Shauna and Holly and getting to all become friends
Cassie
It's sad to me that only this year I have truly gotten to know you and truly gotten close to you. Sometimes the closest of friends can happen so quickly and so unexpectedly and I think that is exactly what happened here. You are so gifted and so smart and you inspire me to work as hard as you do. Whatever it is you end up choosing to do in life, I have full faith you will be successful at it. Getting close to you over our love of beer at the Coug will forever be my favorite memory that we have together. And the fact that we have yet one more semester to play out the same shenanigans gives me the prediction we will create more memories in this newly found friendship. I will forever remember hearing your wonderful stories of your hometown of Helena and our Coug sessions.
Madi
Just like many of us you are not afraid to say what is on your mind. I admire your bravery to say what you feel needs to be said because 99% of the time we're all thinking it, we just don't have the balls you do. If I could replay college all over again I would spend so many more nights with you. You've always known how to have a good time while still being the classiest person I know. It has been such an honor to call you a sister and I'm excited for many more nights together around Seattle or even if you do end up moving to San Diego! Wherever it is that you may go, success and happiness will follow you along the way. I will forever remember bombarding you in your room when my best friend lived with you in the house and talking your ear off about God knows what.
Frankie
To think that I knew you before Kappas is such a funny thought. Going to your graduation party when you were a senior I just knew there was something special there. Fast forward to two months later and you just so happen to become my Kappa sister! And since then it has been one crazy and fun-filled adventure with you, Frankie. Since the beginning, I have always been my weird, extra self with you and you've given it back to me just as much as I do. Working with you has proven that you are going to be the best at whatever it is you do. You have a natural leading personality that is always in charge and knows how to get things done. I will forever remember our final recruitment together and how hard the three of us worked at everything. Although I thought we were already close, those two weeks brought us even closer than I thought was possible.
Lexis
You too are one of the first girls I met in the house and got close to. I'll never forget our first time meeting when our mutual friend was a close friend to each of us and she brought us together after picking you guys up from the airport. Since I've known you we've gotten closer through the mutual friends we've made and you've turned into someone who without realizing it was always there for me even when I wasn't looking. You are simply one of the most caring people whom I've met and you've comforted me in every time I've been in need. Whether it's a pep talk, a hand to hold, or just a hug while I cry and let out all of my emotions, it was you who was always there for me. I will forever remember all those times I would make fun of you for being as weird of an individual as I am.
Kaitlyn
It beats me exactly how we met and what the first time was, but my goodness, am I glad to have met you and have you in my life. You are someone who walks into a room with such grace and confidence and you're not afraid to stand tall- both literally and figuratively. You are someone that I don't get to hang out with as often as I would like but by the grace of God, I just know I will be seeing you years after college. Whether it is at a reunion, at random social functions, run into you on a night out, etc. And luckily, we'll pick up exactly where we left off. I will forever remember the first night we hung out and watched "She's the Man," on the Kappa couch, quoting every single quote, singing every song, and commenting on Channing Tatum every 10 minutes.
Sierra
It is amazing to me how close I have gotten to you within these four years even if we aren't the type of friends to hang out every weekend. You're someone who whenever I see you I immediately gravitate to you and start telling you my life story and catching up on all that is going on with you. Since freshman year you have been the quiet friend that has been the most supportive. Your presence and being there has always been the support I needed and you may not realize it but you have been a confidant of mine after all these years. I will forever remember our very first car ride going to our retreat together, as well as Halloween when we migrated into the most random fraternity basement together as babies who didn't know what it was we were doing.
Maddy
Saying that you are hands down the sweetest and most kind-hearted person I have met is an understatement. It is hard to believe that one person can have such a heart of gold. But you, you prove that it is actually possible for an individual to have such. I have always enjoyed our conversations about catching up on life, venting about our troubles, and bonding over our love for our mutual friends. Greek life is funny in the sense that we have all these connections together that keep bringing us to each other. Your big being my best friend, your sister being best friends with my GGBig, and so on and so forth. Maybe it just proves that we are friends that will be together for a lifetime. I will forever remember our first "fam night" when we didn't even realize we were getting the Greek fam we would eventually get.
Amy
Just like Frankie, it's amazing to think that our first encounter was before you were ever even a Coug. Running home to Kappas on Bid day and seeing you in the front yard gave me that sense of comfort that I needed during that overwhelming sensation that came over me when all of a sudden I was surrounded by 150 women I didn't know. Since then you too have proven to be a true sister and a true friend. You always greet me with the most genuine smile and bubbly hello, always reminding me of my importance. And if there's anything I will forever remember it is the text you sent me wishing me luck as I went to take on my internship in Disney World. While I was boarding the airplane, I had the most nauseous feeling as I was nervous beyond words, didn't know what to expect and I knew no one in the new life I was about to encounter. And your words of encouragement and kindness suddenly lifted 100 pounds off of my shoulders and melted my heart. You, Amy, will inspire the youth of America as you have already inspired me.
Carly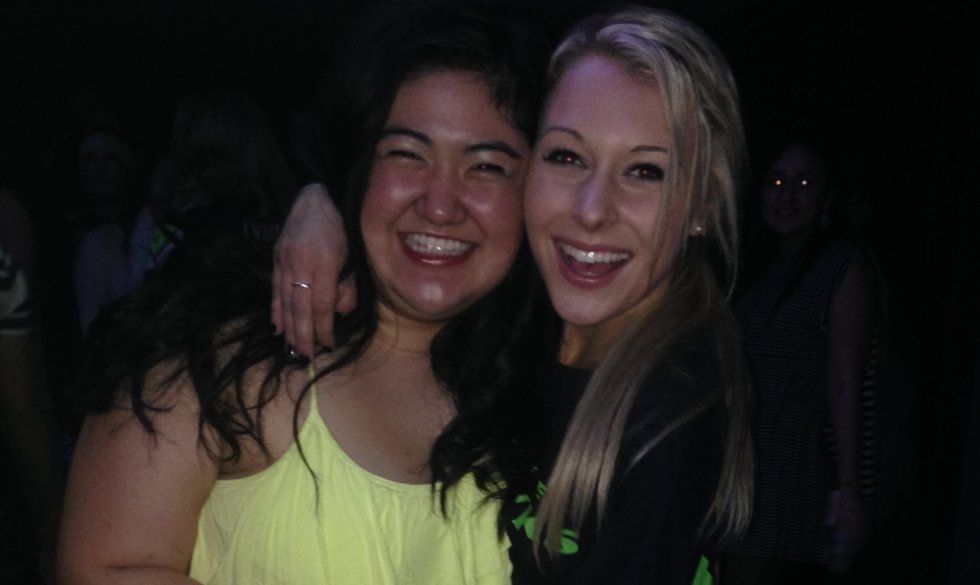 Carly, you, my dear, are someone that everyone deserves to have in their life. You sunshine on a cloudy day that somehow always makes everyone feel important. The meanest of people break and become nice because of the kindness you give them. You have proven that friendships do not know any boundaries. From the time that I have known you, you've proven that just a simple smile can turn someone's entire day around. I will forever remember being twin key sis's with you during our first month in Kappas. You were so kind and genuine and took my hand when we encountered our first of many Pullman nights.
Grace
Lastly, Grace. You may just be the most intelligent person that I have ever personally met in my life. Your love to nerd out on all things geeky absolutely makes me smile because you're not afraid to be who you are. I absolutely admire that. Just like many others in our pledge class, you will go so far in life with all that you encounter. The bravery you have to move across the country is amazing, as not everyone has that confidence. And of course, I will forever remember the days we spent laying on the roof tanning our souls out as we counted down the days until we were done with school and didn't have to worry about due dates and assignments.
So to all of my pledge class, I admire you all individually. I admire your will to chase after your dreams, the kindness you have shown me, the friendship you have given me, the memories you have created with me. Four years versus for life is so accurate as I know the world will bring us back together years from now. Even if we no longer keep in touch on a daily basis, we still have the creation of these memories to root us back to where we're from. I cannot thank you enough for these past four years. I cannot thank you enough for all of these memories. I wish you all the best in the future endeavors we have to come. I can't wait for our reunions and all we'll continue doing together.
Cover Image Credit: Cheyenne Wong