"Side by side or miles apart, sisters will always be connected by heart."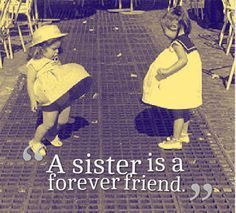 To my big sister who is moving away:
Sister. Many people will read that word and interpret it in their very own way. When I see "sister" I automatically think of words such as role model, inspiration, guardian and best friend.
Although you've already moved out of the house, went to college and grew up, this move is so much bigger, farther and more incredible. Last time you moved away (even though it was only a little over an hour,) I was terrified. I was wondering who would help my with my math homework, who would tell me which outfit looked better in the morning before school, give advice on boys, help me style my hair for important events and simply be there for me whenever no one else was. Fortunately, these were all just signs of me freaking out that my big sister, my best friend, was leaving the house and would no longer be a room away from me. With today's technology, I was still able to Skype you whenever I was threatening to throw my text book across the room or was freaking out over my latest crush. Even Snapchat came along for us to be able to send humorous snippets of our days or our usual rants that only we could understand. Without being at home, you were still able to be there for me, give me advice and even succeeded at threatening every boy that crossed my path or entered my life (and no that is not an understatement.) We succeeded in remaining best friends for these many years, so what can stop us now?
This new move isn't going to stop us — or you! I know you're scared and nervous about being away, but you are the strongest person I know. That's why I've always looked up to you. Even though packing and moving is a much dreaded part of life, it is exciting and opens up new doors. I cannot wait to see where this new path takes you and I cannot wait to hear about all of your adventures!
And hey, this just adds onto the map of places we have traveled together! I cannot wait to finally be settled, out of schools and our lives started so that we can add even more marks onto our map!
Xoxo, your little sister.