On Wednesday, October 12th around 3:00 pm I headed to the front of Chambers, awkwardly navigating the caution tape and thin, white ropes requesting that people not step on the grass. I finally made it into what looked like a line, hovering, unsure how to proceed.
Luckily, I was approached by an older woman, a volunteer tag draped around her neck, who explained to get into the rally I would need to fill out a volunteer form, which would serve as my ticket. I checked a few boxes, despite knowing that I definitely do not have time to phone bank or go door to door asking for votes.
When they finally let people into the area in front of the stage, I rushed to the front. And then the waiting began. I hadn't really thought about how the line started at 3 but Kaine's speech wasn't due until 5, but it suddenly hit me while standing in the bright sun in a long-sleeve shirt. Once my friends got there, I finally conceded and just sat on the ground. I wasn't the only one, there were people nearby me watching Netflix on the ground.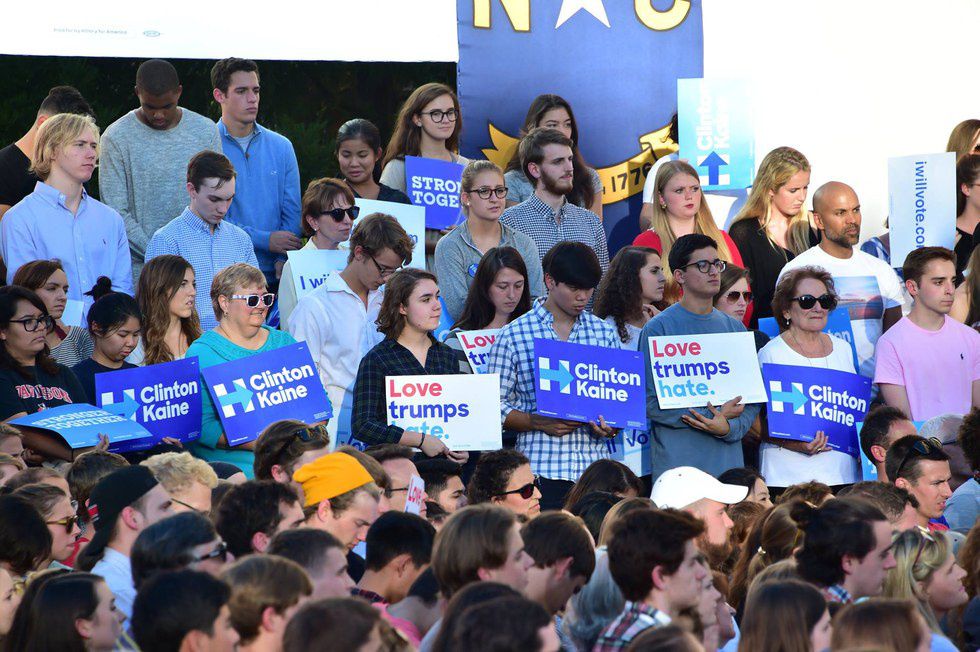 Around 4:30 is when things actually got started. After the National Anthem led by the Nuances and the pledge of allegiance led by Dana Ferguson, a Davidson alum and member of the electoral college came out and spoke. He was followed by a member of congress, then Dan Blue III who was running for North Carolina Treasurer, and finally, Alma Adams, another member of congress, who at one point, speaking of Donald Trump, said "Bless his heart". They each spoke about their own feelings on government, particularly in the state of North Carolina, and how they feel Hilary Clinton is a better choice over her opponent.
Then the clock struck 5:00, but nothing happened. We waited. And waited. And waited. Then finally, nearly half an hour late, Kaine came out. He greeted everyone with a wave, and then asked us if we'd seen the recent presidential debate. He spent the greater part of his speech unpacking the debate and the differences in policy, focusing on economic plans, college and important issues. He spoke eloquently, seeming a much different person than during the Vice-Presidential Debate. He pointed out how independent analysts have said Clinton's plan will be better for the economy than Trump's. He explained that Clinton intends to make college debt-free and free for families who make under $125,000 a year. He then attacked Trump for his recent comments about women, and asserted the need for reforms to ensure equality, especially for people of color and members of the LGBTQ+ community.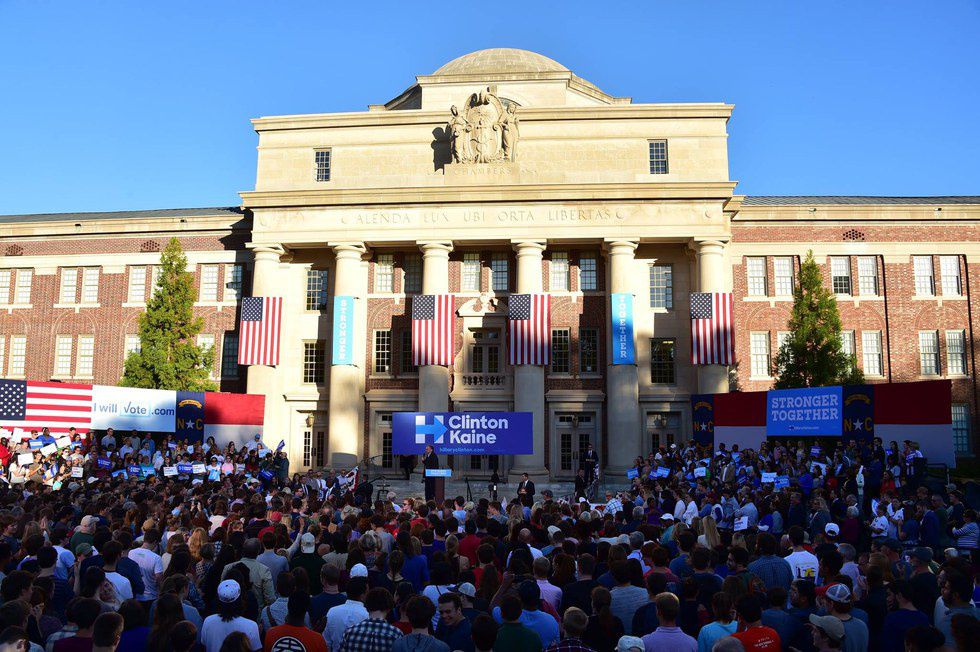 Kaine ended his speech by encouraging attendees to vote and then he stepped off the stage. I expected him to retreat inside, but instead, he walked up to the crowd and began shaking hands and signing autographs. I managed to shove my hand out between two people, and actually got two handshakes on accident. Kaine smiled at me and thanked me for coming.
While Kaine spoke about information that could have been easily found online (as Clinton and Trump's policies and opinions are fairly well-known), and the rally involved a lot of cheering and booing at appropriate moments, I still felt it was a beneficial experience. Reading information online is one thing, but hearing it specifically from the candidate running and getting a sense of the community's feelings on each topic felt somehow more informative and valuable. If you get a chance to attend one, I highly recommend it, if just to understand what goes on.