Social media has come a long way from sharing puppy videos and stalking high school sweethearts. While we all still love those activities, social media has also broken down generational gaps and evolved into a marketing and communications goldmine. But more importantly, it's become a platform for users to speak their minds on controversial subjects that they are less likely to bring up in person. This silent barrier between the speaker and the public can be both good and bad; the good being that victims of violence or trauma are comfortable divulging their experiences to a computer screen in order to seek help and spread awareness.
Chances are you know someone who is a victim of sexual violence. These people, men and women, are likely to blame themselves for their attack and often want to forget it ever happened. This continued act of denial can lapse into depression, PTSD, heart failure and suicidal thoughts. According to a recent study, only 15.8 to 35 percent of sexual assaults are reported to the authorities with reasons for not reporting including: fear of lack of evidence, fear of the police or justice system, not knowing how or who to report to, not feeling that the crime was "serious enough," and fear of not being believed or retaliated against.
However, social media platforms like Twitter and Instagram have become the proverbial soap boxes rape survivors choose to stand on to expose their attackers. A confessional tweet, picture or video from a rape survivor is often met with a flood of internet comments that alerts authorities as well as opens the door to an online support network. The social media post is then shared from person to person, creating a discussion, and even picked up by news organizations.
In 2016 alone there have been three amazing cases of how social media took down rape culture, created a healing process for the victim and inspired change in a community. Here's what you need to know.
Amber Amour's Instagram/Facebook Rape Documentation – Cape Town, South Africa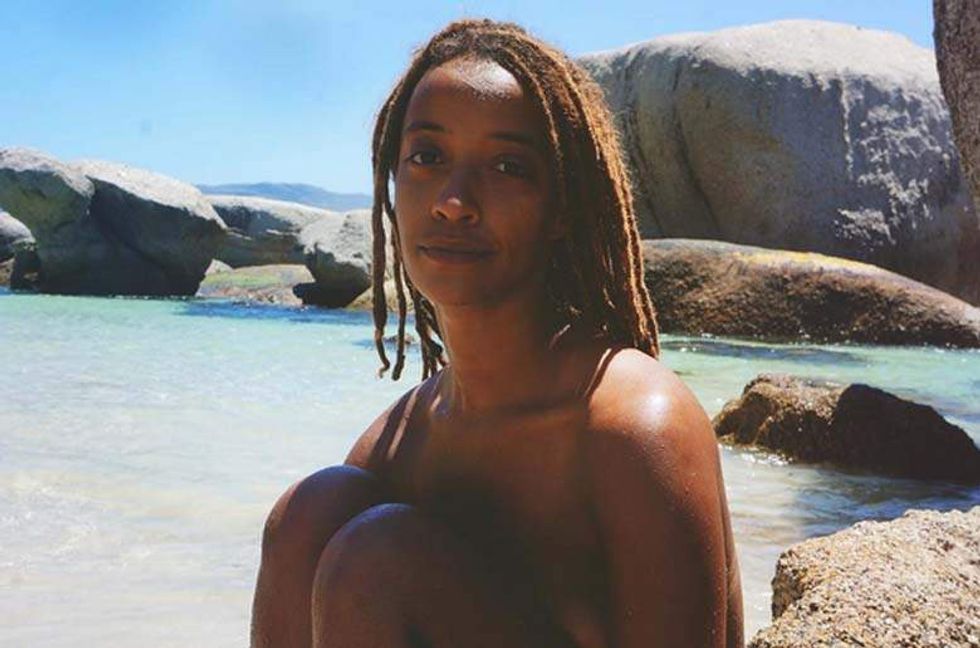 Image courtesy of heavy.com.
No sooner had we begun 2016 when a rape case unfurled and went viral on social media. In late December of 2015, New York rape survivor and activist Amber Amour was violently assaulted in Cape Town by a man she knew while in the city to promote her "Stop Rape. Educate" campaign. Moments after her attack in a hostel shower, she took to Instagram to share the incident saying that she had to "practice what I preached" in terms of speaking up about sexual assault. Amour continued to document her rape on Instagram by posting a picture of her rape kit experience and of local police investigating the crime scene.
Leading into the New Year, Amour announced on Facebook that her rapist admitted to police that he planned to "hook up" with her in the shower but denied any part of the attack. She followed up by posting the man was released on bail of $75 and had a court appearance scheduled in March.
A survivor of sexual assault since she was 12, Amour has shared in her Marie Claire blog about reporting her 2014 rape experience in New York and being dissatisfied with the response. She wrote "I don't think they realized how traumatic it is for a survivor" in regards to the eight male police officers that showed up at her door after the 911 call.
Since she spoke up about her assault, Amour has been bombarded with social media aggression by strangers about her Cape Town rape coverage including comments like, "… she sort of walked into that one," and "you are honestly a disgusting excuse for a human being."
However, instead of lobbing back insults to an ignorant community, Amour responded to these messages by reposting them on her social media channels to showcase their skewed insensitivity towards rape culture.
Nowadays, Amour is fighting against victim shaming and advocating for the "Creating Consent Culture" movement which she founded. She encourages sexual assault survivors to not be afraid to open up to loved ones and communities about their experiences in order to promote rape culture awareness and move towards healing.
@RapedAtSpelman Twitter Account – Atlanta, Ga.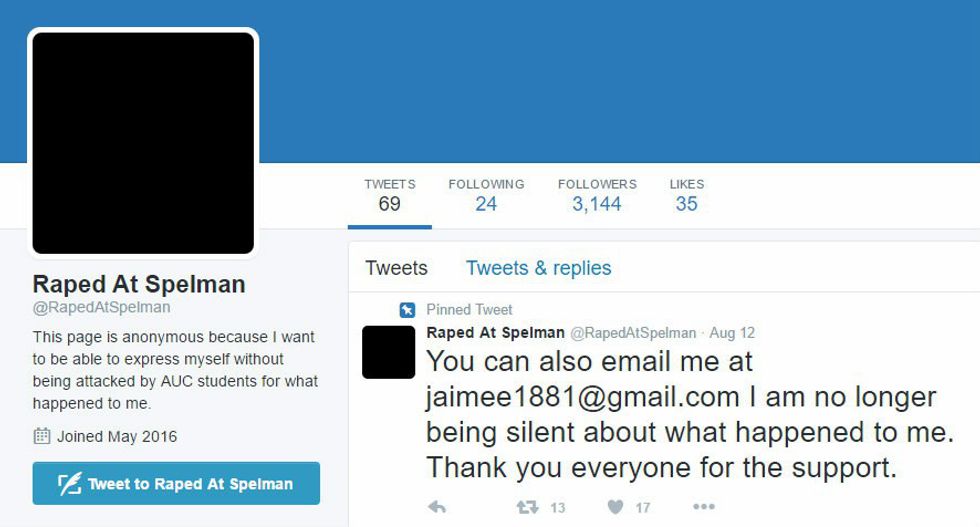 Last May, a freshman student at Spelman College, a historically black all-female school, recounted her experience of being raped on campus from a Twitter handle titled @RapedAtSpelman. The woman remained anonymous as she revealed how she had been drugged and gang-raped by four students from Spelman's all-male brother college Morehouse. In her tweets, @RapedAtSpelman writes that she chose to stay unknown because she doesn't trust either college "to help or support survivors." In fact, when she immediately reported the case, it took the school a month to get back to her.
"When I got to the meeting with the Dean and Public Safety they asked me what was I wearing, why did I separate from my friends and why was I drinking under age," she tweeted. "The Dean also said that Spelman & Morehouse are brother & sister so I should give them a pass. I never felt so worthless."
@RapedAtSpelman's story touched Tweeters and generated a huge wave of support with hashtags like #RapedAtSpelman and #RapedAtMorehouse. Atlanta police never investigated the case and the presidents of both colleges each publicly reached out to the victim to offer help and support, but the four perpetrators were never identified.
@RapedAtSpelman specified that she struggled with self-harm and suicidal thoughts after her attack and announced that she planned to leave Spelman.
"People have been more focused on knowing my name instead of fighting against the issue of sexual assault. This is bigger than me. It's bigger than the hashtag. This is about holding our institutions accountable for what they do."
In July the president of Spelman College, Mary Schmidt Campbell, reached out to the victim via email saying that she wanted to meet with her about the incident. However, nearly two months later @RapedAtSpelman tweeted that the president never scheduled that meeting.
In the meantime the account remains active and the survivor even started a GoFundMe page accepting donations to support her returning to college for her sophomore year. In a recent tweet she even gave out her email address and wrote, "I am no longer being silent about what happened to me. Thank you everyone for the support."
Snapchat Filters Give a Voice to Sexual Assault Victims – India.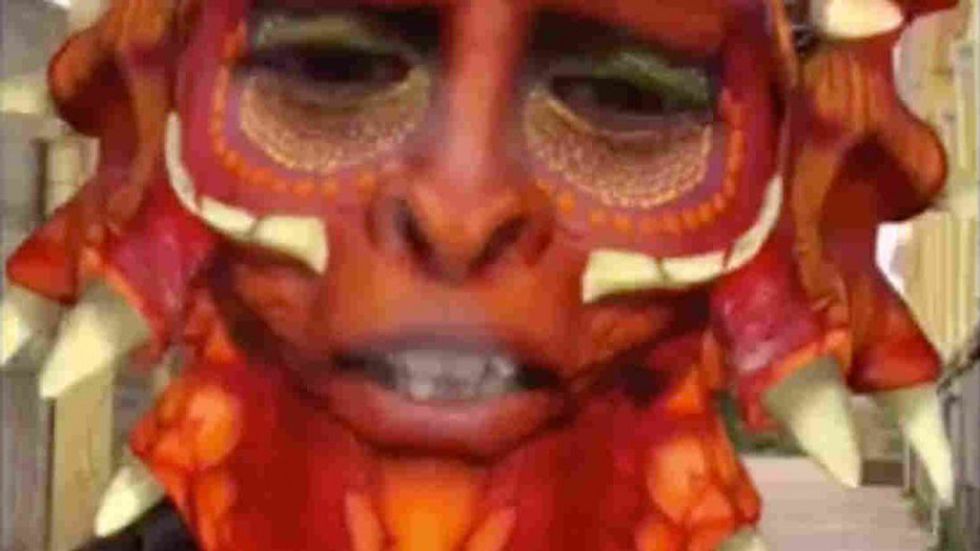 Image courtesy of techninja.me.
This past June, Indian journalist Yusuf Omar realized the full potential of Snapchat while covering a story about rape survivors walking off their pain in an event sponsored by Climb for Sexual Abuse – a non-profit dedicated to "break the silence of sexual violence."
Fighting sex trafficking and abuse in India has never been easy, especially when considering one of every two Indian children is sexually assaulted and 92 Indian women are raped every day. In an effort to protect the victim's privacy, the Indian government forbids the media to divulge a survivor's name, address or other details considered to be identifiers.
In this eye-opening event, 50 minors who had been sexually abused or trafficked attended Climb for Sexual Abuse's 1000-step hike up Chamundi Hill in Mysore alongside rape activists. Along the way, Omar was able to work around Indian law by encouraging two teen girls to share their rape stories on Snapchat while remaining hidden from the public eye.
Omar let the girls use his Snapchat account to give them more anonymity. Both girls chose red, scaly dragons as their Snapchat filter, which Omar speculated was because it "just offered the most coverage." He gave them his phone and left them in peace to record their stories away from the press.
The resulting footage is heartbreaking with one girl recounting her assault at just five years old while the other admitted, "I was kidnapped from Mysore and brought to Hyderabad … I was locked in a room; they tortured me and never let me out."
As a digital media companion to his story for the Hindustan Times, Omar gathered Snapchat footage of the fire-breathing girls speaking out about their abuse and formed it into a 90-second video.
Over the last few months, this innovative use of social media has gained global recognition and brought immense praise to Omar for giving the sexually assaulted girls a voice without exposing their privacy.
All of these stories revolve around one key component: the confessional security of speaking without an audience present. As more rape activists embrace technology to generate awareness, we can only hope that social media companies take notice of the good their platforms can do to push discussions of sexual assault and help survivors feel safe sharing their scars with the world.