Back in February of this year, I shared my thoughts on the upcoming sequel to Naughty Dog's 2013 dark masterpiece video game, The Last of Us - The Last of Us Part II. That article (which I encourage you to review here before reading on!) focused on summing up the first game and throwing out some theories for the overall plot storyline of the new game. This was all based off of the initial reveal trailer from the PlayStation Experience 2016 event in December of 2016, which, frankly, didn't give us much.
However, to the overwhelming joy and excitement of The Last of Us fans everywhere, Naughty Dog released a new, 5-minute cinematic trailer to give us another little taste of The Last of Us Part II. Shown at Paris Games Week 2017, this trailer, much like The Last of Us we know and love, does not shy away from violence and brutality. Watch the trailer below.
Brutal, right? The trailer gave us some things to work with, but also left out two very important elements: Ellie and Joel! Or did it...?

Fans are already taking to the internet to discuss theories behind this new trailer and what it means for the second installment in this series. Here are the things we have to work with:
1. New Characters
Each of the six characters shown in this clip are completely new to the series. Naughty Dog tweeted the names and actors of each of the four main characters shown (excluding the two henchmen who are seen dragging the woman at the beginning of the scene), and you can see them below.
Victoria Grace is Yara. #TheLastofUsPartII pic.twitter.com/s2jBbV23y3
— Naughty Dog (@Naughty_Dog) October 30, 2017
Ian Alexander is Lev. #TheLastofUsPartII pic.twitter.com/pspsDCVjfk
— Naughty Dog (@Naughty_Dog) October 30, 2017
With a guest appearance from Emily Swallow as Emily. #TheLastofUsPartII pic.twitter.com/b6zR71GX5P
— Naughty Dog (@Naughty_Dog) October 30, 2017
And finally, Laura Bailey is ████. #TheLastofUsPartII pic.twitter.com/9ATCz6RELk
— Naughty Dog (@Naughty_Dog) October 30, 2017
2. More Hints at Seattle
People were already speculating that this game is going to largely take place in the Pacific Northwest, specifically around Seattle, Washington. This trailer continues to hint at that with a street sign briefly visible that references a real sign in Seattle for "Exit 163A, W Seattle Bridge, Columbian Way."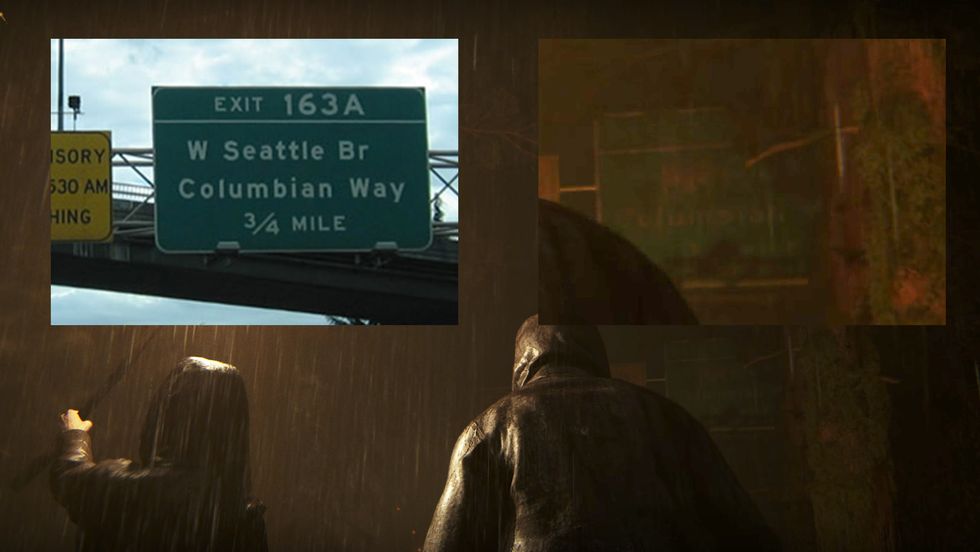 3. Religious References
The antagonist in this scene, Emily, seems to make a few references to religious cult-like terms. She asks Yara about where the other "apostates" are, and this term means a person who renounces a religious or political belief or principle, but it is commonly connected with religion rather than politics. Threatening to cut the unnamed woman's stomach open, she says that she is "nested with sin."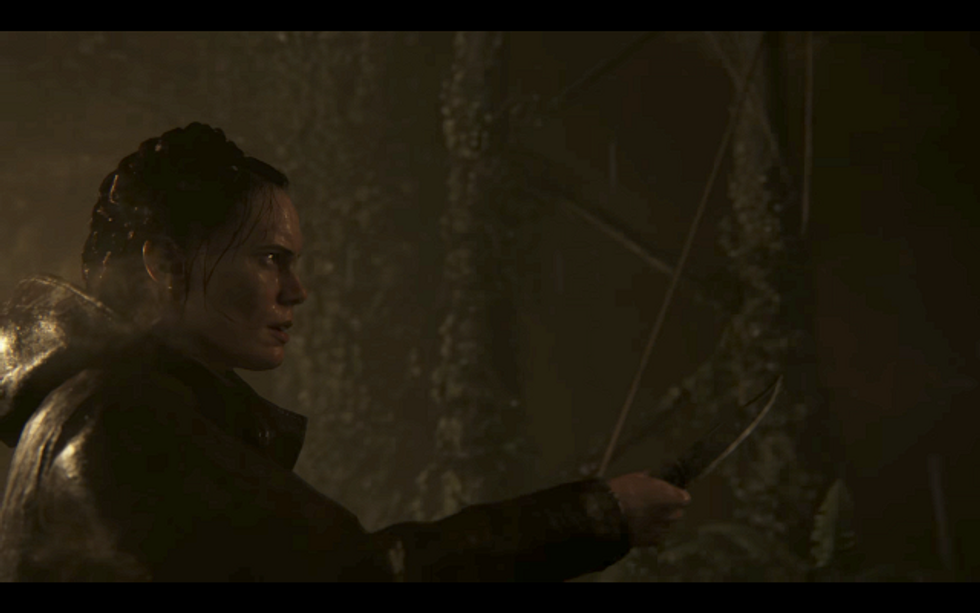 4. Clickers
At the very end of the trailer, we get a brief, but terrifying glimpse at some incoming Cordyceps-infected monsters, one of them being obviously the iconic Clicker type from the first game. This was what really confirmed this as a trailer for The Last of Us Part II, as fans witnessing the live release were unsure without any known connections to the series until that moment.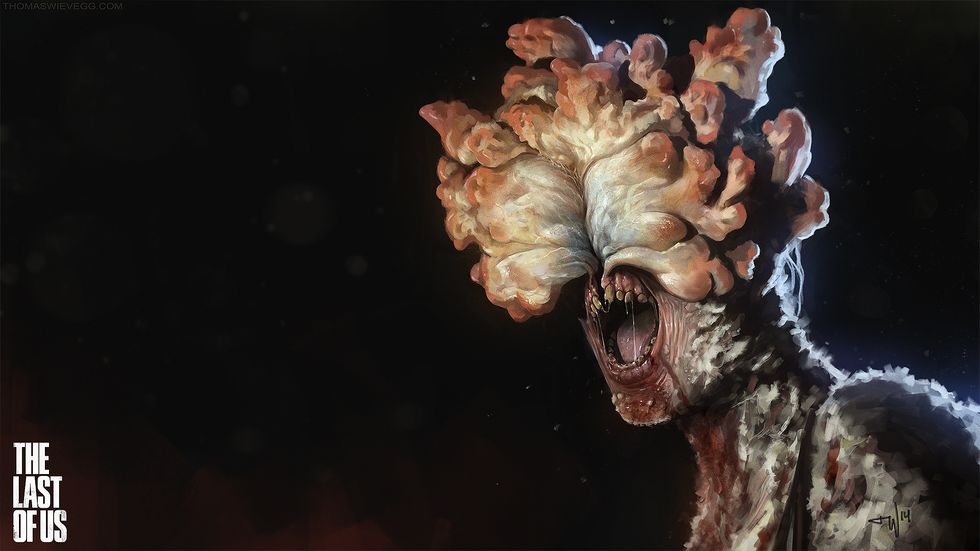 So what does all of this mean for Part II? Here are some interconnected theories.
I. The unnamed woman is Ellie's mom.
Bearing some passing resemblance to Ellie, there is a strong chance that this whole scene could be a flashback to Ellie's mother's early pregnancy. We know that Ellie's mother is named Anna, and Naughty Dog's tweet blacked out her name which seemed to be four letters long. Emily also said that she was "nested with sin" as she went to cut open her stomach, so that could be another reference to her pregnancy. This would mean that...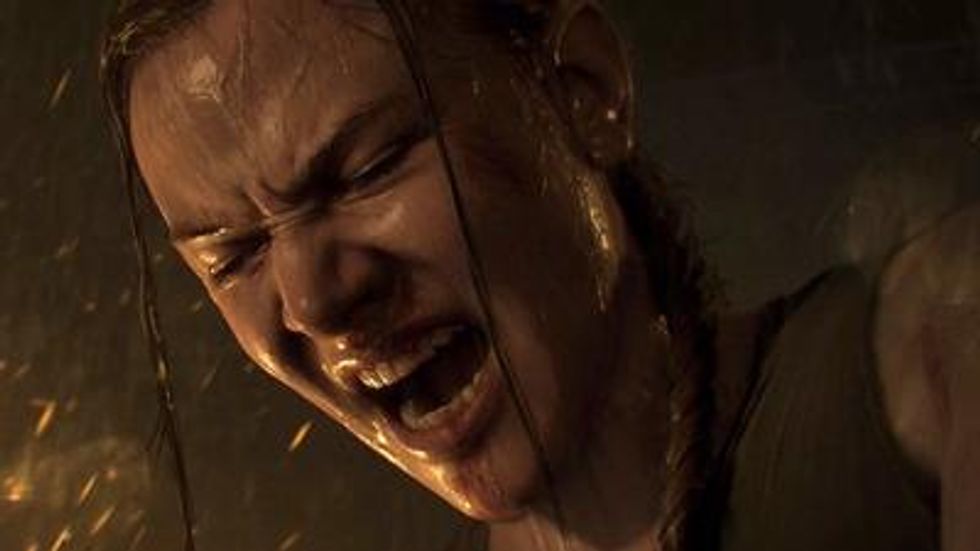 II. The Last of Us Part II will be a prequel/sequel.
This would make a strong case for the game to be split into flashbacks, being a prequel to the first game, as well taking place after the first game with Ellie as a 19 year old. The question is: will we get to play as Ellie's mom in these flashback sequences? This idea is not far-fetched as Naughty Dog has previously done a similar style of storytelling in games like Uncharted 3: Drake's Deception.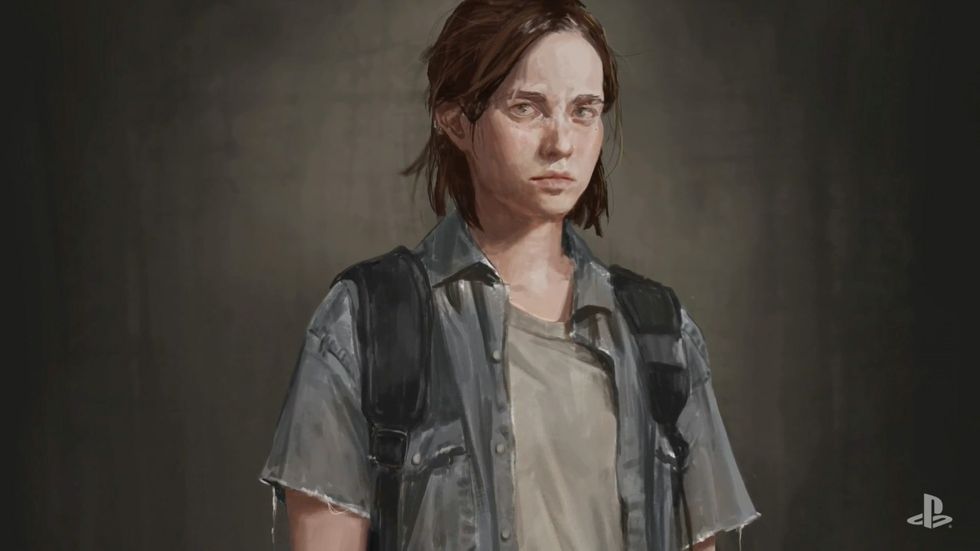 III. Connection with the Fireflies?
When Emily told her goons to "clip her wings" in response to Yara spitting in her face, this could've been a brilliant reference to not just her arms, but her figurative wings as she belongs to the group the Fireflies. Perhaps Emily was the leader of a more extremist offshoot of the group and was punishing those who didn't fall in line. We know Ellie's mom had a connection with the Fireflies as well, so this would make sense in the situation at hand.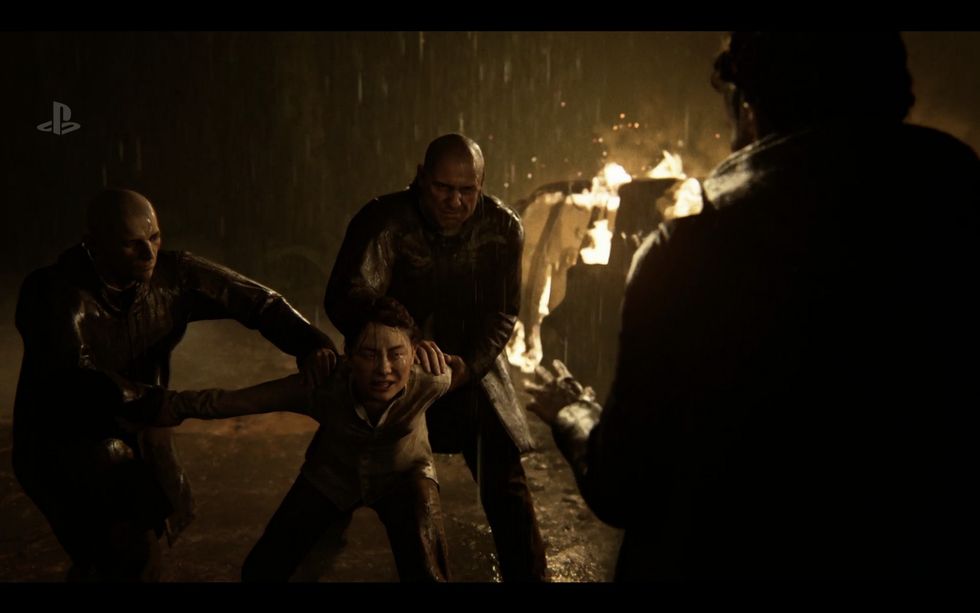 This trailer is very intriguing and very dark, and I believe it is really helping to reinforce Neil Druckmann's idea that while the first game was about love, this one is going to be about hate. No one knows how long we will have to wait for another peek at this highly-anticipated sequel, but Naughty Dog have said that they are all hands on deck with The Last of Us Part II now that Uncharted: The Lost Legacy is fully released. A 2019 release is what's expected but it would be maybe the best present of all to receive this potentially before the end of 2018. There are still so many questions I have for what is still to come, but I am so excited to let the game answer them for me whenever it does finally arrive and ends all of the fans' suffering!